Windows Update Error Code 0x80070002 And 0x80070003
How To Fix Windows Update Error Codes 0x80070002 And 0x80070003 
Windows Update is a free service for Windows users which is provided by Microsoft on the second Tuesday of every month, or on other days as well if there are some urgent bugs or errors to fix. It is important to keep your Windows updated, mostly because of the security updates so that Windows users could stay protected online. However, these updates usually include various feature enhancements and drivers updates as well.
If you are reading this, then most probably you have encountered the Windows Update error which comes with the code 0x80070002 or 0x80070003. This error usually occurs when Windows updates cannot be installed, when the installation process is in progress or when the updates are installed but the process cannot be finished completely. The real reason behind this remains unknown, but one of the causes might be missing Windows Update files even though the updates are downloaded and extracted.
As we mentioned earlier, the reason behind these error codes 0x80070002 or 0x80070003 is unknown, however, there a several different ways to fix it and one of them could possibly solve the problem for you. In order to fix one or another error code you might need to run the Windows Update troubleshooter, to check the system files for corruptions, to temporary disable installed third-party antivirus software, delete SoftwareDistribution files, check the time and date settings or to perform a clean boot to check if some installed third-party software is not interfering with the Windows Update service. Read the guide below and you will find all these methods thoroughly described (with screenshots) and try out these methods one by one to see if any of them can fix the problem for you.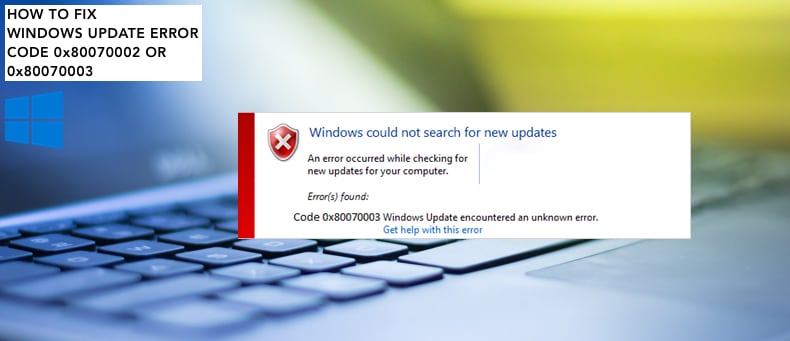 Table of Contents:
Run Windows Update Troubleshooter
The first thing we recommend you to try is to use one of the Windows troubleshooters which could solve this problem without the need to use more complex solutions. Windows includes a number of troubleshooters designed to quickly diagnose and automatically resolve various computer problems. Troubleshooters cannot fix all problems, but they are a good place to start if you encounter a problem with your computer, operating system or connected devices. In this guide we are going to show you how to run Windows Update troubleshooter which is used to resolve problems that prevent you from updating Windows. You can find this troubleshooter using Windows settings Search. Go to Settings and type "troubleshoot" in Windows Settings search bar, click the "Troubleshoot" result.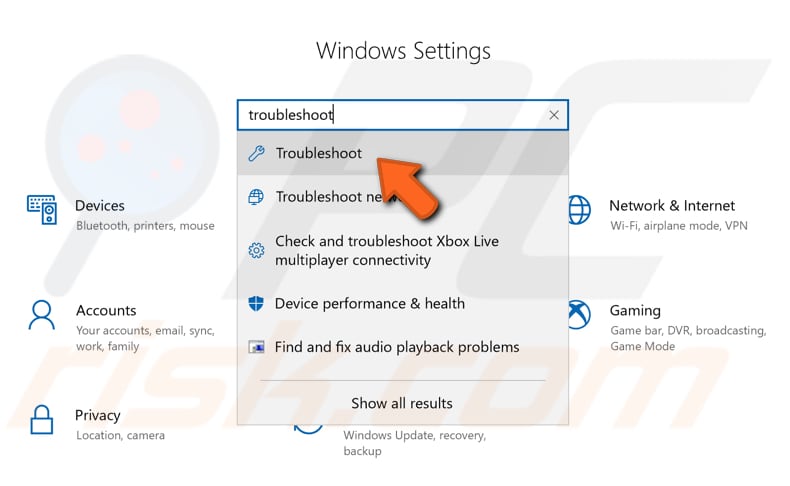 Now find the Windows Update troubleshooter under "Troubleshoot" and select it. Click "Run the troubleshooter" button and Windows will start resolving problems that prevent you from properly updating Windows operating system. See if this troubleshooter is able to solve the problem and fix the Windows Update error code 0x80070002 or 0x80070003.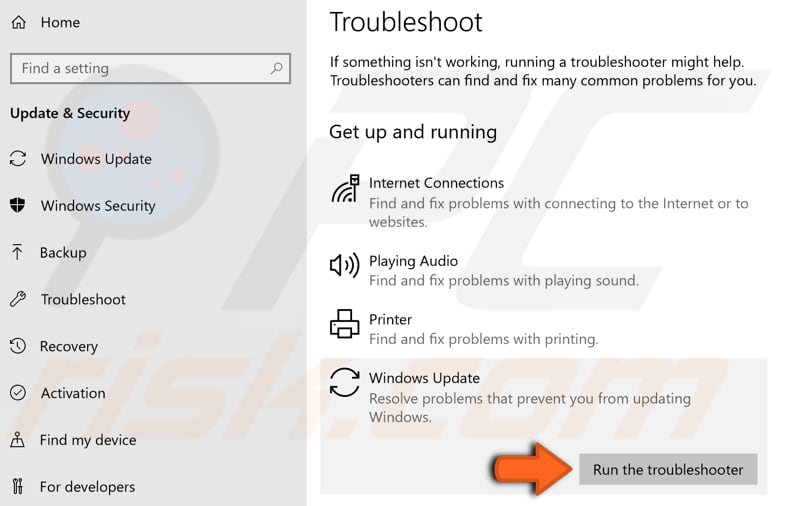 Download Servicing Stack Update
Another thing you might want to try out is to download the latest Servicing Stack Update which is required to reliably install the latest feature and quality updates. First, you will need to find you what is your system type by going to Settings and clicking "System" option.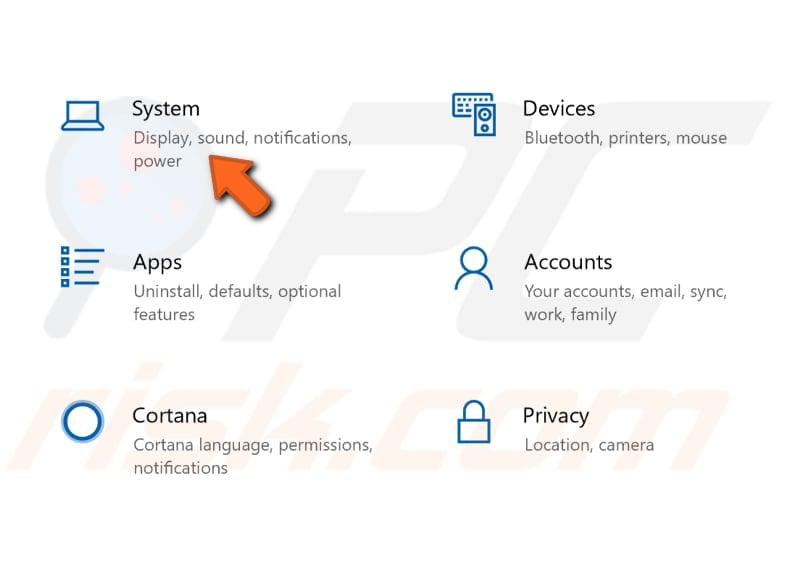 Now scroll down through the left pane and find "About", it should be the last option on the list. Select it and check what is your system type next to the "System type" section. In our case it is a 64-bit operating system, x64-based processor.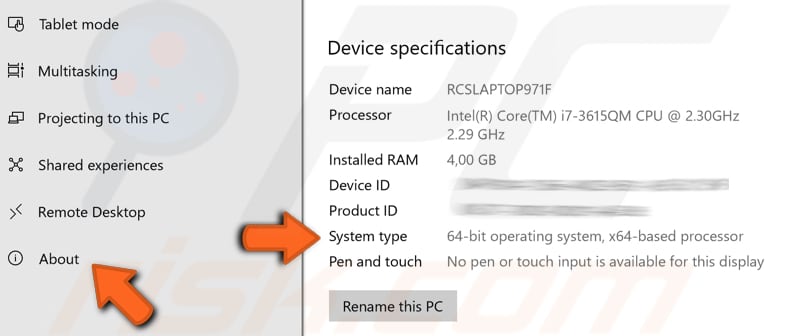 Now go to Microsoft Update Catalog and download the latest version of the Servicing Stack Update that matches your version of Windows. Install it, restart your computer and try to update your Windows again and see if the Windows Update error code 0x80070002 or 0x80070003 is now fixed.

Temporary Disable Installed Third-Party Antivirus
As we mentioned in our introduction, it is possible that the installed antivirus software is interfering with Windows Update and causing the Windows Update error code 0x80070002 or 0x80070003. To make sure that the installed third-party antivirus software is not the culprit of this problem we recommend you to try to temporarily disable it (and its firewall), then try to update Windows again and check if the problem still persists. If disabling (or uninstalling) your antivirus solves the problem, then we recommend you to switch to another antivirus software or to reinstall the currently installed one. If you are not sure how to disable your antivirus, then read this guide. There you will find instructions on how to disable some of the most popular antivirus programs.
Run DISM And System File Checker
DISM stands for Deployment Image Servicing and Management and it can be used to repair and prepare Windows images, including the Windows Recovery Environment, Windows Setup, and Windows PE. To run DISM scan you need to open Command Prompt as administrator first. To do so, type "command prompt" in Search and right-click the "Command Prompt" result, select "Run as administrator" option from the contextual menu.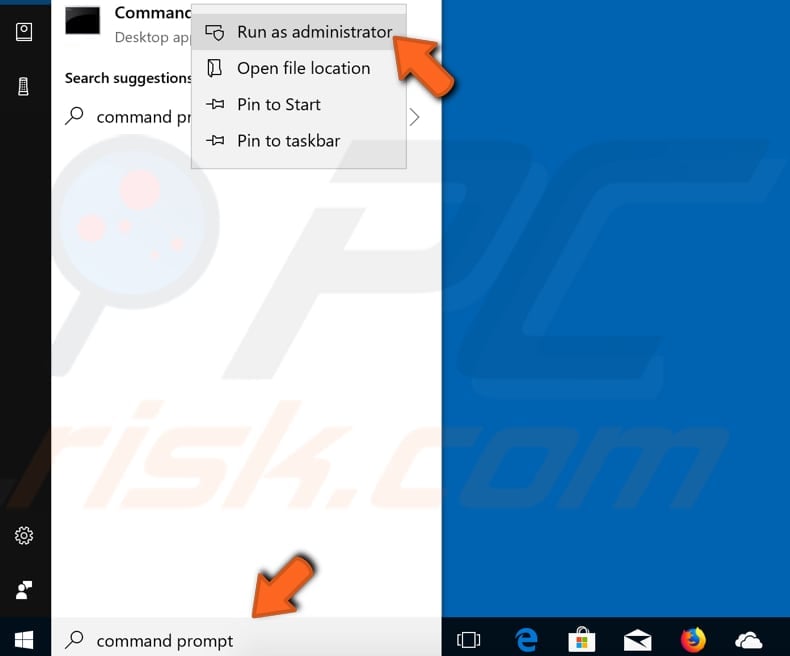 Once you have the Command Prompt open, type the "DISM /Online /Cleanup-Image /RestoreHealth" command and press Enter. Once the DISM scan is completed, you will need to run the System File Checker. You need to run both the DISM and SFC scans, not just one of them.

System File Checker is a Windows utility that allows users to scan for corruptions in Windows system files and restore corrupted files. This guide describes how to run the System File Checker tool (SFC.exe) to scan your system files and to repair missing or corrupted system files. The "sfc scannow" option is one of the several specific switches available in the sfc command, in order to execute this command type "sfc /scannow" in Command Prompt and press Enter. System File Checker will start and it should take some time to complete the scan. It should take about 15 minutes. Wait for the scanning process to complete and see if the Windows Update error 0x80070002 or 0x80070003 still persists while you trying to update your Windows operating system.

Check Time And Date Settings
It is possible that Windows cannot be updated due to incorrect time and date settings on your Windows computer. To check date and time settings go to Windows Settings and click on "Time & Language".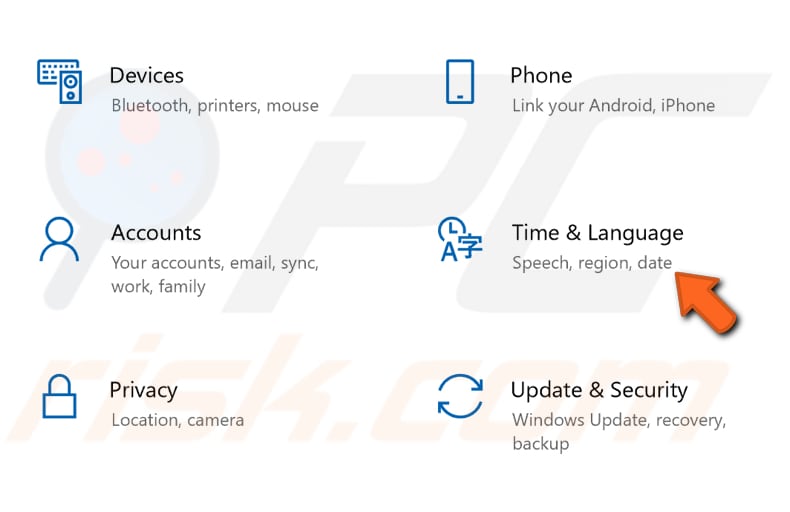 Select "Date & time" on the left pane and then make sure that both "Set time automatically" and "Set time zone automatically" are option as enabled. Try to disable and enable them by toggling the switch. Then lick on "Add clock for different time zones".
Select "Internet Time" tab and and click "Change settings..." button.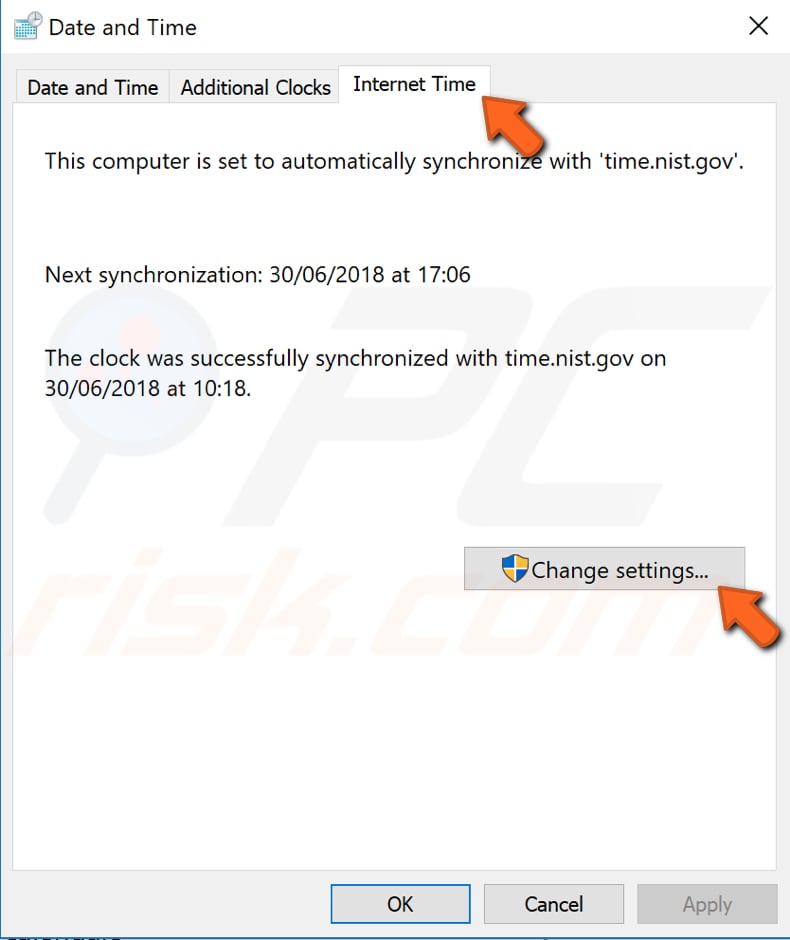 Make sure that the "Synchronize with an Internet time server" checkbox is ticked and the server is "time.windows.com" or "time.nist.gov". Click "Update now" button and try to update Windows again.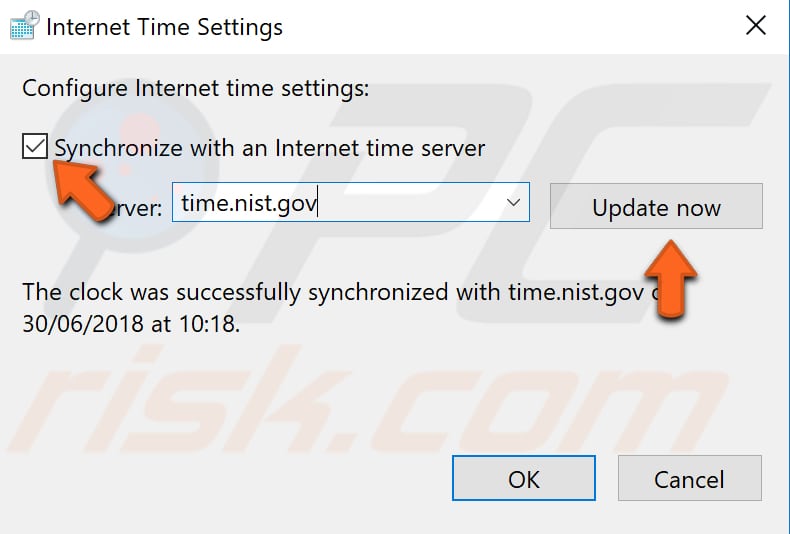 Restart Windows Update Service And Rename SoftwareDistribution Folder
Software Distribution folder is a temporary folder in which Windows stores the update files until they are completely downloaded. Then, Windows starts the updating process. In this case renaming the SoftwareDistribution folder might solve the problem and fix the Windows Update error code 0x80070002 or 0x80070003. In order to rename it you will need to stop the Windows Update service using Command Prompt's command, then rename the folder and start the service again. Open Command Prompt as administrator again and type the "net stop wuauserv" command, press Enter to execute it.

Now type the "ren C:\Windows\SoftwareDistribution SoftwareDistribution.old" command and press Enter again.

Then type "net start wuauserv" command and press Enter once again. Restart your computer and see if you are still getting the Windows Update error code 0x80070002 or 0x80070003.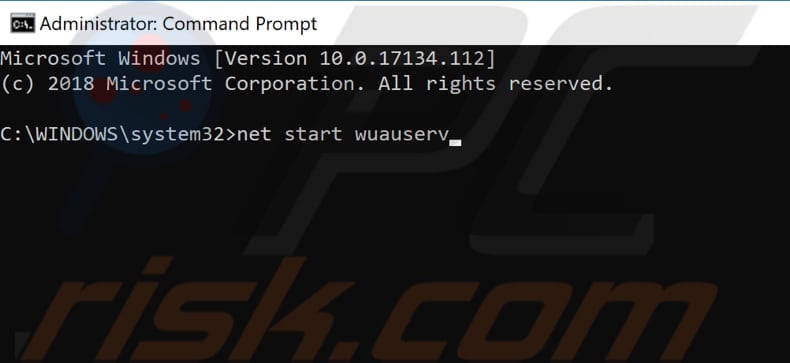 Alternatively, you can try to go to C:\Windows\SoftwareDistribution and delete all files and folders in the SoftwareDistribution folder. Stop the wuauserv service, delete SoftwareDistribution folder's contents and start the service again. Restart your computer and try to update Windows again.
Start Windows In A Clean Boot State
When you start Windows using a normal startup operation, several applications and services start automatically, and then run in the background. These programs include basic system processes, antivirus software, system utility applications, and other software that has been previously installed. These applications and services can cause software conflicts, and cause the Windows Update error code 0x80070002 or 0x80070003. A clean boot is performed to start Windows using a minimal set of drivers and startup programs. This helps eliminate software conflicts that occur when you install a program or an update, or when you run a program in Windows. To perform a clean boot, type "system configuration" in Search and click on the "System Configuration" result.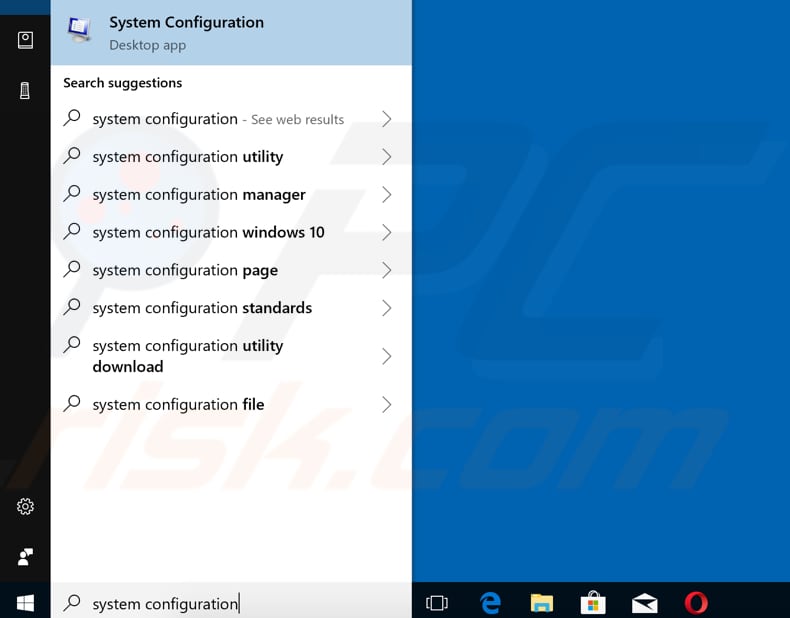 In the System Configuration window, click on the "Services" tab and then mark the "Hide all Microsoft services" checkbox. Then, click on "Disable all".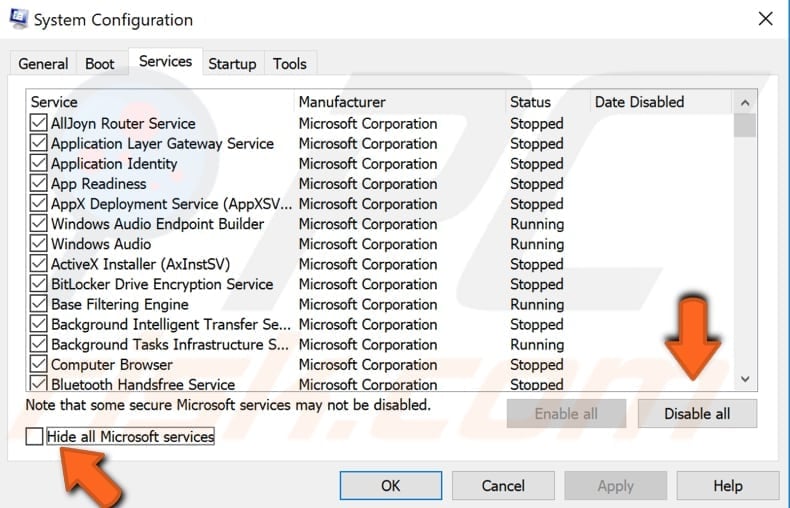 Click the "Startup" tab and click "Open Task Manager".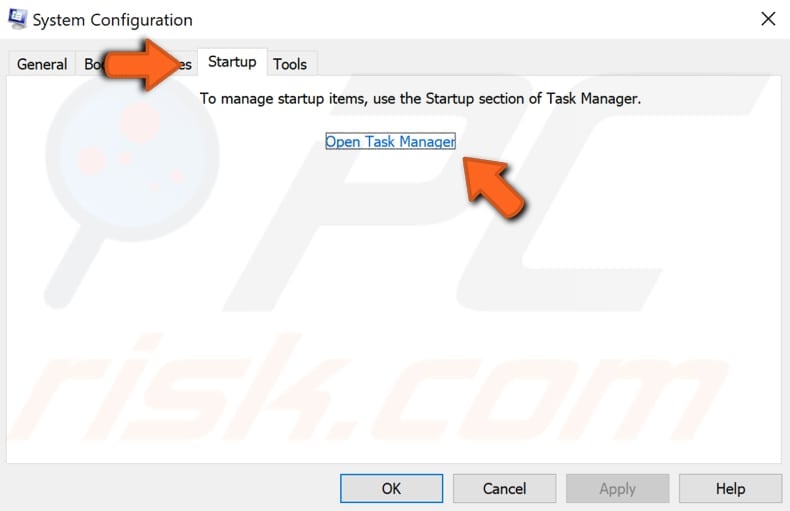 Under the Task Manager's Startup tab, select all enabled applications one by one and click "Disable" to disable them. Once all programs are disabled, close Task Manager and click "OK" in the System Configuration's Startup tab. Restart your computer and see if you are able to update your Windows when in a clean boot state.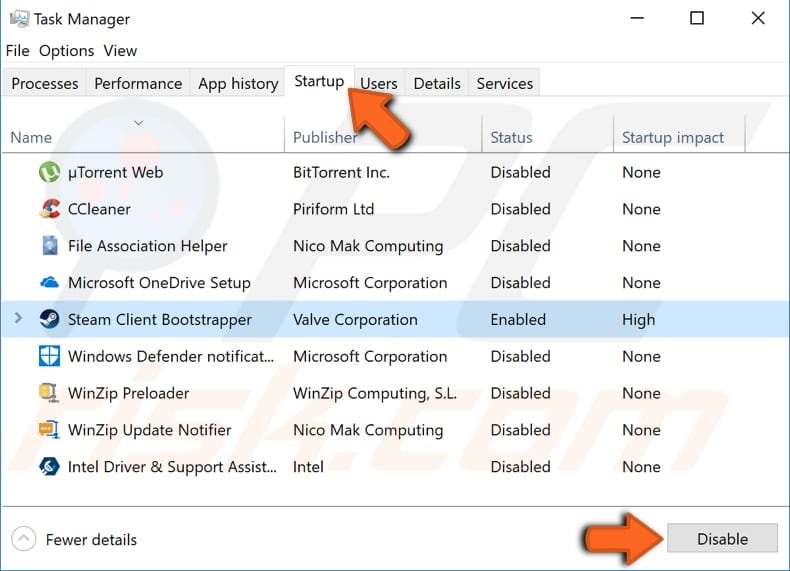 That's it, we hope this guide was helpful and you were able to fix Windows Update error code 0x80070002 or 0x80070003. If there is another way to fix this error, do not hesitate to share it with us and with the others by leaving a comment in our comment section.
Video Showing How To Fix Windows Update Error Codes 0x80070002 And 0x80070003: