How To Temporarily Disable Avast, ESET, McAfee, Avira And Webroot Antivirus In Windows 10
Antivirus or anti-virus software (often abbreviated to AV), sometimes known as anti-malware software, is computer software used to prevent, detect and remove malicious software. Anti-virus software was originally developed to detect and remove computer viruses.
With the proliferation of other types of malware, however, antivirus software started to provide protection from other computer threats. In particular, modern antivirus software can protect from: malicious browser helper objects (BHOs), browser hijackers, ransomware, keyloggers, backdoors, rootkits, trojan horses, worms, malicious LSPs, dialers, fraudtools, adware and spyware. Some products also include protection from other computer threats, such as infected and malicious URLs, spam, scam and phishing attacks, online identity (privacy), online banking attacks, social engineering techniques, advanced persistent threat (APT) and botnet DDoS attacks.
Traditional anti-virus software relies heavily upon signatures to identify malware. When malware arrives in the hands of an antivirus firm, it is analysed by malware researchers or by dynamic analysis systems. Once it is determined to be malware, a proper signature of the file is extracted and added to the signatures database of the antivirus software.
Although the signature-based approach can effectively contain malware outbreaks, malware authors have tried to stay a step ahead of such software by writing certain viruses, which encrypt parts of themselves or otherwise modify themselves as a method of disguise, so as to not match virus signatures in the dictionary.
Despite this, there are situations when anti-virus software needs to be disabled. For example, when installing certain programs, an installation program requests that you disable the anti-virus software. This can happen when the anti-virus software has difficulty determining whether the program you want to install is a virus or a legitimate program. If this is the case, we recommend that you to re-enable the anti-virus software when you have finished downloading and installing your new software. We also strongly advise against disabling the antivirus when you do not expect anything to be installed, or when you are prompted to do so by a website or an email message.
In this guide, we show how to temporarily disable anti-virus software such as Avast, Eset, McAfee, Avira, and Webroot antivirus.

Table of Contents:
How To Temporarily Disable Avast Antivirus
Avast is one of the largest security companies in the world using next-gen technologies to fight cyber attacks in real time. Avast differs from other next generation companies in that they have an immense cloud-based machine learning engine that receives a constant stream of data from over more than 435 million users, which facilitates learning at unprecedented speeds and makes our artificial intelligence engine smarter and faster than all others. Avast has created a scalable cloud-based security infrastructure that sees everything that happens on the internet. It has a view into everything online, good and bad, giving it the unique advantage of being first to inspect and analyze potential threats. When new malware is discovered, Avast can quickly deploy new security features to protect their users.
To temporarily (or permanently) disable Avast, click the arrow icon on the Windows taskbar to expand the notification area menu. Find the Avast Antivirus icon and right-click it. A contextual menu should pop up - if that does not happen, try right-clicking the Avast Antivirus icon several times until you succeed. Then select "Avast shields control" and choose if you want to disable it temporarily (for 10 minutes, 1 hour, or until the next restart) or permanently.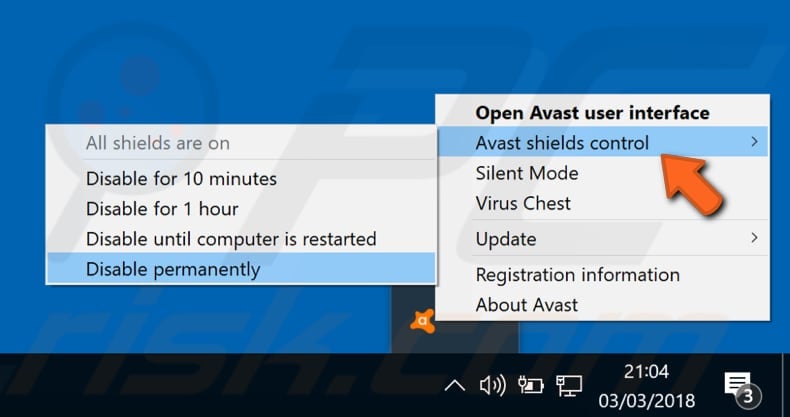 It will ask you to confirm the action by clicking "Yes". Click "Yes" if you really want to disable Avast Antivirus software.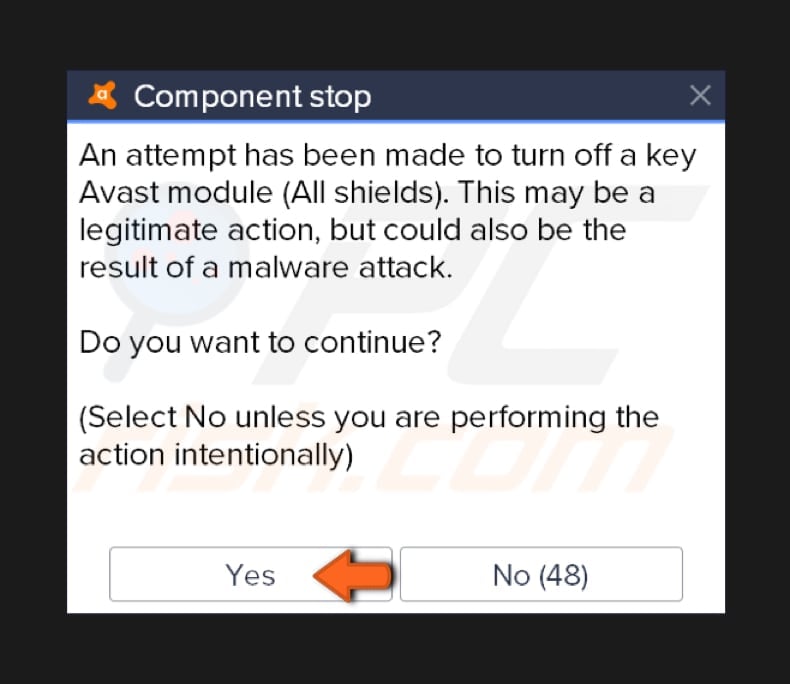 How To Temporarily Disable ESET Antivirus
ESET began life as a pioneer of antivirus protection, creating award-winning threat-detection software. Now, ESET's goal is to make sure that everybody can enjoy the breathtaking opportunities that technology offers. Today, our security solutions allow businesses and consumers in more than 200 countries and territories to make the most of the digital world. To keep you protected at the highest level, ESET built a global network of research and development centers. They help ESET anticipate new security trends, better intercept new threats, and harness the talents of researchers on all continents.
To temporarily disable ESET antivirus, click the arrow icon on the Windows taskbar to expand the notification area menu. Find the ESET Antivirus icon and right-click it - a contextual menu will pop up. Click "Pause protection".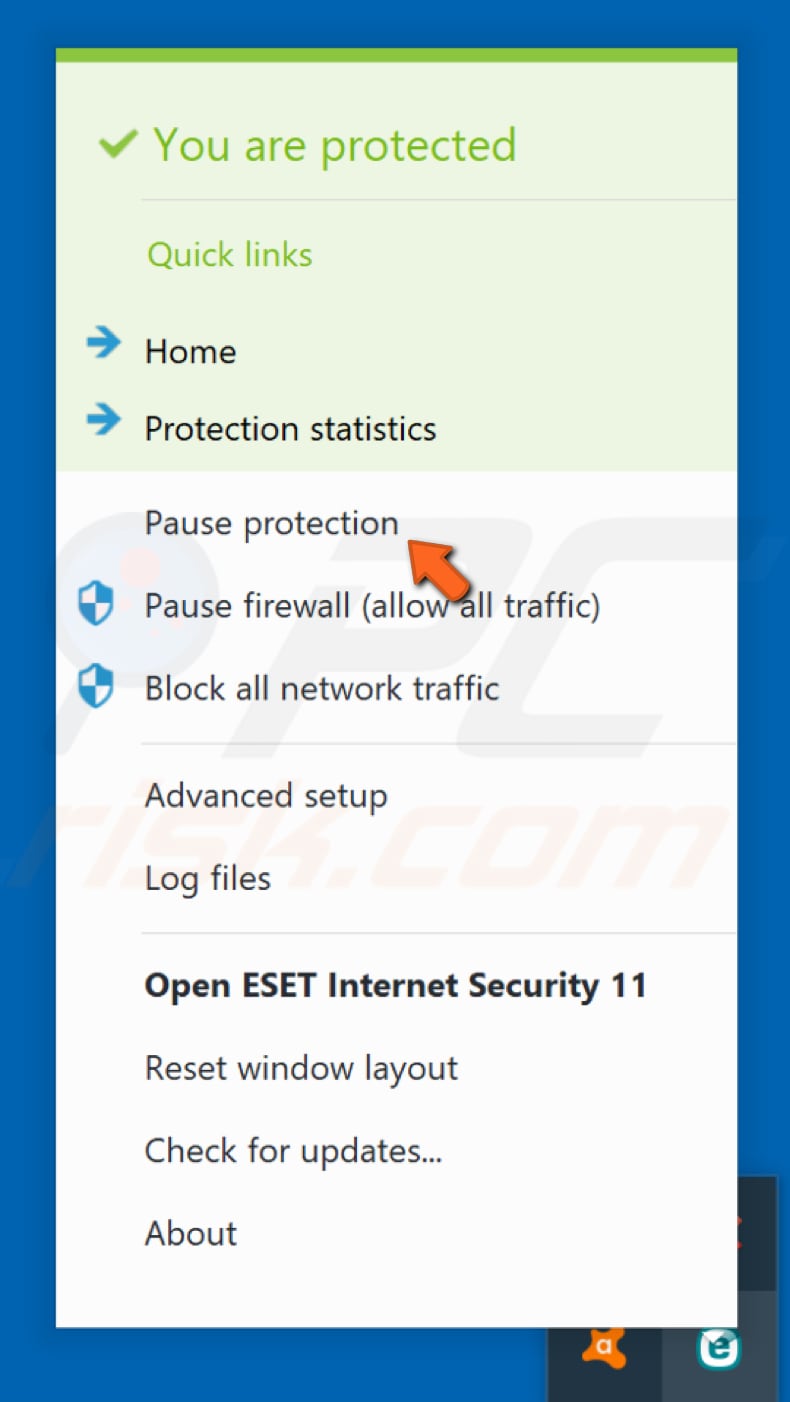 ESET antivirus will ask if you want to disable antivirus and antispyware protection. By disabling antivirus and antispyware protection you will deactivate real-time protection, document protection, web acess protection, email client protection and anti-phishing protection. Select the time range and click "Apply".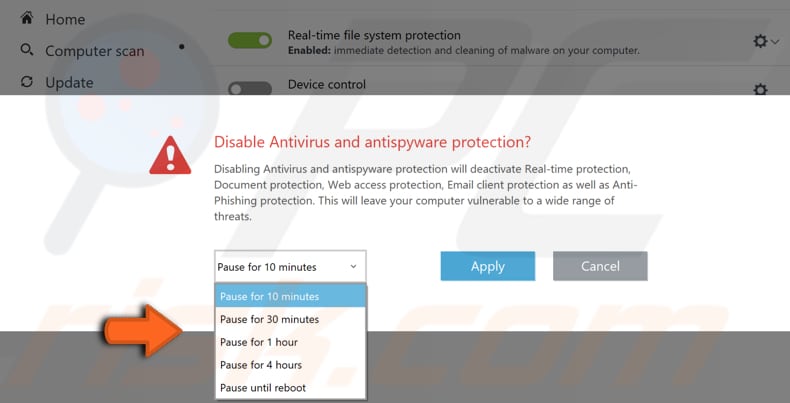 How To Temporarily Disable McAfee Antivirus
McAfee, Inc. (known as Intel Security Group in 2014–2017) is an American global computer security software company headquartered in Santa Clara, California and claims to be the world's largest dedicated security technology company. The company was purchased by Intel in February 2011, and became part of the Intel Security division. It protects against the latest viruses, malware and online threats. One subscription can protect an unlimited number of computers, smartphones and tablets against viruses and online threats. It offers real-time protection against mobile viruses and spam, and an ultra-secure online cloud vault that uses voice and face biometric authentication so only you can access your files.
To temporarily disable McAfee antivirus, click the arrow icon on the Windows taskbar to expand the notification area menu. Find the McAfee Antivirus icon and right-click it - a contextual menu will pop up. Select "Change settings" and then click "Real-time Scanning".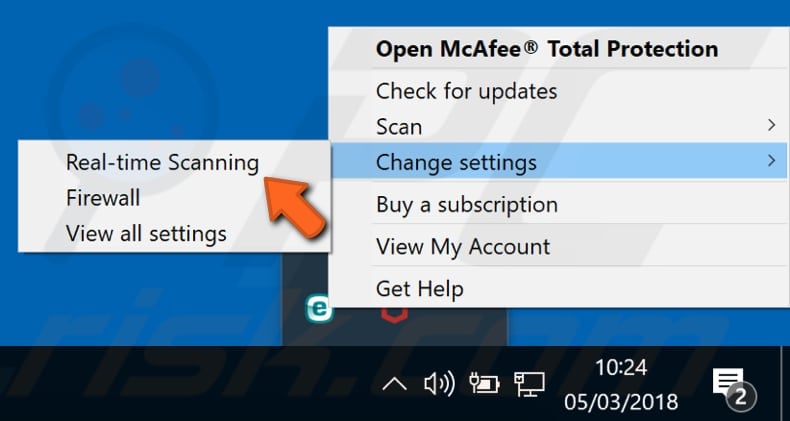 Click "Turn Off" and then select when you wish to resume Real Time Scanning (how long it is to be disabled). Click the blue "Turn Off" button and McAfee antivirus will be disabled. If you want to disable its firewall, repeat the steps and select "Firewall" from the contextual menu when right-clicked on the McAfee icon.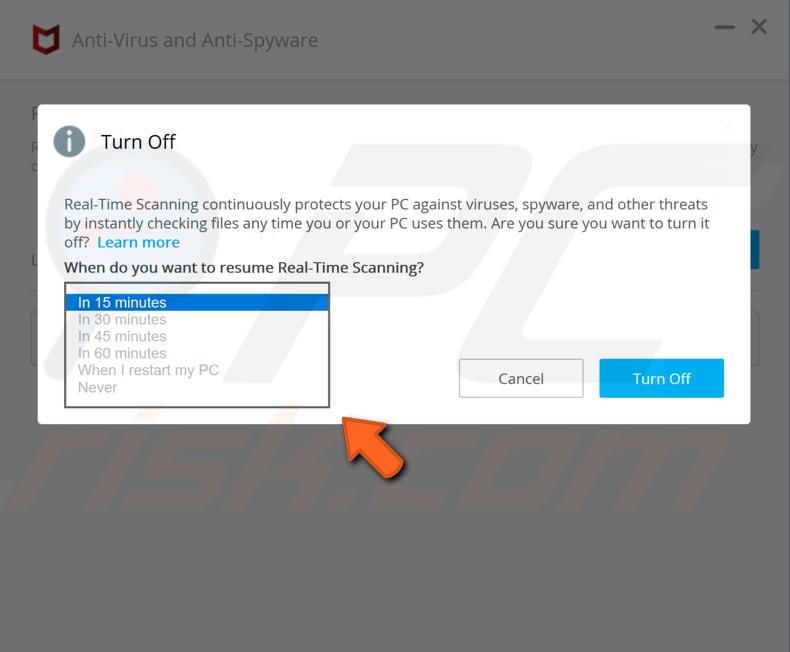 How To Temporarily Disable Avira Antivirus
Avira Operations GmbH & Co. KG is a German multinational security software company mainly known for their anti-virus software, Avira Internet Security. Award-winning Avira Free Antivirus protection is an antivirus that works silently in the background to protect you against all types of online threats to your PC, privacy, and irreplaceable files. Avira's protection-cloud AI technology gives you not only a real-time malware scanner and virus detector, but also an early warning system, which analyzes unknown files in the cloud - anonymously - from millions of users, to protect you from threats as they emerge in real time. Avira works fine out of the box, capable of running system scans without slowing down other tasks, such as loading webpages or editing a document. It appareas as if built in to the operating system, and you can navigate using either the left-hand pane or the drop-down menus along the top.
To temporarily disable Avira antivirus, click the the arrow icon on the Windows taskbar to expand the notification area menu. Find the Avira Antivirus icon and right-click it - a contextual menu will pop up. Avira real-time protection should be enabled by default - if it is enabled, it will have a checkmark next to "Enable Real-Time Protection". To disable Avira, simply click "Enable Real-Time Protection" and it will be disabled. Repeat the steps if you want to reenable it.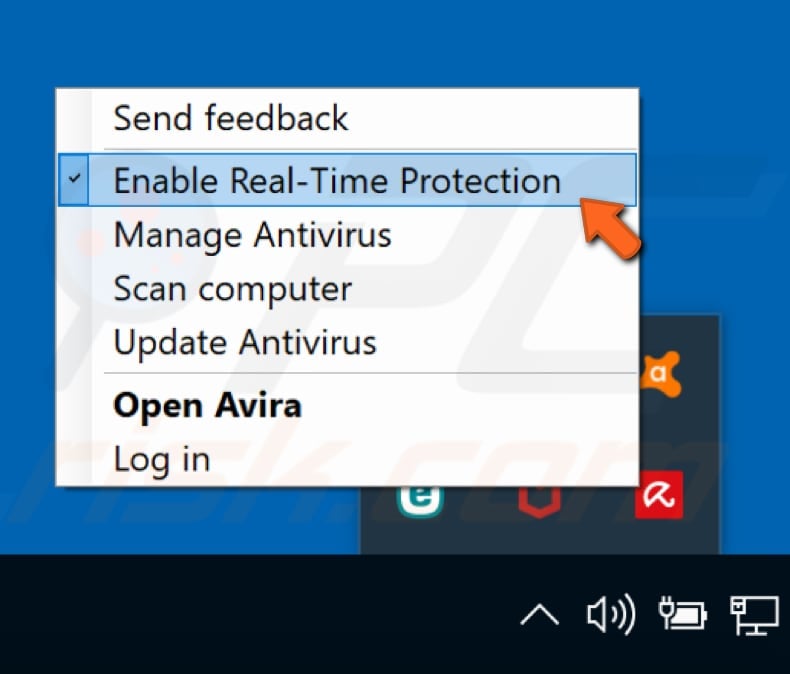 How To Temporarily Disable Webroot Antivirus
Webroot Inc. is a private American company that provides Internet security for consumers and businesses. As the first to harness the cloud and artificial intelligence to stop zero-day threats in real time, Webroot secures businesses and individuals worldwide with threat intelligence and protection for endpoints and networks. Webroot's malware detection system is very different from most competitors. It does not use the typical antivirus signature database, but rather works on metadata and behavior patterns. It also calculates a simple numeric hash for each file, and checks its online database to see if that file has already been identified as good, or as bad. Data from multiple machines, users, companies and devices streams into one big cloud-based pot, and Webroot effectively learns from the malware its users encounter and puts that knowledge into action. So as more people use Webroot's products and connect to its services the more effective they become.
To temporarily disable Webroot, click the the arrow icon on the Windows taskbar to expand the notification area menu. Locate the Webroot Antivirus icon and right-click it - a contextual menu will pop up. Select "Shut down Protection" and click it.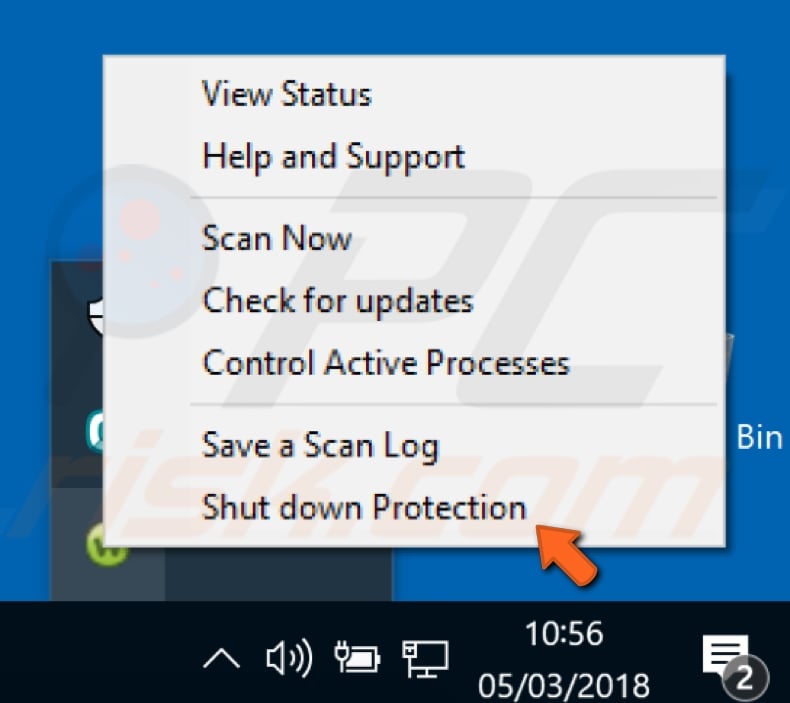 You will be asked if really want to shut down SecureAnywhere to stop all real-time protection and proactive malware defense. Click "Yes" to confirm the action.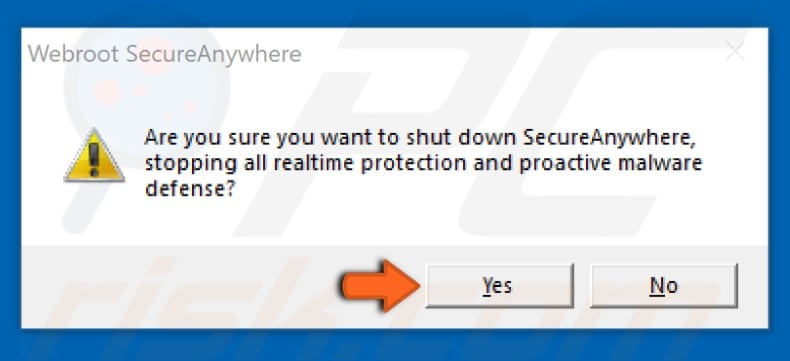 We hope this article was useful and that you can temporarily or permanently disable anti-virus software such as Avast, ESET, McAfee, Avira and Webroot antivirus.
Video Showing How To Temporarily Disable Avast, ESET, McAfee, Avira And Webroot Antivirus: