File record segment is unreadable
How To Fix The "File record segment is unreadable" Error
If you have encountered the "File record segment is unreadable" error, do not ignore it. Take action as soon as possible, since the error can lead to more serious problems such as data loss. This message usually appears when searching for disk errors or simply trying to start a Windows computer.
File record segment is unreadable" indicates that there is a problem with the hard drive. This could mean that the hard drive was corrupted physically or logically, is failing, and you are at risk of losing your data. It is possible that multiple bad sectors on the hard disk are resulting in this error. You are strongly advised to generate backups before you lose your data. The seriousness of this problem depends on how many bad sectors exist. I.e., how many "File record segment is unreadable" error lines appear on your screen. It is possible to fix this problem by running and executing a command within Command Prompt as shown in this guide.
NOTE: If you are unable to start Windows normally and receive this error on operating system startup, you will need to boot into Safe Mode. To find out how to start Windows in Safe Mode, read this guide and use the "Interrupt Windows Boot Process" method described at the link previously given. Alternatively, use the Windows Installation CD/DVD/USB and boot Windows into Safe Mode using the Automatic Repair (Advanced Startup) screen. You can also use the F8 key (or F10, or other function key, depending on your computer). Keep pressing it until the Windows logo appears (i.e. start pressing the function key immediately after you turn on your computer).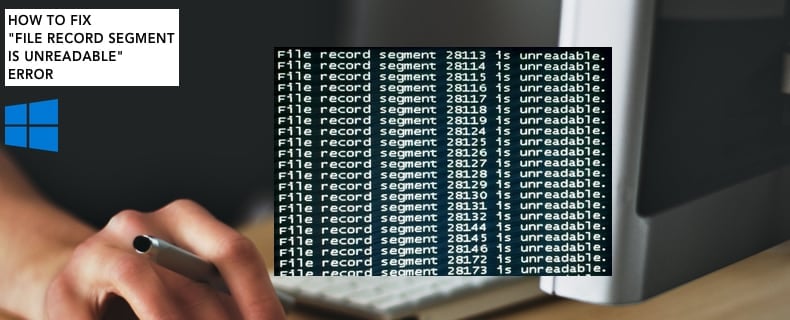 Table of Contents:
Run A Chkdsk Command 
There is a built-in tool in Windows tool available to check the integrity of disks. It examines disks and corrects many common errors. You can run this tool from the command line or through a graphical interface. In this guide, we show how to run it through Command Prompt. If you are unable to start Windows normally, you can run it when in Safe Mode, or from the Advanced Startup screen. If you have started Windows in Safe Mode, open Command Prompt as administrator by typing "command prompt" in Search and clicking the "Command Prompt", and then selecting the "Run as administrator" option.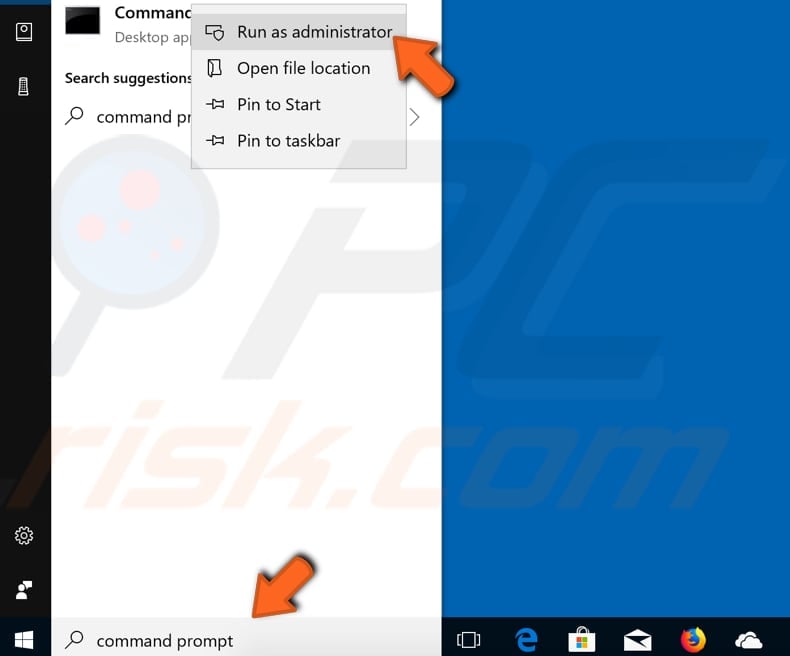 Type the "chkdsk C: /r" command and press Enter on the keyboard. Replace "C" with the letter of your computer hard drive (if it is not the C: drive you want to scan or the Windows operating system is on another drive).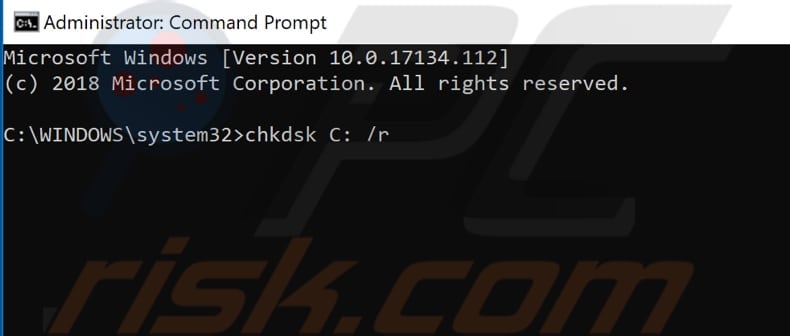 You will be asked if you want to restart your computer to perform the scan. Type "Y" and press Enter. Wait for the chkdsk process to finish and see if this command resolved the "File record segment is unreadable" error.
Connect Your Hard Disk To Another Computer
If the hard disk is failing because of physical damage (scratches and similar defects), save your files by connecting the hard drive to a different/working computer. If you are not sure how to connect a hard drive to another computer, seek out an experienced technician. When the hard drive is connected, it will appear as an additional drive in "My Computer" or "This PC". You can then copy your files (if the drive is not too damaged) onto a working hard drive or external drive. Apply this method whether your disk is damaged physically or logically. Then format the damaged drive and see if you can install and run Windows on it, or if you need to completely replace it.
Clone Your Hard Drive
Another way to save your files and data is to clone your current drive to a new one. If the files are still intact, you should be able to clone them. This, however, does not mean that you will be able to save 100% of your files. You will also need to get a new drive and drive cloning software. After cloning the hard drive (if you need to save your files), you can try to try to format your old hard drive. This will erase all data stored, but might allow you to use it in future if the damage was logical and not physical.
We hope that your hard drive was not too seriously damaged and you were able to fix the "File record segment is unreadable" error by running a chkdsk command. Many users reported that running this command resolved the problem. If you know of another method that solved this problem without the need to format the hard drive and it is not mentioned in our guide, please do not hesitate to share it with us and others by leaving a comment in the section below. 
Video Showing How To Fix "File record segment is unreadable" Error: