Usage of Apple Hardware test and Apple Diagnostics on Mac?
How to launch and use Apple's built-in hardware diagnostic tools, such as Apple Hardware Test and Apple Diagnostics?
Apple computers are well known for their stability and performance, and also use of hardware resources. Many people state that Mac computers never crash, however, there is always a chance of hardware or software crashes on any system. To help users in this respect, Apple included a built-in diagnostic tool that checks all computer components and displays results and recommendations about how to solve any existing issues. The tool (called Apple Hardware Test) provided multiple diagnostic tests on all Mac computers, and was available until 2013. Later, Apple slightly changed the name (Apple Diagnostics) and appearance on all models released after 2013.
Releasing the newer version of the diagnostic tool, developers attached error codes to the report about existing errors. This helps to find possible solutions. Launching this tool, you can check hard disk drive failures, memory faults, and video graphic card (GPU) and processor (CPU) performance. You can also check the entire motherboard and additional modules, such as network and Bluetooth adapters. Even fan operation can be scanned for possible errors. The diagnostic tool can help if your are experiencing issues that software solutions could not fix. This is achieved by scanning the entire computer, both hardware and software. Knowing the source of the problem enables you to apply a solution. In this article, we describe how to launch the Apple Hardware Test and Apple Diagnostics programs on a Mac computer.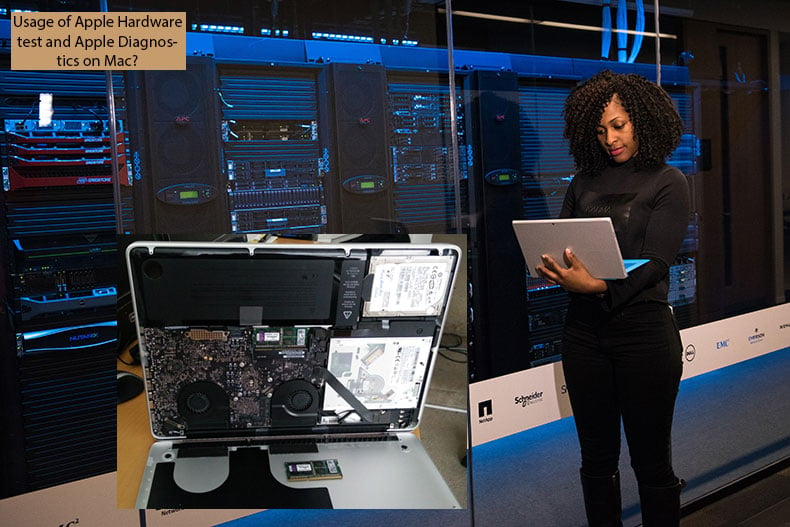 Table of Contents:
Launch built-in diagnostic tool on Mac
The method to launch Apple Hardware Test and Apple Diagnostics is identical on all Mac computers, whether it is a desktop version, such as iMac, Mac mini, or Mac Pro, or portable version, such as MacBook, MacBook Pro, or MacBook Air.
To launch the diagnostic tool on your computer begin with connecting it to power source.
Next, disconnect all peripherals, such as external drives, multiple monitors, speakers, etc. - the keyboard, mouse and main display can stay connected.
Once you are ready, shut down the computer, and then turn it back on while holding down the D key. Keep holding until you see a progress bar or language selection. If you are launching the Apple Hardware Test, you will see a pixelated Apple logo. While booting Apple Diagnostics, you may see a simple progress bar or language selection window.
If you have launched Apple Hardware Test, enable the check box next to 'Perform extended testing' and then click the Test button. On Apple Diagnostics, allow Checking your Mac to run and complete.
Once the tool finishes scanning the computer, it will display a report with results detailing any issues found. If you are running Apple Diagnostics, an error code with other information about the existing issue will be displayed.
Otherwise, the report will state that no issues were found, and if you are still having problems, that this will be software related. In this case, the easiest way to solve the existing problem would be to backup your operating system or perform a complete reinstall of Mac OS.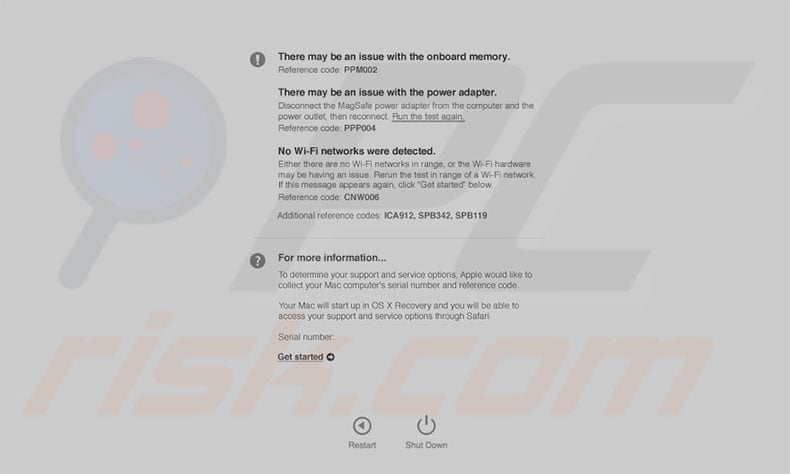 If you have problems launching the diagnostic tool following this method, hold down Option and D while starting the Mac. This will boot the diagnostic tool from the internet, rather that the computer hard disk. Bear in mind, however, that without proper internet access, this method will not work.
Most common error codes by Apple Hardware Test report
If the tool was able to locate issues with Mac hardware, the report will display an error code relating to specific hardware. To find the best solution, make a note of the code or take a picture with your mobile device. The list below shows codes often displayed by the Apple Hardware Test tool.
List of error codes and related hardware:
4AIR - AirPort wireless card
4ETH - Ethernet
4HDD -  Hard disk (includes SSD)
4IRP -  Logic board
4MEM - Memory module (RAM)
4MHD - External disk
4MLB - Logic board controller
4MOT - Fans
4PRC - Processor
4SNS - Failed sensor
4YDC - Video/Graphics card
Error codes displayed within Apple Diagnostics report
Apple Diagnostics has different error codes, but some report similar hardware issues. The table below displays all error codes and descriptions published by Apple.
| | |
| --- | --- |
| Issue description | Error code |
| Issues was not found. | ADP000 |
| Issues related to Wi-Fi hardware | CNW001, CNW003, CNW004, CNW005, CNW006 |
| Wi-Fi network was not detected, no available networks detected or hardware is not working | CNW007, CNW008 |
| Issues related to built-in camera | NDC001, NDC003, NDC004, NDC005, NDC006 |
| USB hardware related issues | NDD001 |
| Keyboard related issues | NDK001, NDK003, NDK004 |
| Issues related to Bluetooth hardware | NDL001 |
| Trackpad related issues | NDR001, NDR003, NDR004 |
| Issues related to Thunderbolt hardware | NDT001, NDT002, NDT003, NDT004, NDT005, NDT006 |
| Unable to detect a serial number | NNN001 |
| System Management Controller (SMC) related issues | PFM001,PFM002, PFM003, PFM004, PFM005, PFM006, PFM007 |
| Computer's firmware related issues | PFR001 |
| Fan related issues | PPF001, PPF003, PPF004 |
| Issues related to memory module | PPM001 |
| Issues related to onboard memory | PPM002, PPM003, PPM004, PPM005, PPM006, PPM007, PPM008, PPM009, PPM010, PM011, PPM012, PPM013, PPM014, PPM015 |
| Power adapter related issues | PPP001, PPP002, PPP003 |
| Unable to test power adapter | PPP007 |
| Issues related to processor (CPU) | PPR001 |
| Unable to detect battery | PPT001 |
| It is recommended to replace battery, because it is functioning normally, but holds less charge. | PPT002, PPT003 |
| Battery needs to be serviced | PPT004, PPT006 |
| Battery was not installed properly | PPT005 |
| Replace battery | PPT007 |
| Issues related to SD card reader | VDC001, VDC003, VDC004, VDC005, VDC006, VDC007 |
| Issues related to storage device | VDH002, VDH004 |
| Inaccessible macOS Recovery mode | VDH005 |
| Issues related to display | VFD001, VFD002, VFD003, VFD004, VFD005, VFD007 |
| Graphic processor (GPU) related issues | VFD006 |
| Audio hardware related issues | VFF001 |