How to use iMessage on a PC (Windows computer)?
How access iMessage app on your Windows computer or other device?
iMessages have huge success among Apple users, and quite often iFolks considers whether there is a possibility to use this great application on their home or work computers with Windows operating system. The main reason for iMessages success is the enormous collection of gifs and emojis, features such as P2P money transfer, digital touch and of course secure encryption.
As a result of many computer users searching for the way to use iMessage on Windows computers, we decided to announce the good new for all the searchers - there is a way to launch iMessages application on Windows operating system. Unfortunately, there isn't any straightforward way to run it, so a lot of users will struggle with this task. in this article we are going to describe step-by-step instructions on how to enable iMessages on your device with Windows based operating system.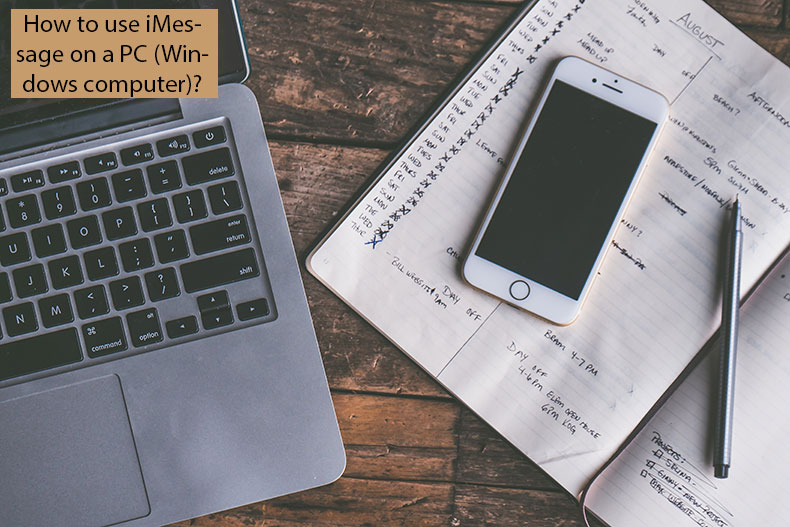 Table of Contents:
Set the iMessage on Apple device
To begin with, this messaging software usually comes with operating system since late 2012 or in other words with Mac OS X Mountain Lion (10.8). However, sometimes it might be missing so you can download iMessage from Apple App Store. Once you have the software run it and sign in using your Apple ID and password. What is more, iMessage works only with one Apple ID at the moment, also you have to log in with same Apple ID on all devices you desire to be able reach particular conversations. Good news, that iMessage automatically syncs your latest conversations immediately after you log in, so you can continue chat at the same point you left.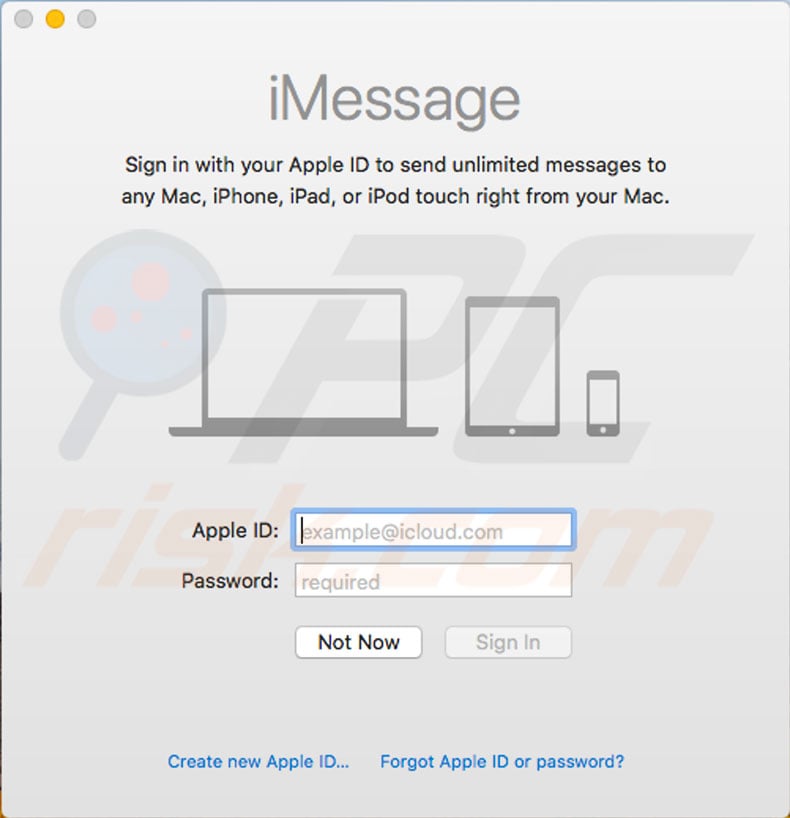 If you're experiencing any issues related to iMessage you might look for solution in this article.
Set up Chrome's remote desktop feature to access iMessage on Windows or any other OS
First, let's find out what Google Chrome's remote desktop feature is? This useful tool that allows you to access and control another computers via internet connection by using Chrome browser which is available to any version of operating system.  All connections are fully secure. To access iMessage through this method you will need an Apple computer which is turned on and not asleep, also connected to the internet.
Set up Chrome Remote Desktop
First sign in Chrome with your Google account or create a new one.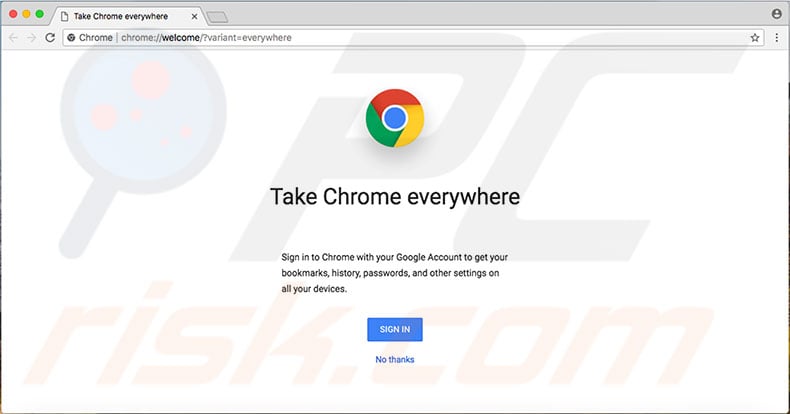 Download the Chrome Remote Desktop App from Chrome App Store. To be able download it, you must use Google Chrome as your browser. Select Add App to Chrome.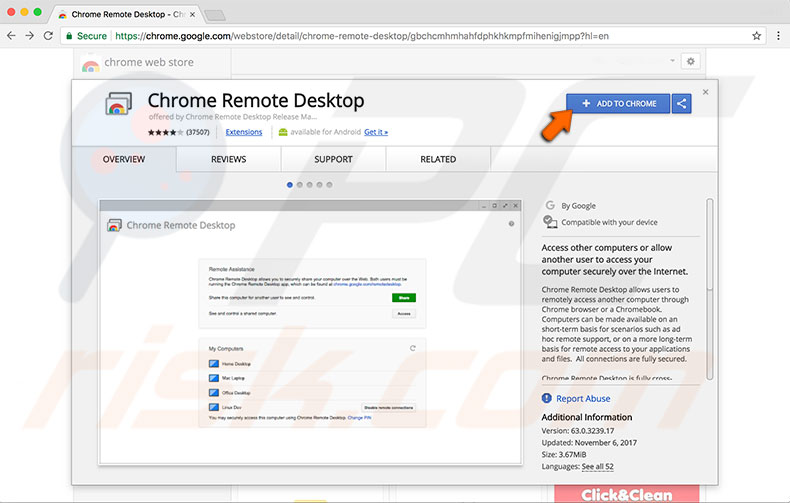 If you're setting up for the very first time, you will probably see a message that requests authorization. Follow on-screen instructions to proceed. Once finished the Remote Desktop App will appear in your chrome://apps list. Run the feature and in popped up message choose Enable remote connections.
Follow the on-screen instructions to obtain Chrome's remote host installer. Message requesting your agreement with the Terms of Service will appear, click Accept and Install.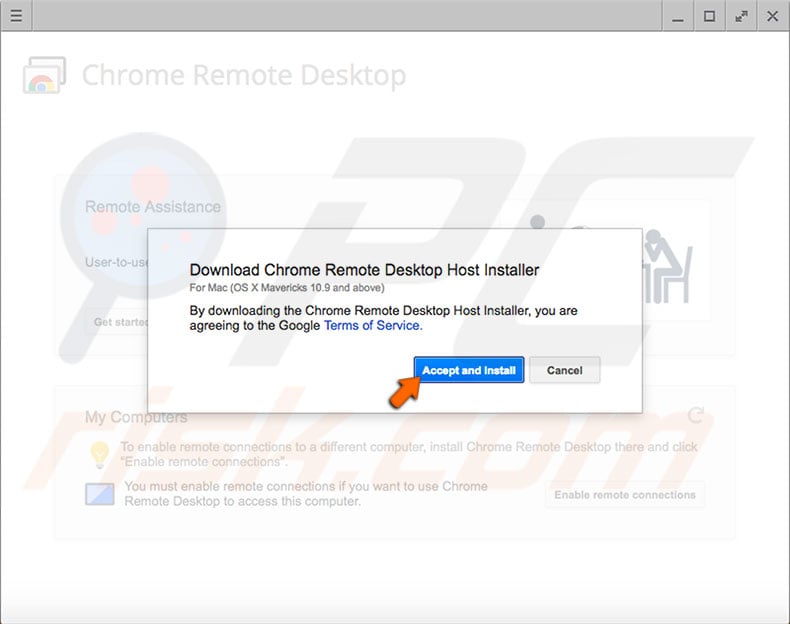 Save the chromeremotedesktop file to your desired folder like desktop, downloads or any other destination. When download process finished launch the installer.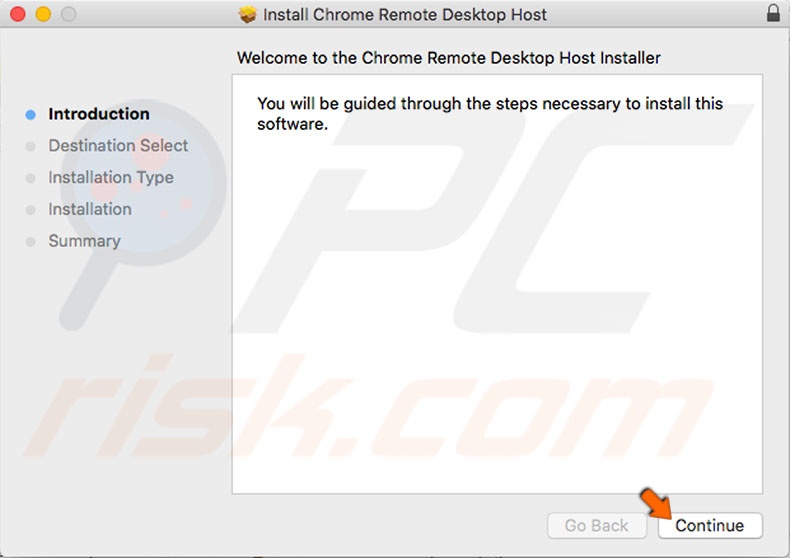 Next, run the Chrome remote desktop host package and follow the on-screen instructions to proceed. Enter your computer's admin password when required. When host has been set, launch the Chrome Remote Desktop App again and click Enable remote connections. Create a new Pin of minimum 6 digits, which you will use to connect from another computer. Rules for creating a pin is similar like any other, choose something you won't forget or write down and keep it secure.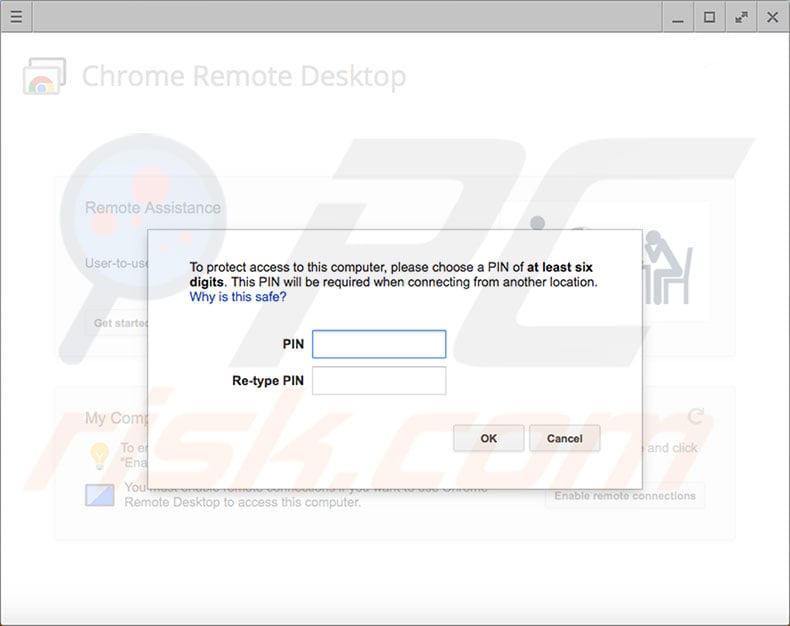 Enter your Mac's admin password if required, when you successfully proceed the message stating that remote connection are enabled will appear. Bear in mind, that your Mac must be on, connected to internet and not asleep in order to access through other computer.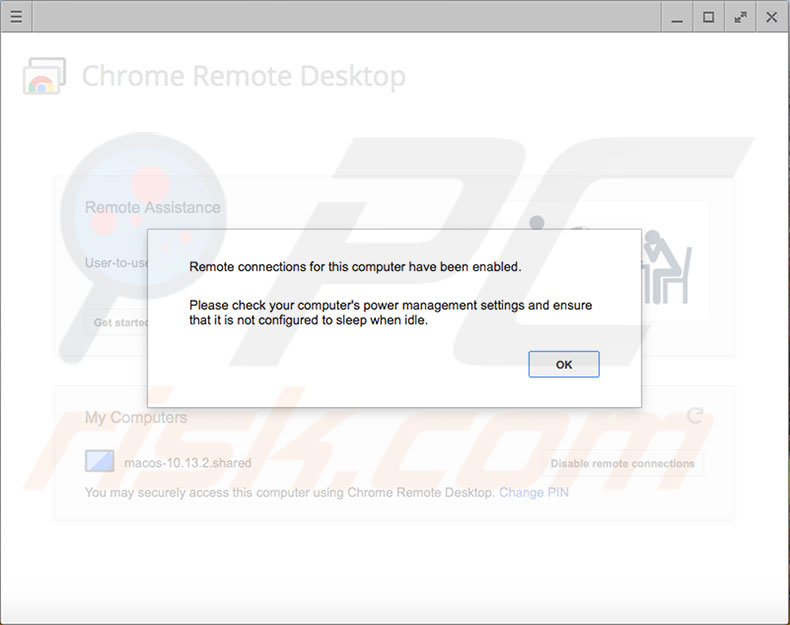 Access iMessage via Chrome remote desktop
To launch iMessages application on your Windows computer, you have to access your Mac first. Repeat the procedure and sign in to Chrome with the same Google account, you have used to set-up Chrome Remote desktop on Mac. Launch the Chrome Remote Desktop App by entering chrome://apps in the address bar. Under My Computer look for your Mac's name.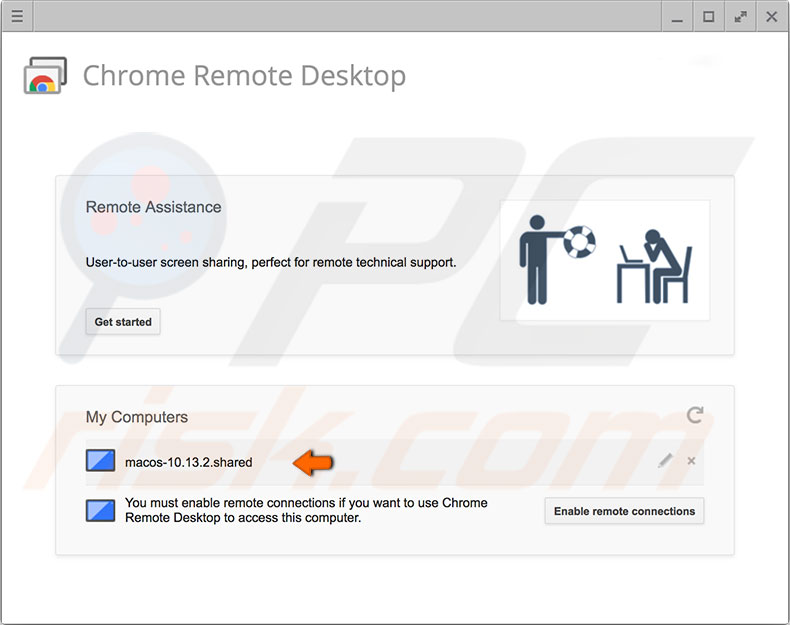 Double click to initiate a connection. If you can see the Get Started option, click it and then select the remote computer your desire to access. Write in the PIN you have created before.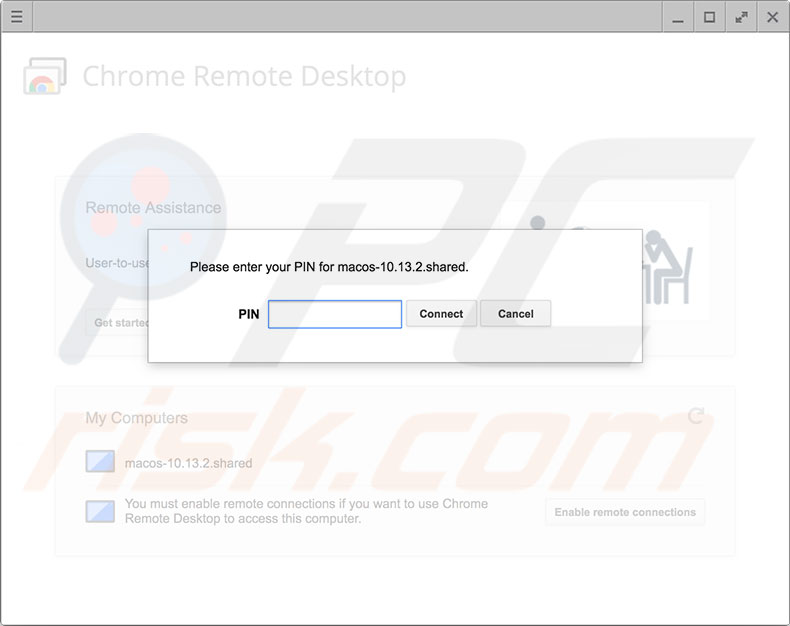 Once a connection establishes, your mac's Desktop will appear in app, you may maximazime your window to full-screen to ease the usage. Now you have an access to your Mac through the Chrome browser, so launch the iMessage app either from your Dock either use Launchpad. To terminate your connection to Mac, click the Stop Sharing button, which is at the bottom of your shared screen. In case you accidentally end a session, click Reconnect and re-enter the PIN.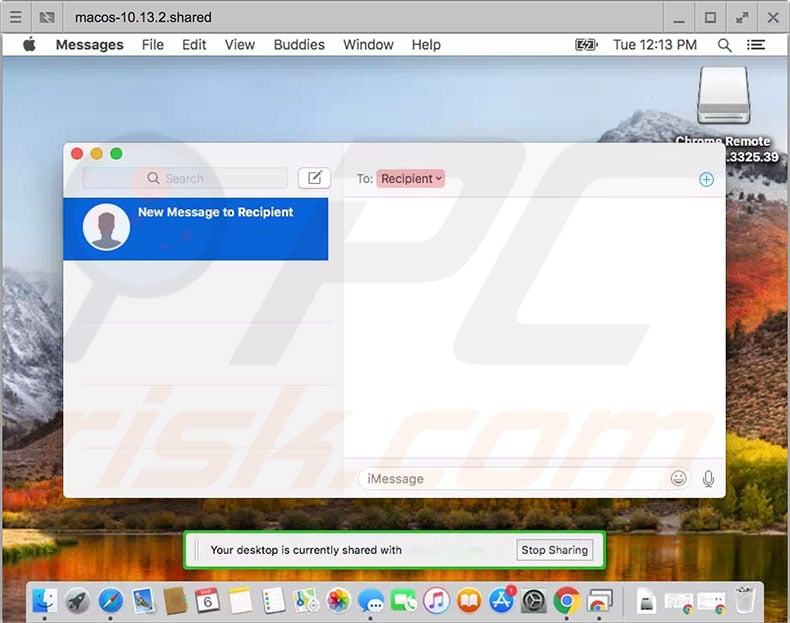 Remove the Chrome Remote Desktop from your Mac
To begin with, remove Chrome Remote Desktop Host application, by going to your Mac's application folder, then look for Chrome Remote Desktop Host Uninstaller app. Launch it and follow the on-screen instructions to proceed. When it finishes the message stating that uninstall succeeded will appear. Further, delete Chrome Remote Desktop app from your Google account, by opening your Chrome browser on Mac. Enter the chrome://apps in the address bar and then Control click or right click the app and select Remove from Chrome. Follow on-screen instructions to proceed.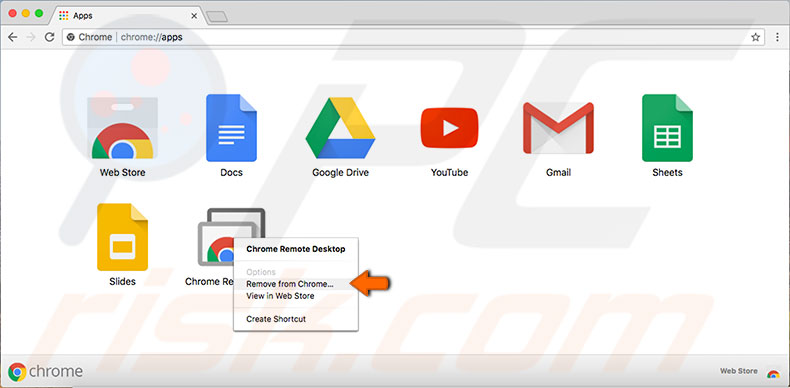 Remember, that in order to use this method you have to be able access your Mac and it must be turned ON, connected to internet and not asleep. What is more, Chrome Remote Desktop is fully cross-platform, which means you can use it on any operating system like Windows, Mac or Linux and allows you to access Windows XP or later and Mac OS X 10.6 or later.
Alternative method to access iMessage on Windows
If you don't have any Mac or can't access it, but still prefer to use iMessage, there is another way how you can use it on Windows operating system. You should look for available iOS emulators, such as Ipadian2 or any other. Download and install the software, launch it and look for iMessage application, if you can't find it visit the App Store to install it. Ensure the iOS version running on your emulator is compatible with requirements for iMessage. Once you have the app, sign in with your Apple ID, same as you use on all your Mac OS or ios devices.
Jailbreak your iPhone to access additional applications
To access iMessage on a browser you will have to jailbreak your iPhone or any other iDevice. So what is jailbreaking? It's basically changing your official iOs with a new operating system, that suggest you more flexibility. Performing this action will change the appearance of your mobile device software, also opens ability to access various custom apps, tweaks and add-ons that are forbidden in official Apple's app store. Jailbreaking allows you to access customizations that are accustomed between Android users. Through all possible adjustments you may find an ability to use iMessage from anywhere on the internet. What is more, your mobile device will be restored to factory settings after you perform an jailbreaking.
Risks of jailbreaking
From a first look it might give a view like it's useful and necessary action, however we do not recommend to jailbreak iPhones, iPads, or iPods touch for most of users. By performing an jailbreak you will automatically cancel the warranty of your device, also includes AppleCare+ purchases. What is more, you increase the risk of "bricking" your iPhone, iPad, or iPod touch, encountering with various bugs, decrease the security against malware. Jailbreaking the iDevice is an option only for people who's experienced user of iDevice and feel comfortable in troubleshooting the iPhones or any other mobile iOS device.
Jailbroken iDevice potential
Since you're familiar with possible dangers caused by jailbreaking, and still think it's an opportunity you probably consider what else you can access? Probably the main reason, that makes your iPhone more flexible, is access to Cydia, an alternative App Store for jailbroken mobile Apple device. You can't access Cydia through Apple's App Store. Usually, it is included to your new operating system installed by any jailbreaking tool, such as Pangu, TaiG or any other. What is more, with non-official operating system you're able to download apps that are forbidden in App Store, fully customize your iDevice including the lock screen, your own default apps, control center, Touch ID or 3D Touch implementing for older devices, creating shortcuts, and other adjustments to the user interface. Furthermore, among all these abilities you will be able to access iMessage through any device.
How to Jailbreak iDevice and use iMessage on any type of operating system
Before you start attempting to jailbreak your iPhone, iPad, or iPod touch, ensure you own backups of your current iDevice. We strongly recommend you to store the backup in at least 2 locations, for example cloud storage and external drive. Once your backup is safely stored reset your device to default settings using iTunes, for better results while performing the jailbreak. Next step would be to download the jailbreak software to your computer with Mac OS or Windows. Launch the software and follow the on-screen instructions to jailbreak your device. Once the new operating system is installed to your device, look for Cydia icon. If you can't find it, download from the internet. Once again, Cydia is basically App Store for your jailbroken operating system. To access the iMessage from any operating system you have to purchase an App called Remote Message, which allows you to reach iMessages through all types of devices and computers, despite their operating system. All you have to do is follow on-screen instructions to set up a web based interface, then you will be able to reach your iMessage on any browser by entering your mobile device's IP address followed by '333', that is displayed in your web based interface. You will have to sign in to iMessage to access all it's features.
How to use iMessage on Android device
A lot of Android operating system users were hopping that the newest version of iMessage will include an software related to their os. Unfortunately, there isn't any official version for Android users, so as alternative you may look for third-party applications like iMessage Android and some others in Google Play Store. These apps allows you to send messages between iPhones, iPads, iPods touch, Mac computers and your Android phones or tablets.
Video Showing how to access iMessages on Windows computer: