How to fix the Steam Client Service Error
Here are 3 ways you can fix the Steams Client Service error
Steam is currently the most popular game distribution platform on the market. Since it's launch in 2003, it has grown into a multi-million dollar platform, hosting more than 30,000 games from triple-A to indie game titles. Steam offers exclusive deals, automatic game updates, and many other perks that have attracted millions of users worldwide.
However, Steam is not perfect. Many users have reported that they can't launch Steam, and they get an error that says: "The Steam service component is not working properly on this computer. Reinstalling the Steam service requires administrator privileges." This article will show you how you can address this problem rather quickly and easily, but before we delve into the issue, let's talk about Steam in general.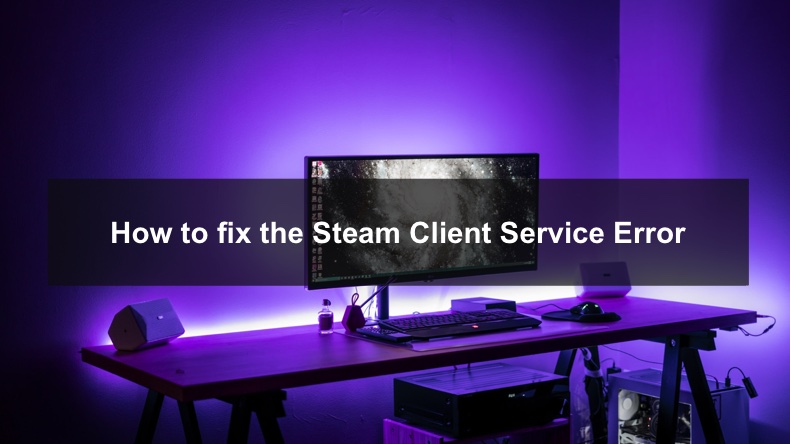 Steam was developed by the Valve corporation. Valve is a US-based video game developer, publisher, and digital distribution company best known for its Half-Life, Portal, and Counter-Strike franchises. Steam is the largest video game distribution platform for Windows-based computers and held approximately 75% of the market space in 2013.
Valve launched Steam as a standalone software client for Windows in September 2003 as a means to update Valve-developed games, such as Counter-strike to provide patches. Not long after, Steam was expanded to include a web-based digital game distribution platform.
Steam not only allowed users to purchase games on the platform but download the games from it as well, which made acquiring games as easy as it has ever been. Now, Steam's primary service is to allow its users to download games and other software that they've purchased and have in their virtual software libraries to their computers, but it has many other features as well.
With the release of Steam, Valve introduced anti-piracy and anti-cheat measures. Half-Life 2 was the first game that required Steam to be installed in order to play the game, and this also included retail copies of the game. Later in 2007, Steam started hosting games and updates for games from third-party publishers.
Steam also provides video game streaming and social networking services. Furthermore, it provides users with automatic game updates, community features, such as friends groups, cloud storage, and in-game voice and chat features.
As previously mentioned, Steam was first released for Windows. Today, users can get Steam for Windows 7, 8.1, and Windows 10. However, Steam dropped support for older Windows versions, namely Windows XP and Vista. However, Valve did not limit Steam to Windows-based systems as it gradually released Steam versions for other operating systems.
Valve released Steam for macOS in May 2010. Interestingly, users that had initially purchased Valve games for Windows could also download the macOS supported versions free of charge, but some third-party titles had to be re-purchased.
The Steam client for Linux was released in 2013, with the first supported game being Left 4 Dead 2. After the release, Valve started porting all of its games to Linux.
It's also worth noting that Valve has also released Steam for mobile platforms, including Android and iOS, in 2012. The mobile version allows users to manage their games and communicate with their friends.
Now that we've discussed what Steam is let's get into the Steam Service Error. While Steam is a polished application, it does have its issues as no system is the same. Some users have complained that they get the Steam Service Error when trying to launch Steam, thus preventing Steam from launching. You may get one of the following two possible error messages:
"In order to run Steam properly on this version of Windows, the Steam service component is not working properly on this computer. Reinstalling the Steam service requires administrator privileges." Alternatively, you may get "In order to run Steam properly on this version of Windows, the Steam service component must be installed. The service installation process requires administrator privileges." both of these errors stem from the same issue that we will try to help you to address.
The Steam service is vital for the Steam client to run correctly. In most cases, the issue is that Steam doesn't have enough permissions to carry out a particular action or access a particular file. The solution to this problem is rather simple, as all you have to do is launch Steam with administrator privileges.
 
Alternatively, you may get the error if Steam Service isn't running or if it's been corrupted. If this is the case, you have to manually restart Steam Service and configure it to launch automatically to prevent this error from occurring in the future.
So if you experience Steam Service Error, don't know to launch it as an administrator, or restart the Steam Service, we have prepared guides that will help you do that. We've also included a guide for repairing Steam, just in case the first two methods don't work for one reason or another. We've also made a video guide that includes all the steps, so check it out at the bottom of the page.
Table of Contents:
Method 1. Run Steam as administrator
The easiest and most common way to fix Steam Service Error is to configure Steam to launch and run with administrative privileges. Here's how you can do it.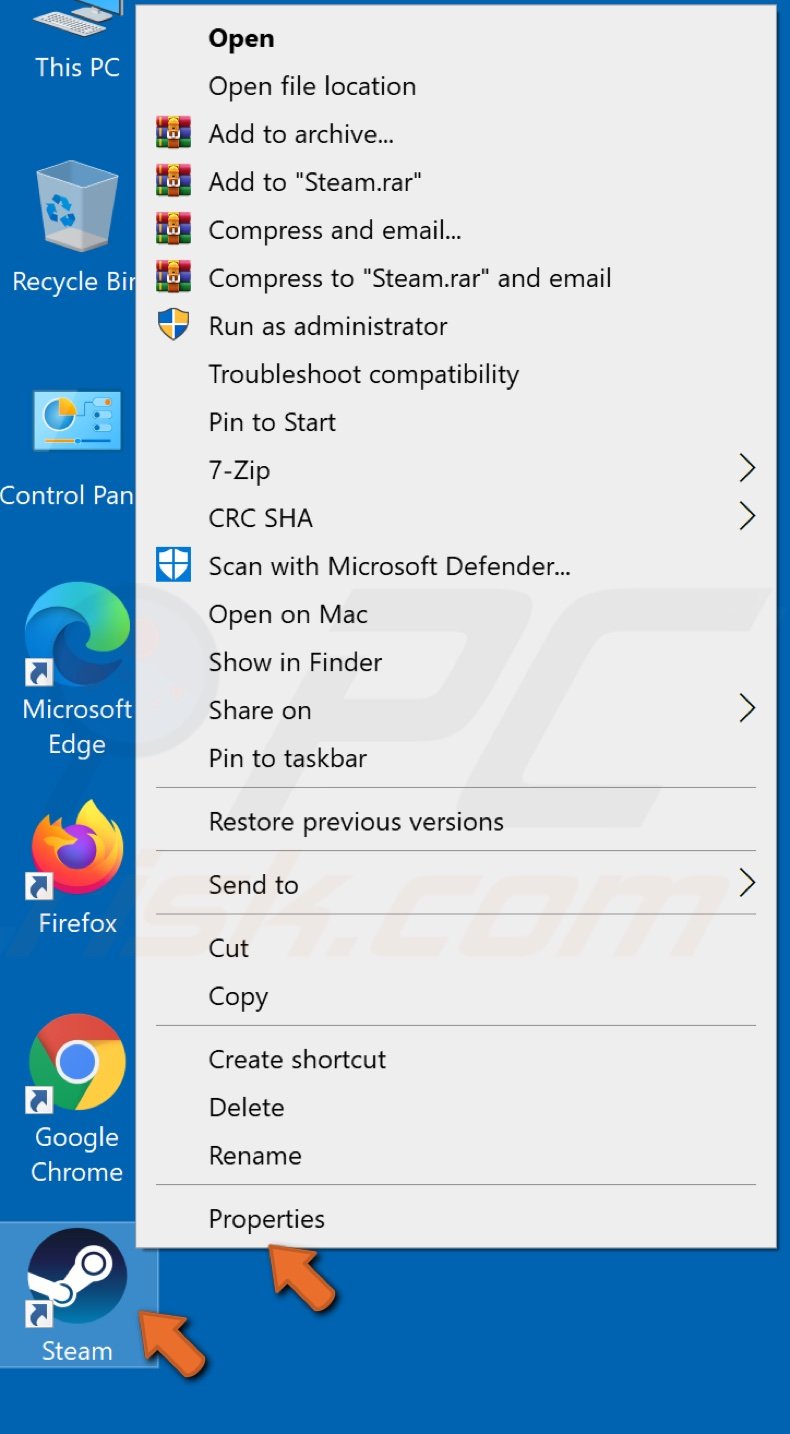 1. Right-click Steam's shortcut, and click Properties.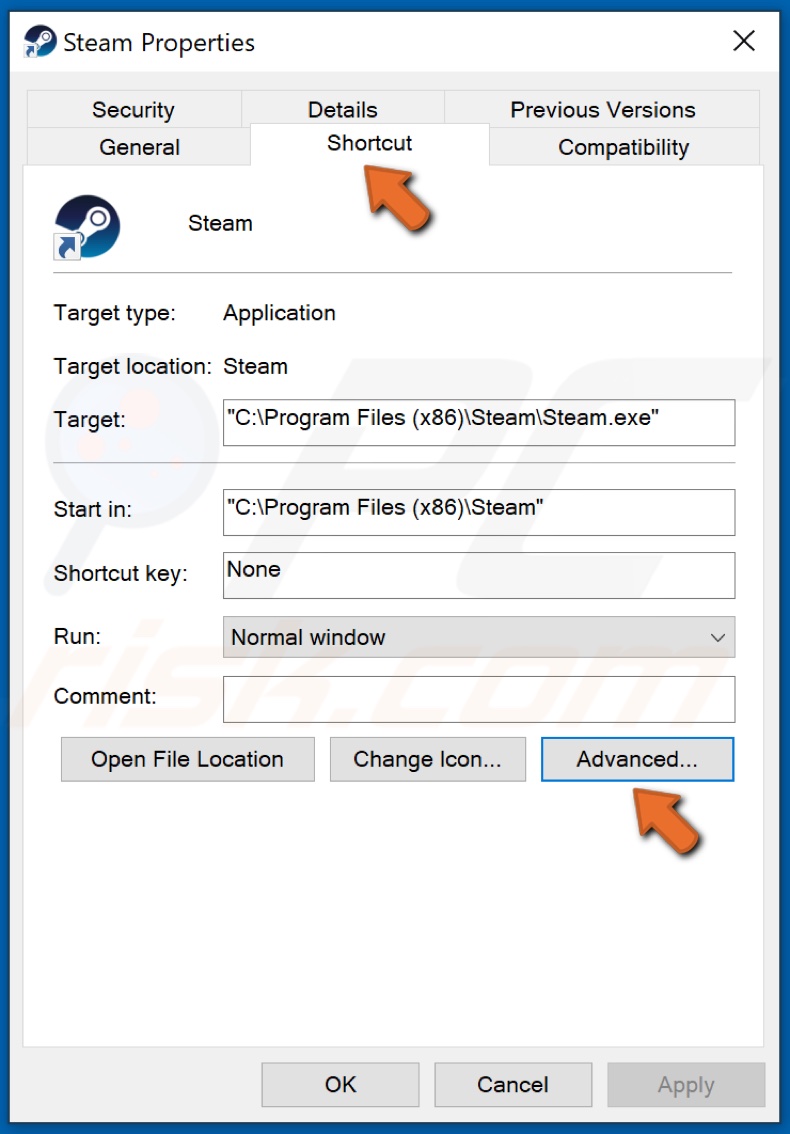 2. Under the shortcut tab, click Advanced.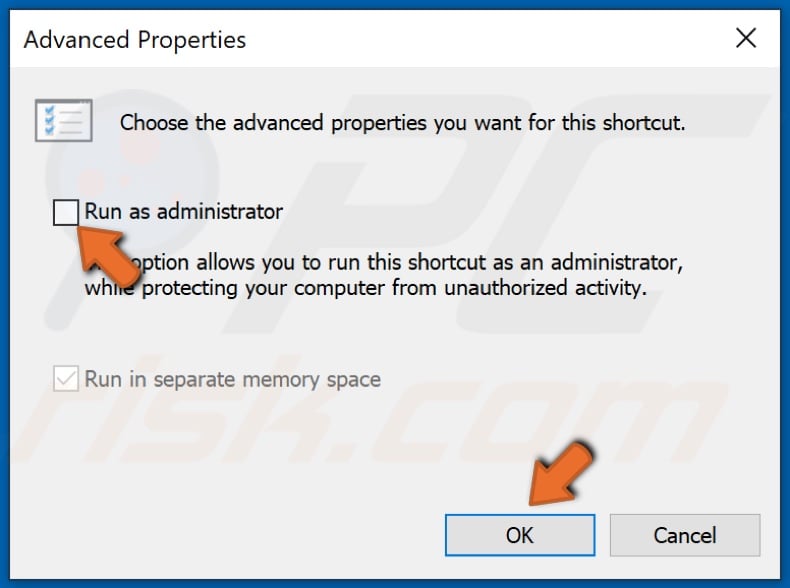 3. Tick the Run as an administrator checkbox and click OK.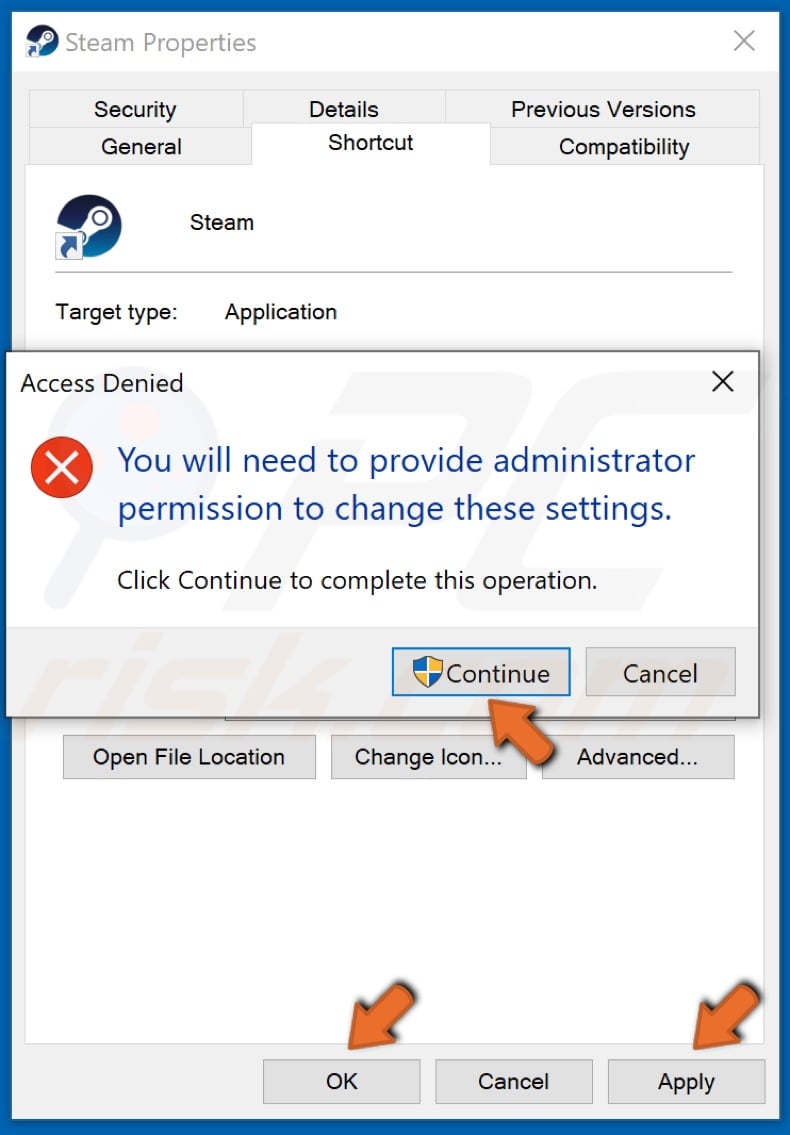 4. Click Apply and click Continue to provide administrator permission.
5. Click OK and launch Steam.
Method 2. Configure Steam Client Service to start automatically
Steam Service is supposed to start each time you launch Steam. Therefore, you can go to the Service settings and set Steam Service to start automatically. Here's how you can do it.
1. Hold down Windows+R keys to open the Run dialog box.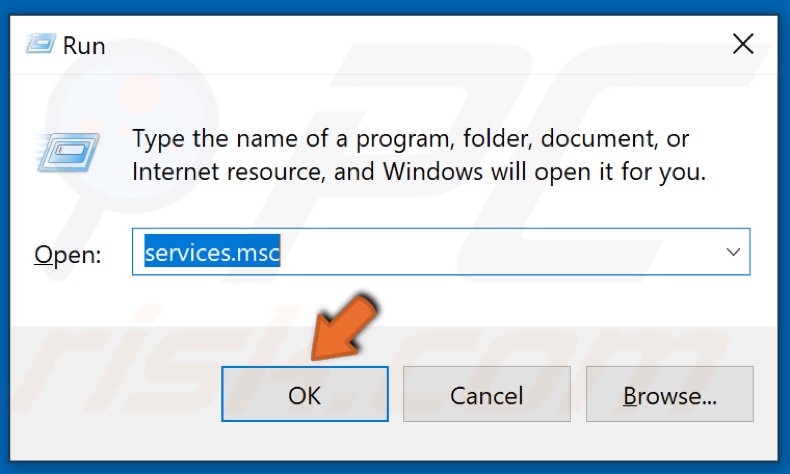 2. Type in services.msc and click OK.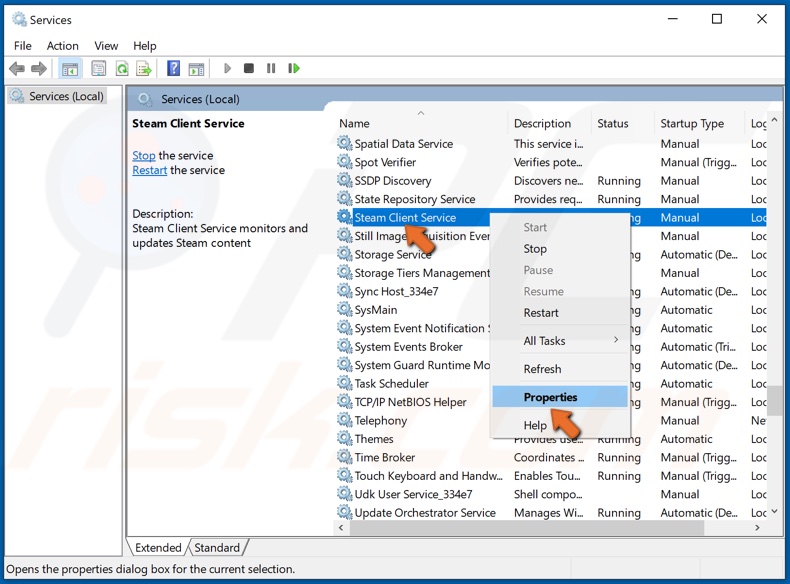 3. scroll through the list and locate Steam Client Service.
4. Right-click it and click Properties.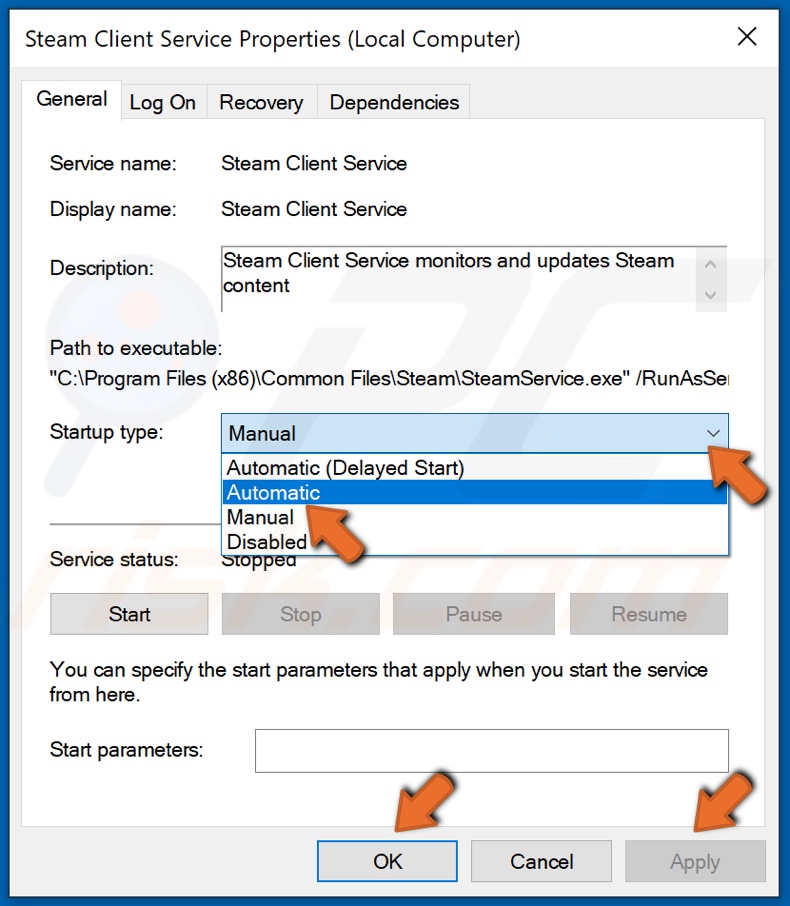 5. Open the Startup type drop-down menu and select Automatic.
7. Click Apply and click OK.
8. Close the services window and launch Steam.
Method 3. Repair Steam Client Service via Command prompt
If the methods provided above don't work, then that might mean that the Steam Service has been corrupted or broken. Luckily, you can repair the service by executing the "C:\Program Files (x86)\Steam\bin\SteamService.exe" /repair command in Command prompt.
1. Hold down Windows+R keys to open the Run dialog box.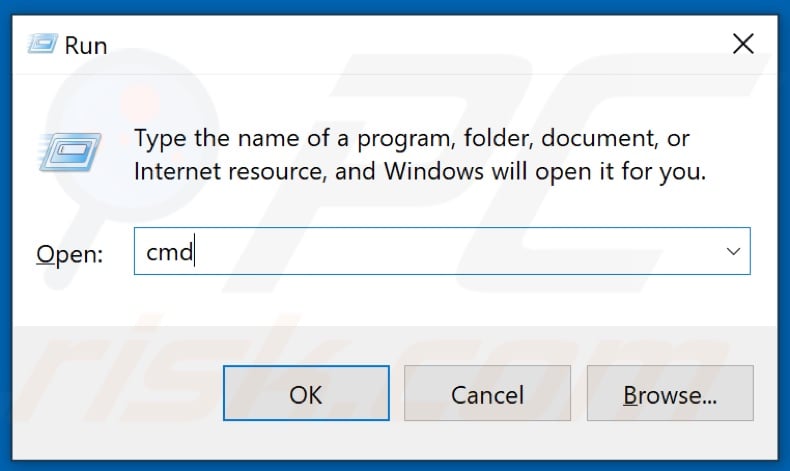 2. Type in CMD and hold down Shift+Ctrl+Enter keys to open Command prompt with administrative privileges.
3. Move the command prompt window to the side for now.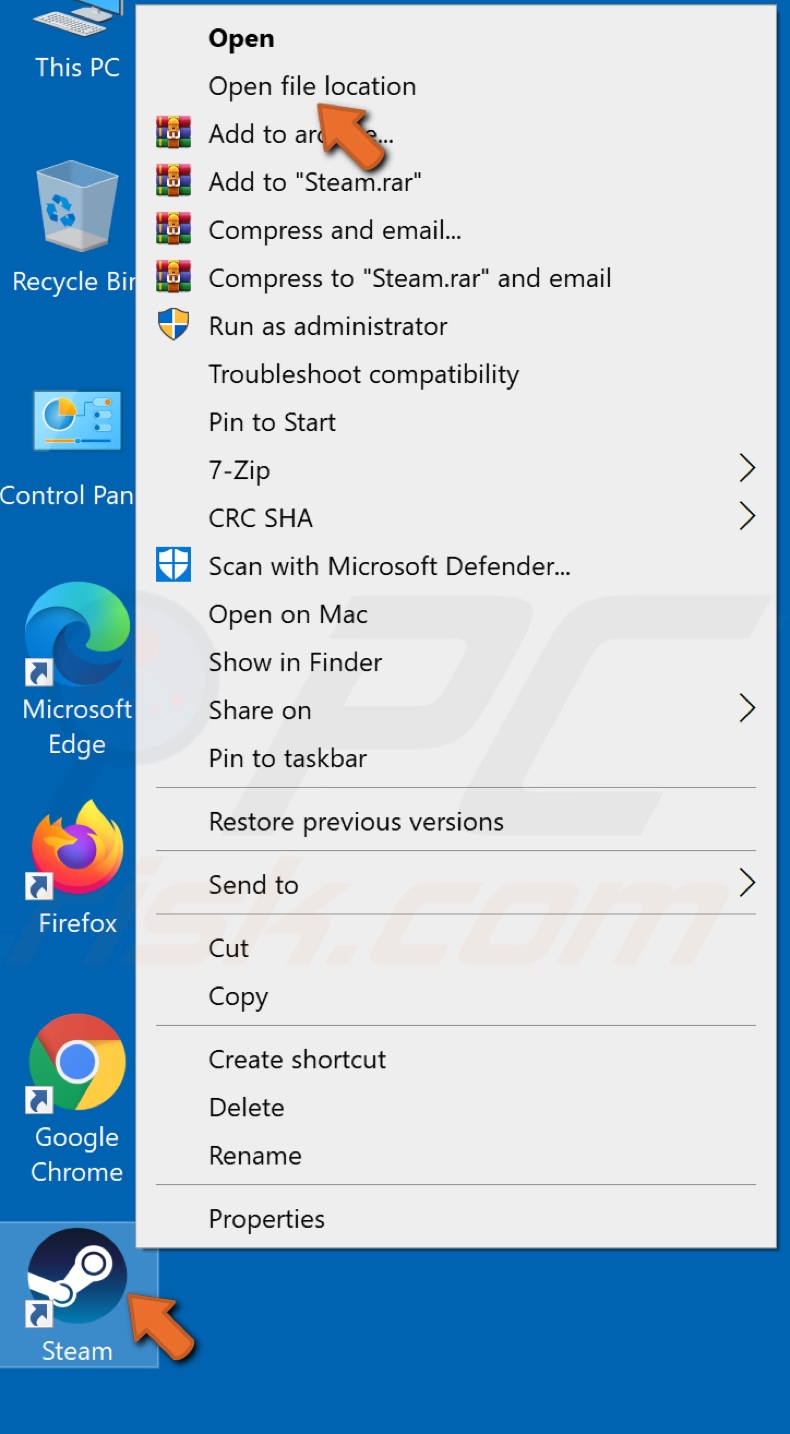 3. Then, right-click Steam's desktop icon and click Open file location.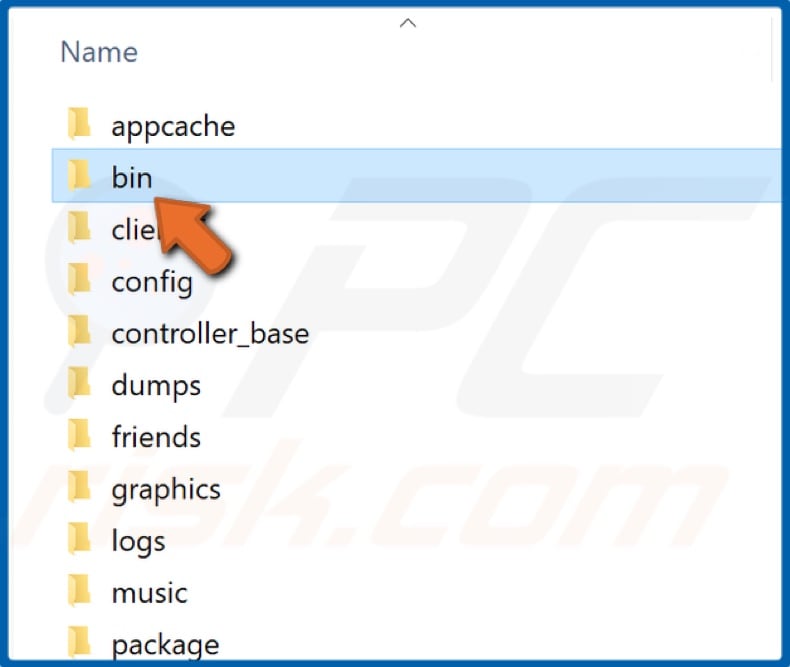 4. Go to the bin folder.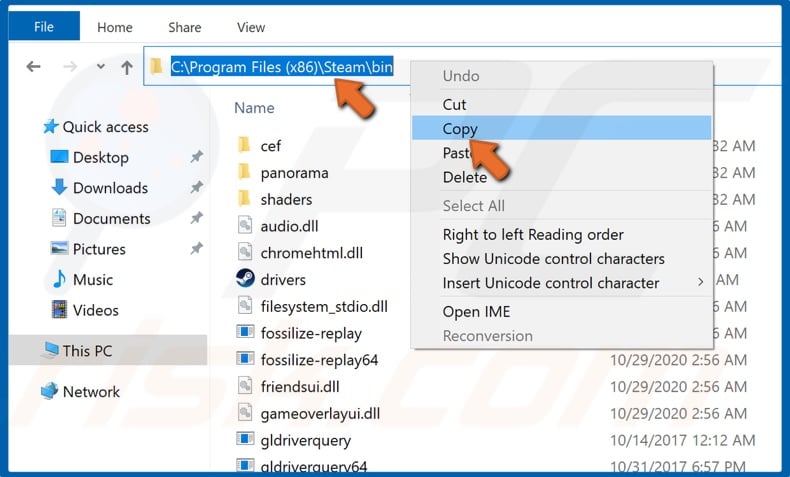 4. Once in the bin folder, click the address bar, then right-click the selected address, and then click Copy.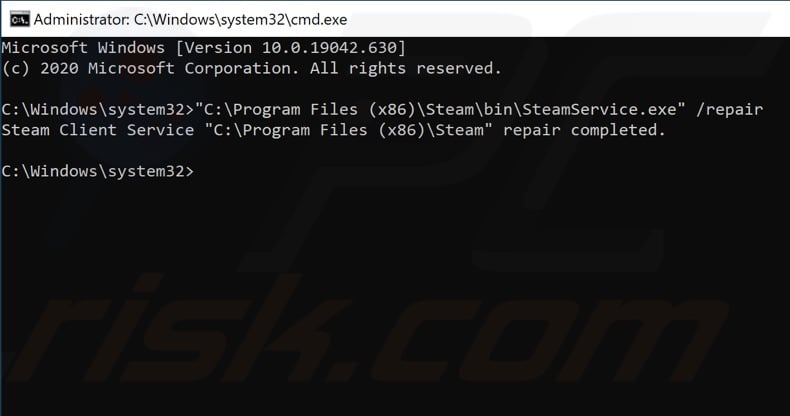 5. Get back to the command prompt window. Type in a quotation mark, and then click the right mouse button to paste to the copied address.
6. Once you have pasted the address, add \SteamService.exe" /repair. The final command should look like "C:\Program Files (x86)\Steam\bin\SteamService.exe" /repair
7. Hit Enter to execute the command.
Note that this command features the default Steam location. if you installed Steam on a different drive or selected a custom location, then the address will be different.
8. Close the Command prompt and launch Steam
Video guide on how to fix Steam Client Service error