Potential Windows Update Database error detected
How to fix "Potential Windows Update Database error detected" error
Windows Update is a free service provided by Microsoft which allows Windows users to get the latest security updates, drivers, feature enhancements bug fixes other updates. Generally speaking it is a service used to keep Microsoft Windows operating systems and some other Microsoft products updated. All Windows operating systems since the Windows 98 are able to use Windows Update, the only thing you need is a working operating system and a connection to the Internet.
Keeping Windows up to date is important, especially if you want to stay protected by having the latest security improvements. However, sometimes the update process can get problematic and one or another error can prevent you from updating Windows. If you are reading this, then most probably you are one of those users who encountered a "Potential Windows Update Database error detected" error during Windows Update process in Windows 10. This error usually occurs when users are running the Windows Update troubleshooter and there are some corrupted system files, or Windows update cannot access the C:\Windows folder. The worst part is that this error does not come with any more details about what exactly caused the error and or you should do about it. Good news is that there are several known ways to fix this problem.
In order to fix this "Potential Windows Update Database error detected" error you might need to run the DISM tool and System File Checker, to reset Windows Update components or to run Windows Update troubleshooter. Read our guide and follow our described steps one by one, and see if any of the methods can help you to solve the problem.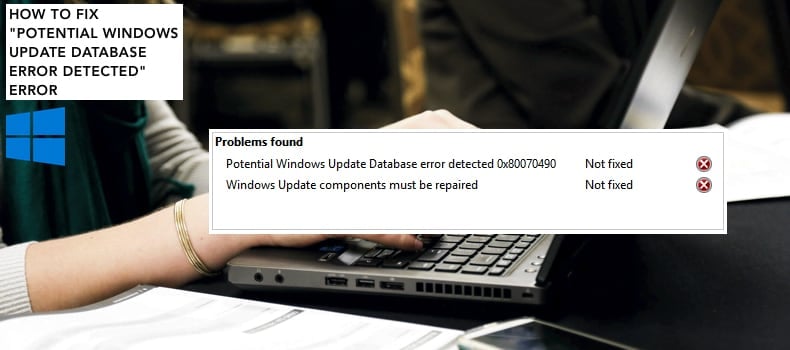 Table of Contents:
Run DISM tool
DISM stands for Deployment Image Servicing and Management and it can be used to repair and prepare Windows images, including the Windows Recovery Environment, Windows Setup, and Windows PE. To run DISM scan you need to open Command Prompt as administrator first. To do so, type "command prompt" in Search and right-click the "Command Prompt" result, select "Run as administrator" option from the contextual menu.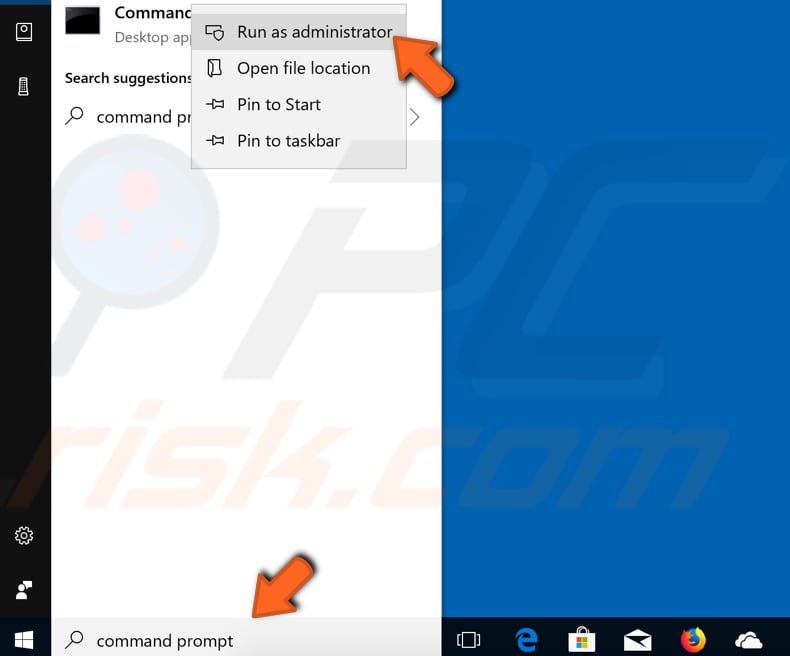 Once you have the Command Prompt open, type the "DISM /Online /Cleanup-Image /RestoreHealth" command and press Enter. This command should be able to repair corrupted Windows Update Files.

If this does not solve the problem and you need to repair corrupted Windows Update System Files, then execute this command: "DISM.exe /Online /Cleanup-Image /RestoreHealth /Source:C:\RepairSource\Windows /LimitAccess"

Run System File Checker
System File Checker is a Windows utility that allows users to scan for corruptions in Windows system files and restore corrupted files. This guide describes how to run the System File Checker tool (SFC.exe) to scan your system files and to repair missing or corrupted system files. The "sfc scannow" option is one of the several specific switches available in the sfc command, in order to execute this command type "sfc /scannow" in Command Prompt and press Enter. System File Checker will start and it should take some time to complete the scan. It should take about 15 minutes. Wait for the scanning process to complete and see if the "Potential Windows Update Database error detected" still persists.

Run Windows Update troubleshooter
Windows includes a number of troubleshooters designed to quickly diagnose and automatically resolve various computer problems. Troubleshooters cannot fix all problems, but they are a good place to start if you encounter a problem with your computer, operating system or connected devices. If you have encountered the "Potential Windows Update Database error detected" not when you were running the Windows Update troubleshooter, then running it could solve the problem. To find this troubleshooter go to Control Panel by typing "control panel" in Search and click the "Troubleshooting" option.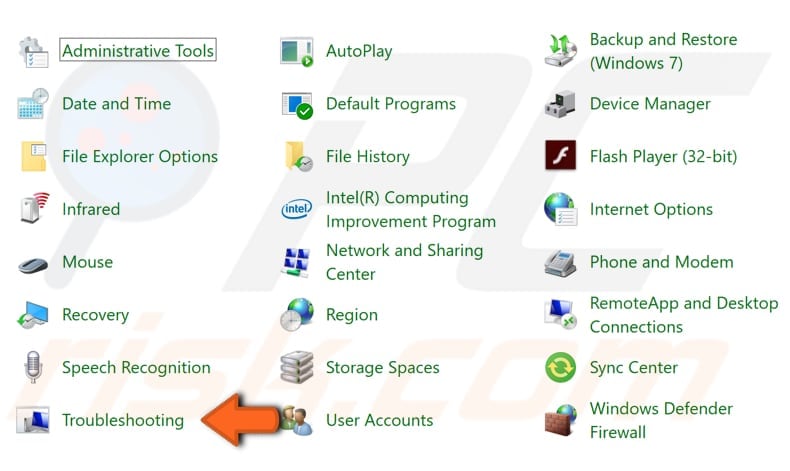 Now click the "View all" option in the left pane.

Find the Windows Update troubleshooter at the end of the list, right-click it and select "Run as administrator". Follow the instructions and see if it fixed the "Potential Windows Update Database error detected" error.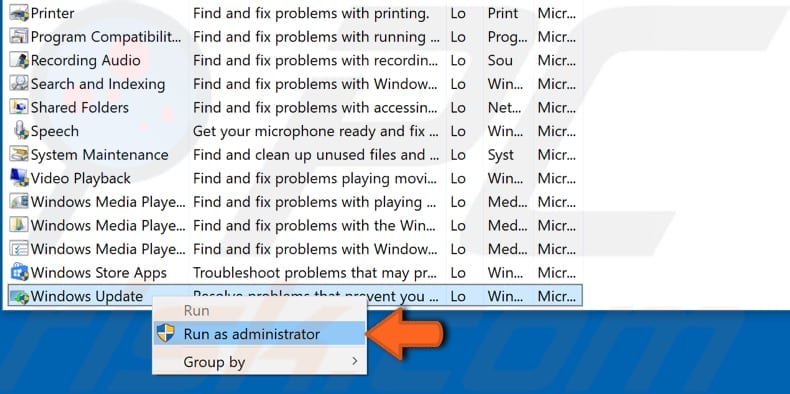 Reset Windows Update components
If none of the above methods worked, you could also try to run some commands in Command Prompt and check if the "Potential Windows Update Database error detected" error can be fixed this way. This method includes fixing the error by resetting some Windows Update components. That includes stopping particular services and renaming folders, then starting those services again. Open Command Prompt as administrator again and type the commands below one-by-one. Press Enter on your keyboard after each command.
net stop wuauserv
net stop cryptSvc
net stop bits
net stop msiserver
ren C:\Windows\SoftwareDistribution SoftwareDistribution.old
ren C:\Windows\System32\catroot2 catroot2.old
net start wuauserv
net start cryptSvc
net start bits
net start msiserver
Close Command Prompt and see if the "Potential Windows Update Database error detected" error is now fixed.
Perform a Clean boot
When you start Windows using a normal startup operation, several applications and services start automatically, and then run in the background. These programs include basic system processes, antivirus software, system utility applications, and other software that has been previously installed. These applications and services can cause software conflicts, and cause the "Potential Windows Update Database error detected" error. A clean boot is performed to start Windows using a minimal set of drivers and startup programs. This helps eliminate software conflicts that occur when you install a program or an update, or when you run a program in Windows. To perform a clean boot, type "system configuration" in Search and click on the "System Configuration" result.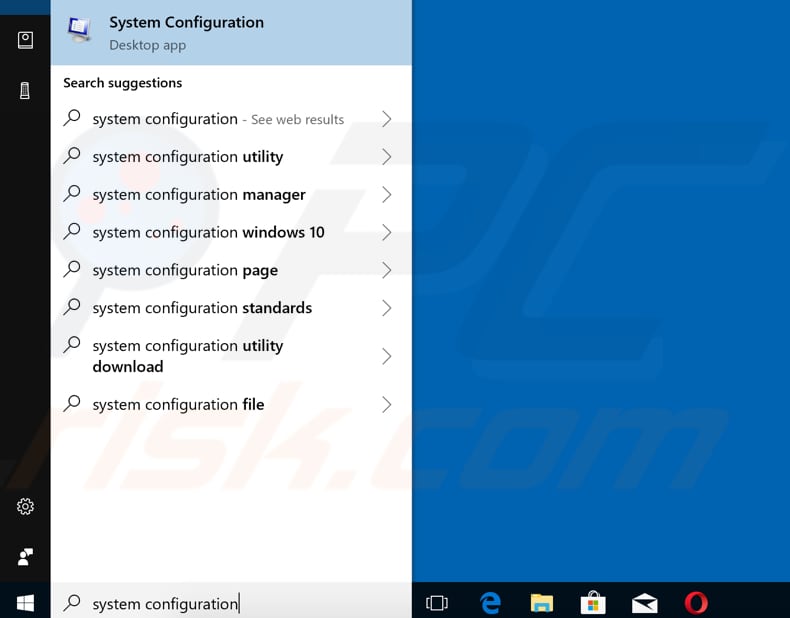 In the System Configuration window, click on the "Services" tab and then mark the "Hide all Microsoft services" checkbox. Then, click on "Disable all".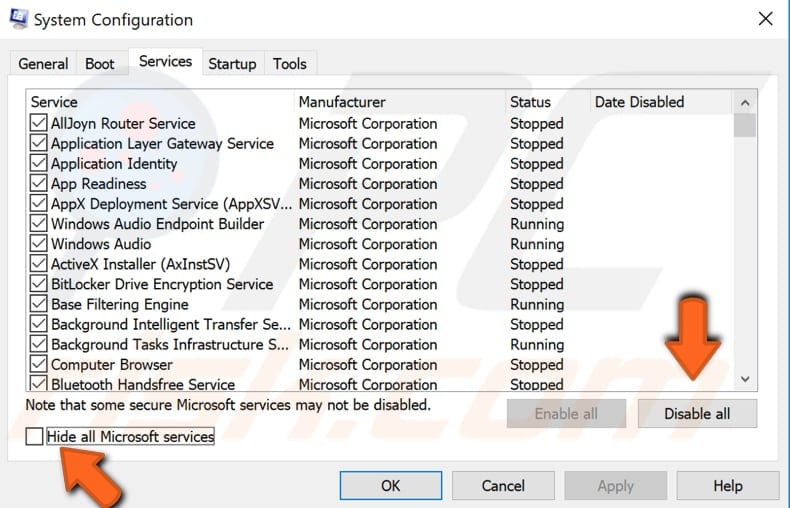 Click the "Startup" tab and click "Open Task Manager".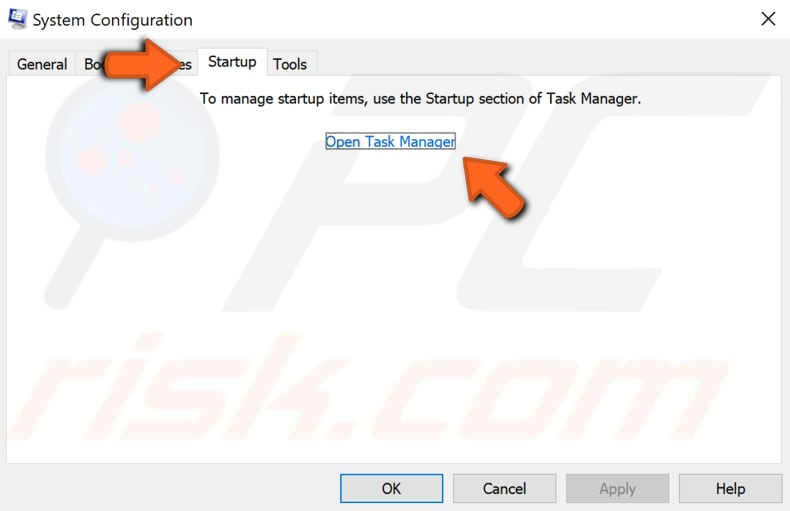 Under the Task Manager's Startup tab, select all enabled applications one by one and click "Disable" to disable them. Once all programs are disabled, close Task Manager and click "OK" in the System Configuration's Startup tab. Restart your computer and see if the "Potential Windows Update Database error detected" still persist while you are trying to troubleshoot Windows Update or update Windows.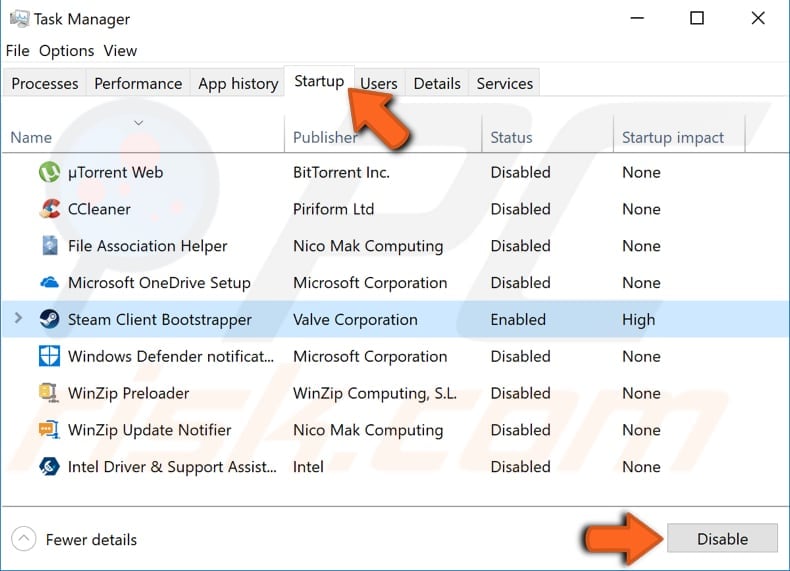 That's it, we hope that one of the methods solved the problem for you and you are now able to update Windows or troubleshoot problems related to Windows Update without any additional issues. If there is another working way to solve this problem and it is not mentioned in our guide - do not hesitate to share it with us and with the others by leaving a comment in our comment section below.
Video showing how to fix "Potential Windows Update Database error detected" error: