Tools To Monitor System Resources
Our Top Recommended Tools To Monitor System Resources
The most common system resources are the CPU (Central Processing Unit), Video Card, Hard Drive, and RAM (Random Access Memory). Technically, each device connected to a computer system is a resource, and even certain fonts, if they form part of installed software. The built-in Windows tool Task Manager can be used for monitoring system resources, however, there are many other third-party tools available for this purpose. These are described below.
Third-party monitoring tools usually provide the same basic information about computer system resource usage as Task Manager, but can also deliver more detail. Furthermore, they generally have a more attractive, user-friendly interface. Some even allow users to customize the look of the software, can work as gadgets, and display information at all times when your computer is turned on. Third-party system monitoring tools are worth trying out even if you are only looking for a more user-friendly system monitoring tool.
The article below outlines various monitoring tools that you might find useful. Screenshots are provided to make it easier to decide which might be best and download links will direct you to the most appropriate tool online.

Table of Contents:
FreeMeter
FreeMeter is a simple and free program which monitors CPU (Central Processing Unit) and RAM (Random Access Memory) usage in real time. It allows you to choose whether you want to start monitoring your system at Windows startup or when you manually start the program. When launched, it displays three graphs with the CPU usage, network usage and your current disk usage. It also displays the amount or Random Access Memory (RAM) is in use, how much is left and how much is available in total. You can customize the size of the program window and make the program display just the information you require. FreeMeter was released in 2017 and works on Windows 7, 8 and 10. We recommend it for users who need to keep an eye on system resource usage while working with several programs at once. You can download FreeMeter by clicking this link.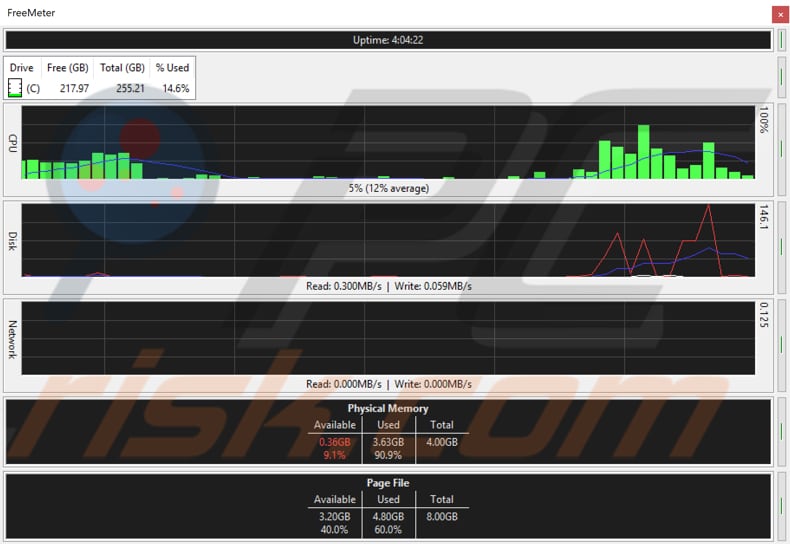 Wise System Monitor
Wise System Monitor is another free tool which offers a simple way to monitor CPU usage, memory usage, and all processes running in the background. It has a process monitor that provides a list of all running processes and displays the system resources they are consuming. You can also end those processes through the Wise System Monitor app. It also displays the real-time temperatures of your CPU, graphic card, and hard drive and allows you to check if any of these components are overheating. Information can be displayed in a floating small window above the time and date or you can enable a bigger window for more information about the system and its usage of system resources. Wise System Monitor is a small program that consumes little system resources and allows you to keep it running continuously. This program works on Windows XP, Vista, Windows 7, 8 and 10. You can download Wise System Monitor by clicking this link.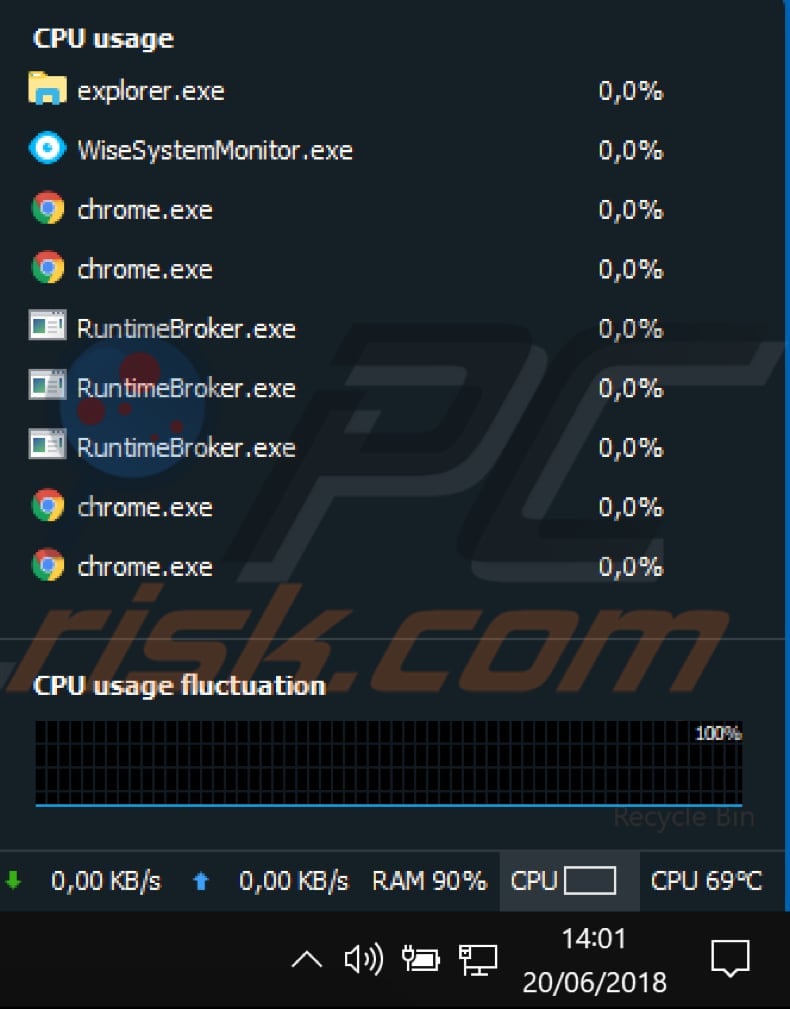 SysTrayMeter
SysTrayMeter is a simple and free application which adds a small icon to your system tray when installed. It displays CPU and RAM usage and free space on your hard disk drive. This is a small application that allows you to check system usage in one click. It does not show extensive information, but occupies little space in the background and take few system resources. If CPU and RAM usage information is all you require, then SysTrayMeter might be adequate. We found information on the Internet suggesting that it works only on Windows 2000 and Windows XP, however, we installed it on a Windows 10 machine and it worked perfectly. You can download SysTrauMeter from here.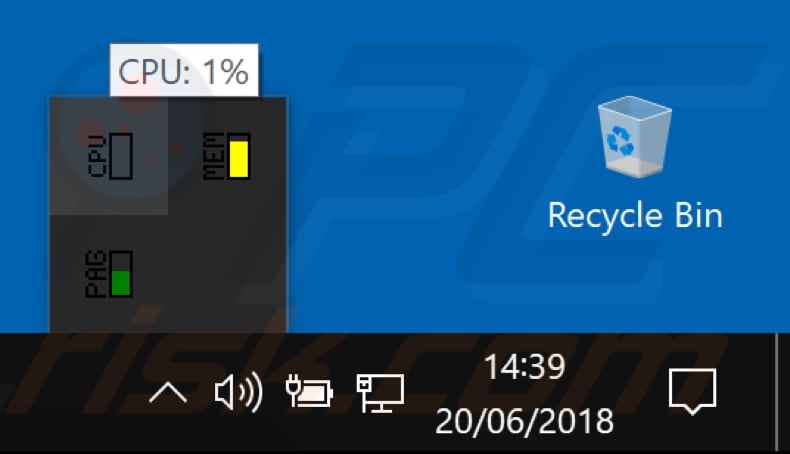 Taskbar Meters
Taskbar Meters contains three executable files that appear on the taskbar when launched: Taskbar CPU Meter, Taskbar Memory Meter, and Taskbar IO Meter. These monitoring tools allows you to keep an eye on CPU, memory or disk IO operations consumption. You can launch all at once or individually as required. Clicking one of the meter icons on the taskbar allows you to update its frequency and configure the colours shown at certain usage percentages. The display icon uses green, yellow, and red to represent the usage. If you require a lightweight and portable set of resource monitors that display usage through coloured taskbar icons, Taskbar Meters should be a good choice. You can download Taskbar Meters from here.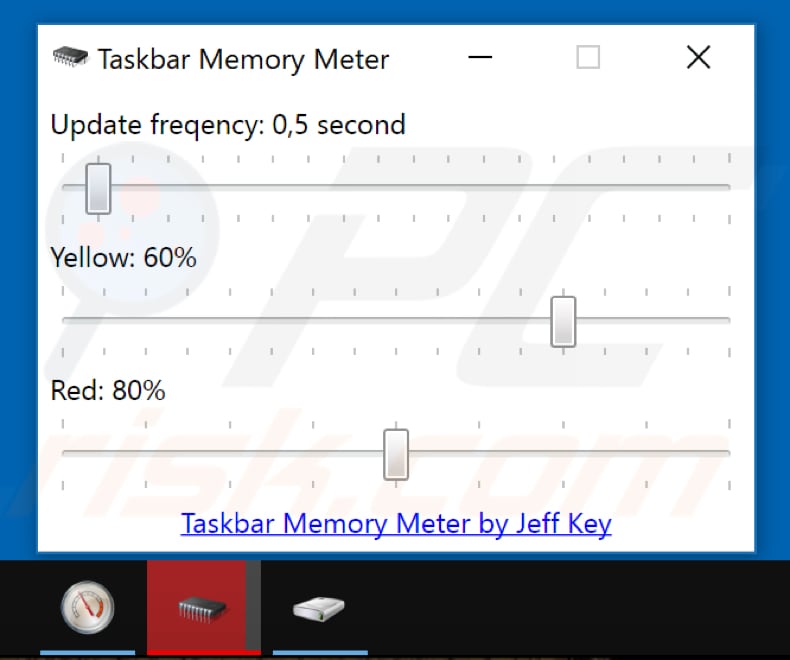 Rainmeter
Rainmeter is a free tool that displays information about memory, CPU, disk and other usage anywhere on the desktop. You can move selected tabs on the desktop and place them anywhere you wish. It differs from other the aforementioned resource monitoring tools because it is more customizable. You can choose different skins (looks) and add more informational widgets. It is more difficult to configure, but should only take about 10 minutes to learn how it works. If you are looking for a more powerful resource monitoring tool, Rainmeter is a good choice. It will keep track of your system status, RSS feeds, and has many other features. You can download the Beta or Final release (or both) to see which suits best. During installation, you can choose whether you want to install a standard or portable version and if you want to Rainmeter to be launched on Windows startup. To download Rainmeter, click this link.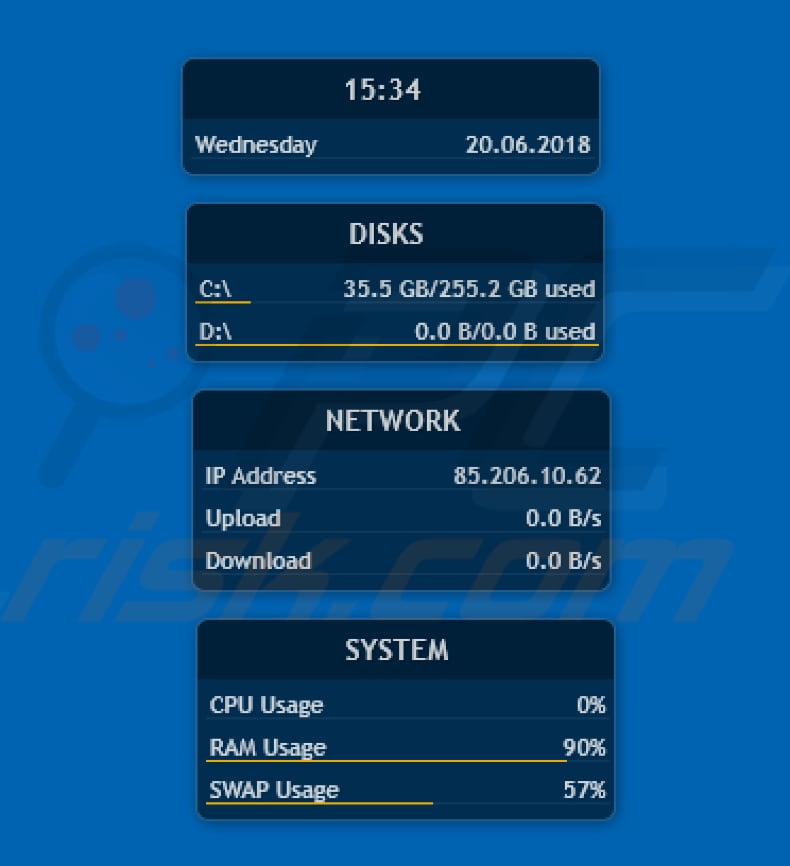 These were our top five picks, and hopefully you will find one or more useful. If you know of any other useful tools to monitor system resources, please share them with us by leaving a comment in the section below.