How To Turn Off/Disable Sticky Keys In Windows 10
Most Windows operating systems (Windows 95 Windows or later) have the Sticky Keys feature built-in. Sticky Keys is one of several accessibility options available in Windows operating systems and can be helpful for users with certain disabilities, making complex commands easier. Despite these advantages, it can also be annoying if you do not need it.
Sticky Keys are usually generated by consecutively pressing the Shift key five times. The main purpose of this feature is to help users who have difficulty pressing multiple keys at once. For example, opening Task Manager is usually achieved using a keyboard shortcut - pressing Ctrl+Shift+Esc simultaneously (holding each key pressed). An alternative method is to press Ctrl, then Alt, and then the Esc key - the Sticky Keys feature avoids the need to hold all keys pressed at once. Despite this convenience, many users have reported that they cannot disable the Sticky Keys feature and it is a continual problem.
To fix the problem, you might need to edit Windows Registry, scan the computer for malware, check if the Sticky Keys feature is disabled, reinstall keyboard drivers, check for the latest Windows Updates, and take other measures. In the guide below, we describe how to apply these methods with detailed descriptions and screenshots.
NOTE: Sticky Keys might be important for some users, and you should turn off accessibility features only if no one else is using that particular computer. Do not turn off accessibility features on a computer if others might be using it in schools, public libraries, etc.

Table of Contents:
Edit Windows Registry
Windows Registry, usually referred to as just 'the registry', is a collection of databases of configuration settings in Microsoft Windows operating systems. It is used to store much of the information and settings for software programs, hardware devices, user preferences, operating system configurations, and much more. Many of the options exposed in the registry are not accessible elsewhere in Windows. In this guide, we show how to edit Accessibility registry keys and how to change values in StickyKeys, Keyboard Response, and ToggleKeys. You will first need to open the Run dialog box. Press the Windows Windows key + R, or right-click Start and select "Run" and type "regedit". Press Enter or click "OK".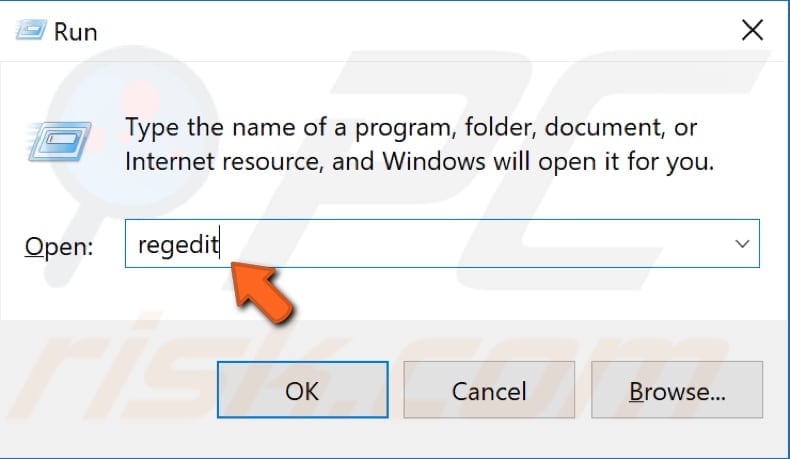 To disable StickyKeys, Keyboard Response and ToggleKeys, follow this path: "HKEY_CURRENT_USER\Control Panel\Accessibility\" and select the "StickyKeys" key. Double-click the "Flags" REG_SZ file in the right pane and change the Flags value data to "506". Click "OK" to save the changes.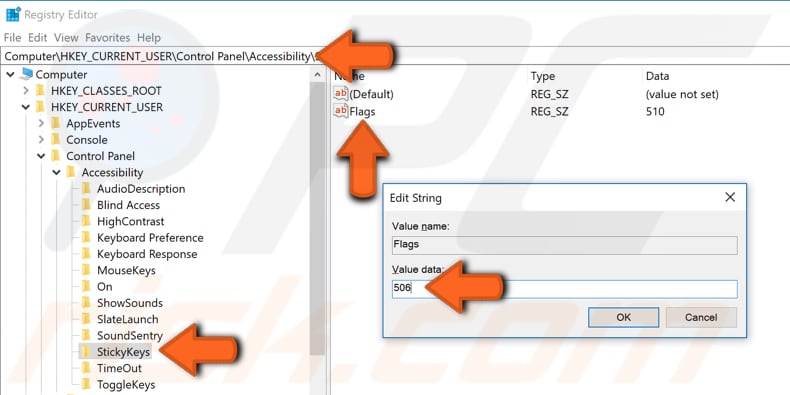 Now select the "Keyboard Response" key, double-click the "Flags" REG_SZ in the right pane and change the Flags value data to "122". Click "OK" to save the changes.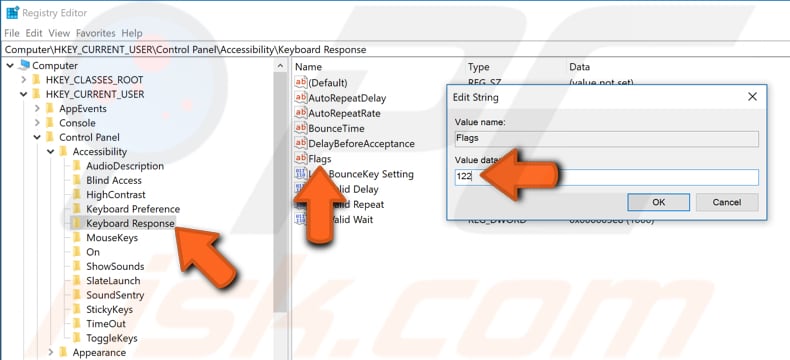 Now select the "ToggleKeys" key, double-click the "Flags" REG_SZ in the right pane and change the Flags value data to "58". Click "OK" to save the changes.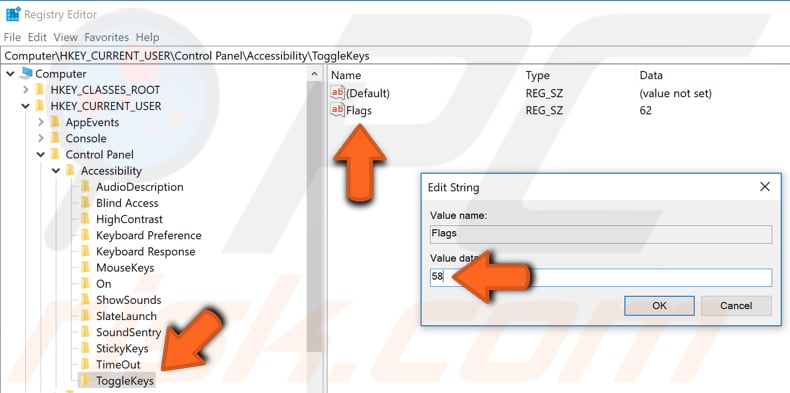 Check if Sticky Keys are now turned off. If editing Windows Registry does not solve the problem, we recommend that you undo the changes by entering the previous values.
Check Windows Settings
Also check Windows Settings and ascertain if the Sticky Keys feature is disabled. Go to Settings and click the "Ease of Access" option.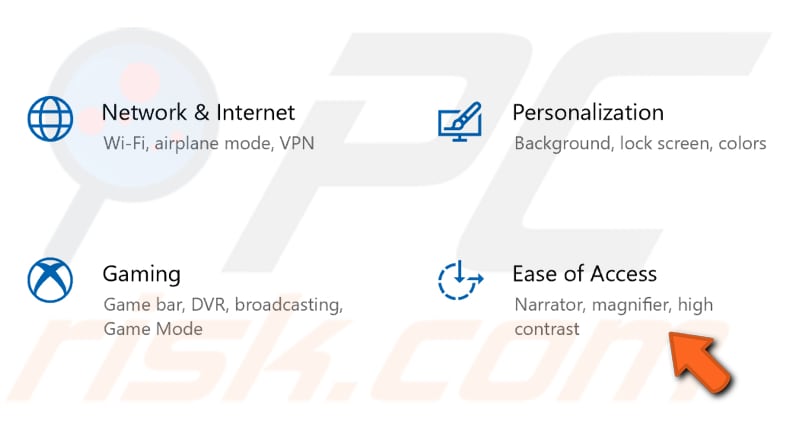 Select the Keyboard section on the left pane and make sure that the "Use Sticky Keys" option is disabled (off). Additionally, try to disable the "Allow the shortcut key to start Sticky Keys" by unticking the checkbox.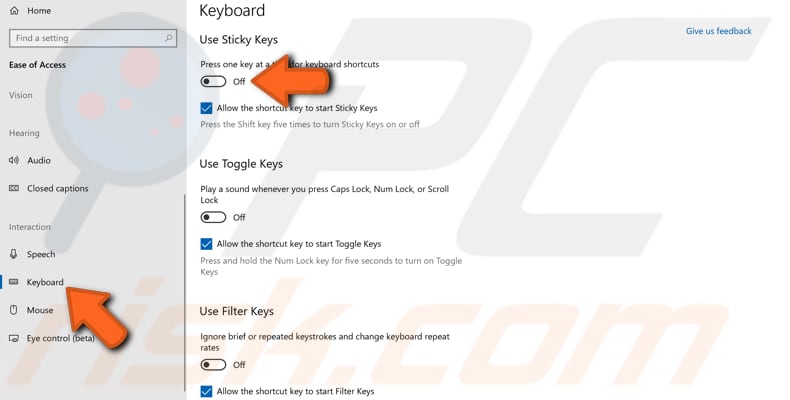 Also try to disable the "Use Toggle Keys" and "Use Filter Keys" features.
Now type "control panel" in Search and click the "Control Panel" result.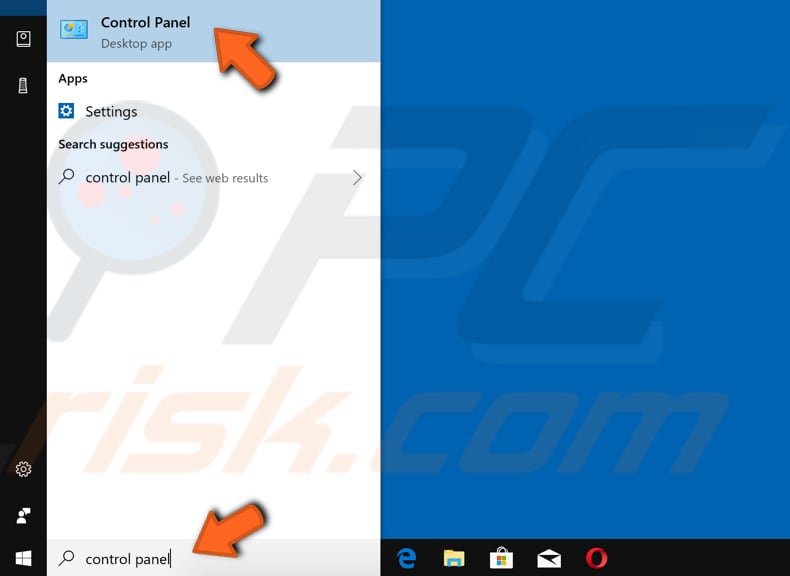 Find and click the "Ease of Access Center" option.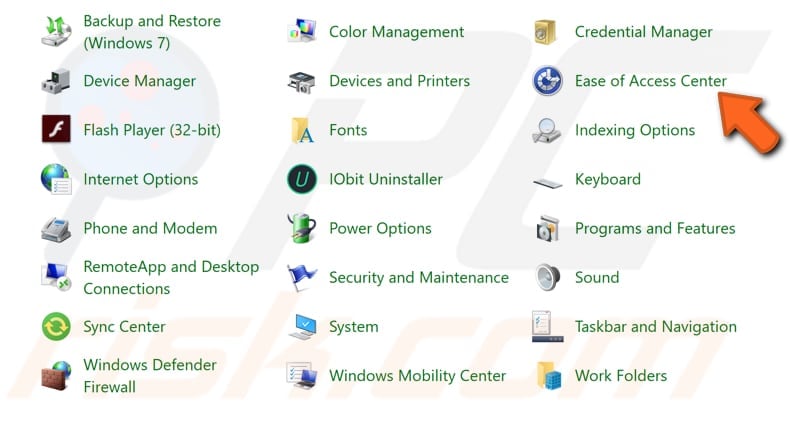 Now click the "Make the keyboard easier to use" option.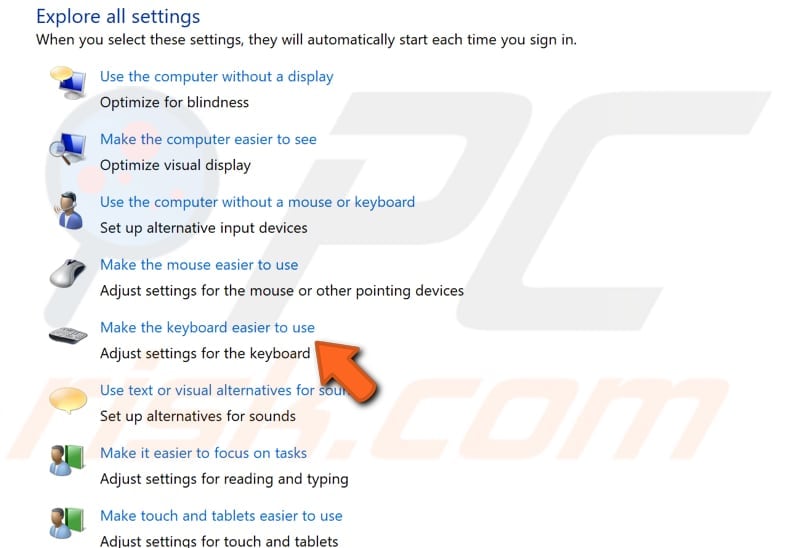 Make sure that the "Turn on Sticky Keys" checkbox is unticked and click "Apply" to save the changes (if any were made).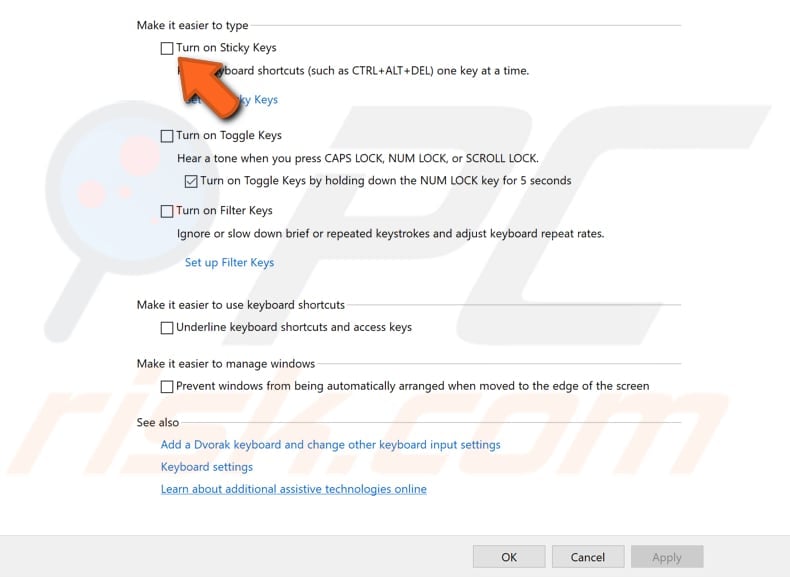 Check if Sticky Keys are now disabled and the problem is solved.
Reinstall Keyboard Drivers
A device driver is a software that informs the operating system and other software how to interact with particular hardware. It is rather like a translator between software and hardware, since they often are created by different manufacturers, companies, or people. The driver facilitates smooth communication between hardware and software. In most cases, computers are unable to send and receive data correctly without drivers. If the appropriate driver is not installed, the device might not function properly, if at all. In order to reinstall Keyboard drivers, open Device Manager by right-clicking the Start button and selecting "Device Manager" result from the contextual menu, or type "device manager" in Search and click the "Device Manager" result.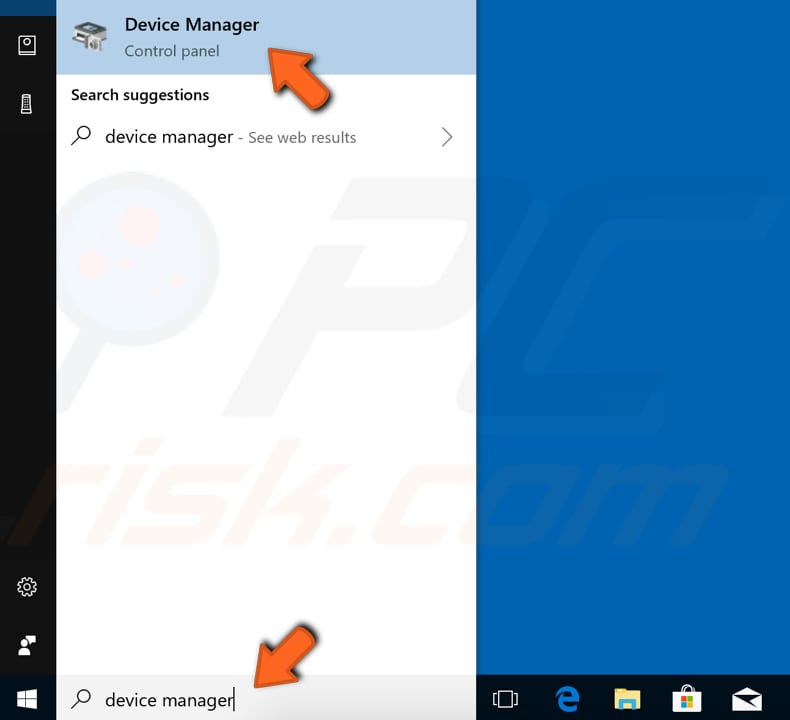 In Device Manager, you will see a list of devices connected to your computer. Expand the Keyboards section, right-click your keyboard, and click the "Uninstall device" option.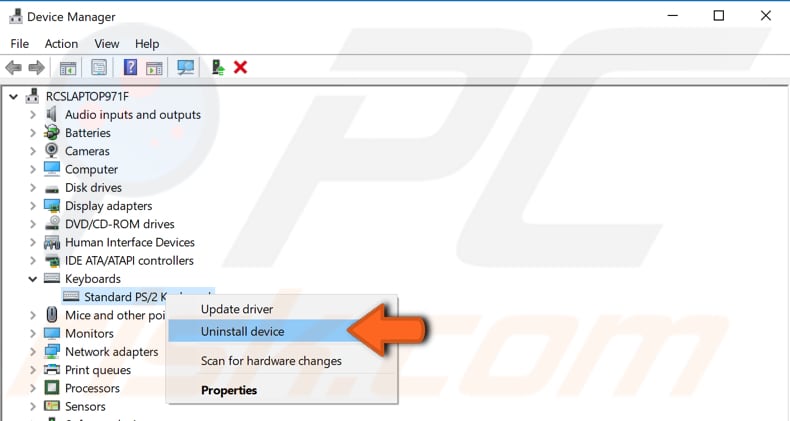 Click the "Uninstall" button to confirm the uninstall.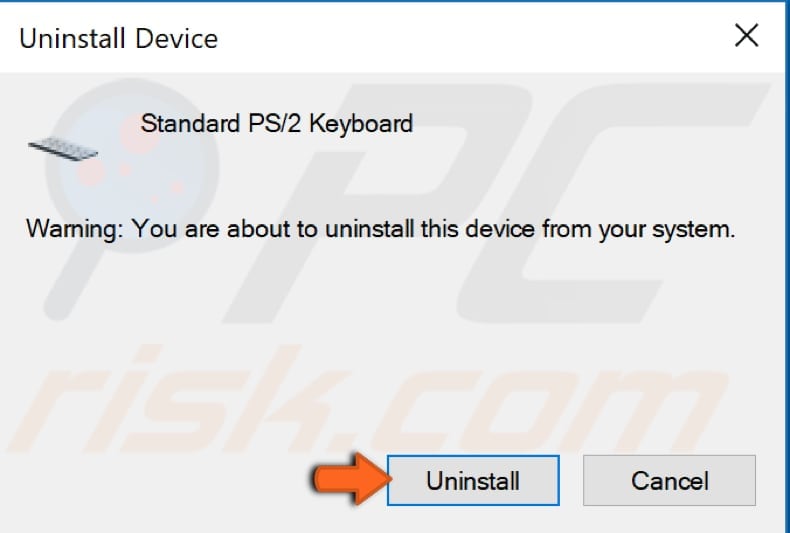 Restart your computer. The missing keyboard drivers should be installed by Windows automatically. If for some reason, Windows does not install the missing (uninstalled) drivers, return to Device Manager and right-click your computer name and select "Scan for hardware changes". It should detect missing drivers and install them.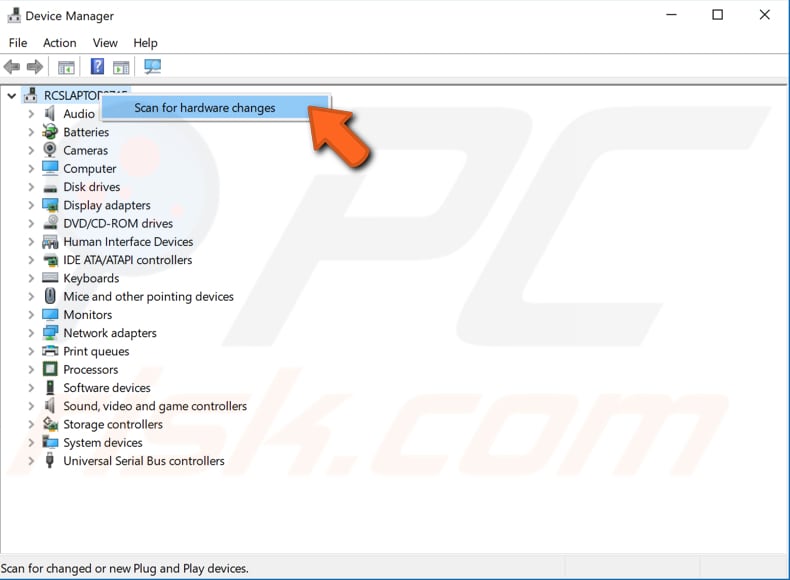 Update Windows
A bug in the Windows operating system might cause problems with Sticky Keys. Windows is usually updated automatically, however, you could also try to check for Windows updates manually and check if there are any updates available. Type "check for updates" in Search and click the "Check for updates" result.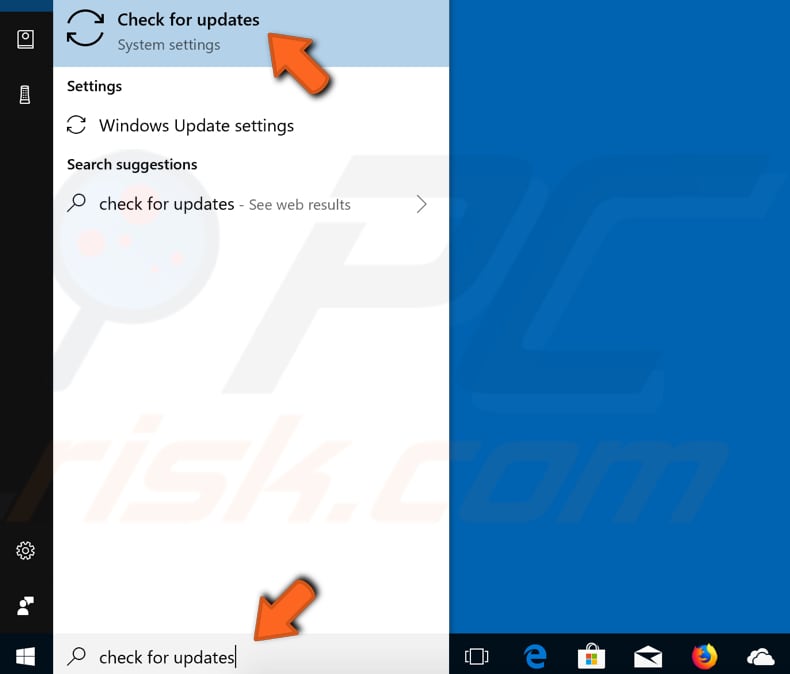 You should be automatically directed to the Windows Update section. Click "Check for updates". Windows will start checking for updates. If there are updates available, install them. After the updates are installed (if there were any to install), restart your computer and see if the problem persists.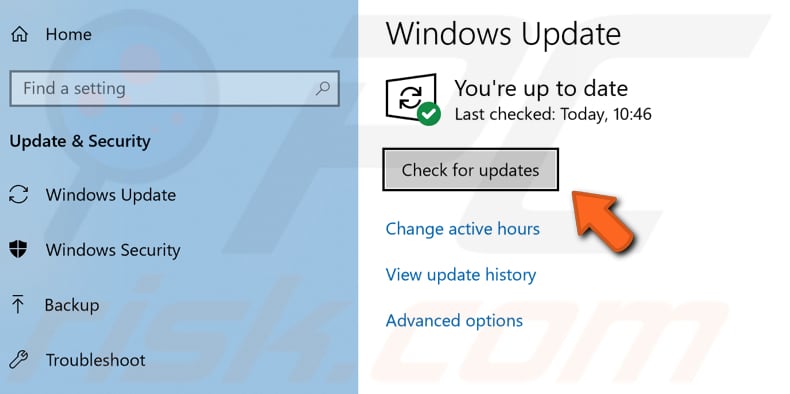 Scan Your System For Malware
It is possible that you have malware installed on your computer and this is causing the problem with Sticky Keys. We recommend that you scan your system with Windows Defender (a built-in antivirus program), which protects computers against viruses, spyware, other malicious software. You can also run other third-party antivirus software if you have it installed. To run full a system scan using Windows Defender, type "virus" in Search and click on the "Virus & threat protection" result.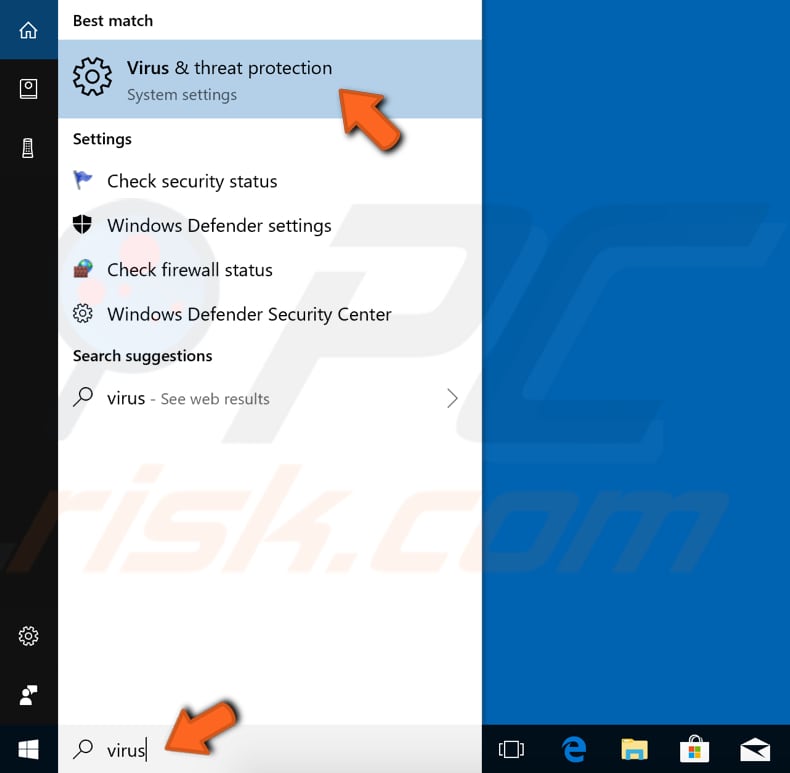 In the Virus & threat protection window, find and click the "Run a new advanced scan" option.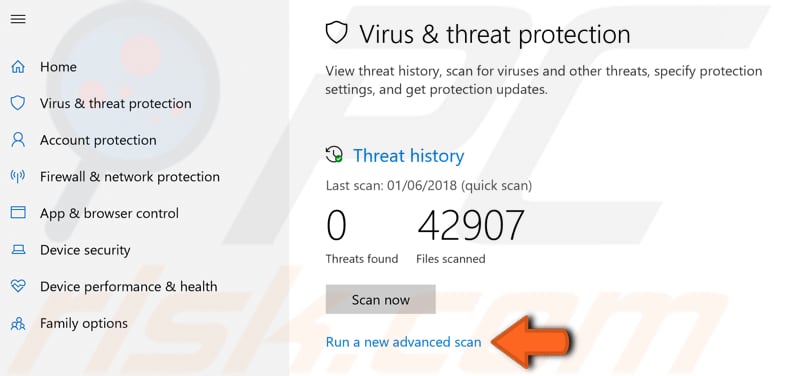 You will see a list of advanced scans. We recommend that you choose "Full scan", which will check all files and running programs on your hard disk. This will take some time (usually over an hour to complete). To start a Full scan, click "Scan now" when the "Full scan" option is selected.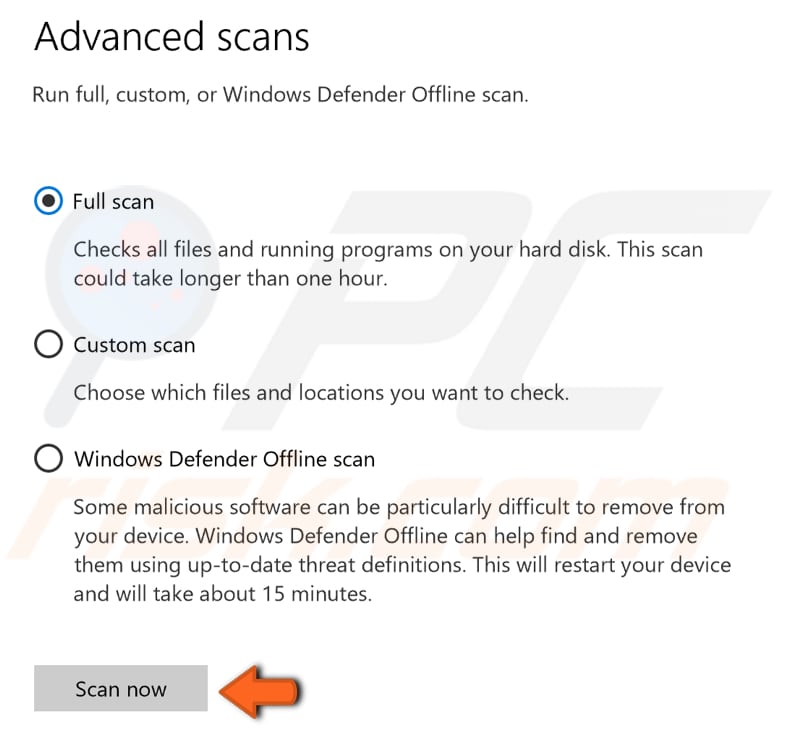 You can also choose a virus and malware scanner from our Top anti-malware list. The list consists of well-known top spyware removers and will help you choose the right software for your computer's protection. You can find the list at this link. 
Other Solutions
It is possible that you are using a faulty keyboard, which is preventing you from disabling the Sticky Keys feature. Try to connect a different keyboard and see if that solves the problem. If you are using a laptop, turn off the Num Lock key. Some users have reported that simply disabling the Num Lock key solved the problem. Press the left and right Shift keys at once. Also, press one and then the other while still holding the first.
We hope that one of these methods solved the problem and you are now able to disable the Sticky Keys. If you know of other solutions to this problem, not mentioned in our guide, please share them with us by leaving a comment in the section below.
Video Showing How To Turn Off Sticky Keys: