How To Maximize Your Battery Life?
How To Make Your Battery 
Life last Longer In Windows 10 
Battery life is length of time a device can work before it needs to be recharged. Usually battery life is quantified as the time the battery can run when it is fully charged and as the number of charge cycles until the end of battery's useful life. People use batteries for a long time (more than 200 hundred years, actually) and we became dependant on them. Batteries changed the world and they are very useful - they help us in our daily lives and it would be difficult to imagine today's world without them.
If you are a laptop user, then you know what it feels like to forget your power adapter or there is no power outlet nearby and you really need to use your laptop, but your battery is nearly dead. There are ways to increase your battery life, but these ways cannot extend your battery life significantly. However, there are situations where every minute counts and even small change in battery life could be real battery life saver. Especially if you need to send an email or to upload some documents before it's too late.
If you are using a Windows laptop, then you are at the right place. In this guide we are going to describe various methods that could help you to extend your laptop's battery life. These tricks won't help you to actually increase the amount of power left in the battery, but they could be useful when you need to get some extra time of what's left in it. Read the guide below and find out how to reduce the battery usage as much as possible.

Table of Contents:
Use Windows Battery Saver
Battery saver is a Windows built-in feature that allows users to conserve power when a computer is running on battery. Battery saver makes some Windows features behave differently or it disables them. When battery saver is on, applications like People, Calendar, Microsoft Store and Mail do not synchronize and apps running in the background are blocked. However, users can still choose to run certain apps if neede and this feature allows users to enable battery saver when the battery level reaches a certain percentage (by default it's 20%) as well. When a certain battery percentage is reached, the display brightness is reduced by 30% as well.
To enable battery saved type "battery" in Search and click the "Battery saver" result.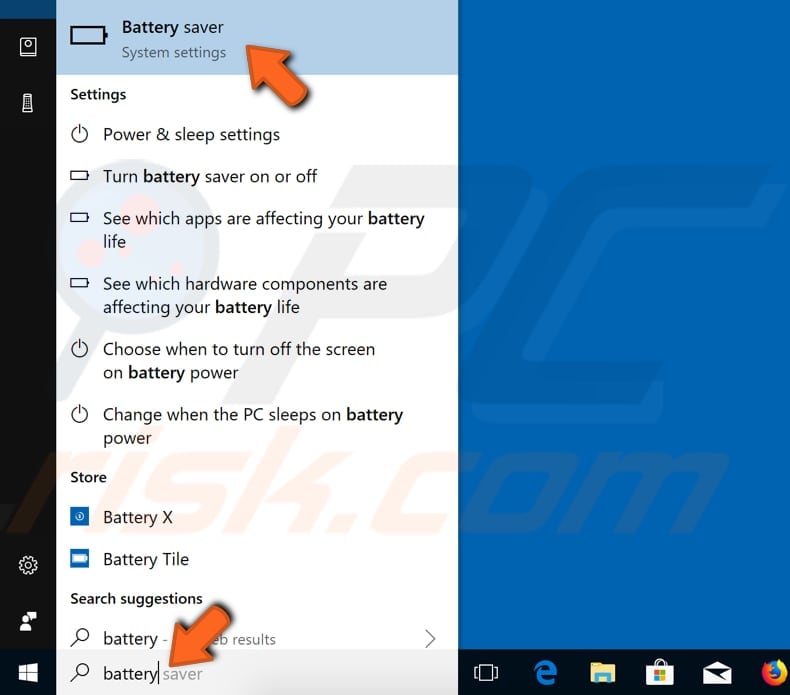 Now tick the "Turn battery saver on automatically if my battery falls below" checkbox and adjust the percentage according to your needs. Tick the "Lower screen brightness while in battery saver" checkbox as well. Enabling these features will extend your battery life by limiting background activity and push notifications when your device is low on battery.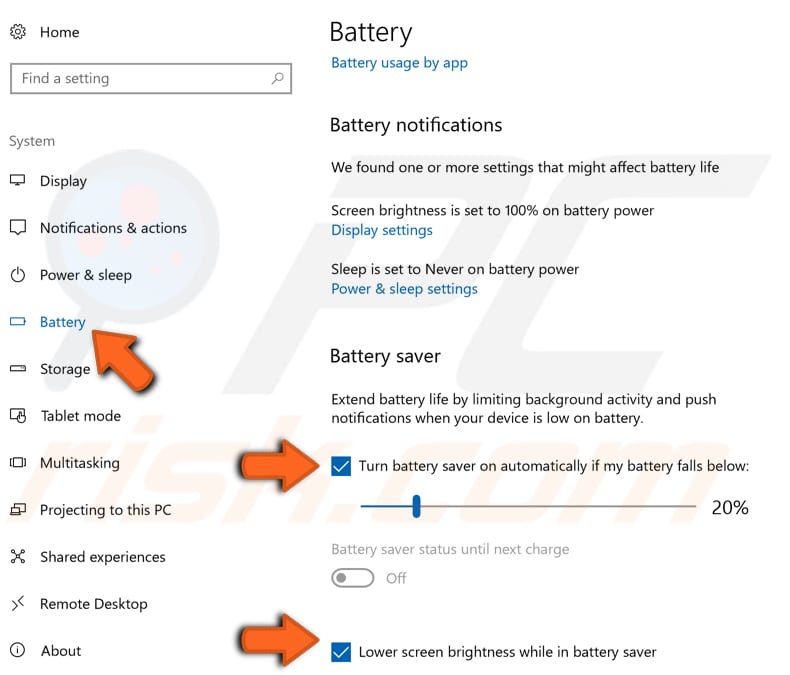 Adjust Screen Brightness
Screen brightness is the factor that has a huge impact on your battery's life, no matter if you use a laptop, tablet or a smartphone. If you are a laptop user, then you should be able to find the function keys on your keyboard. Press the Windows (Win) and the brightness function keys and lower the screen brightness to a level where you are still able to see what is on your screen. If for some reason you are unable to adjust screen brightness using the function keys, then you might need to do it manually using Windows system tools. In order to adjust screen brightness, right-click the battery icon and select "Windows Mobility Center" from the contextual menu. 

Find the Display brightness slider and use it to adjust your screen brightness. Or you can simply right-click the battery icon again and select "Power Options", and find the screen brightness slider there.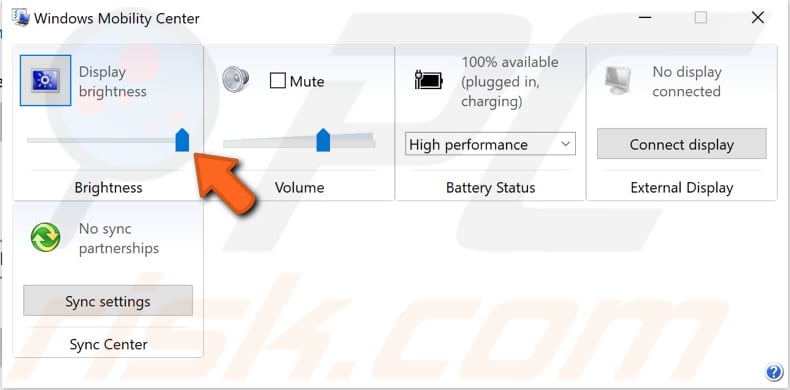 Use Power Saver Plan
The Power Plan feature in Windows 10 is not new, since it was also available in earlier versions of the operating system. Power Plan is a collection of hardware and system settings that manage how your computer uses power and also helps you to manage your laptop battery life. There are three main plans: "Balanced", "Power saver", and "High performance". Each has different uses and settings to adapt to varying situations. Switching between plans makes changes that impact performance and power consumption. In this case we recommend you to use the Power Saver plan, it saves energy by reducing your computer's performance where possible. To enable this power plan right-click the battery icon again and select the "Power Options" from the contextual menu. It will open Power Options window and you should be able to find the Power Saver plan there. Simply select it and the plan will be enabled.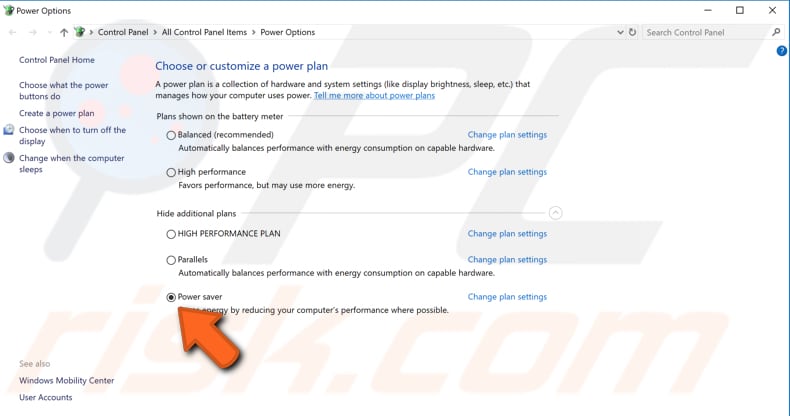 If there is no Power saver plan in your Windows Power plan settings, or if you change your power plan to Power saver but after closing the settings it gets back to previous plan, then you need to create a new power plan. To do so click "Create a power plan" and select the "Power saver" option to create the Power saver power plan.
Disconnect Unnecessary Peripherals
Every device that is connected to your computer needs power to function and disconnecting unnecessary components like mouse, USB, external drive etc., can extend your battery life. We recommend you to disable Wi-Fi and Bluetooth as well, if they are not necessary at the time. Sometimes disconnected devices are still running in the background and in this case you might want to disable those devices using a Device Manager.
Device Manager is a Control Panel applet within Microsoft Windows operating systems. It allows users to view and control hardware attached to the computer. When an item of hardware is not working, it is highlighted for attention. To open Device Manager type "device manager" in Search and click the Device Manager result.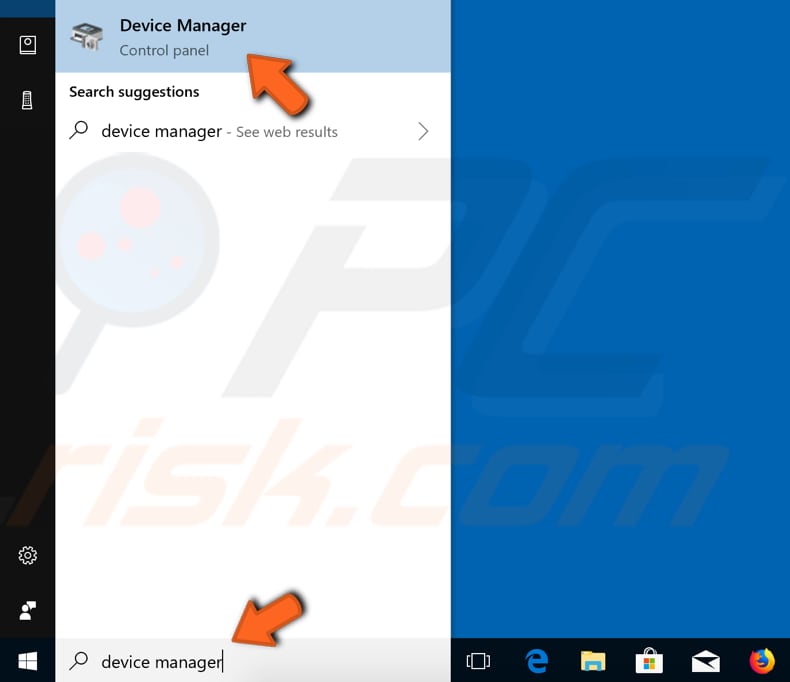 In the Device Manager window, you will see a list of hardware attached to your computer. If you want to disable the USB flash drive, then simply find it under the "Universal Serial Bus controllers" section, right-click your USB and select "Disable" from the contextual menu. Apply the same method if you need to disconnect your mouse, external drive or any other device that will be showing in the Device Manager's list.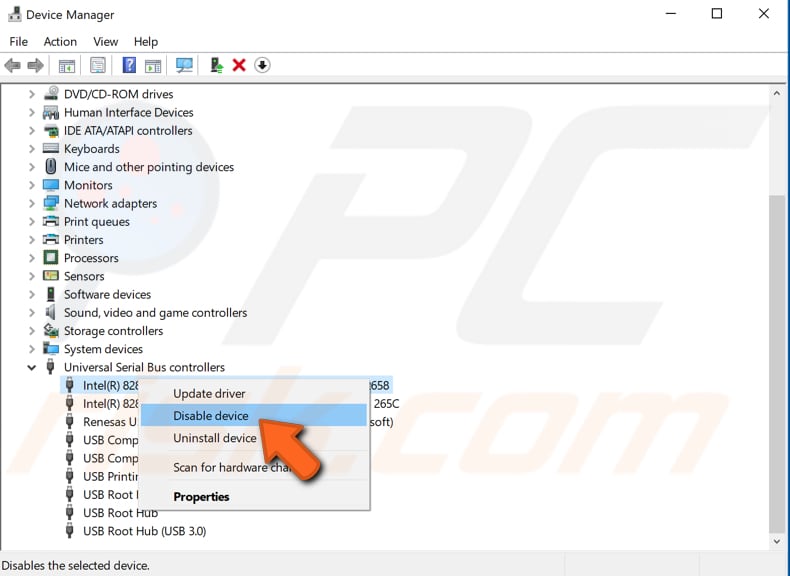 Do not disconnect anything that is necessary for your laptop to run, for example the hard drive. Disconnect or disable only those devices or components that are not in use and they are not necessary to continue the laptop operation.
End Unnecessary Processes
If there are some programs that are running in the background and you are not using them, then we recommend you to close them in order to be able to use your laptop longer and extend the battery life. Sometimes closed apps or programs are still running in the background and you need to force quit them. To do so you need to use the Windows Task Manager. Task manager is a system monitor program used to provide information about processes and programs running on a computer, as well as the general status of the system. Some implementations can also be used to terminate processes and programs, and change processes' priorities. Task Manager is very useful when there is a need to close/terminate a particular running program that is frozen, not responding, taking too many CPU resources, or simply not working properly. Task Manager helps to close programs and stop processes from running (when exiting normally does not work). To open it press the Ctrl + Shift + Esc keys on your keyboard, or right-click the Start and select "Task Manager" from the contextual menu. In open Task Manager you will see a list of services and programs that are currently running. Select the process, right-click it and click "End task". Or simply select the process and click the "End task" button in the bottom-right corner. You can see what programs are using much of your CPU or Memory and select to turn them off. Do not end processes that are necessary for Windows to operate. Ending necessary processes might lead to system crashes and cause various problems.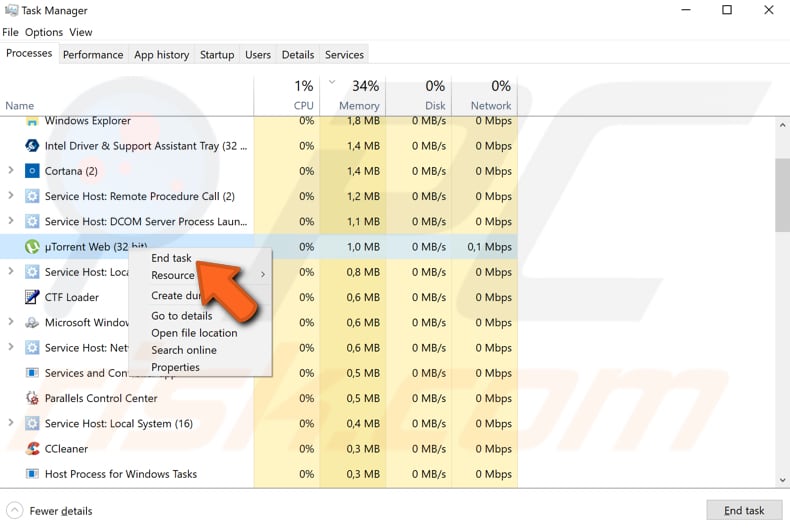 Another thing you might want to consider, is to uninstall the programs you do not use. Some of them might be starting when Windows starts and cause higher CPU usage that leads to shorter battery life. However, we recommend you to uninstall the programs when your battery is charging.
Run Power Troubleshooter
Windows includes a number of troubleshooters designed to quickly diagnose and automatically resolve various computer problems. Troubleshooters cannot fix all problems, but they are a good place to start if you encounter a problem with your computer, operating system or connected devices. Power troubleshooter is the one that finds and fixes problems with your computer's power settings to conserve power and extend battery life. We recommend you to try to run this troubleshooter even if you do not think that there are any problems with the power settings. To run Power troubleshooter open Settings and type "troubleshoot", select the "Troubleshoot" result.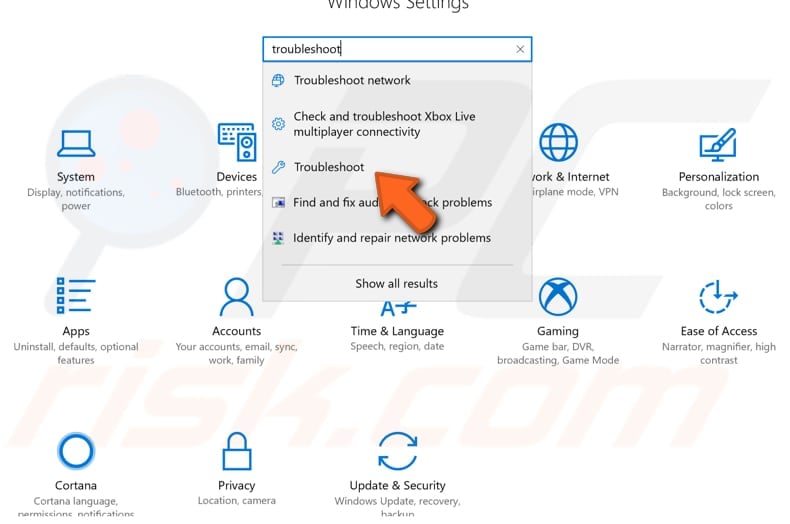 Now scroll down the troubleshooters list and find "Power" under "Find and fix other problems". Select the troubleshooter and click "Run troubleshooter". Follow the instructions and it will scan your system for problems related to your computer's power.

Some other things that we recommend you to try is to disable the screensaver if you are using one. To run fewer programs at a time, use only the programs that are necessary. Use a dark background, if you want, you can simply make it black. Mute all sounds if they are not needed at the moment. 
That't it, we hope that this guide was helpful and now you know how to make the most of your battery life. If there are other methods or tricks that helped you to increase the battery life and they are not mentioned in our guide - do not hesitate to share it with us and with the others by leaving a comment in our comment section below. 
Video Showing How To Maximize Your Battery Life: