File Explorer Is Working Slow. How To Fix It?
File Explorer Is Working Slow In Windows 10. How To Fix It?
File Explorer (formerly known as Windows Explorer) is a component of Microsoft Windows that was first introduced with Windows 95. File Explorer is a Graphical User Interface (GUI) component, a file manager that allows Windows operating system users to edit and manage data, files, and other content stored on their computers. It is essentially the same as Windows Explorer but with added features and functionality.
File Explorer is one of the most used applications in Windows 10 and earlier versions. It is used to copy, move, and edit files. With the current version of File Explorer, you can copy/move files and within a single window. In addition, you can pause, stop, cancel and then resume the copying process. File Explorer plays a big part in the Windows operating systems, however, it is possible to use your computer without this feature. Command Prompt can be used to type commands manually and perform certain actions, but it requires advanced knowledge, which is why File Explorer makes computing easier.
Despite the above advantages, File Explorer can give problems. Many users report that it can be slow, or even extremely slow. One symptom that might indicate this problem is poor performance when copying or opening files. This can be a significant problem for users working with and managing many files on a daily basis. Fortunately, there are a number of solutions that we detail in this guide.

Table of Contents:
Disable Windows Search Service
Windows Services (also know as services.msc) are used to modify how Windows services run on the system. These services are responsible for running available programs and managing many system settings and resources. You can modify a service's settings for security, troubleshooting, and performance-related reasons. Windows Search service provides content indexing, property caching and search result for files, e-mail and other content. To disable the Windows Search service, press Windows (Win) key + R on the keyboard or right-click Start and select "Run" from the contextual menu.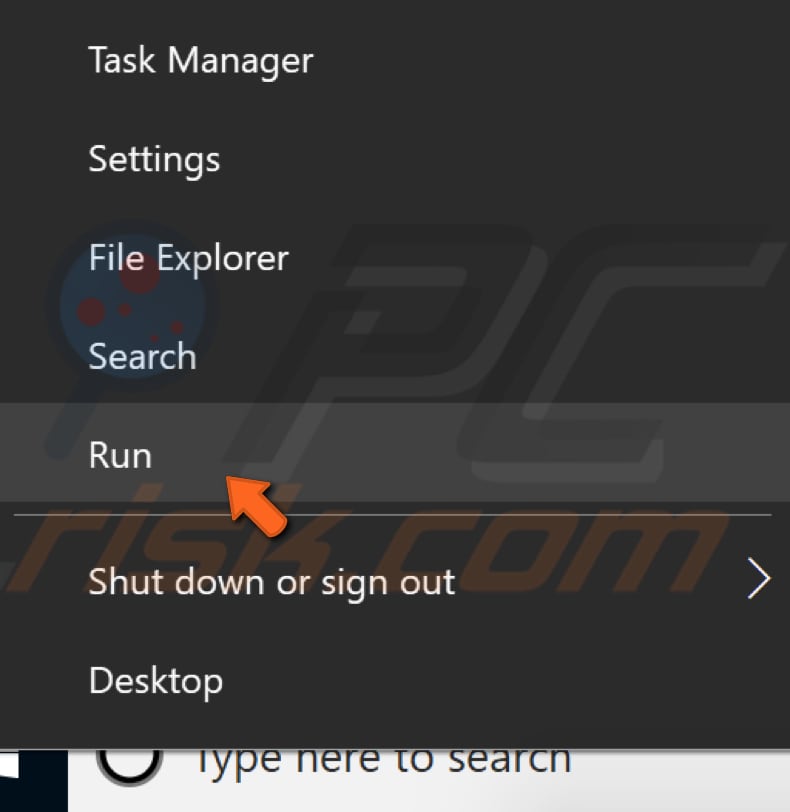 This will open the Run dialog box. Type "msconfig" and press "OK" or press Enter on the keyboard.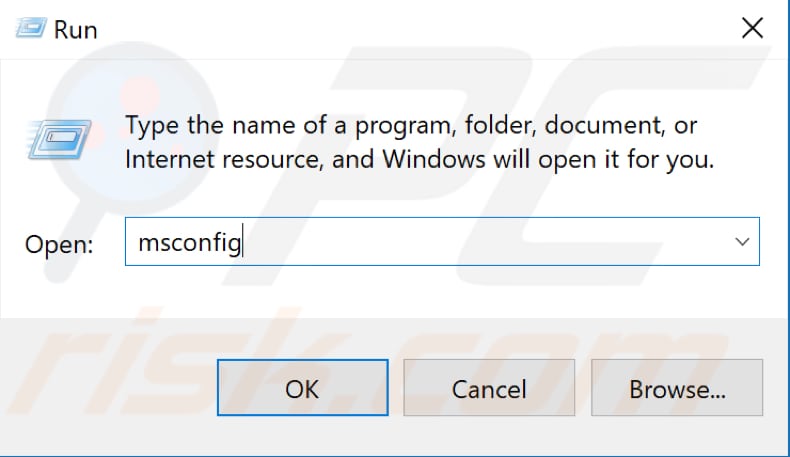 In the System Configuration window, find and click the "Services" tab. Now find "Windows Search" service in the services list and uncheck it. Click "Apply" to save changes. Restart the computer and see if you still have problems with File Explorer.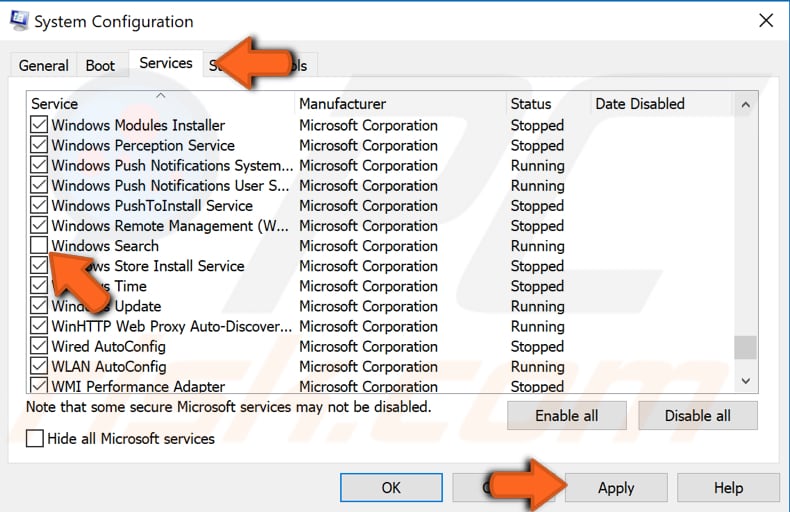 Disable Quick Access
Quick Access is one of File Explporer's components. When you open File Explorer, recently accessed files and folders are shown under the Quick Access icon. Quick Access changed the Favorites list that was present in earlier versions of Windows. It is a useful feature if you want to access your files and folders quickly, however, it can also slow down File Explorer. One way to improve File Explorer performance is to disable Quick Access. Go to File Explorer and click "File". Select "Change folder and search options".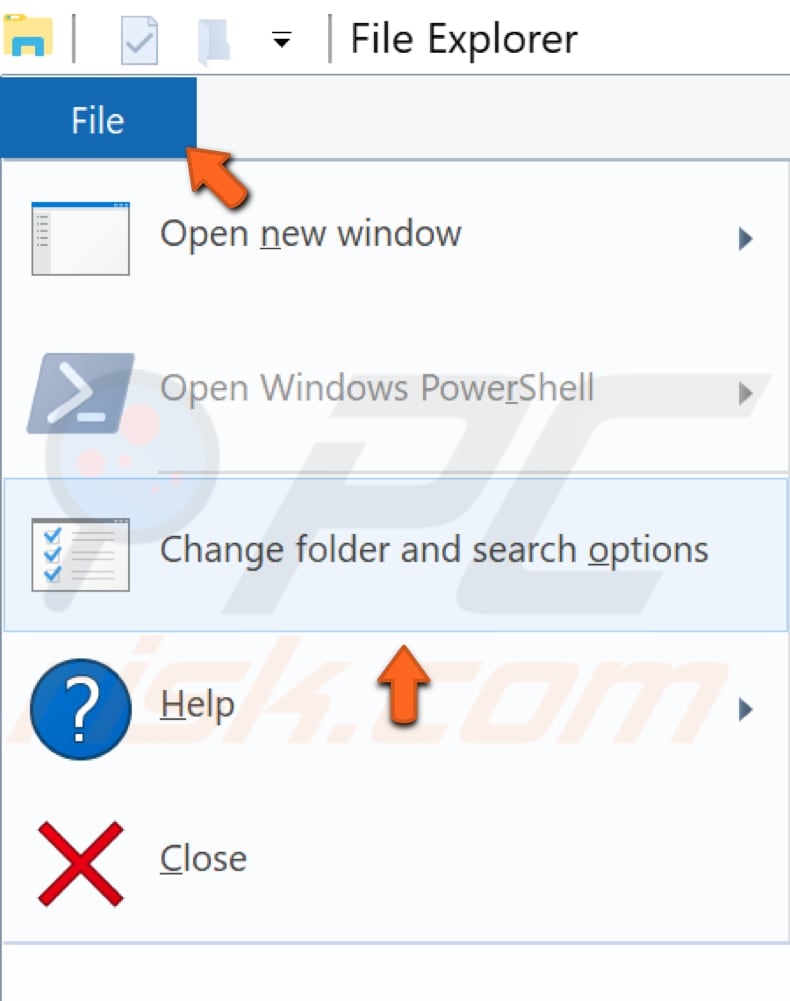 In the Folder Options window (General tab), find "Open File Explorer to:" and change it to "This PC". Then uncheck "Show recently used files in Quick access" and "Show frequently used folders in Quick access" and click "Apply" to save the changes, and "OK" to exit. Restart the computer and see if this imrpoves File Explorer performance.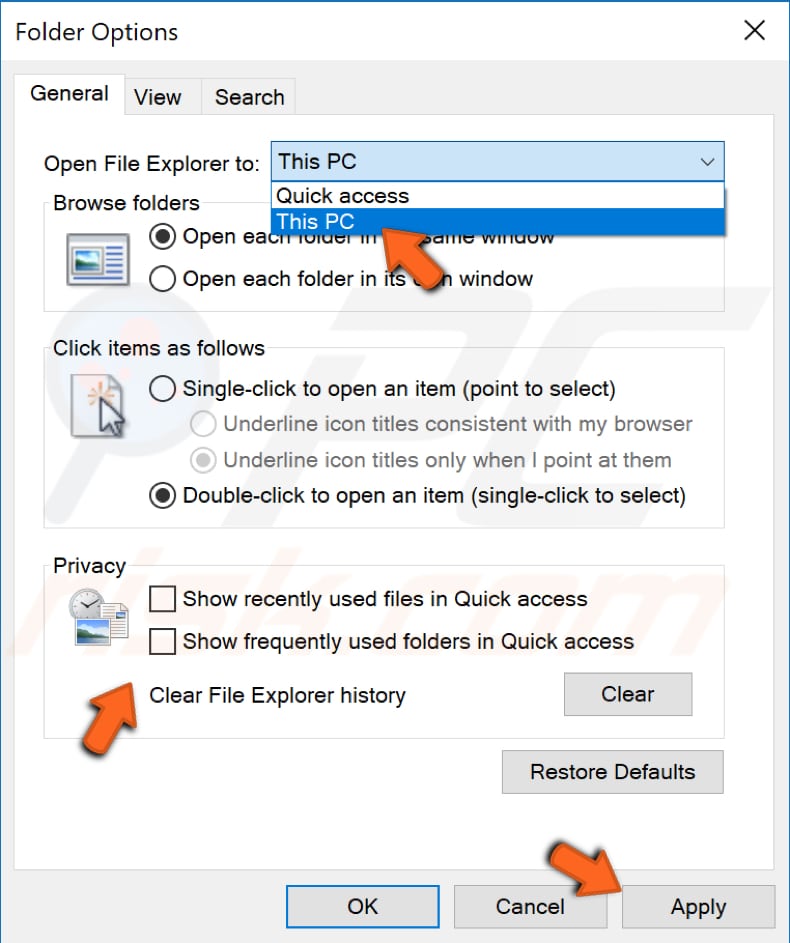 Change Folder Optimization Settings
Windows 10 optimises your folder in the background. This is a good feature, but can be the reason for poor File Explorer performance. If you are having problems with File Explorer when trying to access a particular folder, change the folder optimization. Right-click the folder that is causing problems and select "Properties" from the contextual menu.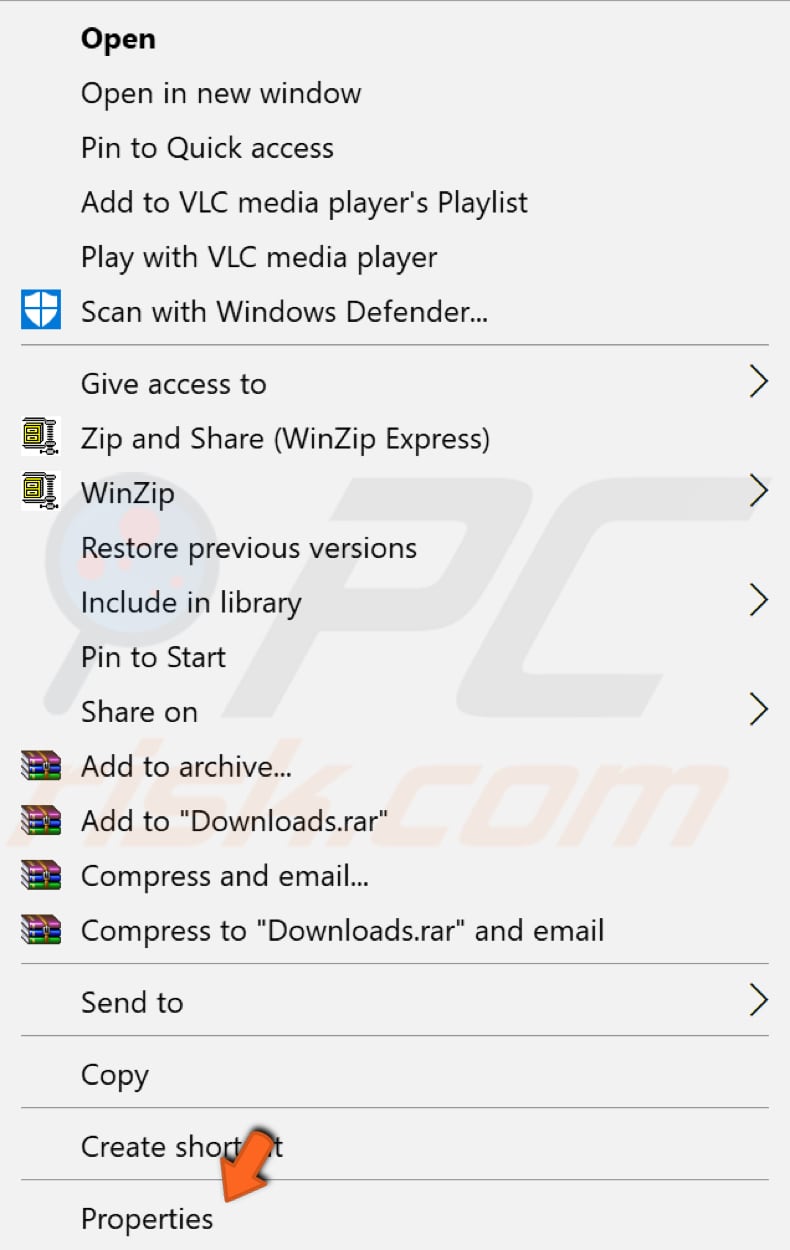 In the folder's properties window, go to "Customize" tab and ensure that "Optimize this folder for:" is set to "General items". Then, check the "Also apply this template to all subfolders" checkbox and click "Apply" to save the changes made.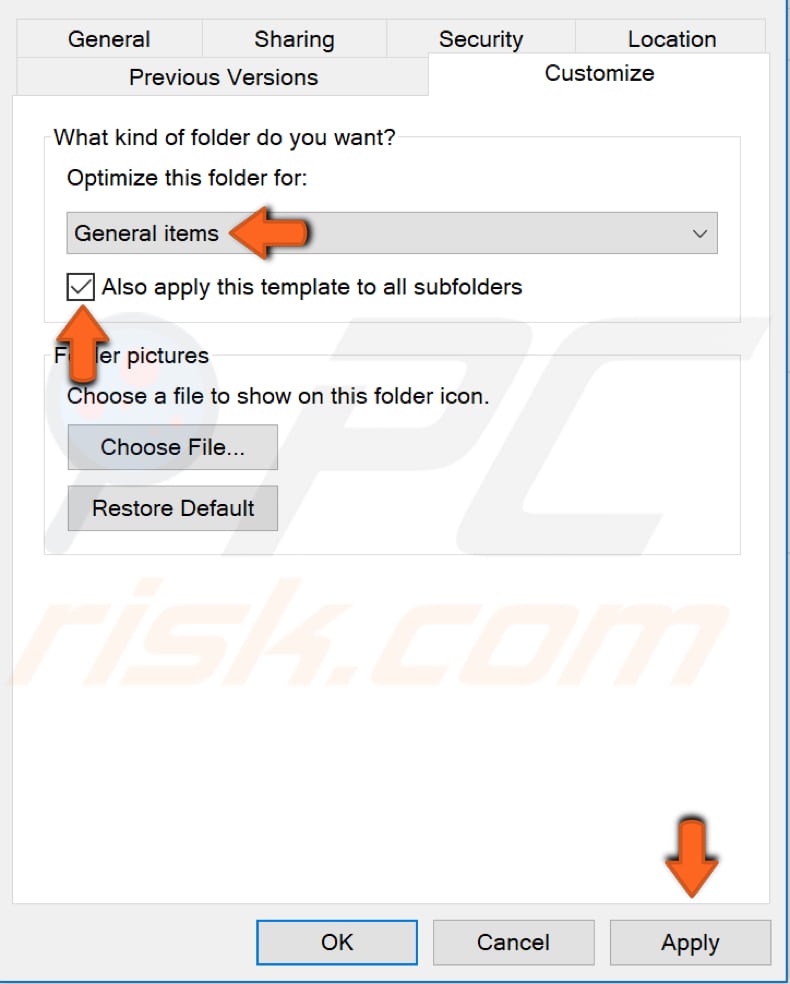 If more than one folder is slowing down File Explorer, apply the same settings to the other folders.
Restore Indexing Service
Indexing service (now known as Windows Search indexer) is a Windows service created to improve search performance on Windows computers. If Windows File Explorer stops working properly (or stops working completely), restoring this service fix the problem. To restore Windows Search indexer, go to Control Panel and find "Indexing Options". If it does not appear, ensure that the Control Panel view is set to "Small icons".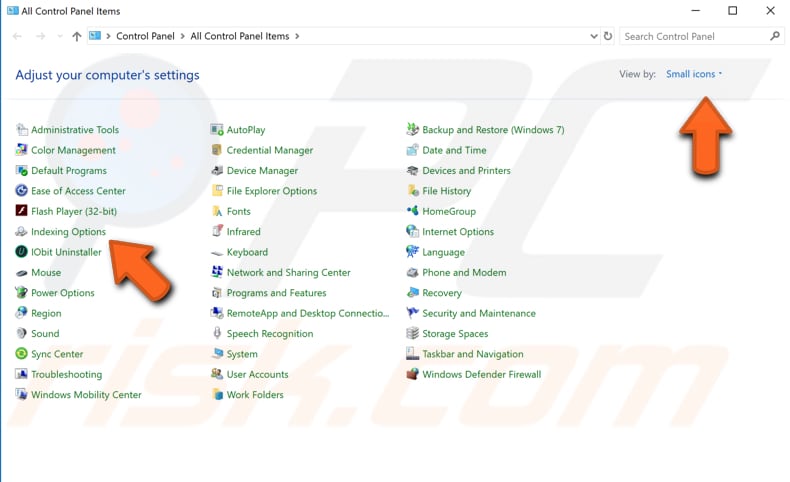 In the Indexing Options window, click the "Advanced" button.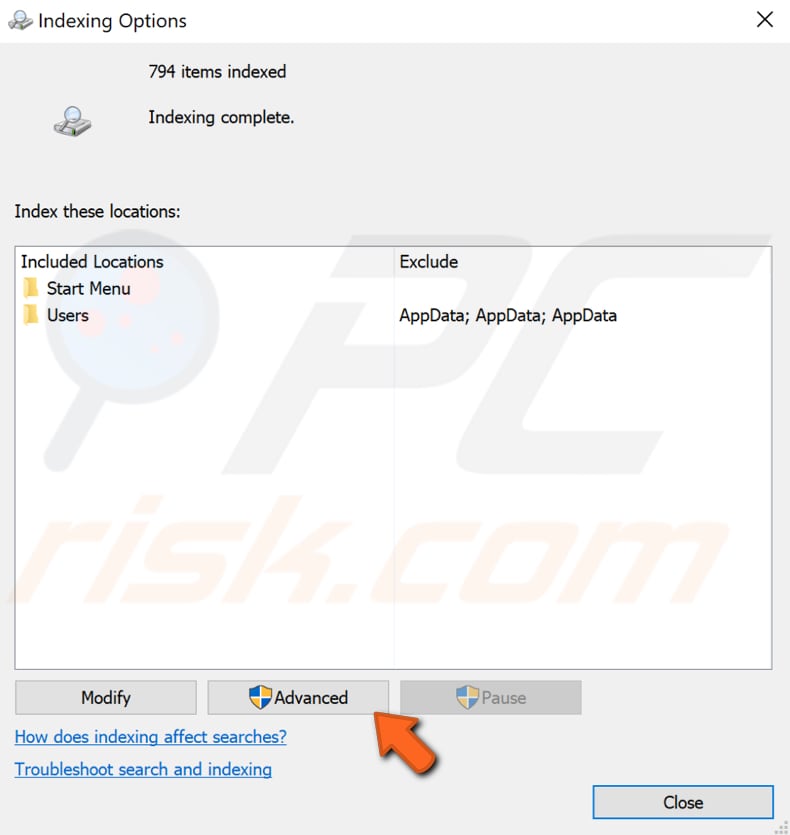 In the "Index Settings" tab, find the "Rebuild" button under Troubleshooting and click it. This will display a notification stating that rebuilding the index might take some time to complete and that some views and search results might be incomplete until rebuilding has finished. The amount of time required to finish this process will depend on the processing power of the system. If you have an older or slower computer, it might take much longer to finish. Click "OK" to start rebuilding the index.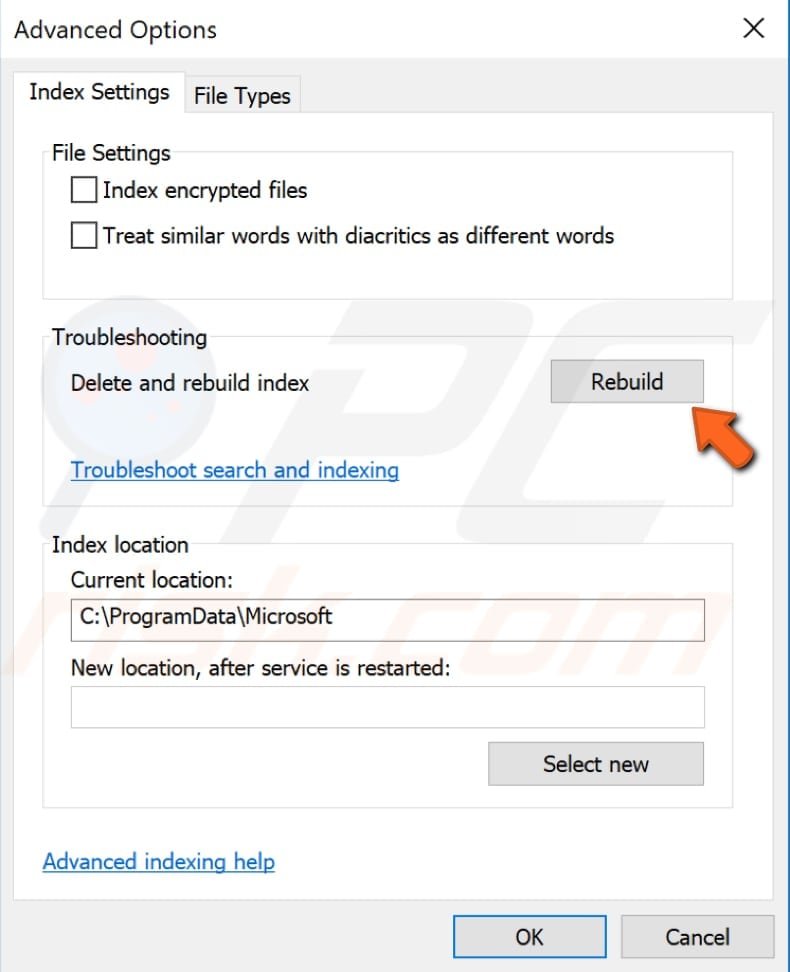 Run SFC Scan
System File Checker (SFC) is a utility in Windows that allows users to scan for corruptions in Windows system files and restore corrupted files. This guide describes how to run the System File Checker tool (SFC.exe) to scan your system files and to repair missing or corrupted system files (including .DLL files). If a Windows Resource Protection (WRP) file is missing or is corrupted, Windows may not behave as expected. For example, some Windows functions may not work, or Windows will crash. The "sfc scannow" option is one of several specific switches available with the sfc command, the Command Prompt command used to run System File Checker. To run it, first open Command Prompt by typing "command prompt" in Search and then right-clicking on "Command Prompt". Select "Run as administrator" from the drop-down menu to run Command Prompt with administrator privileges. You must run an elevated Command Prompt to perform a SFC scan.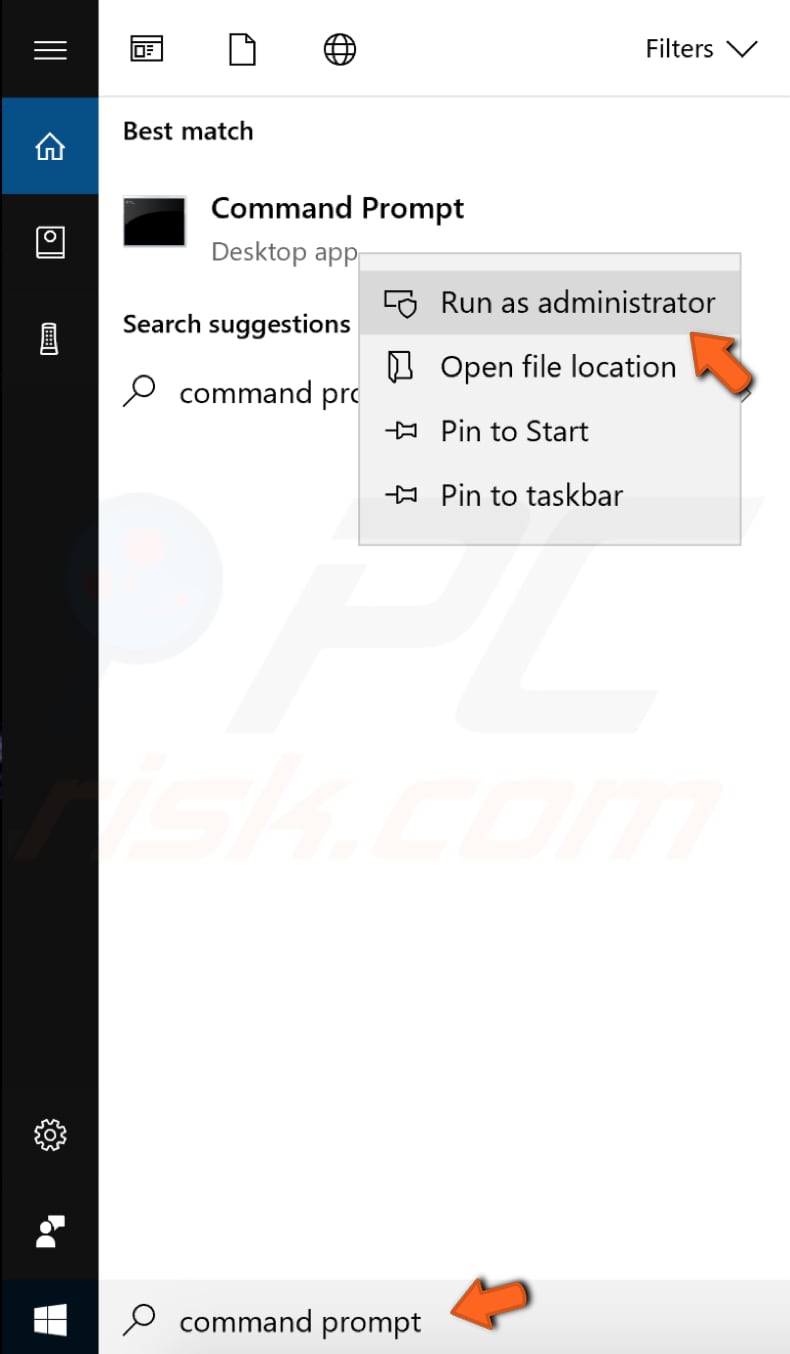 In the Command Prompt window, type "sfc /scannow" and press Enter on the keyboard to execute this command. System File Checker will start and should take some time to complete the scan (about 15 minutes). Wait for the scanning process to complete and restart the computer.

If the SFC scan does not fix the problem with File Explorer, or for some reason you could not run the SFC scan, try to run a Deployment Image Servicing and Management (DISM) scan and then try to run the SFC scan again.
DISM can be used to repair and prepare Windows images, including the Windows Recovery Environment, Windows Setup, and Windows PE. To run a DISM scan, open Command Prompt as administrator and type this command: "DISM /Online /Cleanup-Image /RestoreHealth". Press Enter on the keyboard to execute it.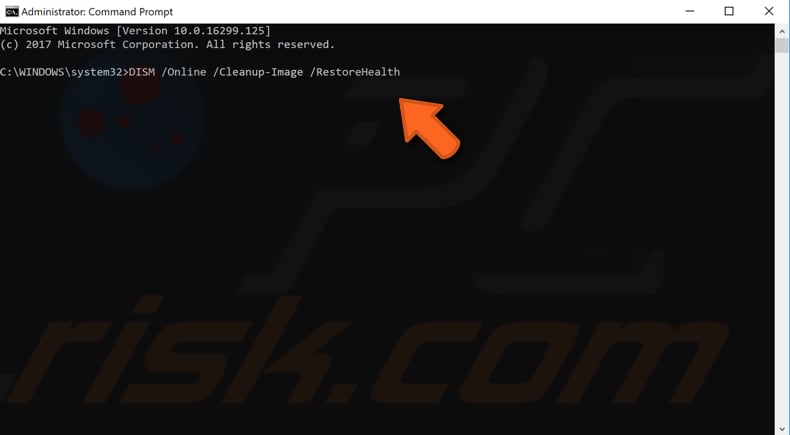 Restart File Explorer
This one might be a temporary solution only, but worth a try. To restart File Explorer, use Task Manager. To open it, press Ctrl + Shift + Esc keys on the keyboard or right-click the Start menu and select the Task Manager result from the contextual menu. In Task Manager, find "Windows Explorer" under the "Processes" tab and select it. Then, find the "Restart" button in the bottom-right corner and click it. File Explorer will be restarted and should be working correctly.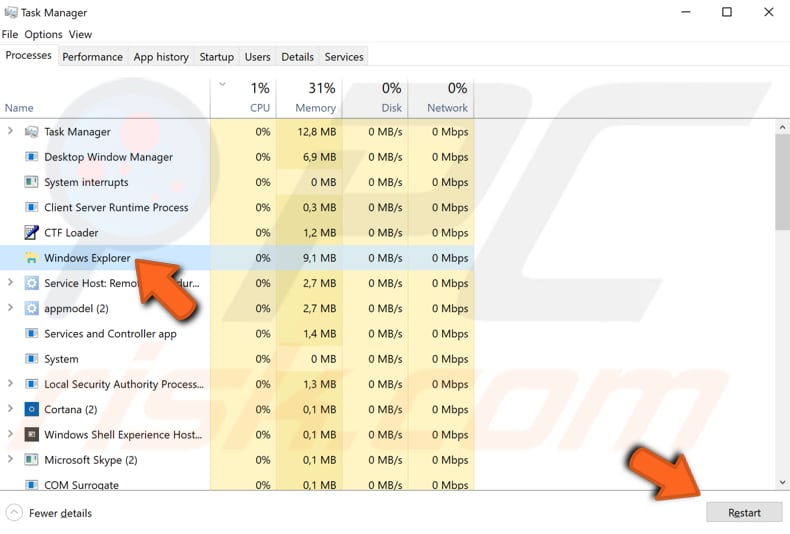 Launch Folder Windows In A Separate Process
This setting controls whether each folder is opened as a separate Explorer task. If one window crashes, other opened windows should be not affected and remain open. Having this setting enabled, however, will take more system resources to maintain each open folder. To access this setting, go to Control Panel and select "File Explorer Options".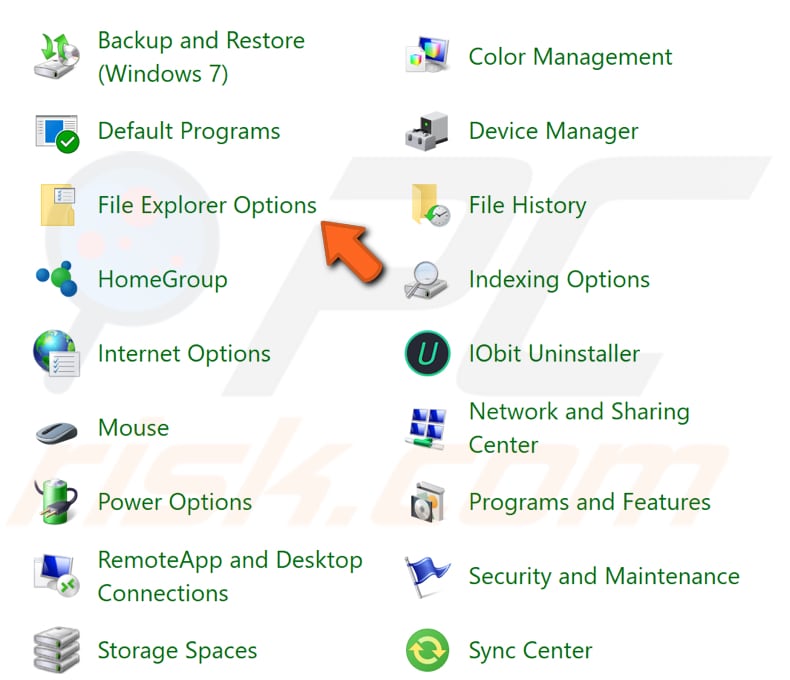 In the File Explorer Options window, select the "View" tab and then find the "Launch folder windows in a separate process" setting under "Advanced settings" and enable it by checking the checkbox near it. Click "Apply" and "OK" to save the changes made and to exit this window. See if enabling this setting solves the the problem and makes File Explorer work properly.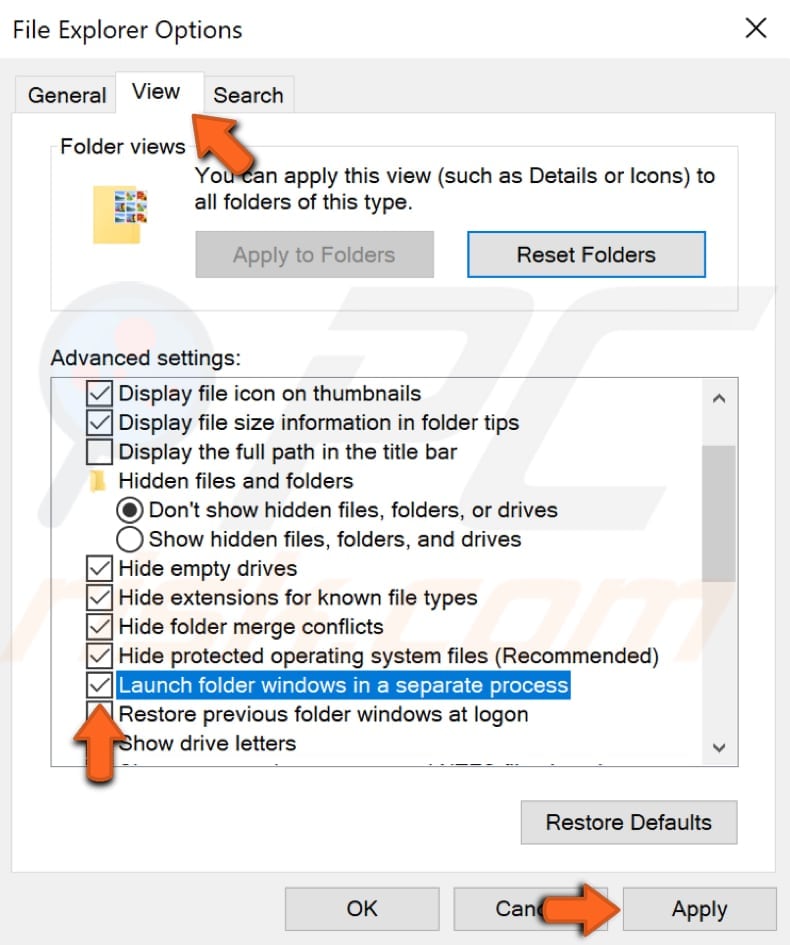 Clear File Explorer History
File Explorer keeps a list of files and folders that you have recently opened or frequently used. Clearing File Explorer history deletes the information about those files and folders that the Windows operating system saves in history lists. Some users report that clearing File Explorer history improves File Explorer performance. To clear File Explorer history, go to Control Panel and click "File Explorer Options". In the File Explorer Options window, find the "Clear" button and click it. This will clear the File Explorer history. See if this fixes the problem.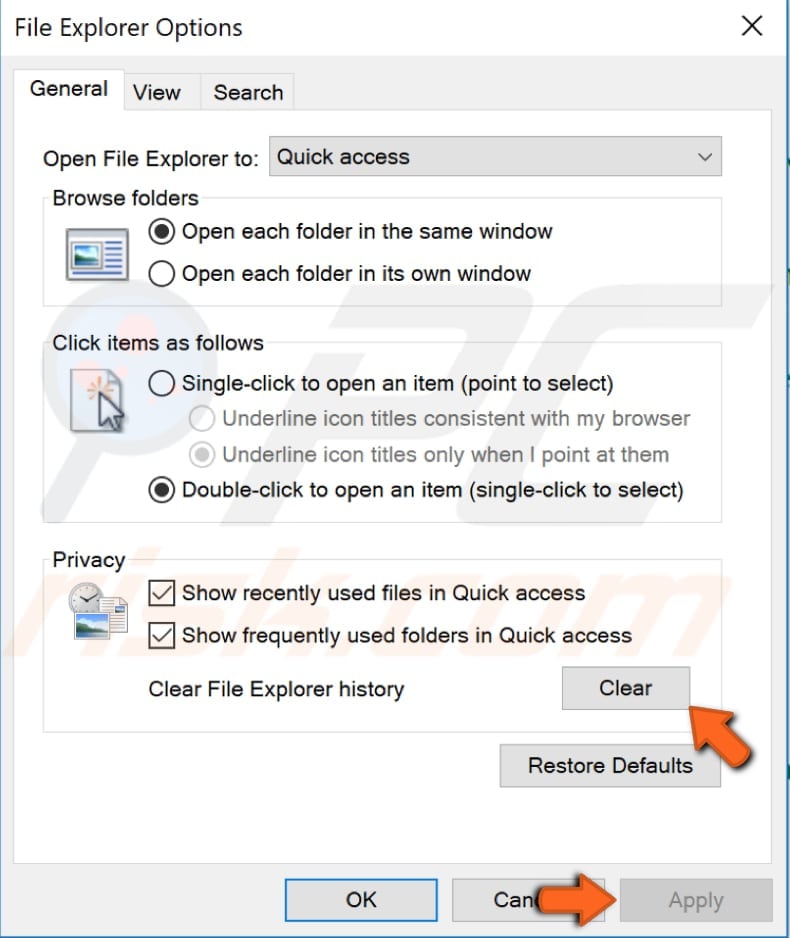 Run Windows Memory Diagnostic Tool
Windows Memory Diagnostic is a comprehensive memory test and is also very easy to use. To launch the Windows Memory Diagnostic Tool, type "mdsched" (or "memory diagnostic") in Search and click on "Windows Memory Diagnostic".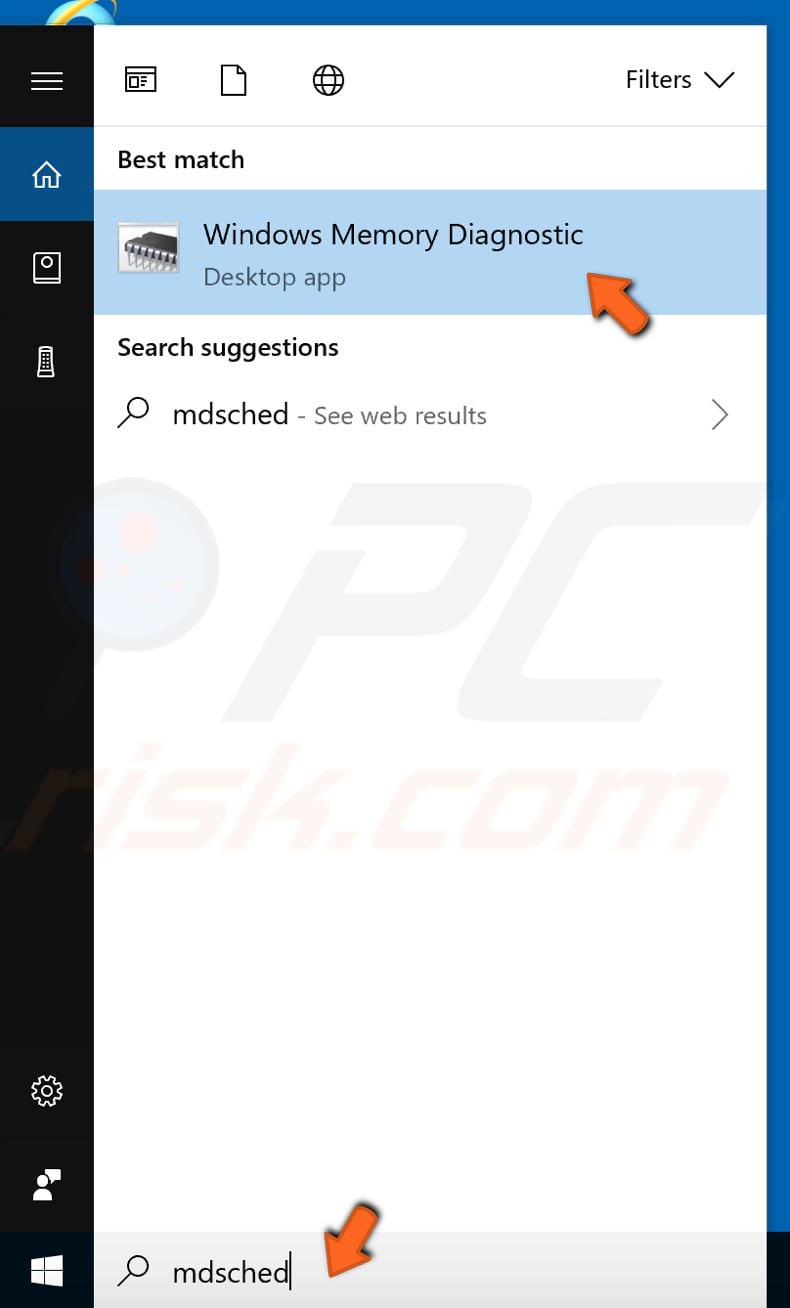 To run diagnostics, you will need to restart the computer. You will be asked if you want to restart now or to run it the next time you start the computer. When you restart the computer, Windows Memory Diagnostic Tool will start automatically.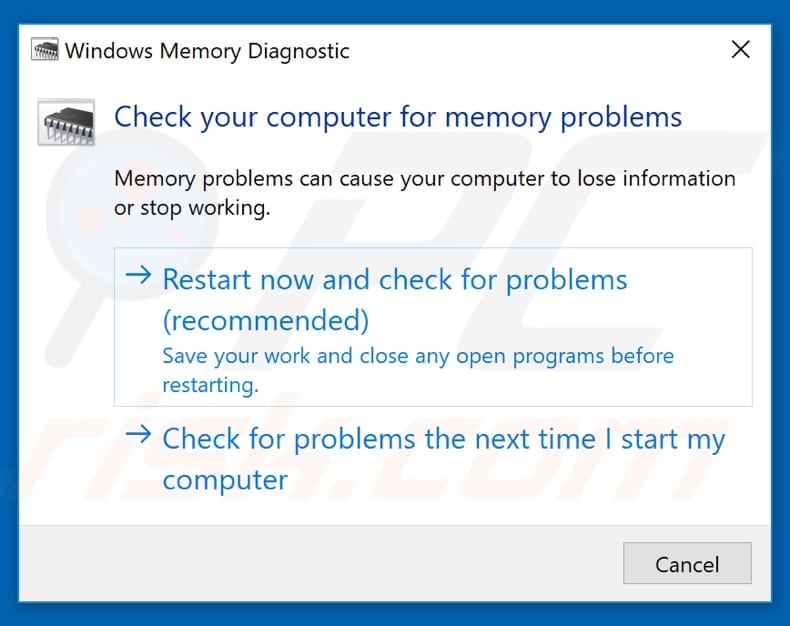 Create A New File Explorer Shortcut
Creating a new shortcut for File Explorer might improve performance. To create a new File Explorer shortcut, right-click the desktop background empty space, select "New", and then "Shortcut".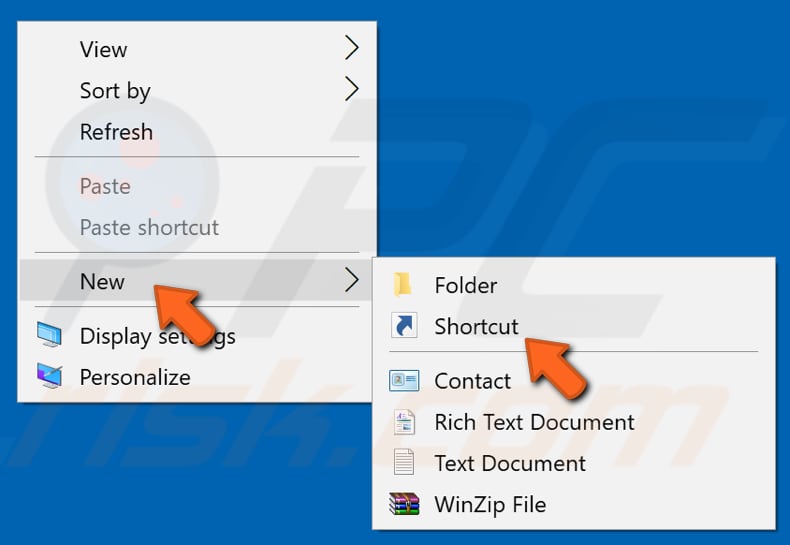 Type (or copy from this guide) the location of the item, which will be "C:\Windows\explorer.exe". Click "Next" to continue.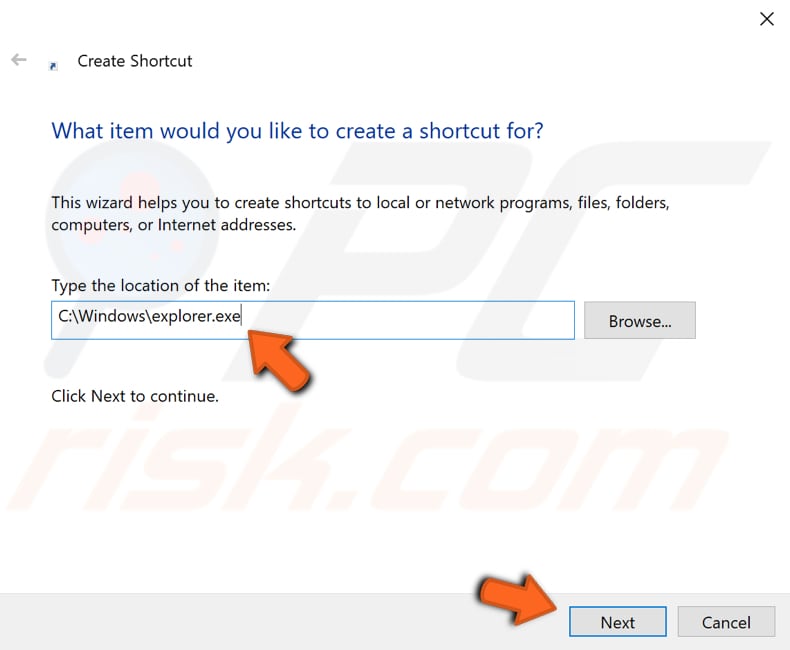 Now, type a name for this shortcut (it can be any name). In our example, we name it "File Explorer". Click "Finish". The shortcut for File Explorer will be placed on the desktop. Use this newly-created shortcut to access File Explorer. See if this solves the problem.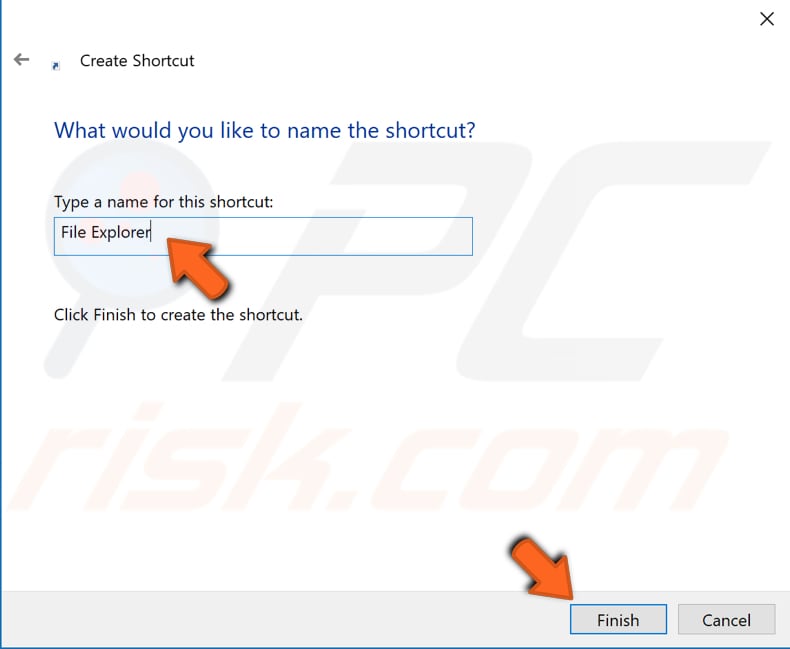 Uninstall Daemon Tools
Some users report that the DTShellHlp.exe process causes problems with File Explorer. This process is associated with Daemon Tools imaging software, which is a virtual drive and optical disc authoring program. If you use Daeomon Tools, uninstall it from Windows and see if this solves the problem with File Explorer. If File Explorer works properly after this uninstall, switch to another program that serves the same purpose.
We hope that these methods improve File Explorer performance and solve any related issues. If you know of other methods to address the problem, please share them with us by leaving a comment in the section below.
Video Showing How To Fix File Explorer If It Is Running Slow: