How To Rename Your Network Connection?
How To Easily Change Your Network Connection's Name In Windows 10
When you configure and connect to your network for the first time, the Windows operating system saves that information and stores it as a newly created network profile and gives it a default name like Network, Network 1, Network 2 and so on. Usually you will see this network name when you click the network icon in the taskbar or you open the Network and Sharing Center in Windows Control Panel.
If you are using several networks (especially if you are a laptop owner), then it might become difficult and confusing when there are multiple network profile names with a similar name. And it can be confusing when you need to diagnose a particular network if there are any issues with it, and you don't know which network to choose in order to start troubleshooting it. It is not a big deal, however, some people find it frustrating. Especially those who are dealing with multiple devices and network connections that could have the same or very similar SSID (Service Set Identifier).
If you upgraded to Windows 10, then changing the network name can be a little bit more difficult. In other words, it is not that easy as it was in earlier Windows operating systems. However, good news is that it is still possible and doable quite easily if you know what to do. If you are reading this, most probably you want to find out how. Read the guide below and you will find out how to change your network name by performing our described steps.

Table of Contents:
Rename Your Network Using Registry Editor
Windows Registry, usually referred to as just the registry, is a collection of databases of configuration settings in Microsoft Windows operating systems. It is used to store much of the information and settings for software programs, hardware devices, user preferences, operating system configurations, and much more. Many of the options exposed in the registry are not accessible elsewhere in Windows. In order to edit your registry you will need to use Windows Registry Editor. To open Registry Editor right-click the Start button and select "Run" from the contextual menu.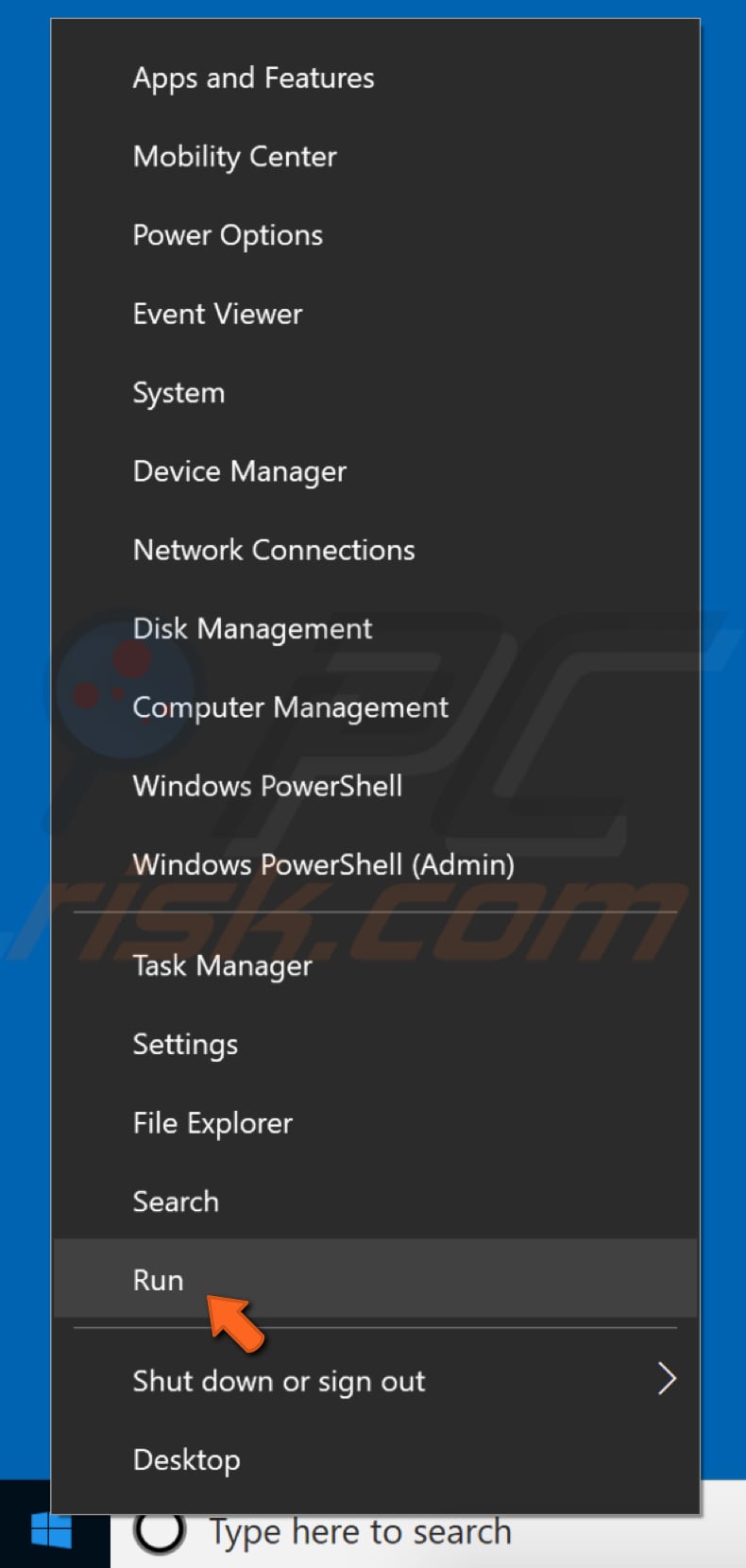 In the Run dialog box, type "regedit" and click "OK" or press Enter on your keyboard - this will open Registry Editor.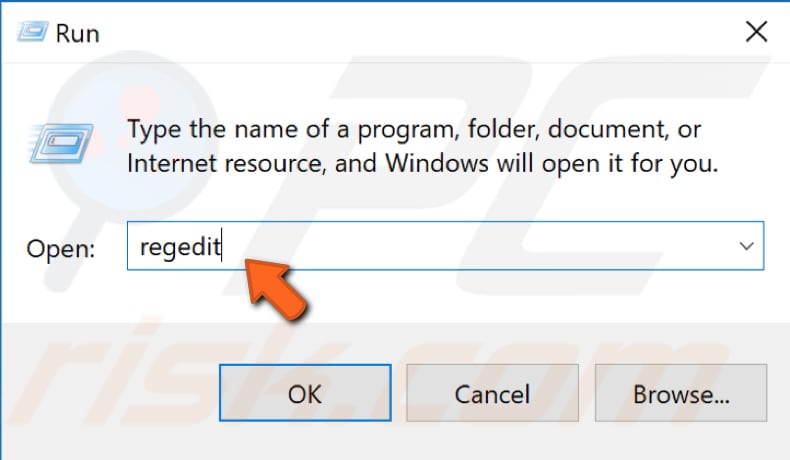 Now go to "HKEY_LOCAL_MACHINE\SOFTWARE\Microsoft\Windows NT\CurrentVersion\NetworkList\Profiles". You can simply copy and paste this path into Registry Editor's bar or to go to it manually by expanding directories. Under "Profiles" key you will see a list of sub keys with a long names containing letters and numbers. Click each sub key and look for the "ProfileName", find the network connection which name you want to change and double click it. In our example it is "Network".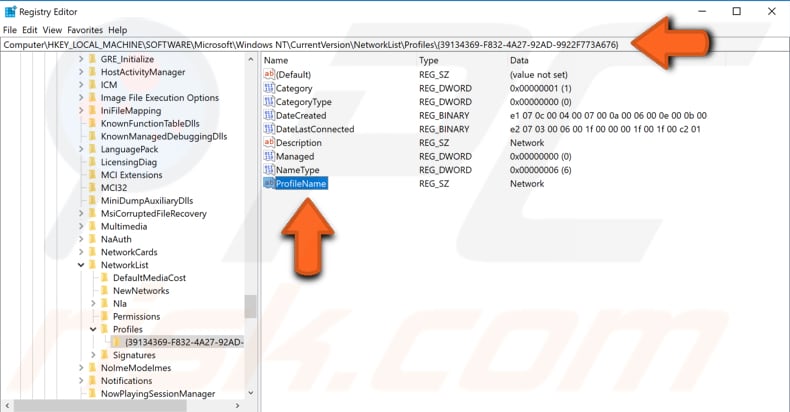 In Edit String window find "Value data" and the name under it, give it a name you prefer and click "OK". A network name cannot contain the characters like "\ / : * ? |".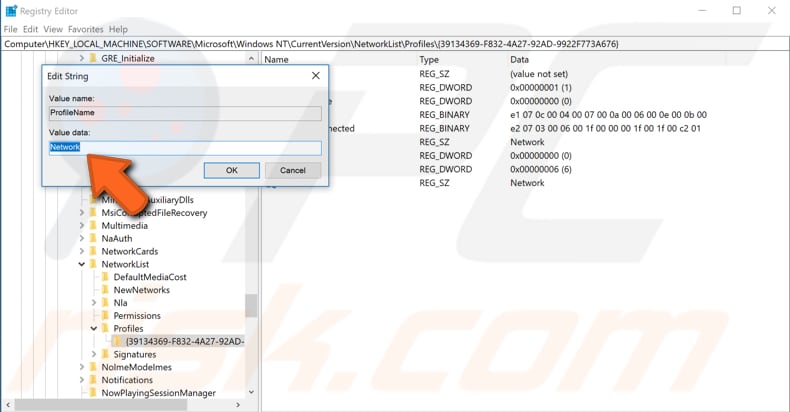 Close the Registry Editor window and restart your computer if needed, the network name should be changed.
Rename Your Network Using Local Security Policy
The Local Security Policy consists information about the security of a local computer. It includes the domains trusted to authenticate logons, which user accounts can access the system and how, rights and privileges assigned to accounts and the security auditing policy. The Local Security Policy is only available in the Windows 10 Pro and Enterprise editions, if you are using one, then to configure settings using a Local Security Policy open Run dialog box again and type "secpol.msc". Press Enter or click "OK" to open it. In Local Security Policy find and select "Network List Manager Policies" on the left pane, now double-click the network name you want to change on the right pane. Under the "Name" section find the name and change it to the preferred one. Click "OK" to save the changes and the network connection name should be changed now. If not, then restart your computer and it should be changed then.
That's it, we hope that this guide was helpful and you were able to change your network name without any problems. If you have any questions related to the topic - do not hesitate to leave a comment in our comment section below.
Video Showing How To Rename Your Network Connection: