How To Uninstall Microsoft Edge From Windows 10
Edge (also known as Microsoft Edge) is a new web browser developed by Microsoft, which replaces Internet Explorer (still available in Windows 10) Edge is also included in Windows 10 and is the default web browser. The only way to get Edge is to upgrade earlier operating system versions to Windows 10. Microsoft Edge is also available to download on iOS and Android smartphones.
Generally, Microsoft Edge is a good web browser and better than its predecessor - fast, clean, simplified, and lightweight. Some users are happy with the browser, whereas others dislike it. Many users accept Edge simply because it is the default Microsoft operating system browser, however, others wish to uninstall it from Windows 10. This is not as simple as it may seem. Furthermore, the browser might become difficult to ignore, since there are rumours that some apps will use Microsoft Edge only. These include the Windows Mail app, and thus, any hyperlink clicked in the Mail app will be opened in Edge. Hopefully this rumour will not be confirmed, and more choice offered.
If you wish to disable or uninstall Microsoft Edge, bear in mind that it is a core feature of Windows 10 and (as was the case with Internet Explorer) cannot be removed by conventional means. There are, however, some workarounds available to disable Microsoft Edge as outlined below.
NOTE: Removing or disabling Microsoft Edge might cause system stability issues. We recommend that the best option is to simply use another browser as your default browser.

Table of Contents:
Uninstall Edge Using A Third-Party Tool
Click this link  and find the "Download Uninstall Edge browser for Windows 10" link, click it. The download process should be completed in seconds. Now, extract the files on the Desktop (or other location). Right-click the "Uninstall Edge" file and select "Run as administrator".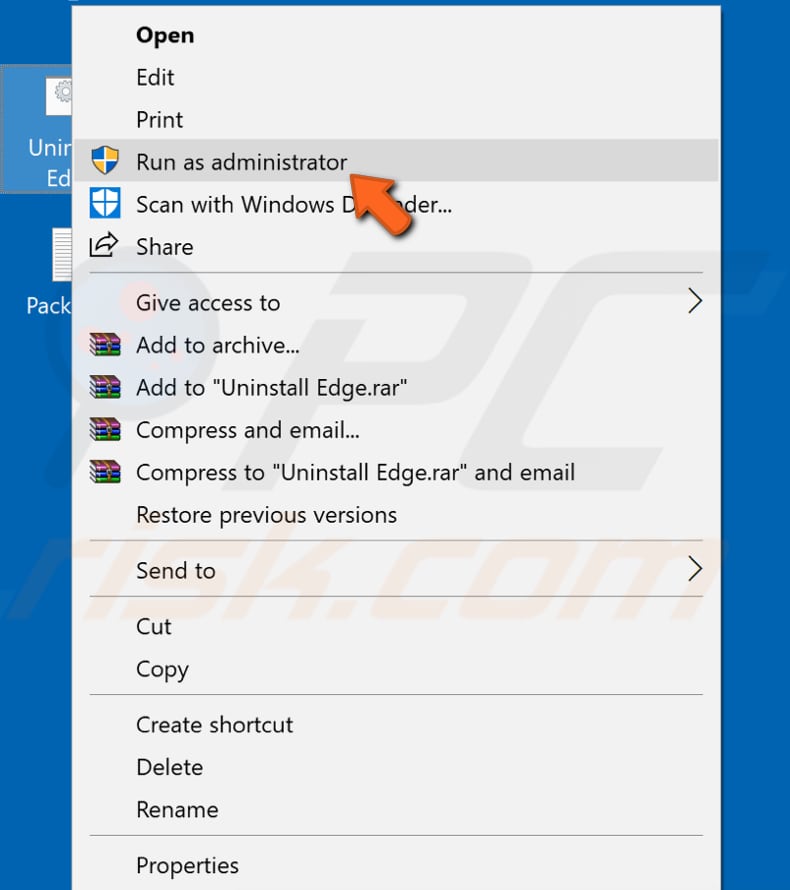 Wait until the process has finished and restart the computer. See if this removes the Edge app from Windows.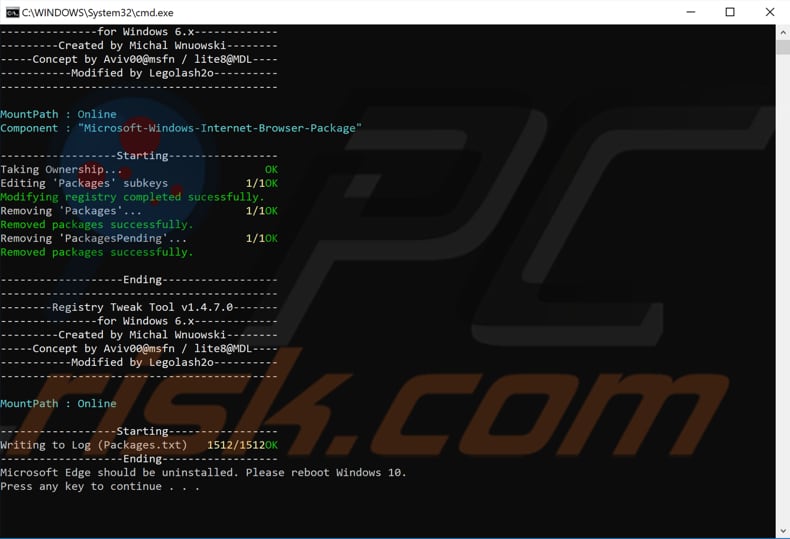 Remove Microsoft Edge Using PowerShell
PowerShell is a task automation and configuration management framework from Microsoft, consisting of a command-line shell and associated scripting language. In PowerShell, administrative tasks are generally performed by "cmdlets", which are specialized .NET classes implementing a particular operation. To open PowerShell on Windows 10, type "powershell" in Search and right-click on the "Windows PowerShell" result. Select "Run as administrator" from the contextual menu. Alternatively, access PowerShell by right-clicking on the Start icon in Windows and selecting the "Windows PowerShell (Admin)" result.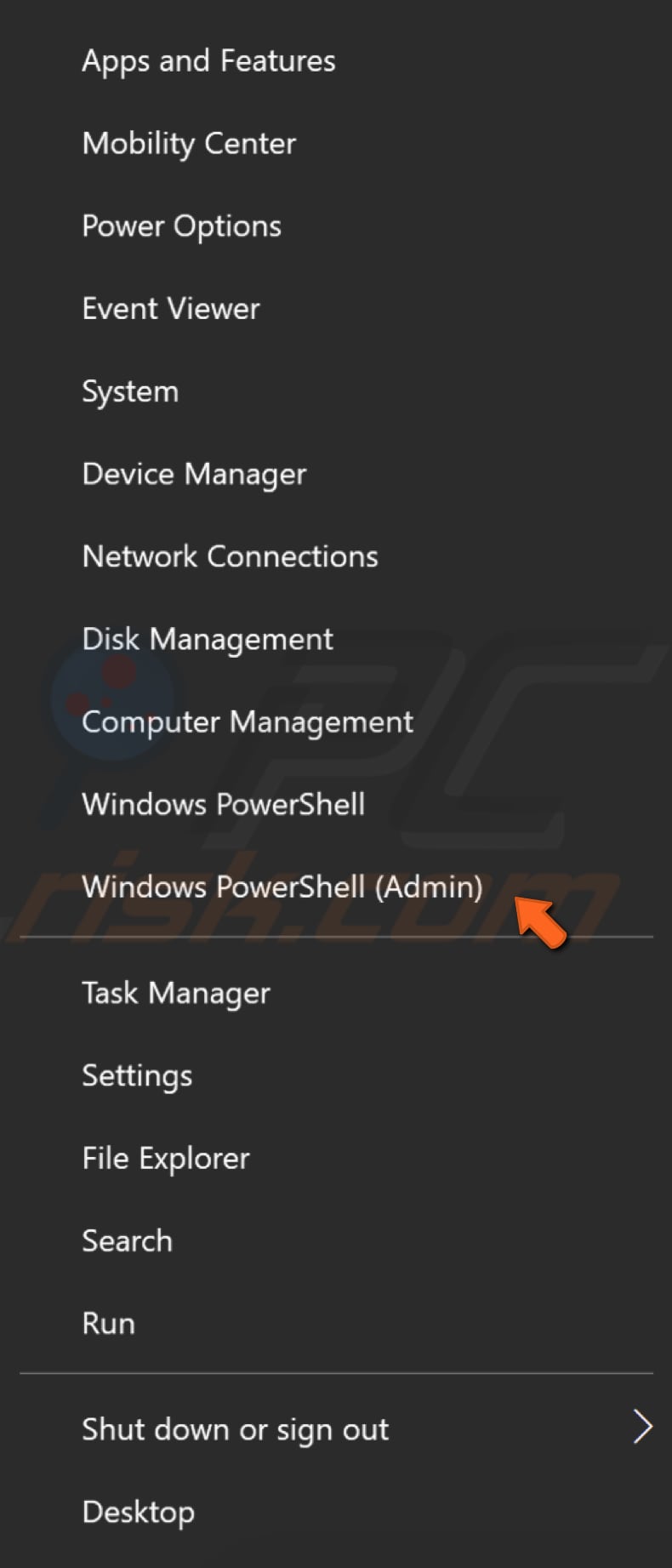 In the PowerShell blue background, type the "get-appxpackage *edge*" command and press Enter. You will see various details about Microsoft Edge, including its location.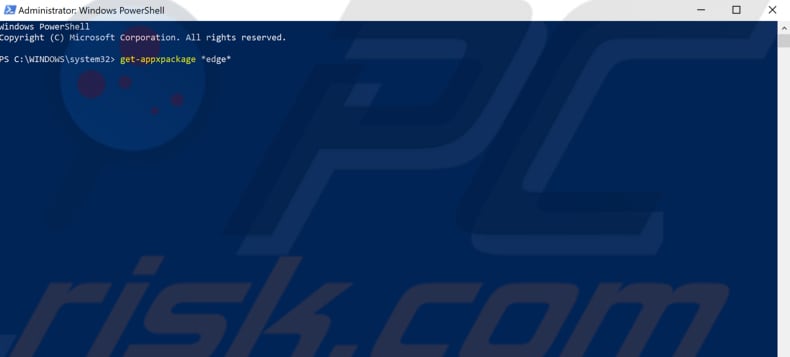 Type "remove-appxpackage", press the Space button, and then copy the text beside "PackageFullName". To copy it, simply select it and press Ctrl + C. Then, paste it using Ctrl + V. The command should appear as in our screenshot. Press Enter to execute the command and see if this removes the Edge app from Windows 10. If not, proceed to the next method.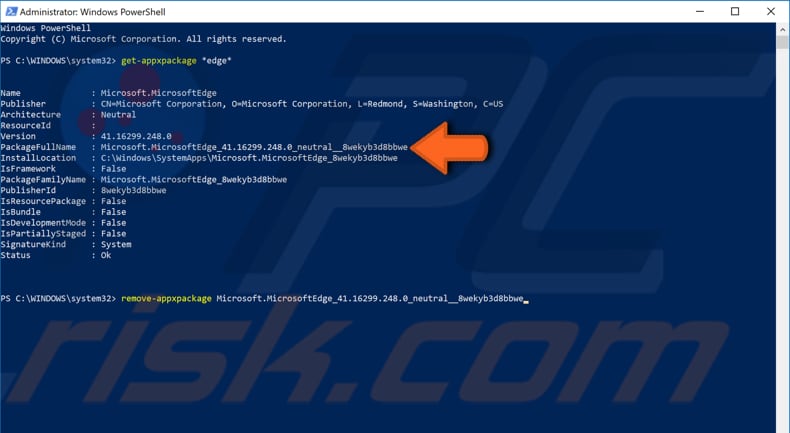 Rename Edge Core Files
To disable Microsoft Edge, you might need to change the names of its core files. Go to the "C:\Windows\SystemApps\" folder and find the "Microsoft.MicrosoftEdge_8wekyb3d8bbwe" folder. Right-click it and select "Properties".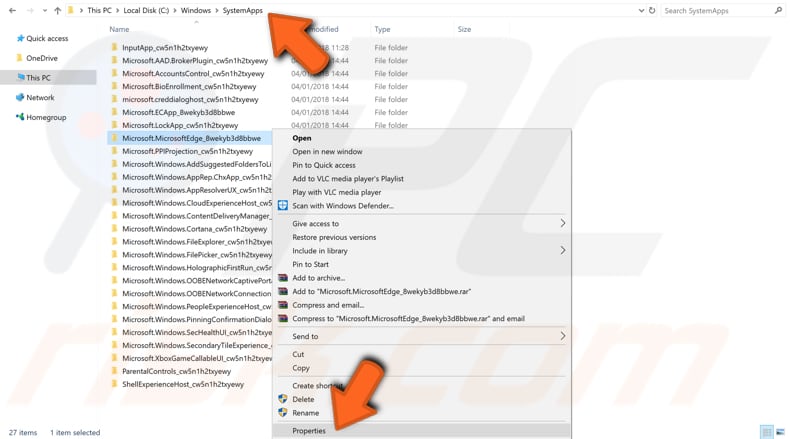 Ensure that the "Read-only (Only applies to files and folders)" option is checked and click "Apply" to save the changes.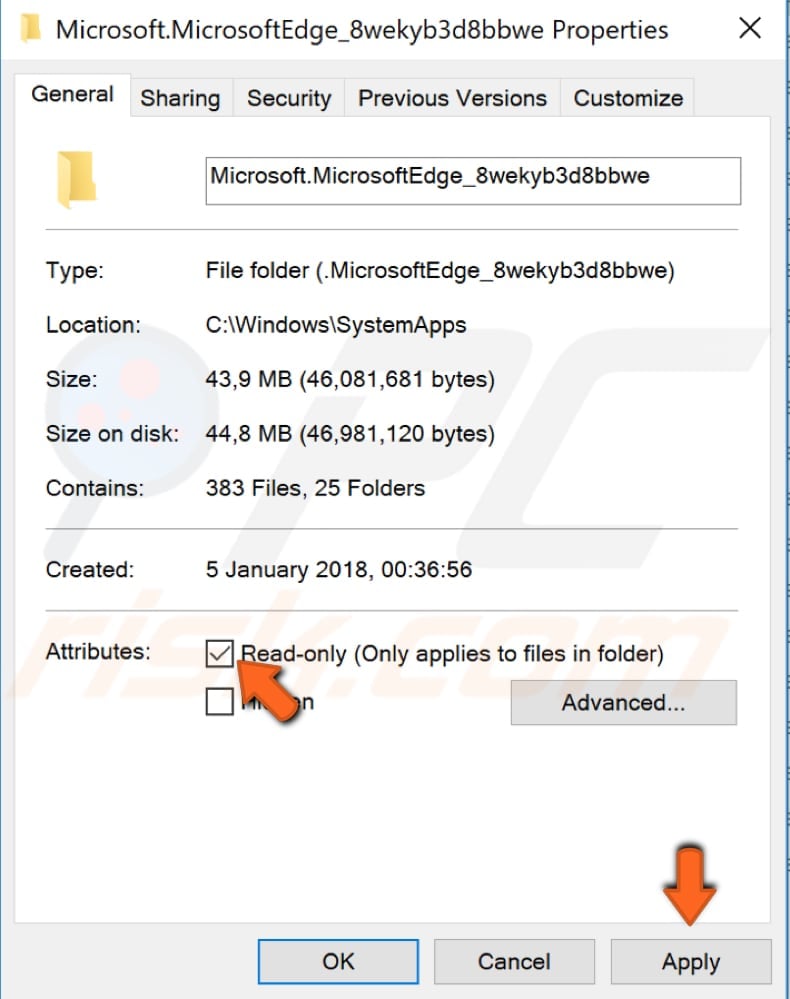 Now, open the "Microsoft.MicrosoftEdge_8wekyb3d8bbwe" folder, click "View", and enable the "File name extensions" option.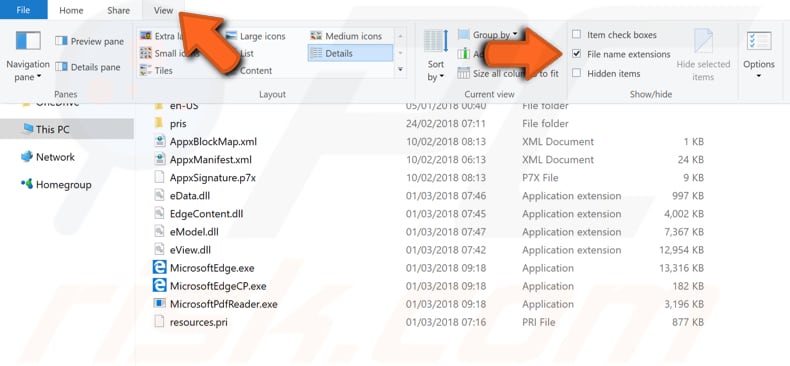 Now find the "MicrosoftEdge.exe" and "MicrosoftEdgeCP.exe" files and rename them to "MicrosoftEdge.old" and "MicrosoftEdgeCP.old". This should disable Microsoft Edge. If you were not able to change the names of these files, you will need to execute a number of commands in Command Prompt. 
Command Prompt is the input field in a text-based user interface screen, a command line interpreter application available in most Windows operating systems. It is used to execute entered commands, most of which are used to automate tasks through scripts and batch files, perform advanced administrative functions, troubleshoot and solve certain types of Windows issues. To use Command Prompt, you must enter a valid command along with any optional parameters. It then executes the command as entered and performs whatever task or function it is designed to perform in Windows. Some commands available in Windows require that you run them from an elevated Command Prompt. Therefore, you must be running it with administrator level privileges. To start elevated Command Prompt, type "command prompt" in Search, right-click the "Command Prompt" result, and then select "Run as administrator".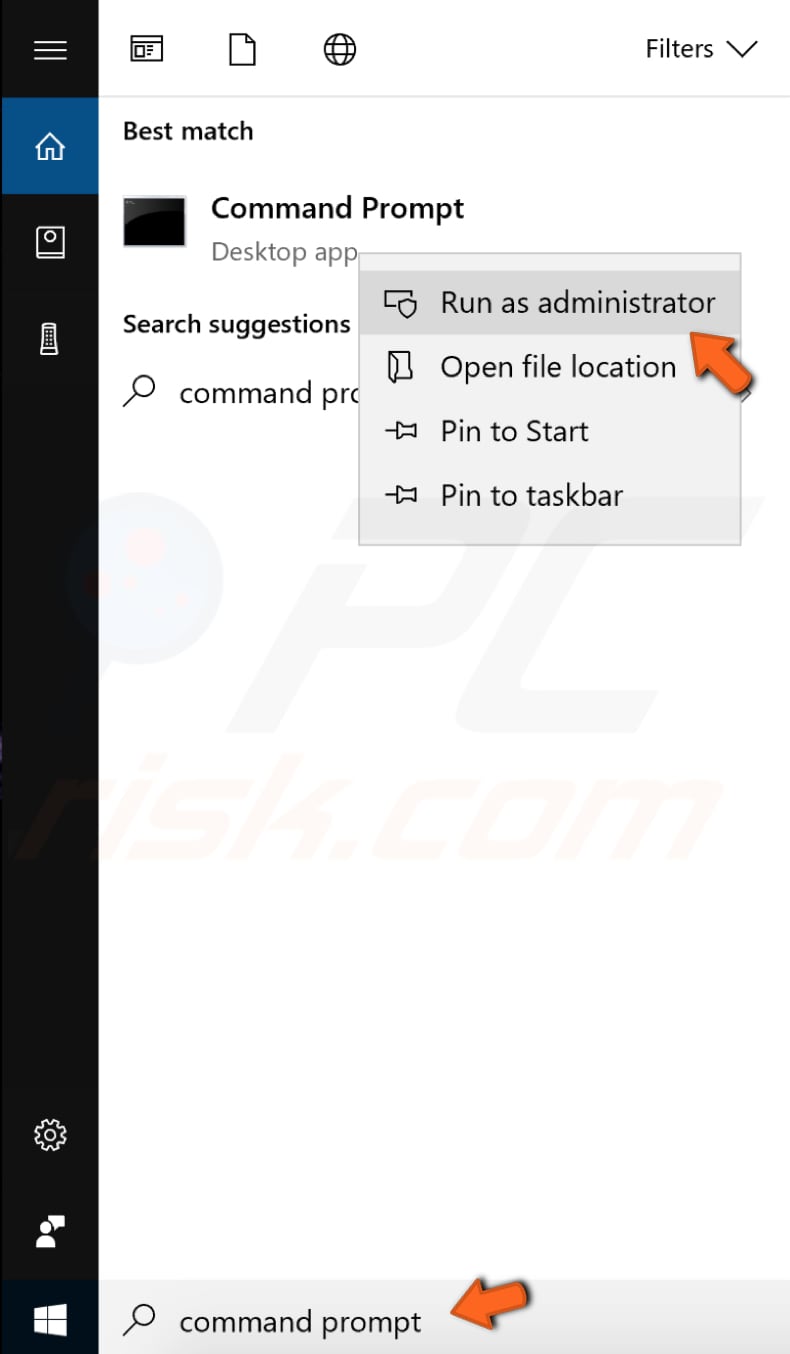 Type these two commands and press Enter after each:
takeown /f C:\Windows\SystemApps\Microsoft.MicrosoftEdge_8wekyb3d8bbwe
icacls C:\Windows\SystemApps\Microsoft.MicrosoftEdge_8wekyb3d8bbwe /grant administrators:f
Now, repeat the steps previously described to rename Edge core files. Check if this disables Microsoft Edge.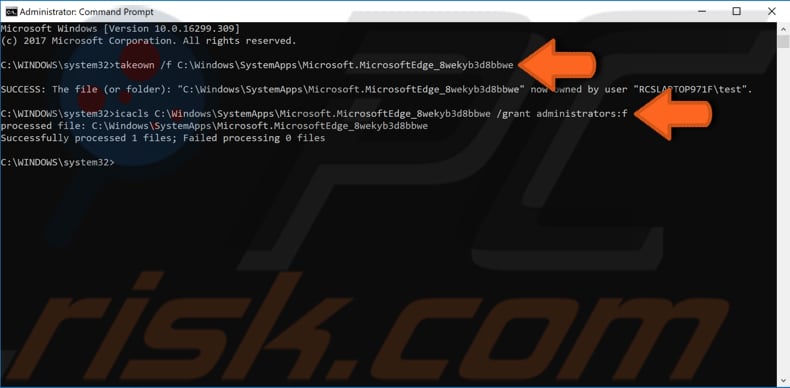 We hope that these methods help you to disable or remove Microsoft Edge in Windows 10. If you know of other methods not mentioned here, please share them with us by leaving a comment in the section below.
Video Showing How To Uninstall Edge From Windows 10: