Can't install Windows Updates on Windows 7 & 10 - how to fix?

Written by Tomas Meskauskas on
Can't Install Windows Updates On Windows 7 & Windows 10 - how to fix?
Windows updates are very important to keep your system safe from virus threats, especially ransomware. By default Windows Update service is running in the background and downloads updates from Microsoft servers. Automatic checking for updates can be disabled and switched to manual. Despite the mode of Windows Updates operation it may happen that software updating process gets stuck at some phase. "Searching for updates …", or "downloading updates …" forever, failing to install some particular update, failing to configure system after updates are common situations of Windows 7 or Windows 10 update process.
After a fresh installation of Windows 7 or Windows 10 a big amount of updates may be required. Downloading them from internet and installation may take hours. Updates can be related and to install newer ones earlier prerequisite updates may be mandatory. Sometimes big group or updates can be bundled in large pack called like service pack SP1 or SP2, convenience rollup, etc. Usually updating with service packs is faster than downloading and installing each individual update separately. Remember that update installation often demands a restart of Windows system. Before searching how to fix Windows Update issues reboot your system and ascertain yourself that problems really exist. Updating process may be quite long and before fixing anything give Windows enough time to complete updating steps.

Fixing Windows Update issues may be as simple as running built-in windows Update Troubleshooter but the most severe cases might be require reinstallation of Windows. We will show you several general techniques how to fix Windows 7 and Windows 10 Update problems. If you get a particular error of updates installation process then it could be worth to search for this particular error fix.

Table of Contents:
How To Run Windows Update
In Windows 10 type "update" in Start search box and select "Check for updates".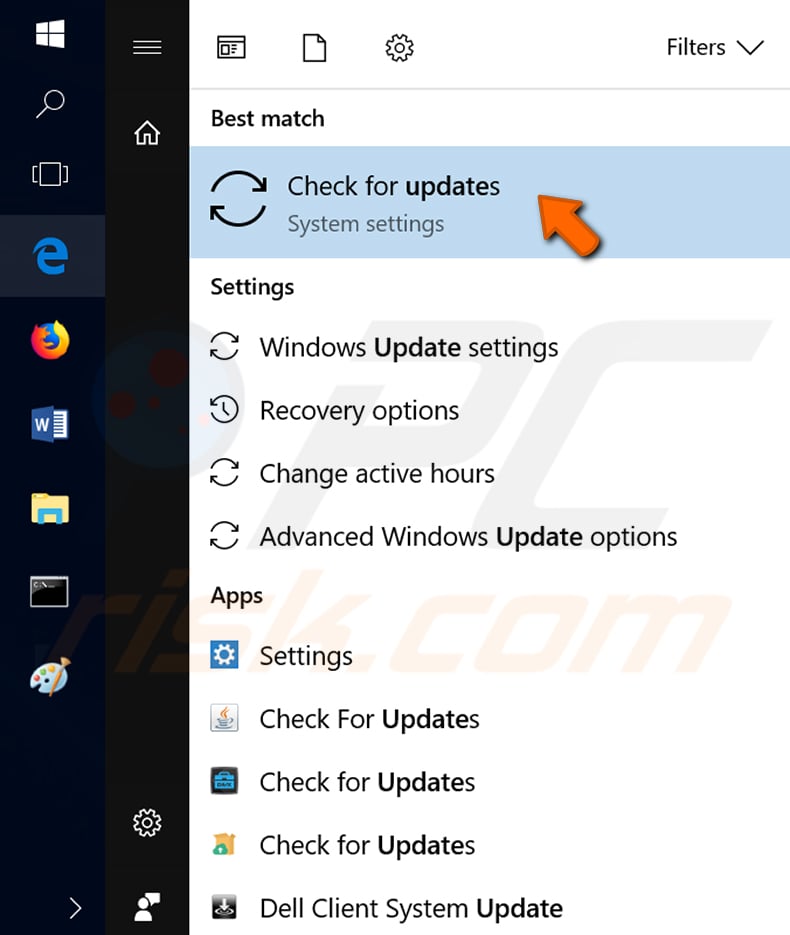 In the opened Windows Update window click "Check for Updates". It might happen that it will stuck in the "Checking for updates…" process.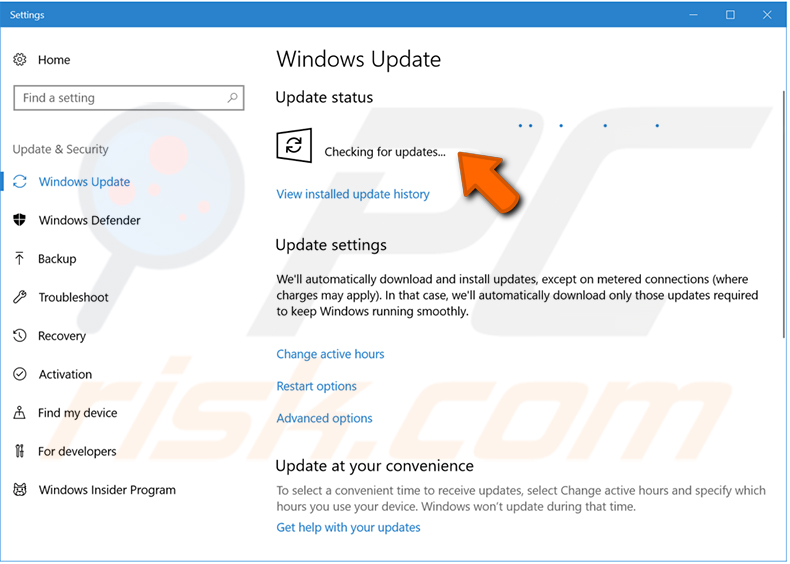 If you are using Windows 7 then click on Start search field and type "update" and select "Windows Update". Windows Update will check for available updates and will show window indicating important and available updates.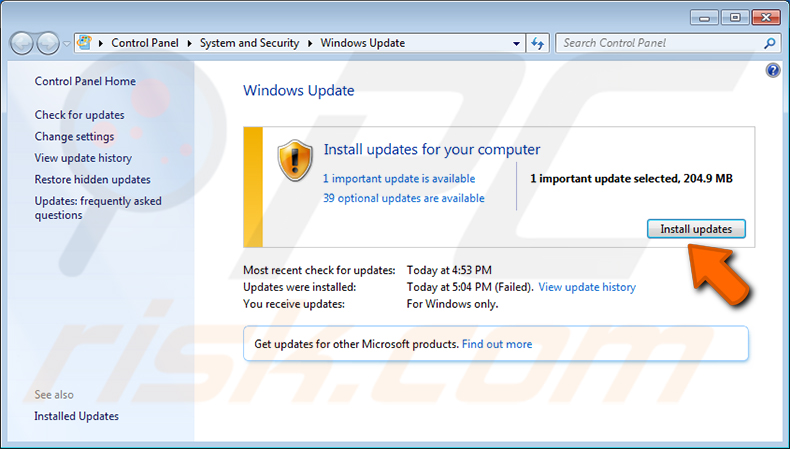 If you click "Install updates" button the download and installation process will start.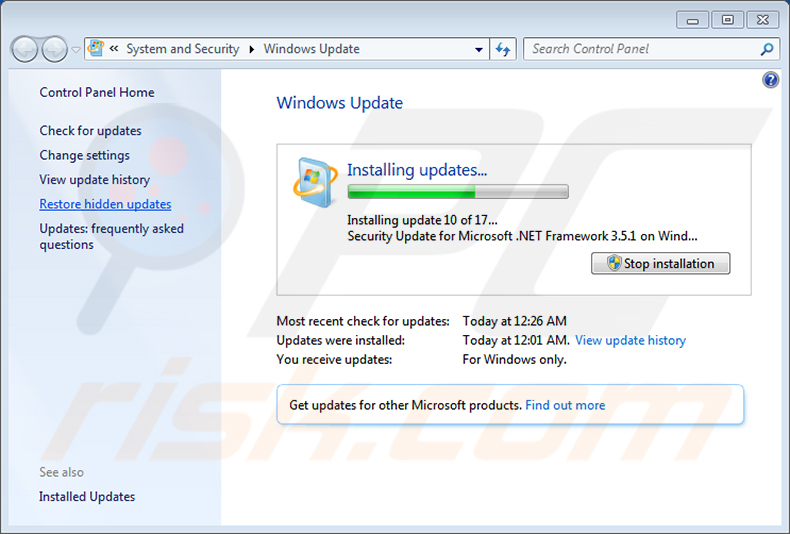 Some updates are related and in order for all of them to install successfully several Windows restarts may be required. An indication to restart your system can be a failure to install some updates indicated in the picture below.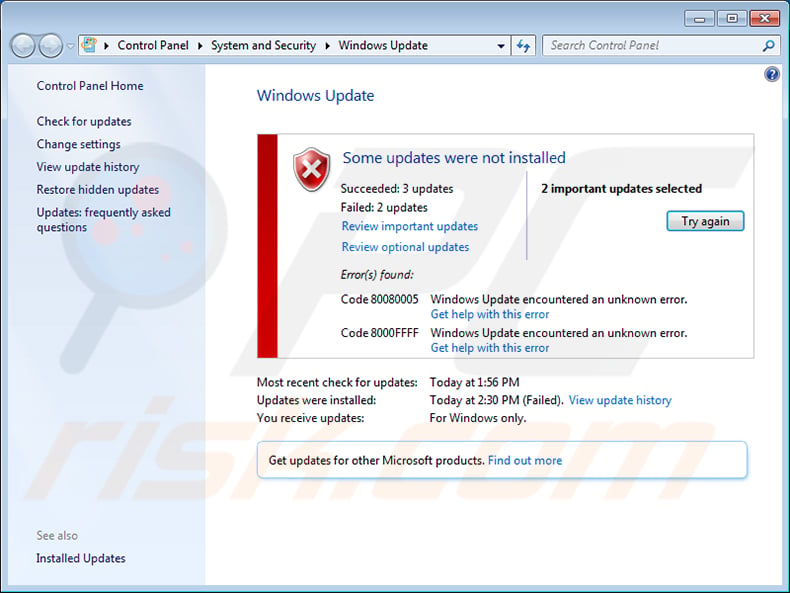 Restarting Windows is the first step to try to fix updates issues. Several restarts may be demanded if you are installing many updates at once. Restarting often helps even if Windows Update reports unknown encountered error.
See which Updates were Installed Successfully or Failed
In Windows 10 type "settings" in Start search field and select "Settings". In the opened Settings window click "Update & Security" icon. Select "Windows Update" tab on the left.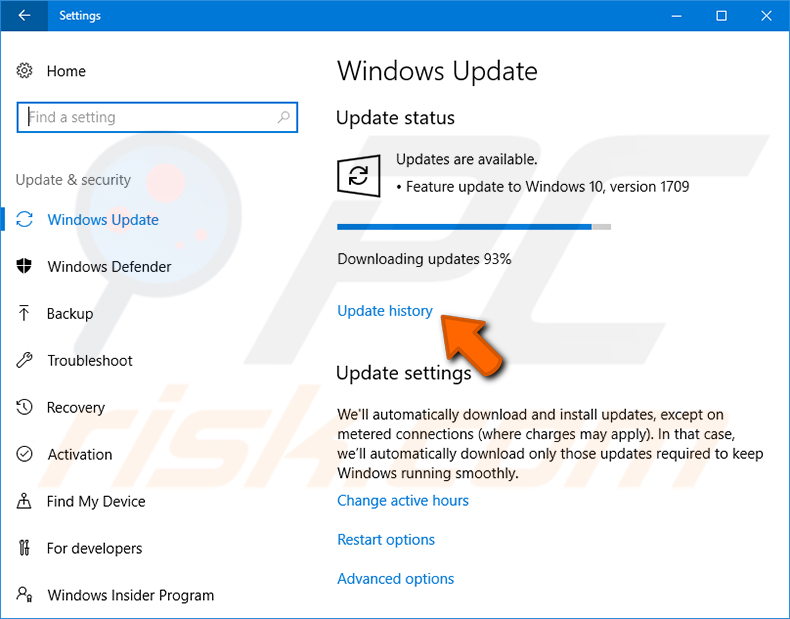 Click on the link "Update history" and see which updates were installed successfully or failed in the window below.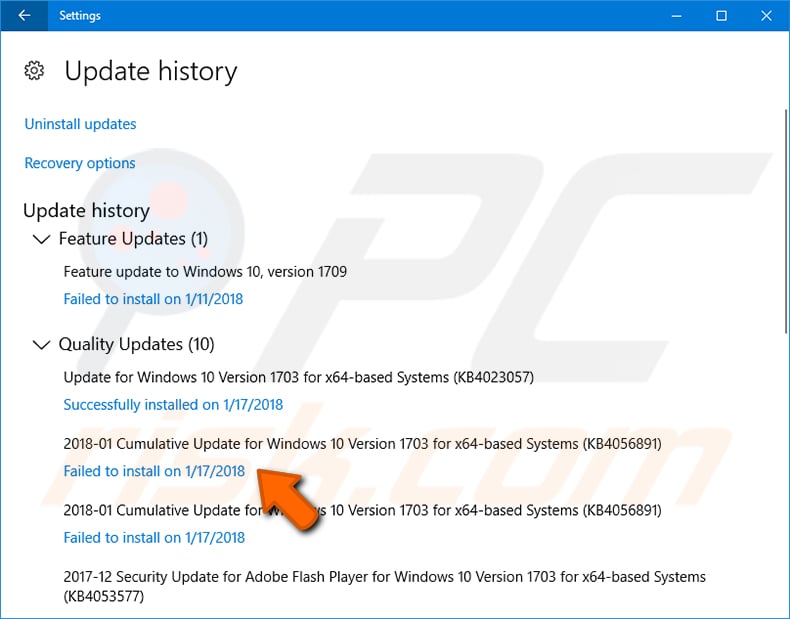 If for some reasons update history is displayed empty (this may happen folder C:\Windows\SoftwareDistribution was rebuilt), the other way to see installed updates is through Control Panel. Select Programs and Features and click View installed updates on the left. Here you can also uninstall selected updates. In any case, blank updates history is not a problem because it does not affect installed updates.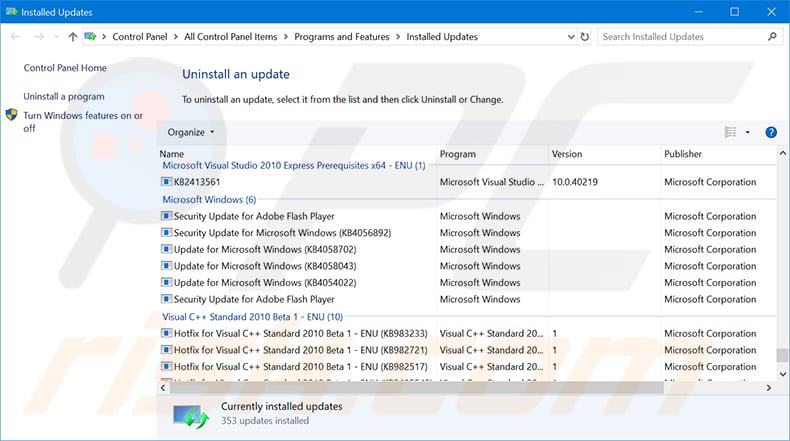 How To Check Windows Version
What you often need to know about your Windows is bit version (32 or 64 bit). Downloadable updates or fixing utilities are separate for different 32 or 64 bit versions of Windows 7 and Windows 10.
In Windows 7 Start search box type "control panel" and open it. Then select "System and Security" and System window will display operating system and system type (64 bit in the picture below).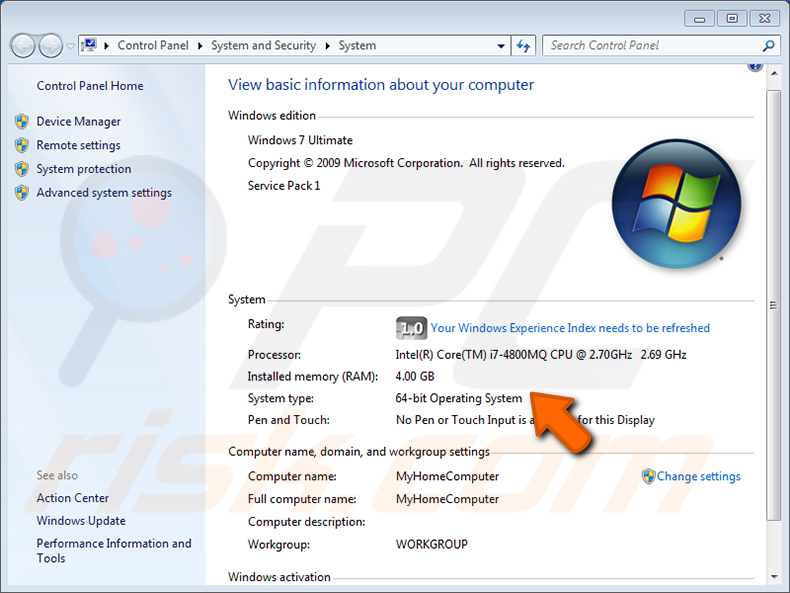 You can find it typing "about" in Windows 10 Start search box and then selecting "About your PC". Scroll down in the "Settings About" window to see the number of bits of your Windows system as shown in the picture below.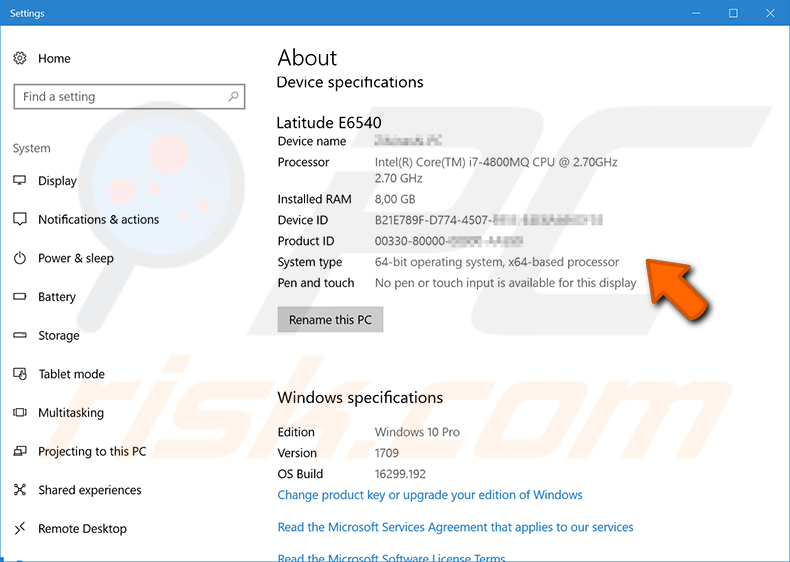 Using Windows Update Troubleshooter
The first suggestion when dealing with Windows update problems is to use Microsoft dedicated Windows built-in tool called Windows Update Troubleshoot available in both Windows 7 and Windows 10. A quick manual how to operate it can be accessed at Description of the Windows Update Troubleshooter - Microsoft Support. You can download Windows Update Troubleshooter for Windows 7 or Windows 10 by visiting Microsoft Support at Windows Update Troubleshooter. In Windows 10 double click the downloaded file "wu170509.diagcab" and follow instructions in dialog windows. In the first Window shown below click "Next" button.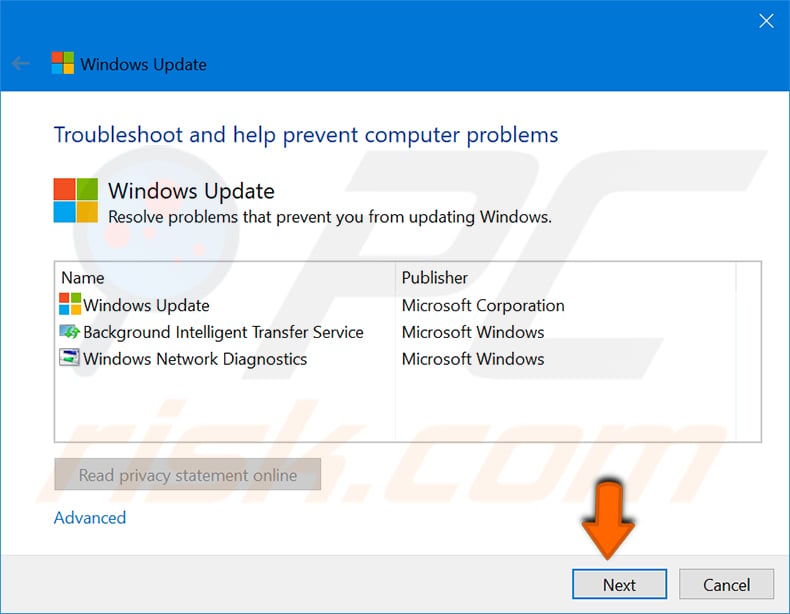 In the window below check "Apply repairs automatically" and press "Run as Administrator" and then click "Next". Checking and repairing may take 15 to 20 minutes typically.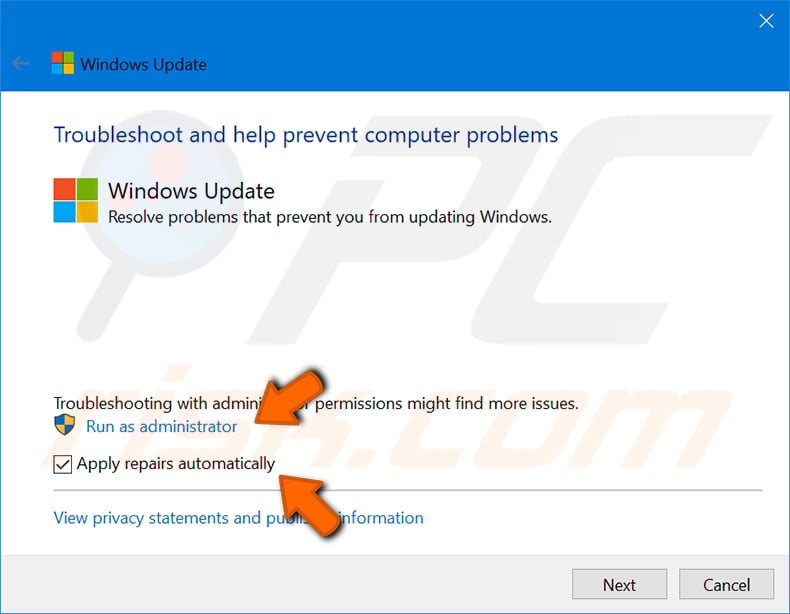 Dependent on the status of your Windows system the troublshooter may suggest to delete and re-download updates. Agree with this and press "Apply this fix".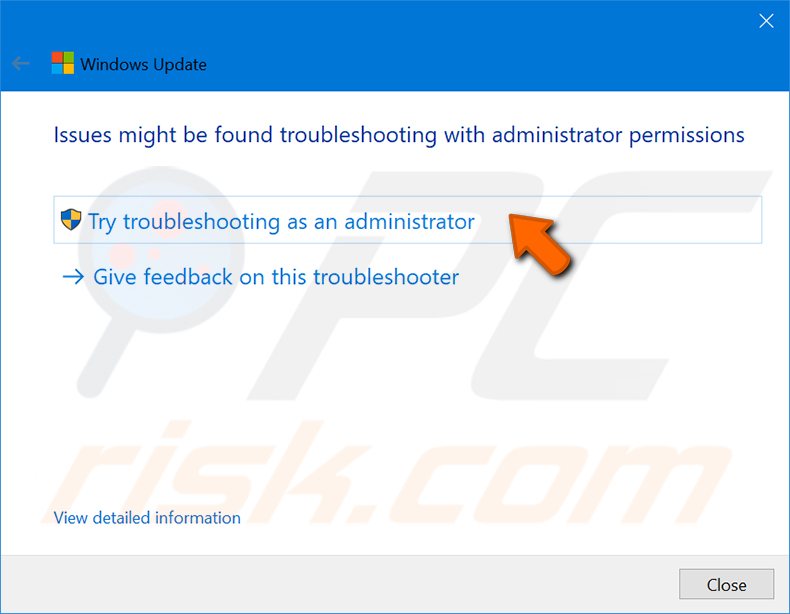 The final results of Windows Update Troubleshooter are displayed in a window shown below. Even after the troubleshooter some unresolved issues may be left.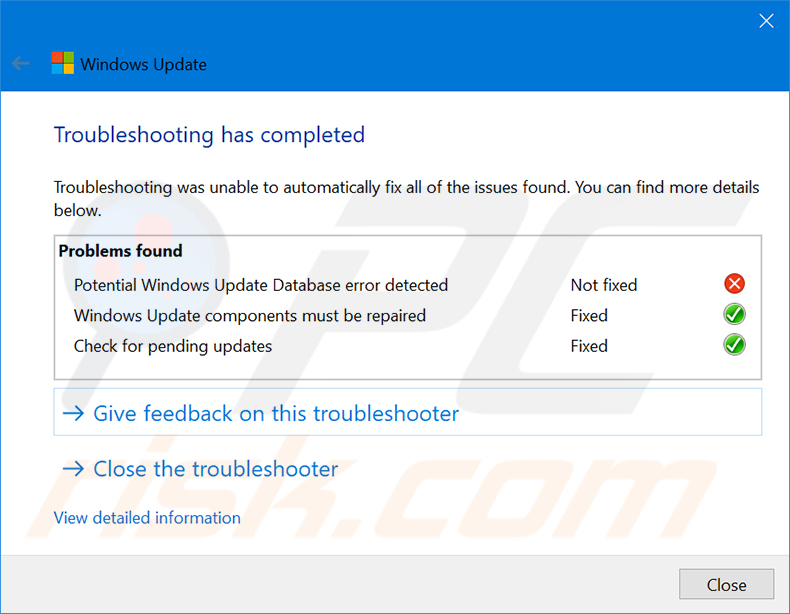 Deleting Windows Update Cache Manually
Deleting Windows Update cache manually is another step to try. In Windows 7 and Windows 10 update cache is located in folder "C:\Windows\SoftwareDistribution".
In Windows 10 it was possible to clean all Windows Update Cache without booting in Safe mode. Before you can delete cache files you need to stop two Windows services: "Background Intelligent Transfer Service" and "Windows Update". Services control window can be accessed by typing service in Start search field. Select the necessary service in the list and choose "Stop" from the drop down list for both mentioned services.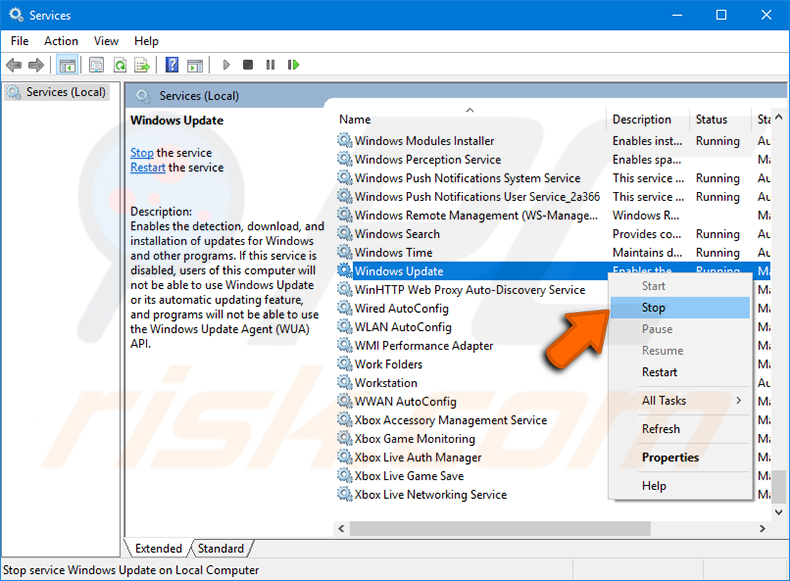 In Window 7 it was necessary to boot in Safe mode in order to stop Background Intelligent Transfer Service and Windows Update services. To boot Windows 7 in Safe mode you need to restart Windows and hold F8 key (or F12) during Windows start process. Then in the Advanced Boot Options window select "Safe Mode" and press Enter.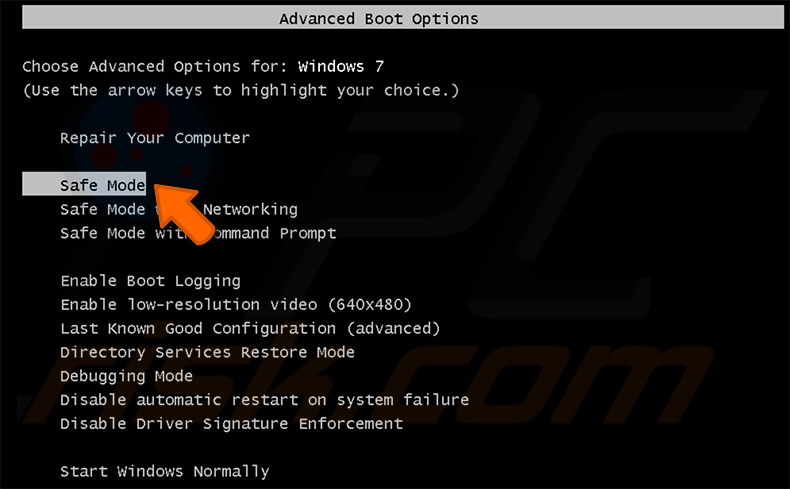 When necessary services are stopped you need to delete contents of the folder "C:\Windows\SoftwareDistribution". There's nothing important here, because Windows Update restores everything it needs the next time you run Windows Update.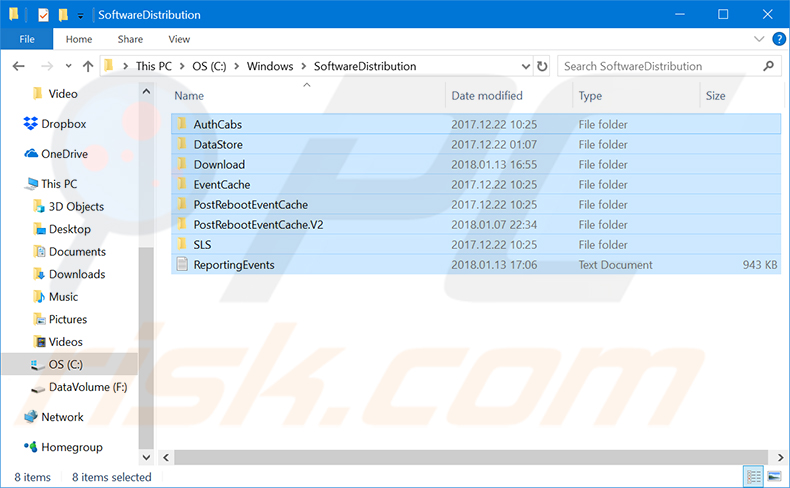 It was only a warning popping up during the delete process. Select option "Do this for all current items" and click "Yes". It takes some time for Windows to move the entire contents of Update Cache to Recycle Bin.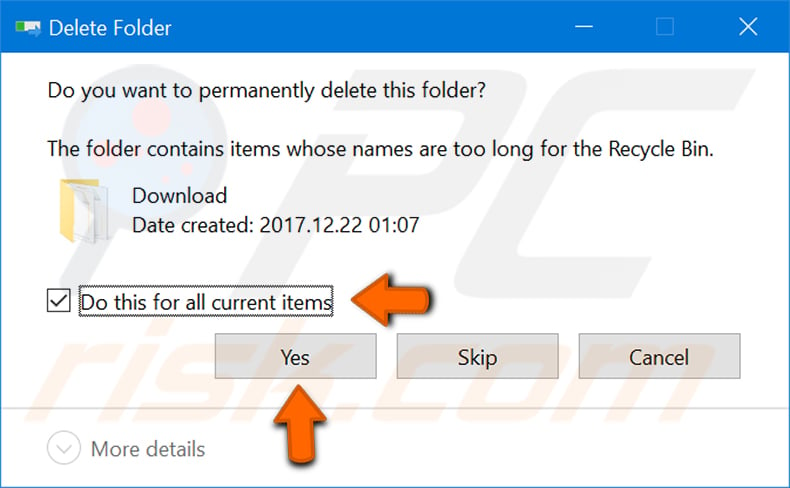 Now try to reboot and start Windows Update again to see if any update problems still persist.
Use Convenience Rollup for Windows 7
By using Microsoft convenience rollup (or in other words Windows 7 Service Pack) you can speed up and possibly avoid problems installing a lot of updates on a fresh Windows 7 installation. Windows 7 convenience rollup package contains updates released from around February 2011 until May 2016.
There are several prerequisites for the installation of the convenience rollup. Microsoft tells that you must have installed Service Pack 1 for Windows 7 or Windows Server 2008 R2 (KB976932) and April 2015 servicing stack update for Windows 7 and Windows Server 2008 R2 (KB3020369). Microsoft also states that you need at least 4 GB of free disk space required for the installation of convenience rollup. Convenience rollup can be downloaded from Microsoft Update Catalog.  Dependent on your Windows 7 bit version (32-bit or 64-bit) click the appropriate "Download" button on the right.

Press on the link to the convenience rollup installation file.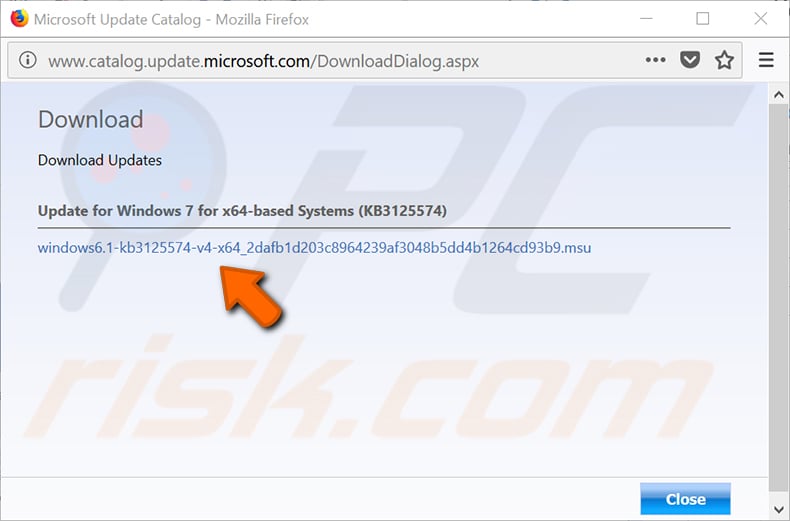 Install the convenience rollup on your Windows 7 system. More about convenience rollup you can get from Microsoft article Convenience rollup update for Windows 7 SP1 and Windows Server 2008 R2 SP1 Convenience rollup update for Windows 7 SP1 and Windows Server 2008 R2 SP1. If your Windows system already has updates installed it will notify you and cancel convenience rollup installation. 
Fix Windows File Corruption Using DISM And SFC For Windows 10
Microsoft recommends to use both prompt DISM (Deployment Imaging and Servicing Management) and SFC (System File Checker) commands in order to fix Windows file corruption. Call the command prompt with administrator rights.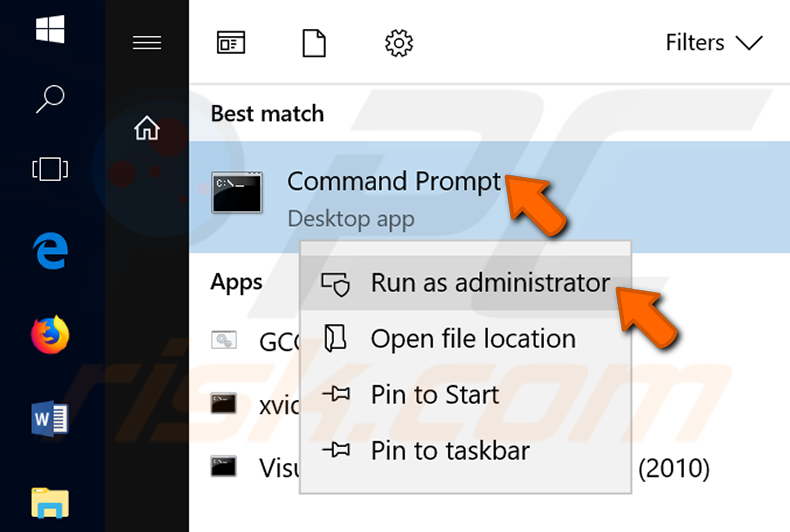 In the command prompt type "DISM.exe /Online /Cleanup-image /Restorehealth" and press Enter. It might take from several to twenty minutes to complete this command. Then type "sfc /scannow". It will also take around twenty minutes to complete this command. Upon the successful completion of DISM and SFC commands you should see confirmation about the completed verification in the Command Prompt window. After DISM and SFC finish successfully run Windows Update again.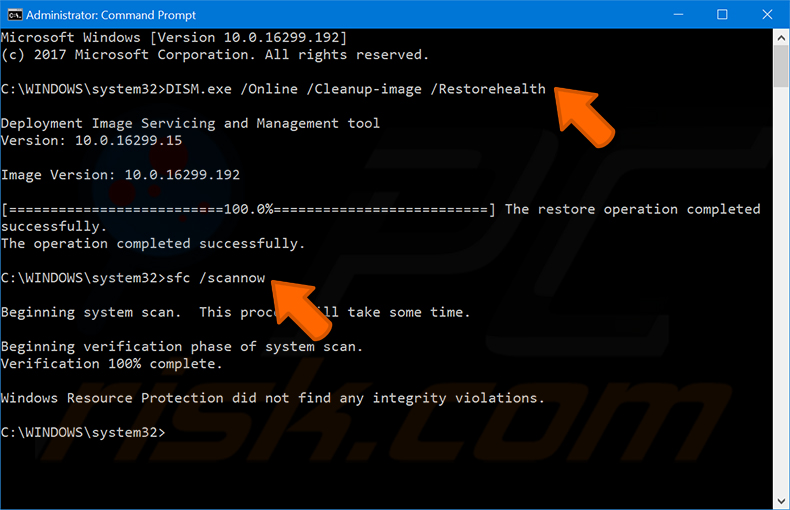 Fix Windows Update Using System Update Readiness Tool for Windows 7
Instead of DISM and SFC Windows 10 utilities in Windows 7 System Update Readiness Tool (SURT) can be used. Download Windows 7 SURT from here . The size of SURT for 64 bit Windows 7 version is around 550MB. After the download is completed start installation of "Windows6.1-KB947821-v34-x64.msu." When asked agree to install "HotFix for Windows (KB947821)".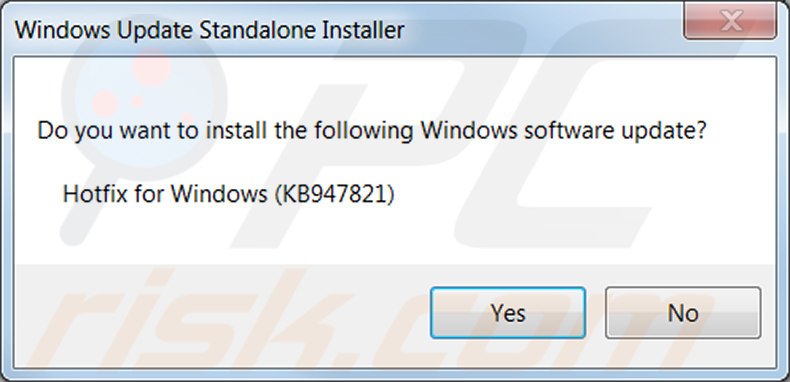 Allow SURT installation to complete. When installation is finished scanning for and fixing problems is started automatically. You just need to wait for the process to complete. It may take up to 15 minutes or more dependent on your computer. Now try to run Windows Update again.
If some problems still remain unresolved a more experienced users can follow guidelines in Fix Windows Update errors by using the DISM or System Update Readiness tool to manually fix corruption errors that are found in the "CheckSUR.log".
Try Free Windows Repair Tool from Tweaking.com
An external tool from called Windows Repair from Tweaking.com can be used to repair Windows Update issues. Windows Repair comes in Free and paid Pro versions. The tool has many features for fixing wide range of Windows problems. It can be downloaded by following links in Tweaking.com. The size of installation file is only 37 MB and requires just 53 MB of your disk for installation. A page contains nice video introducing features of Windows Repair. Windows Update Repair function is included in the free version of Windows Repair. It is highly recommended to run Windows Repair tool in safe mode or with administrator rights (right click mouse and select Run as Administrator from drop down menu).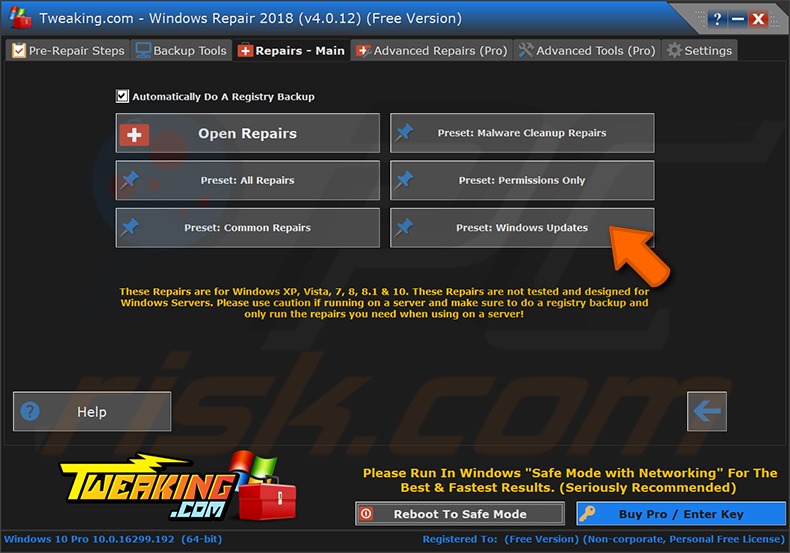 Fixing Fresh Installed Windows 7 Update Stuck on "Checking for updates"
Microsoft has a Windows forum article Fix: Windows 7 Update stuck on checking for updates explaining how to update Windows Update itself immediately after fresh Windows 7 installation. This update solves the issue of update stuck in the phase "Checking for updates" and accelerates installation of many other Windows updates.
Videos Showing Methods How To Solve Problems With Windows Updates:
Windows 7 users:
Windows 10 users: