How To Fix The 'ERR_SPDY_PROTOCOL_ERROR' Error?
How To Easily Fix The 'ERR_SPDY_PROTOCOL_ERROR' Error On Windows 10?
Google Chrome is a free Internet browser officially released by Google at the end of 2008. Its features include synchronization with Google services and accounts, tabbed browsing, in-browser translation, spell check, and integrated address bar/search bar. Chrome works well with Google sites and services such as YouTube and Gmail. It also manages system resources differently to other browsers.
Although Google Chrome is probably the best browser, it has some common errors such as "ERR_SPDY_PROTOCOL_ERROR". SPDY ("speedy") is a deprecated open-specification networking protocol that was developed primarily at Google for transporting web content. SPDY manipulates HTTP traffic to reduce web page load latency and improve web security. Generally, SPDY is a protocol of the Google Chrome browser designed to load web pages faster and to improve web security. "ERR_SPDY_PROTOCOL_ERROR" often occurs when attempting to visit pages related to Google, such as YouTube, Gmail, etc. It also occurs on web pages not related to Google.
This error might occur if you are using an outdated Google Chrome browser, so check that your software is up-to-date. Another possible reason is anti-virus or firewall software, which might automatically block normal system operations and deliver the "ERR_SPDY_PROTOCOL_ERROR" error on Google Chrome.
There are a number of solutions, some of which are straightforward. In this article, we describe how to fix "ERR_SPDY_PROTOCOL_ERROR" on Google Chrome and remove any associated problems.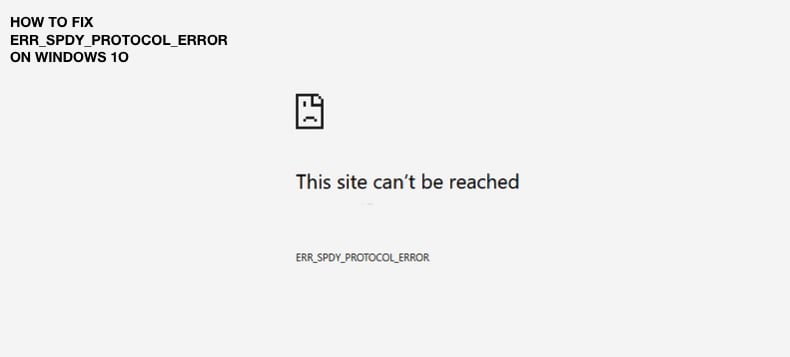 Table of Contents:
Update Google Chrome
Google Chrome was the first web browser to provide automatic updates. Having an up-to-date web browser is vital to a safe and fully-featured web experience. In most cases, Chrome checks for updates automatically and self-updates, unless you have disabled the automatic update feature. As mentioned before, one of the causes of "ERR_SPDY_PROTOCOL_ERROR" is an outdated Google Chrome browser, so ensure that you have the latest version and update it if required.
To update Google Chrome (or check if you have the latest version), go to Settings (click the three dots in the top-right corner on newer versions of Google Chrome).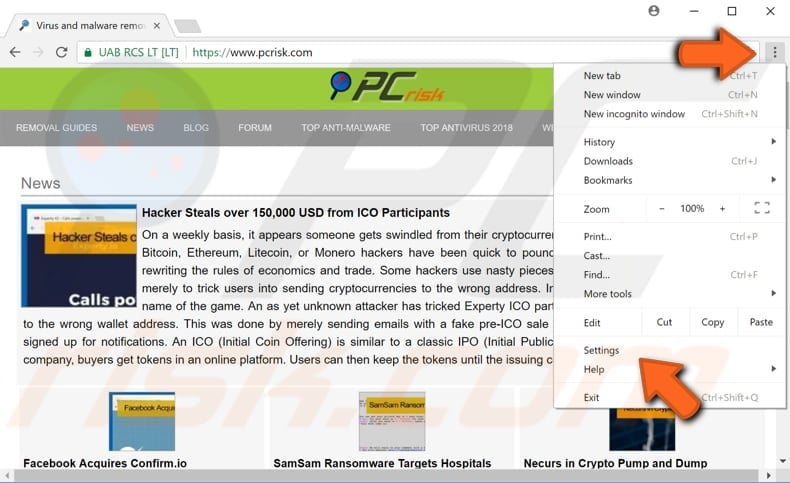 In Settings, click "About Chrome".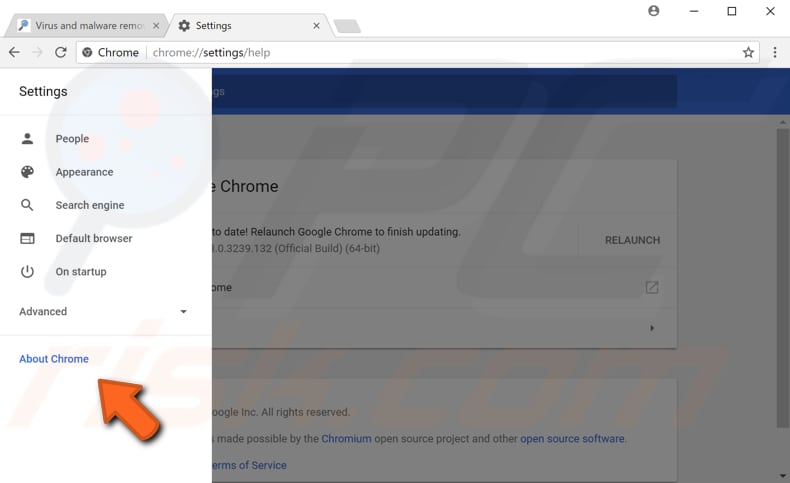 Once you have clicked "About Chrome", it should start updating immediately (if it detects that you are not using the latest version). If it is already up-to-date, it will report "Google Chrome is up to date" and display the version.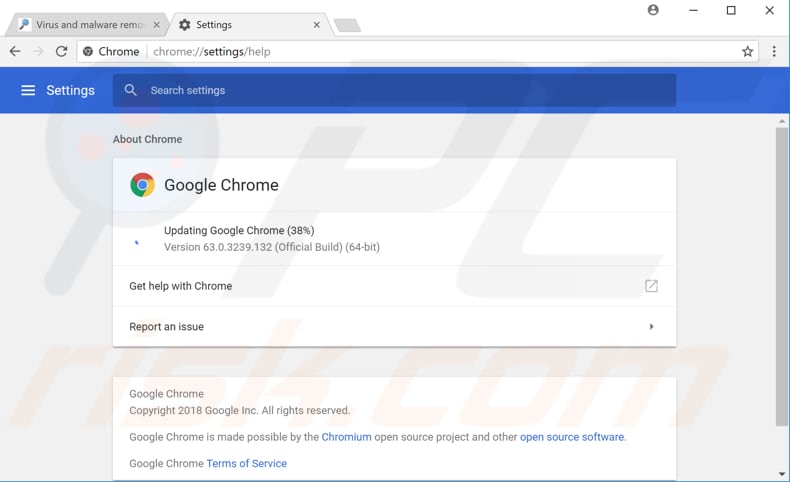 Another way to have the latest Google Chrome on your PC is to re-install it. Simply uninstall it from your operating system and go to Chrome's website to download the latest version.
Use Incognito Mode
Data files are used by your computer for a variety of purposes, from keeping a history of the sites you have visited to saving specific preferences in small text files known as cookies. Google Chrome's Incognito Mode removes most private data components so they are not left behind at the end of the current session (when you close the Incognito window). When you are using Incognito mode, no one else who uses your computer can see your activity. Your saved bookmarks and downloads, however, are saved. This mode does not save cookies, site data, browsing history, or information you enter into forms.
If you are receiving "ERR_SPDY_PROTOCOL_ERROR" when trying to access a particular website, try to visit it in a new Incognito window by clicking the three dots in the top-right corner and select "New incognito window" from the drop-down menu. You can also open a new Incognito window by pressing Ctrl + Shift + N keys on your keyboard. All new tabs in that window will be also opened in Incognito mode.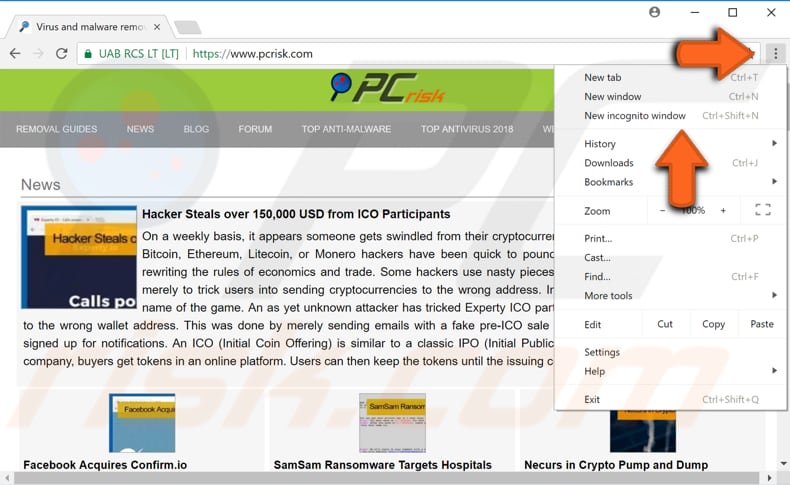 In the new incognito window, enter the web page address you want to visit and see if this method helps to overcome the "ERR_SPDY_PROTOCOL_ERROR" erro in Google Chrome.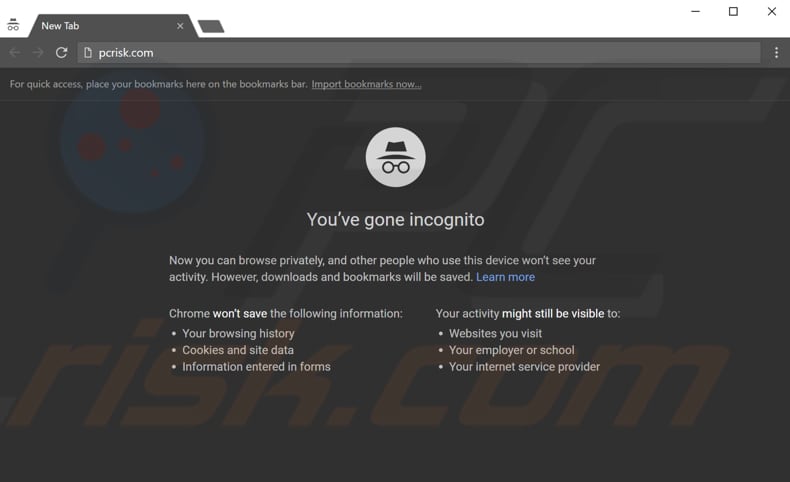 Flush Sockets In Chrome
A network socket is one endpoint in a communication flow between two programs running over a network. One possible solution to the SPDY problem is to flush sockets in Chrome. To do this, type "chrome://net-internals/#events&q=type:SPDY_SESSION%20is:active" (copy and paste it into your address bar) and press Enter on your keyboard. Click on the arrow in the top-right corner and select "Flush sockets" from the drop-down menu. Return to the web page that was returning the "ERR_SPDY_PROTOCOL_ERROR" and see if the problem persists.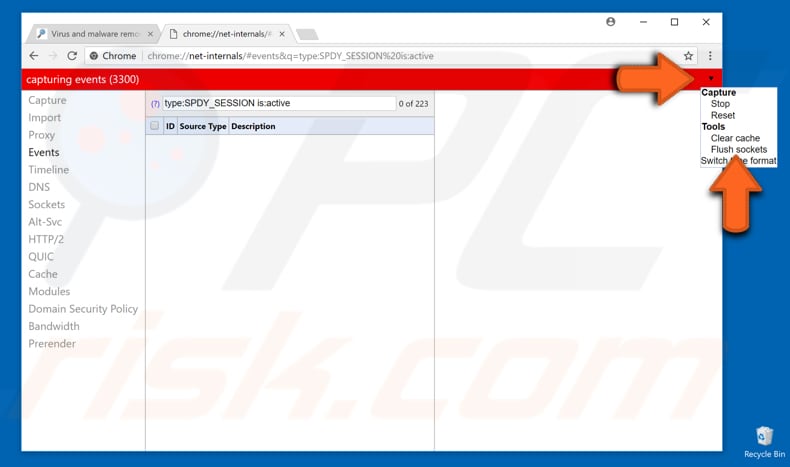 If the problem persists, copy and paste this line "chrome://net-internals/#sockets" into the address bar and press Enter on your keyboard. Click "Flush socket pools".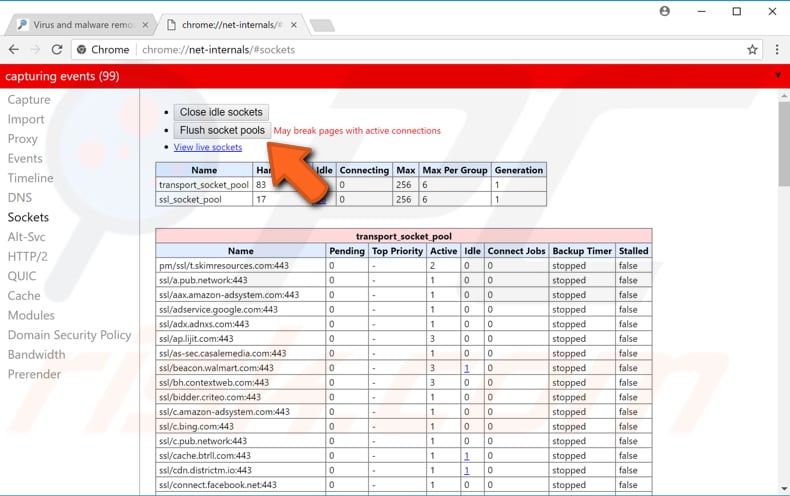 Check if the error occurs while trying to visit the web page.
Flush DNS Using Command Prompt
Command Prompt is the input field in a text-based user interface screen, a command line interpreter application available in most Windows operating systems. It is used to execute entered commands used to automate tasks through scripts and batch files, perform advanced administrative functions, troubleshoot, and solve certain types of Windows issues. In the early days of computing Command prompt was the only way to interact with the computer, so a basic set of commands with rigid syntax was used to perform system tasks. Command Prompt's official name is Windows Command Processor but is also sometimes called ​the command shell or cmd prompt, or even referred to by its filename "cmd.exe".
To use Command Prompt, you must enter a valid command along with any optional parameters. It then executes the command and performs whatever task or function it is designed for in Windows. Some Windows commands require that you run them from an elevated Command Prompt. This means you have to be running it with administrator level privileges. You will need to run Command Prompt as administrator to execute the commands required to flush DNS.
Open Command Prompt from Search by typing "command prompt", right-click on the "Command Prompt" result and select "Run as administrator".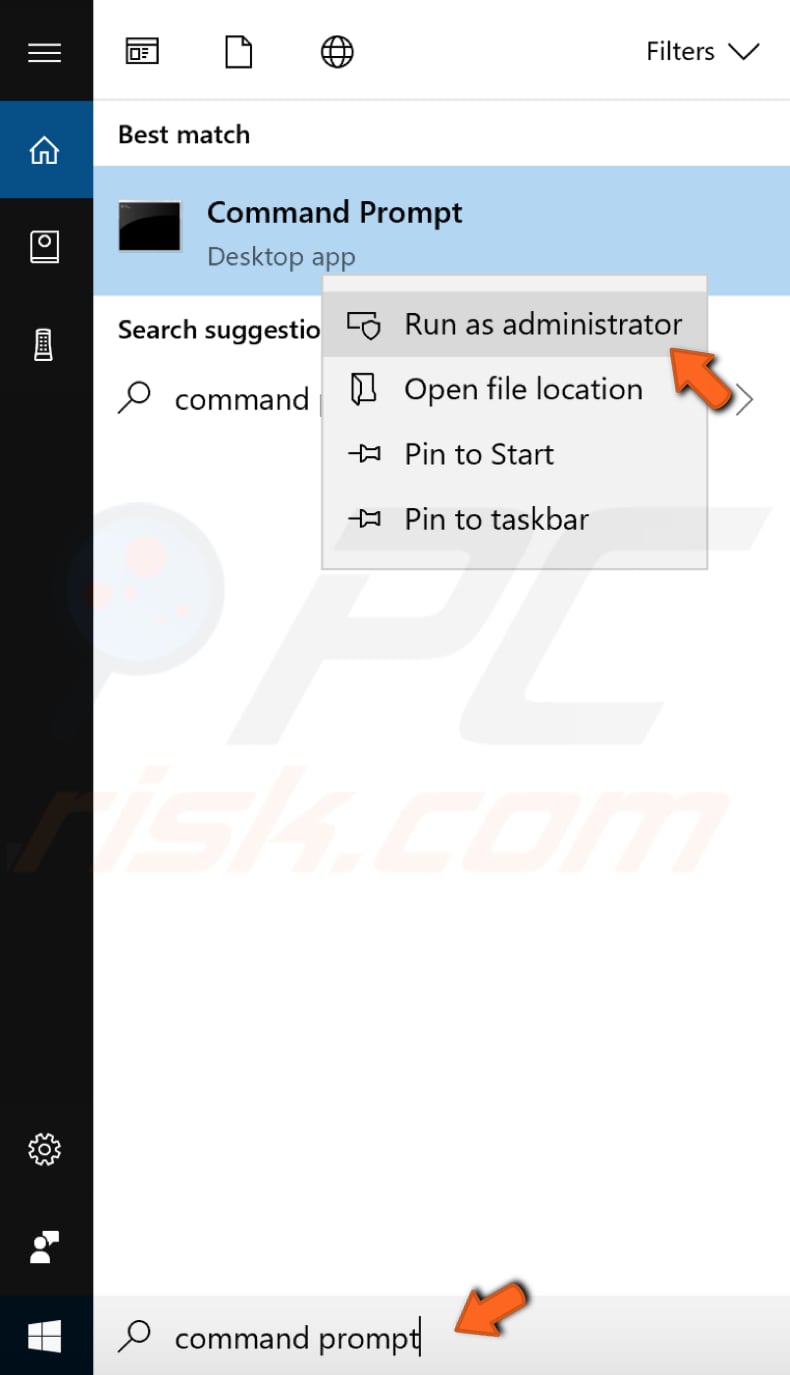 In Command Prompt, enter these commands individually:
ipconfig /release
ipconfig /all
ipconfig /flushdns
ipconfig /renew
netsh int ip set dns
netsh winsock reset
Press Enter after each command.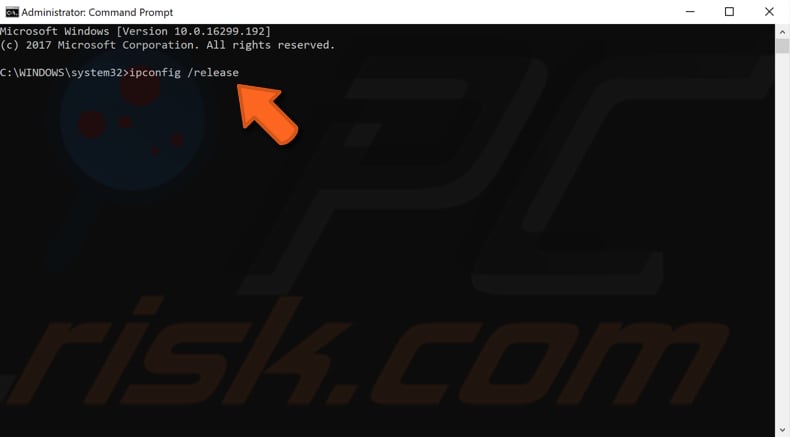 Restart your computer when you have finished entering these commands and see if this helps to fix the "ERR_SPDY_PROTOCOL_ERROR" error while trying to visit a particular web page.
Use Chrome Cleanup Tool
This application scans and remove software that might cause problems with Chrome such as crashes, unusual start-up pages or toolbars, unexpected ads that cannot be remove, or other problems affecting the browsing experience. Run this Chrome Cleanup tool and see if it helps to fix the problem with the "ERR_SPDY_PROTOCOL_ERROR" error. You can download it here.

Clear Browsing Cache
Browsing history consists of a records of Web pages that you have visited in past browsing sessions, and typically includes the name of the Website as well as the corresponding URL. Other private data components such as cache, cookies, saved passwords, etc., are also saved during your browsing session. Sometimes clearing this browsing data helps to fix the "ERR_SPDY_PROTOCOL_ERROR" error. To clear Google Chrome's browsing data, click the three dots in the top-right corner and select "Settings".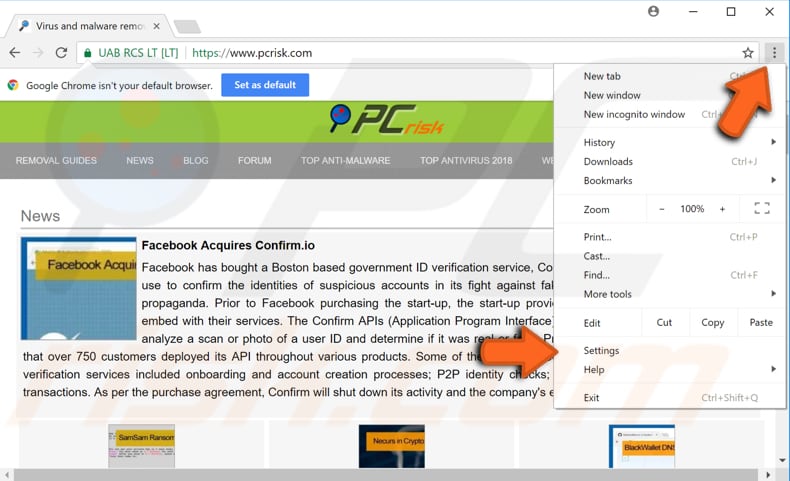 In Google Chrome's Settings, click "Advanced" to see more options.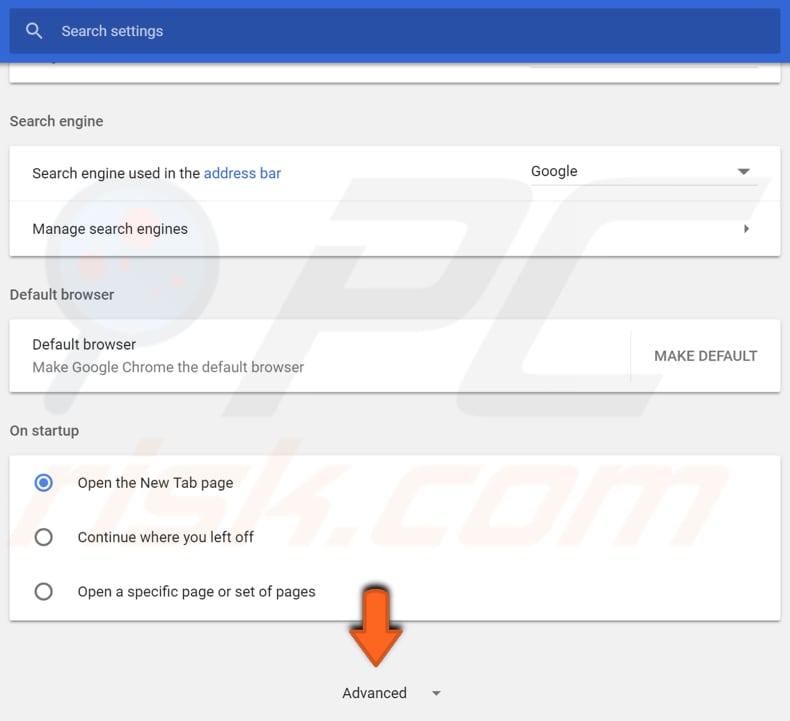 Scroll down to find "Clear browsing data" under "Privacy and security" and click on it.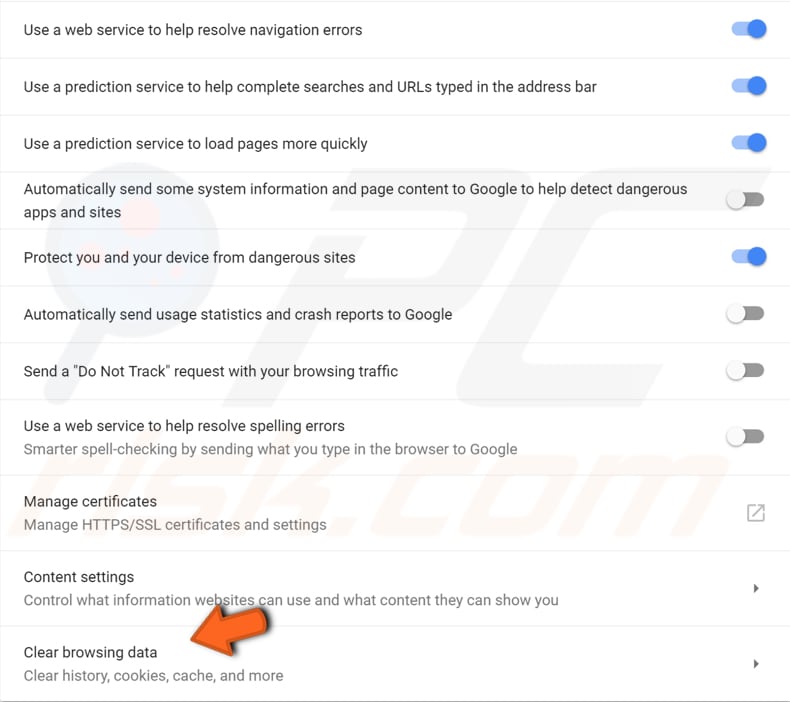 In the Clear browsing data window, you will see Basic and Advanced tabs. Click on the Advanced tab and check "Cookies and other side data", "Cached images and files". If you also want to clear browsing history (optional), then check this option. Check "Hosted app data" and set "Time range" to "All time". Click "CLEAR DATA" and wait until the process is finished. Close Chrome and open it again to see if the problem is fixed.
Disable Your Antivirus
This problem can occur due to antivirus software. Temporary disabling it might help to fix the error. If disabling the antivirus software fixes the problem, you might want to consider switching to a different antivirus program.
Many of the Avast Security Software users face the "ERR_SPDY_PROTOCOL_ERROR" error when accessing particular websites. If you are using this security software, you may need to add these websites in the 'Web Shield exclusion' section of this security software. Open Avast and go to Settings, select "Active Protection" tab, and click "Customize Web Shield Protection". Add website addresses individually under the "URLs to exclude:" section.
We hope that at least one of these methods fixed the "ERR_SPDY_PROTOCOL_ERROR" error on your Google Chrome browser. If none worked, and the error continues to cause problems, then we suggest that you to switch to another browser if possible.
Video Showing How To Fix The 'ERR_SPDY_PROTOCOL_ERROR' Error: