How To Set Your Power Plan In Windows 10?
How To Set, Customize And Delete Power Plan In Windows 10?
The Power Plan feature in Windows 10 is not new, since it was also available in earlier versions of the operating system. Power Plan is a collection of hardware and system settings that manage how your computer uses power and also helps you to manage your laptop battery life. Managing battery life is important, since without battery power, you cannot use your laptop unless it is plugged into a mains supply. There are three main plans: "Balanced", "Power saver", and "High performance". Each has different uses and settings to adapt to varying situations. Switching between plans makes changes that impact performance and power consumption. If you are not happy with how your plan manages power, you can customize it, by creating custom power plans with specific settings to suit your needs and computer configuration. Despite these options, you probably will not need to make changes to your Power Plan settings, since the "Balanced" power plan is set by default and is optimized for most users.
Balanced power plan automatically increases and decreases your Central Processing Unit (CPU) speed according to your computer requirements. As mentioned before, this setting is the default, and it should be fine for most users. Power saver plan saves power by reducing constant CPU speed, lowering screen brightness, and other similar settings. High performance plan favors performance, but may use more energy, since it sets CPU speed at higher levels for longer intervals. It also sets higher screen brightness levels. Generally, there is little need to switch between plans, since you can customize your preferred one. In this article, we show how to create plans, make adjustments, and delete them.

Table of Contents:
How To Create A Power Plan
To create a new power plan, go to Settings and click "System".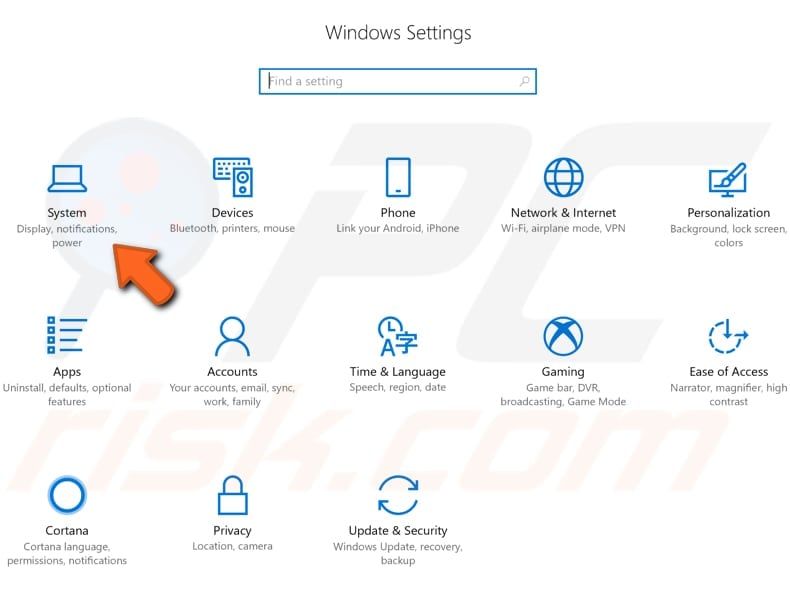 In the System window, click "Power & Sleep" (you will find it below "Notifications & actions" on the left). In "Power & Sleep" options, click "Additional power settings".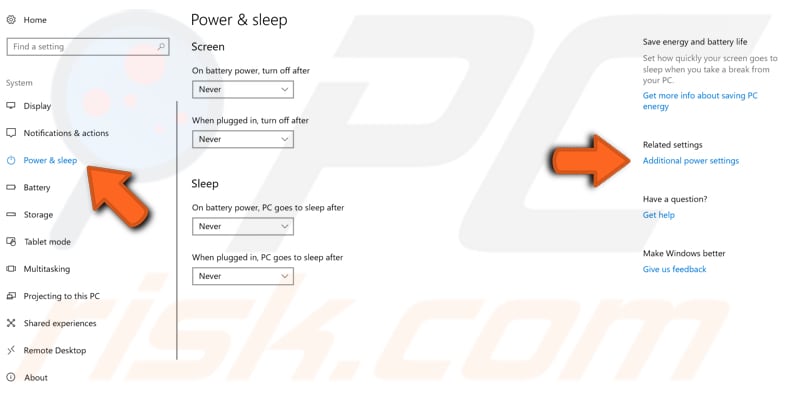 This will lauch the Power Options window. To create a power plan, click "Create a power plan" on the left pane.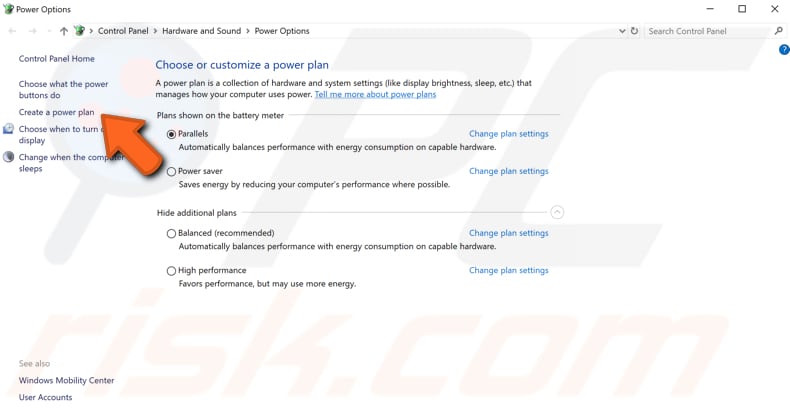 Select an existing plan or give your new plan a name. Then, click "Next".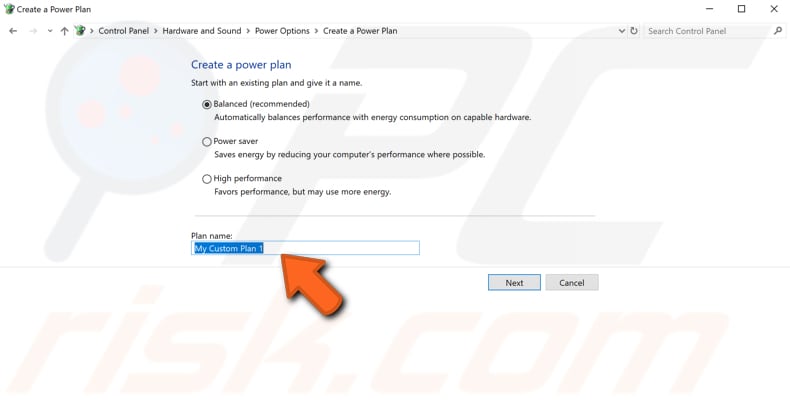 Choose the sleep and display settings that you want your computer to use. Use the drop-down menu to adjust the settings and click "Create". Your custom plan will be created and applied to your device.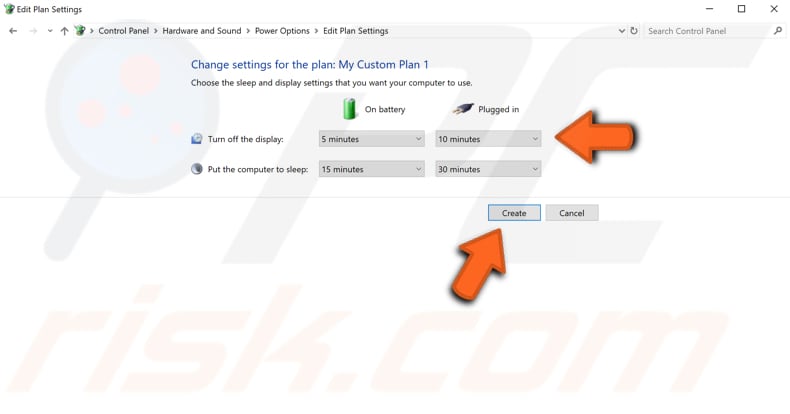 How To Customize A Power Plan
During creation of a new power plan, you can only select and adjust basic settings, however, once created additional settings are availabe. To adjust them, return to the Power & Sleep window and choose "Additional power settings" as before. Select the new power plan (or other existing power plan) and click "Change plan settings".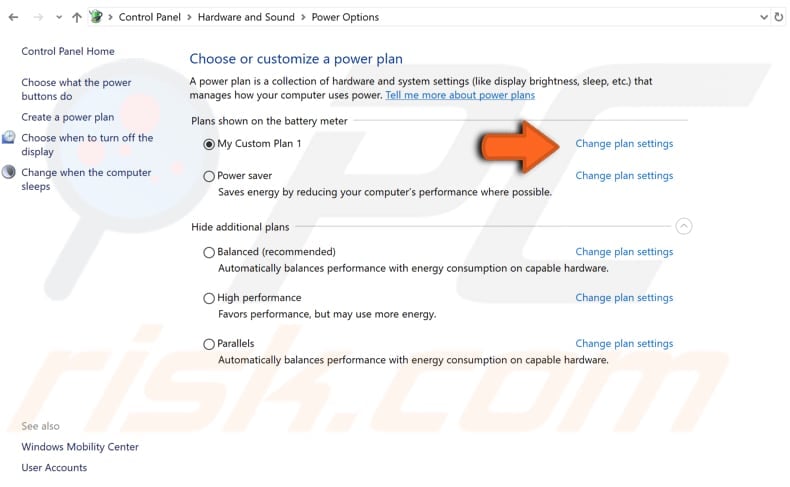 Then click "Change advanced power settings".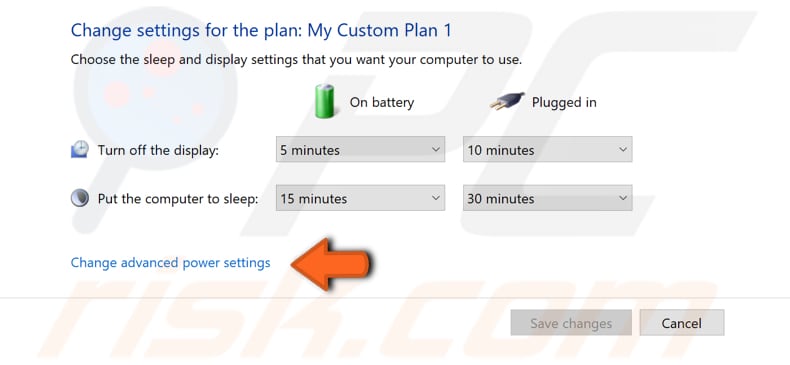 Here, you can access more settings for each power plan created by default and power plan (or plans) created by you. Select which plan you want to customize and adjust other available settings if necessary. To access settings of different areas click "+" and available options will appear. You can control how Windows uses power to suspend disk drives, USB devices, and your Wi-Fi hardware. This makes these components use less power when Windows is not actively using them. Not every computer has the same available settings - these will depend on your device category and hardware configuration. You can always restore default settings by clicking "Restore plan defaults".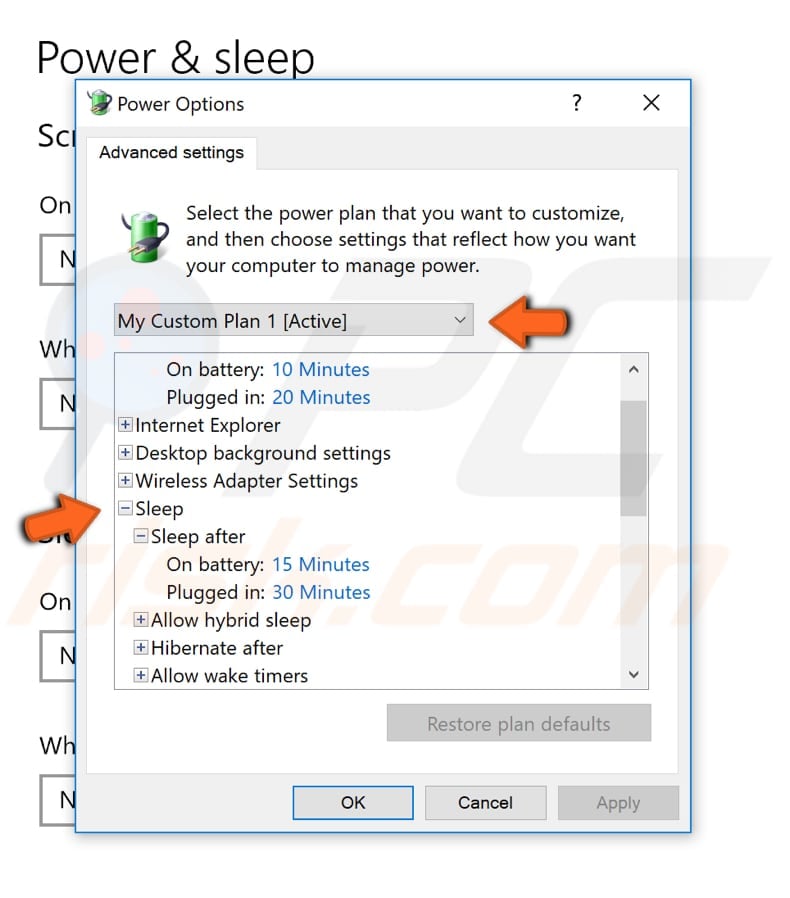 [Back to Table of Contents]
How To Delete A Power Plan
If you want to delete a power plan you have created, go to "Power & sleep" in System settings and click "Additional power settings" on the right side. Note that you cannot delete the power plan currently in use, so choose another (in our example, we use "Balanced") and then click "Change plan settings" next to the plan you wish to delete.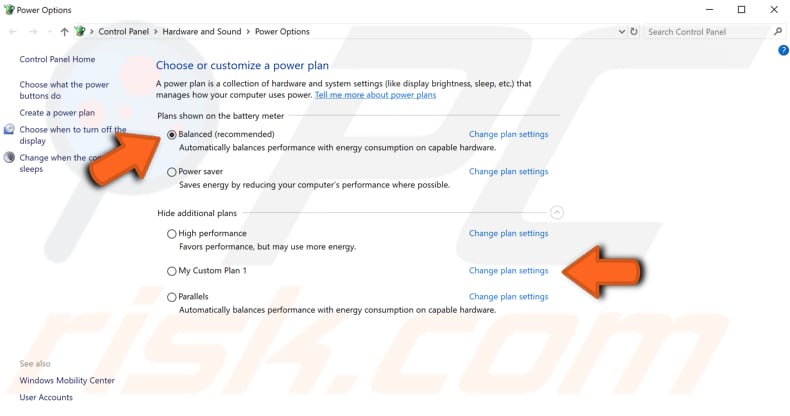 Click "Delete this plan". The plan cannot be restored after deletion. Click "Ok".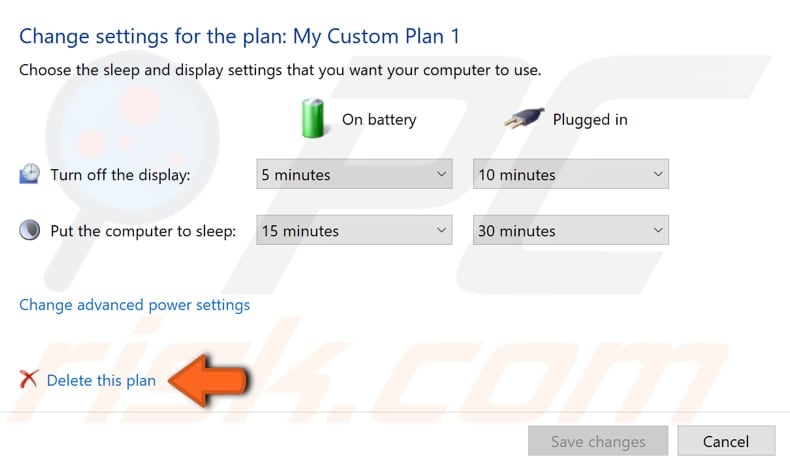 Video Showing How To Create, Customize And Delete A Power Plan In Windows 10: