How To Take A Screenshot In Windows?
How To Take A Screenshot In Windows 7 & 10 Using Keyboard Shortcuts And Other Tools?
A screenshot is a still image saved from the currently visible part of your screen. The process of saving a screen image is called capturing. Here, we show different methods to capture screenshots in Windows 7 and Windows 10. To select a region from your screen for capturing, you can use keyboard shortcuts, mouse pointer, or tablet touchscreen-pointing techniques. Possible destinations for the captured image are Windows clipboard (RAM memory), a file on a local hard disk, Cloud-hosted storage or social media, e-mail client for sending a captured screenshot, printer, or editing windows of programs used for taking screenshots. Your screenshot might focus on the entire screen (desktop), a screen of one of your monitors in dual or multiple monitor mode, an active window, or any selected rectangular or even arbitrary shape area. Screenshot capturing can be performed using Windows built-in utilities or third party external programs and web browser-based extensions.
An interesting parameter in taking screenshots is periodicity. While, normally, you may take a single screenshot and then proceed to saving or editing the image, you might also need to automatically capture a series of screenshots and save them to some location for further inspection. Some programs run invisibly in the background and take screenshots while someone is working or playing with the computer. An application of periodic screenshot shooting is perhaps to monitor children's activities while parents are away. To protect yourself from someone else taking screenshots of your Windows session, you might wish to consider installing utilities that prevent this. In addition to capturing still images from the screen, certain software utilities enable saving video records, for instance, from Youtube. We will start with simple traditional screenshot techniques and, later, show more sophisticated screenshot-capturing tools.

Table of Contents:
Taking Screenshots With Windows 7 & 10 Keyboard Shortcuts
The fastest and simplest way to take a screenshot is to use keyboard shortcuts supported by Windows. On various models of keyboard, the Print Screen key appears as Prt Sc, PrnScn, PrntScrn, Print Scr, etc. The key is usually located to the right of the F12 or Home key. On Laptop keyboards, you may need to simultaneously press the Fn key. For example Fn + PrnScn. Note: the plus (+) sign denotes pressing two or even three keys simultaneously. The order in which keys are pressed is not important, but all need to be held down for a short moment. The table below lists shortcuts and corresponding image focus (area to be captured) together with target destination for Windows 7 and Windows 10.
| | | | |
| --- | --- | --- | --- |
| Windows 10 | Windows 7 | Focus | Destination |
| Prt Sc | Prt Sc | Full Screen | Clipboard |
| Alt + Prt Sc | Alt + Prt Sc | Active Window | |
| Windows Key + Shift +S | | Selected Area Using Mouse | |
| Windows Key +Ctrl + Prt Sc | | Full Screen | File In Folder Pictures/Screenshots |
| Windows Key + Alt +Prt Sc | | Active Window | |
Taking Screenshots With Windows Built-in Snipping Tool
A built in tool for screenshot capturing in Windows can be accessed by selecting:
Start>Accessories>Snipping Tool in Windows 7
Start>Windows Accessories>Snipping Tool in Windows 10
Snipping Tool allows you to choose between Free-form Snip, Rectangular Snip, Window Snip, and Full-screen Snip modes. The mode can be selected from the toolbar drop-down list of the Mode button (Windows 10 version) and from the toolbar drop-down list of the New button (Windows 7).

To capture a screen using the selected mode, click "New" in the Snipping Tool. The screen will be dimmed. Using a mouse, select a window or region to capture. The captured screenshot appears in the Snipping Tool editor where you can apply some minimal annotations using a highlighter, eraser, and pen for freeform shape drawing. PNG, JPG, GIF, and Single file HTML (MHT) formats are available for saving the image to a file. Another option is to copy the image in Snipping Tool to the clipboard and paste it to more a sophisticated image editing tool, or to a document processing program such as Microsoft Word.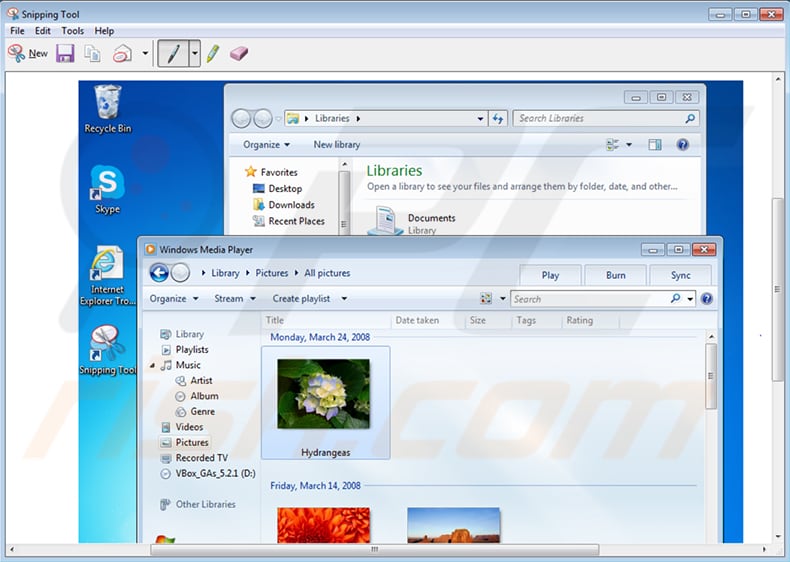 Snipping tool also lets you to take a snapshot of any drop-down menu. Firstly, Snipping tool must be running and empty (no image in the editor window). Secondly, go to the program and open the drop-down menu you wish to capture. Thirdly, click Ctrl + PrnScr to activate the Snipping tool selection process. The drop-down menu is not removed from the screen and can be captured with the Snipping tool. This feature is ideal for user instruction preparation.
Video showing how to take a screenshot in Windows 10 using Snipping Tool:
Desktop Screenshot Capturing Applications for Windows 7 & 10
There are many third party screenshot-capturing tools. Some are open source, whilst others must be purchased or are free versions with restricted capabilities. Online overviews compare and discuss these tools. Examples are TomsGuide and Itsmdaily. A common feature of these programs is that they not only capture screenshots but also have image editors capable of modifying and saving screenshots.
Here are some screenshot-capturing features that go beyond the built-in Snipping tool using a tool from NGWIN PicPick, which can be downloaded from PicPick. A distinctive feature is that the program can be downloaded in a 'portable compilation', which means you can run it without installation. PicPick is compatible with both Windows 7 and Windows 10. When launched, the program can stay in Windows tray - capturing is activated using keyboard shortcuts. Shortcuts are useful, since they can be configured according to the user's choice. Remember that when PicPick is running, Windows built-in shortcuts are no longer active as they are used by PicPick.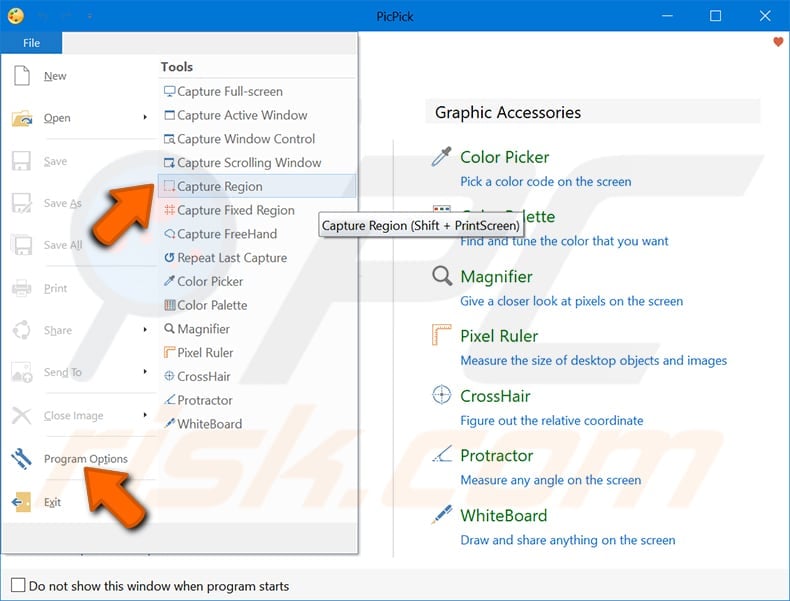 Scrolling Window and Window Control are convenient capturing modes used to capture particular Windows controls such as menus, buttons, toolbars, checkboxes, text regions, etc. PicPick usually runs in the background and you activate the selection process by pressing hot keys and then pointing to the Window control you want to capture using the mouse. In a similar way, a Scrolling Window (activated using an assigned unique hot key) can be captured. A Scrolling Window is part of a real Window, containing only the part with scrollable content. Usually menus and toolbars in a real Window are not part of scrollable content.
Once capturing is complete, images are opened in the editor window, and you can save, share, or send them using various options shown in the video. You can save a captured image not only in graphical formats such as PNG, BMP, JPG, GIF, but also to a PDF file. The extensive editing features include image resizing, rotation, changing brightness, color balance, adding watermarks, adding shapes and text, etc.
PicPick features many options to share your screenshot using Facebook, Email (invokes your default email client with screenshot attached), Skype, FTP server, etc. The screenshot can be directly pasted to any open Microsoft Word, Excel, Power Point program. Otherwise, a screenshot can be copied to the clipboard and pasted to any other external program.
It is worth taking time to explore all PicPick capturing and editing.
Examples of other screenshot programs include Gadwin PrintScreen (freeware), ShareX (allow you to record a video and export as a GIF or MP4 file), Greenshot, TinyTake (freeware), SnagIt (free trial) Ashampoo Snap 9 (price USD $39,99), etc.
Video showing how to take a screenshot using PicPick application:
Taking Screenshots With Browser-based Extensions
If you mainly need to capture screenshots of internet browser windows, browser-based extensions may be the best tool for you. For example, here we show how to install an extension to take screenshots: Awesome Screenshot for Chrome and Firefox. This extension does not provide the sophisticated capturing and editing features of most desktop applications discussed in the previous chapter, but it is easy to handle in the browser environment.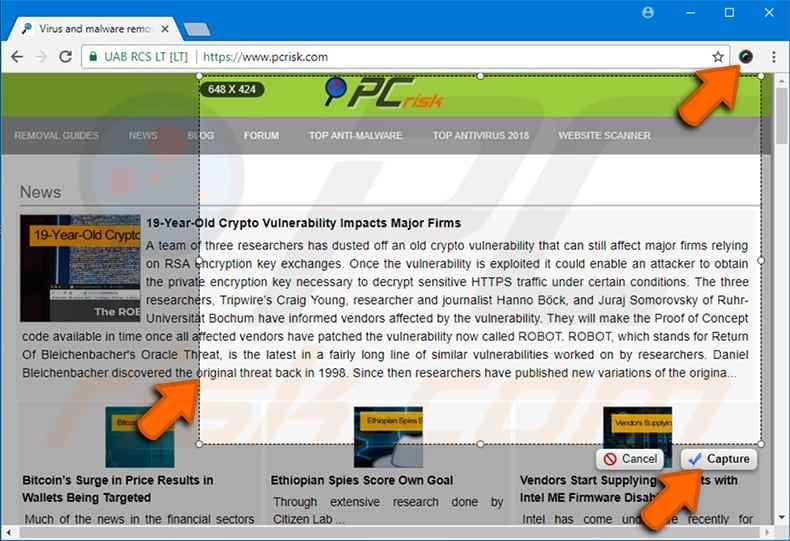 Using a built-in editor, highlighting or blurring sensitive information can be done in few mouse clicks. After editing, the image can be saved in JPG or PNG formats to a local folder or stored in Awesome Screenshot's free Cloud storage. Some features of the Awesome Extension require an upgrade to their Premium plan for $5.99 USD.
Other browser-based extensions such as Nimbus Screenshot for Chrome and Firefox are also available. For Microsoft Windows 10, the Edge browser tool, Web Note, is available free of charge. This rather simple tool can be invoked by clicking the square icon with pencil in the upper right corner of the Edge browser. As opposed to Awesome Extension, Edge tool allows marking and annotation on the screen first, and then selection of a region for capturing. The captured image can be pasted to any external image-editing tool via the clipboard or sent to the OneNote application.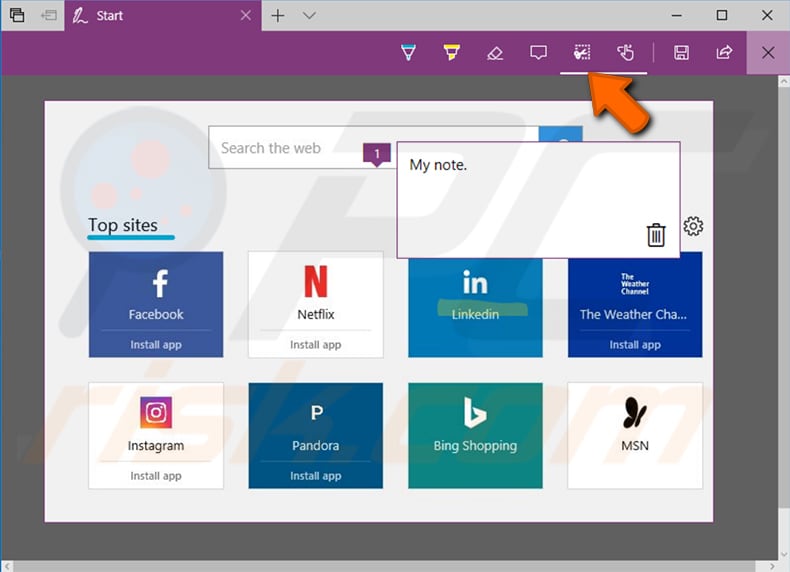 Video Showing How To Take a Screenshot Using Awesome Screenshot Browser Add-On:
Video Showing How To Take a Screenshot Using Microsoft Edge Browser: