WINDOWS VIRUS WARNING! Identity Theft and Hacking Possibilities
Also Known As: PUPs causing fake error messages

Written by Tomas Meskauskas on
WINDOWS VIRUS WARNING! Identity Theft and Hacking Possibilities removal instructions
What is WINDOWS VIRUS WARNING! Identity Theft and Hacking Possibilities message?
This fake error message is caused by various adware-type applications including MovieDea, Games Desktop, and Desktop-play. These apps claim to enhance the Internet browsing experience, however, these false claims are merely attempts to trick users to install. None provide the features promised. In fact, they generate fake error messages, collect personally identifiable data, and display intrusive online advertisements.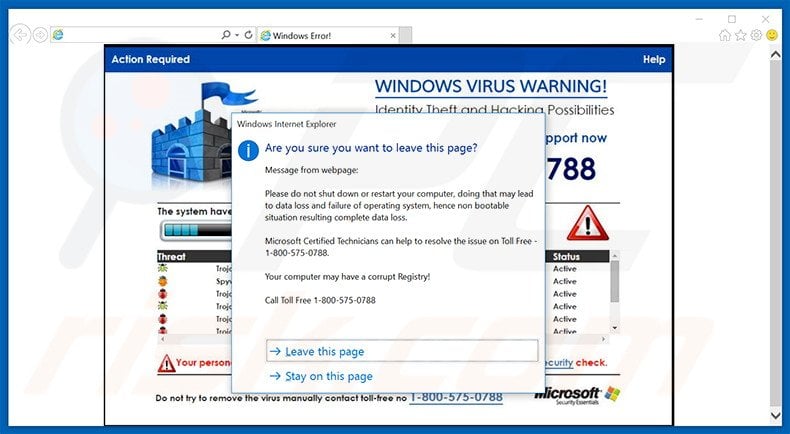 Another variant of this fake message: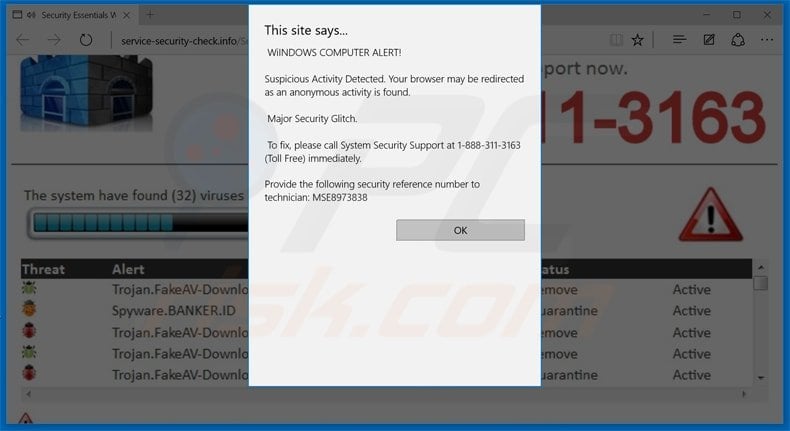 The fake error message states that the computer registry is corrupted and encourages users to call the telephone number provided (1-800-575-0788) to receive help from 'Microsoft's Certified Technicians'. These claims are false. Adware usually does not display fake error messages, and so MovieDea's behavior is uncommon. Fake error messages are usually generated by malicious ransomware-type apps claiming to help users in return for certain payments. These promises are fake - users who call the number and pay the ransom are often scammed. You are strongly advised to ignore this false warning and eliminate MovieDea from your system immediately. This adware threatens your online privacy and computer security.
Text presented by this fake error message:
Scam variant 1: Message from webpage:
Please do not shutdown or restart your computer, doing that may lead to data loss and failure of operating system, hence none bootable situation resulting complete data loss Microsoft Certified Technicians can help you to resolve the issue on Toll Free - 1-800-575-0788 Your computer may have a corrupt Registry! Call Toll Free 1-800-575-0788

Scam variant 2: WINDOWS COMPUTER ALERT! Suspicious Activity Detected. Your browser may be redirected as an anonymous activity is found. Major Security Glitch. To fix, please call System Security Support at 1-888-311-3163 (Toll Free) immediately. Provide the following security reference number to technician: MSE8973838
Although display of fake error message is unusual behavior for adware, the aforementioned PUPs have characteristics similar to other applications including NetRadio, WordWizard, and PopDown - these are just some examples from a long list. Adware-type applications offer various useful features, however, after infiltrating the system, they provide no real value for users. These apps are designed solely to generate revenue for the developers by displaying intrusive online advertisements, collecting personal data, and, in this case, generating fake error messages.
How did adware install on my computer?
Adware-type applications are mostly distributed using a deceptive software marketing method called 'bundling' - stealth installation of PUPs with the chosen software/apps. Users often fail to pay enough attention during download and installation of software, and therefore, developers hide rogue apps within the 'Custom' or 'Advanced' settings (an effective method). By skipping this section, users inadvertently install PUPs, thereby exposing their systems to further high-risk adware or malware infections.
How to avoid installation of potentially unwanted applications?
There are two simple steps you should take to prevent installation of adware. Firstly, pay close attention during download and installation of any software - closely analyze each step and opt-out of any bundled apps. Secondly, select the 'Custom' or 'Advanced' options, since adware-type apps might be hidden (if you skip this section, you will not be able to cancel them).
Quick menu:
Adware removal: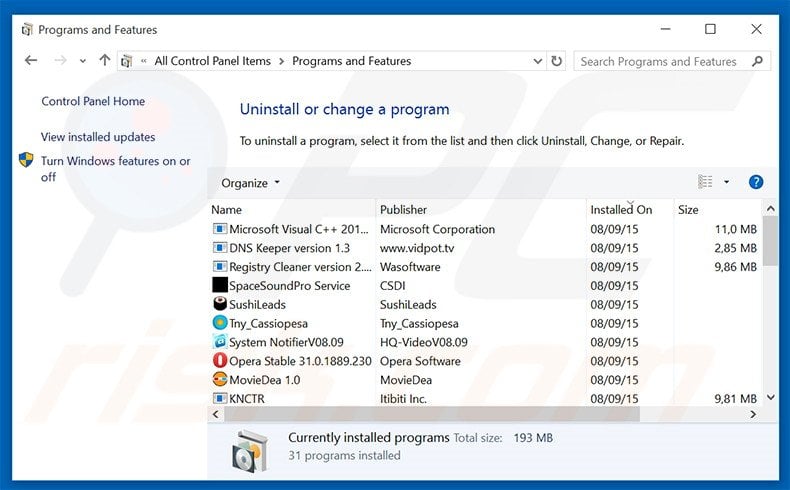 In the uninstall programs window, look for any recently-installed suspicious programs, select such entries and click "Uninstall" or "Remove".
After uninstalling the potentially unwanted program that causes WINDOWS VIRUS WARNING! Identity Theft and Hacking Possibilities error message, scan your computer for any remaining unwanted components or possible malware infections. To scan your computer, use recommended malware removal software.
Remove adware from Internet browsers:
Video showing how to remove potentially unwanted browser add-ons:

Remove malicious add-ons from Internet Explorer: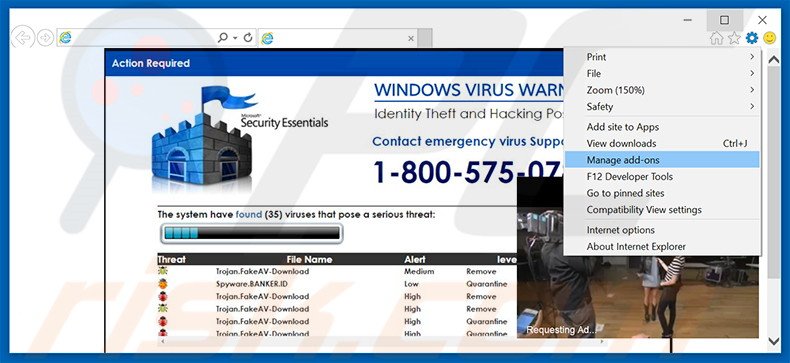 Click the "gear" icon

(at the top right corner of Internet Explorer), select "Manage Add-ons". Look for any recently-installed suspicious browser extensions, select these entries and click "Remove".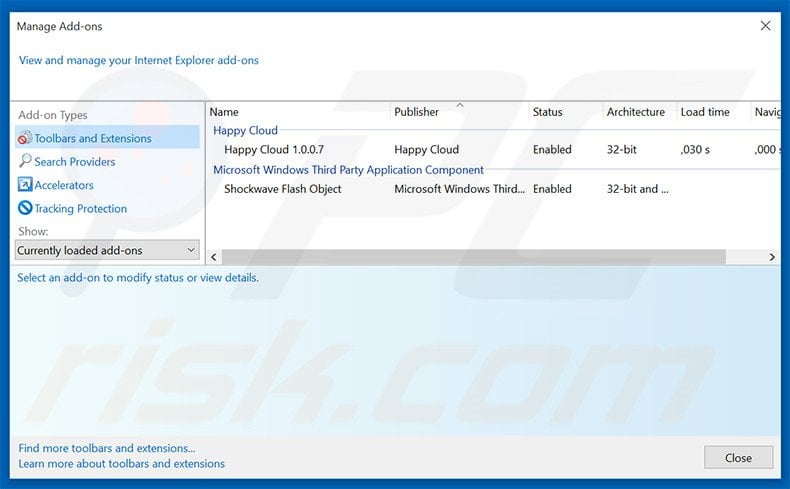 Remove malicious extensions from Google Chrome: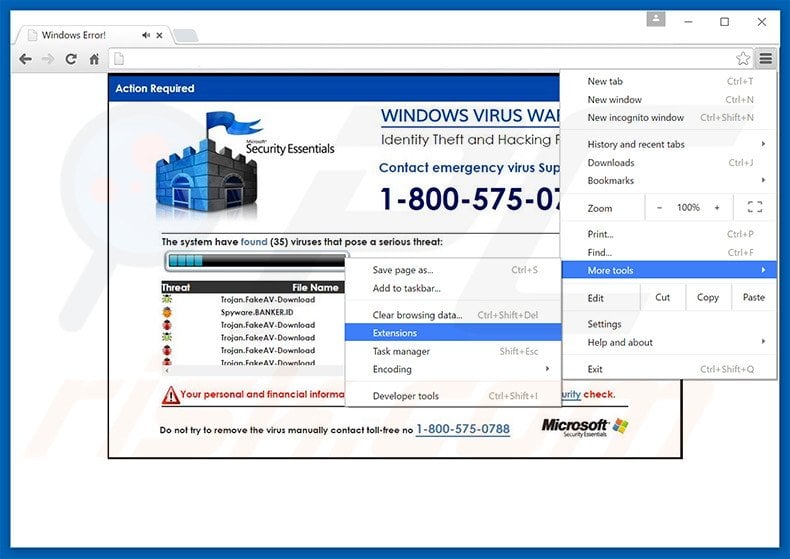 Click the Chrome menu icon

(at the top right corner of Google Chrome), select "Tools" and click "Extensions". Locate all recently-installed suspicious browser add-ons, select these entries and click the trash can icon.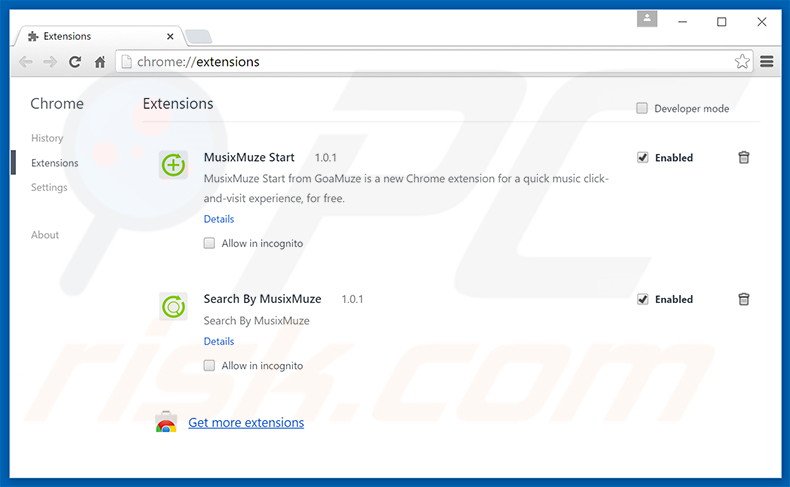 Remove malicious plug-ins from Mozilla Firefox: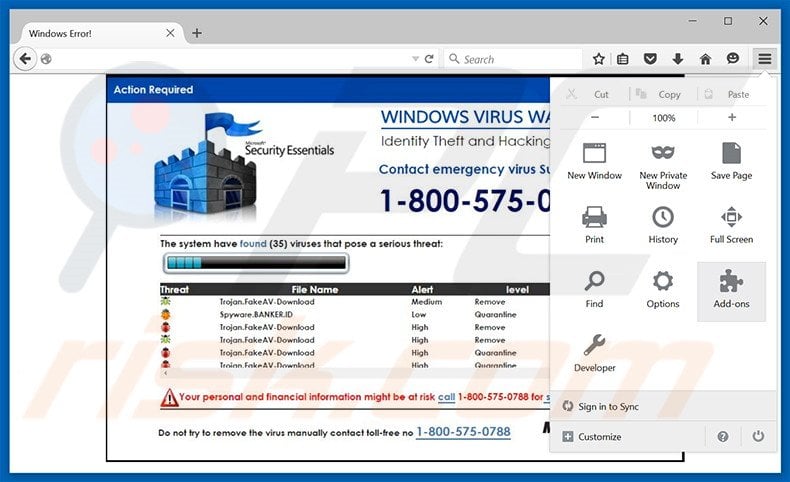 Click the Firefox menu

(at the top right corner of the main window), select "Add-ons". Click "Extensions", in the opened window, remove all recently-installed suspicious browser plug-ins.