10 Best External CD/DVD Drives to Use For Mac in 2020
10 Best External CD/DVD Drives to Use For Mac in 2020
CD/DVD drives are a type of ODD (Optical Discs Drive). An Optical Discs drive is a storage mechanism that uses laser light (electromagnetic wave with a specific wavelength within or near the visible light spectrum) to write data to or read data from an optical disc like CDs, DVDs, and Blu-ray discs. These discs contain a light-sensitive layer in which data can be stored. Optical data storage discs are small, portable, and are quite durable even when using them continuously.
Optical disc drives are an integrated part of standalone devices such as various disc players, video game consoles. They are commonly used in computers to read software and media stored in the disc and record discs for data exchange and archival purposes.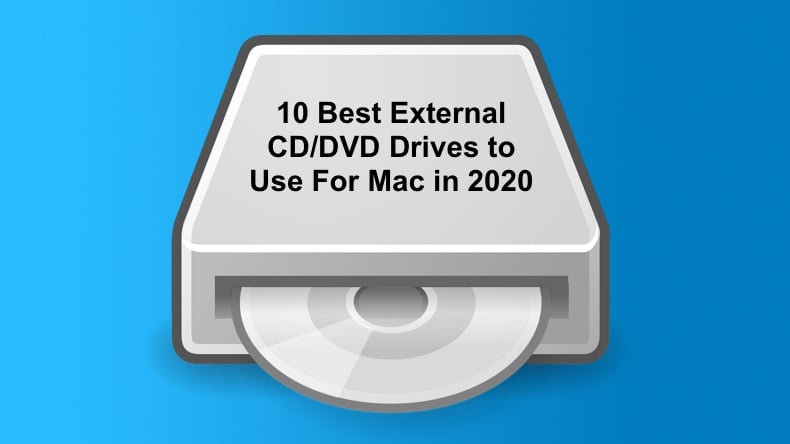 The first digitally recorded optical disc was a 5-inch audio CD (Compact Discs). It was in a read-only format and was created in 1975 by Philips and Sony. Initially, it was used for entertainment and movies and was popular for recording audio. After some time, CDs became a way to store data. When technology improved, compact discs became small enough to fit into a typical computer. After some time, smaller versions were created for laptops. Compact discs became easily accessible for businesses and home users to store their personal data. A standard CD could hold about 80 minutes of music or over 500 photos. That's about 700 MB of storage.
After some time came the need for optical storage that could hold much more massive amounts of data. That's why in the late 1990s, DVDs (Digital Versatile Disc) were introduced. They were the same size as CDs but could hold8.5 GB of data, about x12 more. You could store full-length movies, thousands of songs, and photos. This was possible through the use of different wavelengths of red laser light.
Unfortunately, many computer brands have discontinued the integration of CD/DCD drives as various media streaming websites and programs were developed, little by little pushing out the need to use discs. If you have CDs and DVDs that you want to play on your Mac, you'll need an external CD/DVD drive.
Table of Contents:
How It Works
An optical disc has three layers: the plastic disc is on the bottom, in the middle is a reflective surface, and the top layer is where the art or label is, that protects the data. The data itself is stored in microscopic pits in the middle layer, the disc's reflective surface.
When you insert a disc into the driver, a motor spins the disc super fast in the drive while a laser attached to a servo reads the disc's data. A servo or a servo motor is a mechanism that utilizes a regular motor and couples it with a sensor for positional feedback. The output shaft of this motor can be moved to a particular angle, position, and velocity. Due to a lot of movement when reading a disc, these drivers tend to get loud and consume a lot of power.
If the disc gets scratched, it's not the end of the world, but it's not great either as the laser used to read the data is tuned very precisely. A scratch or hair may refract or block the beam and make the data hard to read.
With the data writing software and your optical drive, you can record data on the disc for temporary or permanent use. CDs and DVDs contain crystalline alloy that can be melted by the optical drive to make the disc rewritable many times.
Choosing External CD/DVD Drive
Due to the fast progression of technology, the use of optical discs is rapidly declining as they're replaced with better data management systems and storage devices. More and more computer manufacturers are eliminating the CD/DVD drives as they are not necessary. It also lets the manufacturer make their computers thinner and lighter. Apple began to stop integrating CD/DVD drives in 2008 and stoped entirely in 2012. Although you could still purchase the 2012 13-inch MacBook Pro, the last Mac with an integrated CD/DVD driver, it was discontinued in late 2016. If you're Mac doesn't have an installed CD/DVD drive, you'll need an external CD/DVD drive to run CDs and DVDs.
The Purpose of External Driver
To choose between many external CD/DVD drives, you need to know exactly what you want it to do. An external drive can read DVDs, CDs, Blu-ray, and M format discs, write or burn content to these discs and copy data or files from a computer to a disc or vice versa.
Different types of discs need different wavelengths. For CDs, a wavelength of 780 nm is used, while for DVDs, a wavelength of 650 nm is used, and Blu-ray discs use a wavelength of 405 nm. That's why an optical disk drive that can be used for multiple types of discs will contain multiple lasers.
Factors to Consider
Before buying an external CD/DVD drive, you need to consider these factors:
Speed: If you'll be ripping or burning discs, the rate at which a driver can move data from the drive to your Mac and vice versa is quite important. You should look at both read and write speeds of the drive. USB version is another characteristic to take into consideration. The drives that support USB 3.0 are faster and are compatible with older versions. USB 3.0 interface transfers data faster and has better power efficiency than USB 2.0.
Read and Write Capability: Make sure that the CD/DVD driver performs tasks you need. If you want to use a driver that reads and writes CDs and DVDs, make sure it reads both formats.
Compatibility: Most CD/DVD drives are compatible with commonly used operating systems such as Windows and Mac. Still, you should make sure whether it's compatible with your Mac's operating system version.
Noise: CD/DVD drives are known to be loud due to the process that's happening inside. If you're sensitive to noise and would like a quieter drive, some of the best external drives have noise reduction technology.
Size: When looking for an external drive, have in mind how you will use it. If you'll be taking it with you on business trips, a portable drive would fit you best. In that case, it's better to choose a slim and lightweight model.
Build Quality: It's always better to have a good quality drive with a solid build that'll last a long time. Some good quality external drives offer a fingerprint-resistant cover.
Cables and Power: Newer external CD/DVD drives don't need an external power source. The power is drawn from the USB connection to your Mac. Make sure that you're aware if the drive doesn't need a second cable to power itself.
10 Best External CD/DVD Drives for Mac
LG Electronics GP65NB60
This external drive is an excellent balance between offered features and affordable price. LG GP65NB60 maximum writing speed is 24x for CD and 8x for DVDR. What separates this drive from the rest of similar products is a quite durable shell, great compatibility, and it's great for those with sensitive hearing as it works quietly.
The plastic construction is reliable and long-lasting, so you don't have to fear it suddenly breaking while in exploitation. It has an implementation of Silent Play technology, which optimizes the process depending on the multimedia type used. It's not only compatible with Mac and Windows but also it can connect to a TV where you can display your media stored in the disc. LG GP65NB60 supports DVD+R, DVD-R, CD, and rewritable discs, as well as supports M-discs. This LG drive, like most external hard drives, draws power from the USB port. It's slim and portable, which is perfect if you use it pretty often.
This drive's cons are that it uses USB 2.0, which is a little slow and has no Blu-ray support.
Apple USB SuperDrive
The USB SuperDrive is a product of Apple itself. As it's from the same manufacturer as your Mac, you don't have to worry about compatibility. The drive will work perfectly as it was uniquely built for your Mac. The SuperDrive is durable and has a great design that will also match your Mac. You will be able to easily burn CDs and DVDs as well as back up data. Apple USB SuperDrive has good read and write speed. The writing speed is from 6x to 6x for DVDs and from 16x to 24 x for CDs. It's noiseless and extremely portable. You can carry it where ever you go as it's light and compact. There's also no need for external power.
If you're a long-time Apple user, you might know that Apple has the best customer support when it comes to various issues related to your devices. Using their external drive, you get the peace of mind knowing it has Apple's support and warranties.
The cons are that it only works with Mac, it's quite expensive, and has no Blu-ray support.
DELL DW316
With the Dell DW316 Optical Disc Drive, you'll be able to burn and play media files. It's easy to use and comes with preloaded CyberLink Media Suite software. The DW316 has a writing speed of 8x for DVDs and 24x for CDs. No external power is required as it gets enough power from the USB connection. It's portable and light, weighing about 250 grams. The drive is pretty slim and will conveniently fit in your bag. Due to its compact design, this USB CD/DVD player can be used in many environments like your home, office, etc. It's equipped with a USB 2.0 interface and provides good performance. Compatible with both Windows and Mac operating systems and can be used with most computer configurations. Dell DW316 offers an excellent price for its functionality.
The cons of this player are that its surface has a glossy finish that collects fingerprints. Also, it doesn't support Blu-ray. Other than that, it's a great option.
Cocopa USB 3.0
The Cocopa External CD/DVD-RW Drive has a USB 3.0 interface that makes the device capable of faster data transfer rates and is much less to data corruption than the USB 2.0 interface. It's also compatible backwards with USB 2.0 as well as USB 1.0. It requires no external power source, only a USB connection is sufficient, and you can easily plug it into a laptop, notebook, or desktop PC and play media files. It's compatible with Windows, Linux, and almost all versions of the Mac operating system. The Cocopa player supports CD and DVD format discs and has a maximum read speed of 8x for DVDs, 24x for CDs, and 8x burn speed for CDs.
The design is slim with a smooth textured-type finish that gives you a good touch feeling and is lightweight. What's great about this player is that it has noise reduction and anti-shock technology, which makes it durable and long-lasting. And it's quite affordable.
The cons are that it doesn't have M-Disc support and can sometimes simply not work, have compatibility issues.
ASUS ZenDrive U7M
The key benefit of the Asus U7M is the Cyberlink Power2go 8 Software that encrypts your data when you're writing or reading from the disc, and it simplifies the burning process. It has a very strong and efficient backup solution that's compatible with Mac and Windows operating systems as well as Nero Backup, an online backup solution suitable for smartphones and tablets. The player supports not only CDs and DVDs but also has M-Disc support, which helps to protect data and can preserve it for an extremely long time. Traditional writable media has approximately eight years of storage life. In comparison, M-Disc was designed to keep your information from degrading for 1000 years or more. Asus ZenDrive U7M has a sleek and sophisticated design with a concentric-circle hairline finish. The player is only 13 mm in thickness and is very portable.
The cons are that it has short cords and has only USB 2.0, which is not an essential aspect. Overall it's very affordable and a great choice.
Sea Tech DVD+RW, -RW Drive for MacBook
If Apple's SuperDrive is too expensive for you, maybe you'll consider an alternative from Sea tech. Although the price is lower, this external drive maintains its functionality. Simple to use, and you can quickly burn your data on CDs or DVDs. You just need to put a black disc in the drive, put your files in it, and press the burn button. That's all it takes when it comes to writing files on discs. You don't need to have any special external DVD software. The high-performance Panasonic drive inside does a great job, although it doesn't use the USB 3.0 interface. No additional power source is needed. The drive is compatible with Mac and Windows operating systems. The design is minimalistic and sleek. The body is made of aluminum casting and is quite durable.
Although it doesn't have a USB 3.0, it's still a good investment if you lack the CD/DVD drive in your Mac. Keep in mind, though, that it weighs about 500 grams, so it's not very light.
VersionTECH USB 3.0 Ultra Slim
This external drive appears to be a cost-effective external drive. It uses USB 3.0 transfer technology, which transfers data at a quicker rate. Although it doesn't require an additional power source as it draws it from the USB connection to you, Mac VersionTech provides a USB to DC cable in case of insufficient power supply, and it comes with the packaging. It's simple and easy to use as it has a plug and play feature. For burning and reading discs, advanced burning technology is used for a quicker process. It also allows interrupting the recording in case you need to. The DVD burner has an implemented error-correcting ability. The construction reduces noise and protects against shock. It perfectly compatible with Mac operating systems but if you want to use the CD/DVD drive also for PCs, keep in mind that this drive has some compatibility problems with the Window 10 operating system. The design is simplistic and aesthetically pleasing. It comes in blue and silver colors and will fit nicely with your Mac.
Pioneer Electronics BDR-XU03
The BDR-XU03 external CD/DVD drive is quite unique as it also supports Blu-ray and BDXL discs, uses a USB 3.0 interface, and its outer shell is made of magnesium, unlike most drives that are made of plastic. It can transfer data to 6x2 for BD-R, BD-R DL, and 4x writing speed for BD-R triple and quad layers. It comes with features such as Auto Quiet for silent performance, which means that it will reduce the noise when burning your optical disc. It also comes with PowerRead Smooth and PureRead 2 Smart Media Playback function that allows a smooth audio and movie playback on a damaged disc. This external drive is not afraid of slight scratches on your disc. It has no problem reading data as it lets you extract it as accurately as possible. It's durable and reliable and works on both Windows and Mac. This is a great external drive with plenty of features, an excellent quality build, and is compact. The design is simple and minimalistic.
The main issue is that it's quite pricey, and you could buy a bunch of other CD/DVD external drives. If the price doesn't scare you and you need all the features that it has to offer, go for it.
Rioddas USB 3.0
Rioddas is an external CD/DVD drive that can be connected via a USB and be ready to use as it doesn't require any additional software. The Plug and Play function is intuitive and easy to use. It also doesn't require any additional power supply. The player has a USB 3.0 interface and supports USB 2.0 and USB 1.0 systems. This drive is quite fast as it can reach up to 5Gbps transfer speed while keeping a steady performance. The write speed comes in at 8x for DVDs and 24x for CDs. It's compatible with almost all operating systems such as Windows, Mac as well as Linux. The price is not that bad for an easy to use and fast drive.
The drive has been designed in a brilliant way. The USB cable is embedded at the bottom of the shell so you can conveniently store it when not in use. Rioddas has also put a non-slip pad at the bottom, preventing the drive from falling off a slippery surface. It has a slight curve with a polished surface at the top, which will fit with your Mac nicely.
The cons are it might sometimes not work, doesn't support M-Disc and Blu-ray.
Samsung SE-218CB/RSBS
Samsung is known to be a reliable brand, and their SE-218CB/RSBS drive is not an exception. The shell is 14mm thick with a depth of 148mm and a width of 144mm. It's relatively compact and is easily transportable. Has write speed of 8x for DVDs, 24x for CDs, and 8x DVD read speed. It supports various CD and DVD formats such as DVD+R, DVD-RW, DVD-RAM, DVD-ROM, and more. What great is that it has a Speed Adjustment feature which corrects the speed depending on the media type. It also includes Buffer Under Run Free and Double OPC, which ensures proper recording. Tilt Actuator Compensation is an offered feature that allows for writing on slightly deformed media. The drive is compatible with both Windows and Mac operating systems.
Unfortunately, it uses only a USB 2.0 interface and has no Blu-ray support. Nevertheless, it's perfect for both home and professional usage.
In conclusion, there are many external CD/DVD drives with various features and price ranges. Please comment down below and let us know which external drive from the list did you choose. If none of the above-listed drives suit your preferences, we hope that with the information provided above, you'll be able to choose the right one for you!