How to change default downloads folder on Safari
How to change and/or restore default download folder on Safari web browser
Vast majority websites offers download function straight from their website, without any additional software, this way Safari serves to complete this action. By default all files downloaded through this application reaches the default Downloads folder as their destination point, however, this won't take long, until this folder becomes similar to huge dump where you will spend a lot of time in order to find some earlier downloads. Luckily, there is an opportunity to change your destination folder on Safari and others web browsers. Quite often, people use separate application for various purposes, one of the most frequent situation, when different web browsers helps, the computer usage in both cases, work-based activities and leisure time activities. All bookmarks, history and saved passwords will not mix, also you will save time spent while attempting to find some important work files, that is lost within various photos, applications, or any other kind of data, downloaded with purpose to be used while you're at home.
In addition, people quite often chooses to save their downloads within desktop, this is also a good opportunity, since you won't forget where files where stored, also you will have a quick access to any of downloaded files. In case the data, that you've recently downloaded where only with temporary basis, you won't have any troubles to eliminate it from your Mac. A little bit less popular, however, still useful option would be to choose the destination folder each time you're downloading some data, this serves perfectly, when you're seeking to keep an order in your computer, and downloading a lot of different data. There might be a lot of separate reasons, why would you desire to change the destination point of your Safari downloads. In this article we will describe the easiest method to change saving method and destination path, also we will cover the method how to revert changes within these particular settings.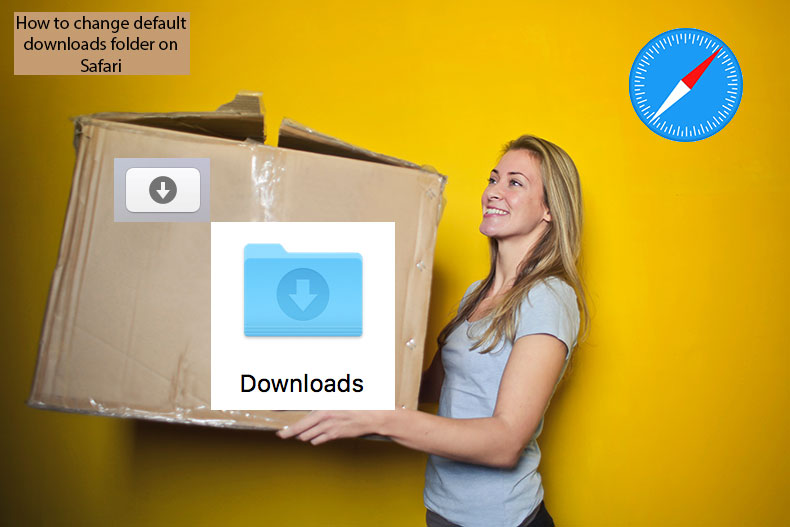 Table of Contents:
Change downloads destination folder on Safari
Changing destination folder on Safari web browser is quite simple task, also if you follow these steps, you will be able to choose between separate saving methods, such as default Downloads folder, chosen folder, or ability to choose destination folder each time you're downloading anything. To begin with, launch Safari application, then click on Safari in the menu bar at top of screen, then select Preferences. Alternatively, you may use keyboard shortcut of Command and Comma (,) to access the Safari's preferences.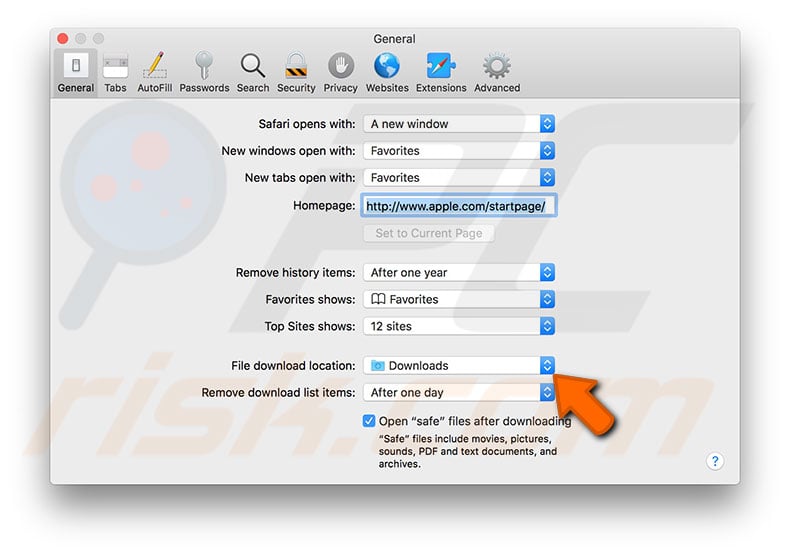 Inside, choose General tab and look for File Download location option, click on the drop-down menu right next to it. There you will find marked Downloads folder and two additional options. First, Ask for each download option will prompt you each time you download anything to choose the destination folder, this is perfect option for users, who prefer to keep everything separate. The last option, named Other.. gives you an access to all folders within your Mac's storage to select one, as your new destination folder.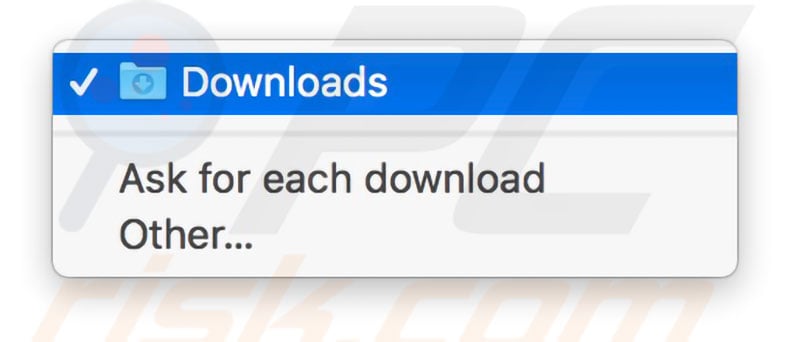 Once you click on this option the new window will pop up, then navigate your appreciated folder, for example, desktop from the left side bar and then click Select. If you leave this path selected, all your downloads will be saved on your Mac's desktop.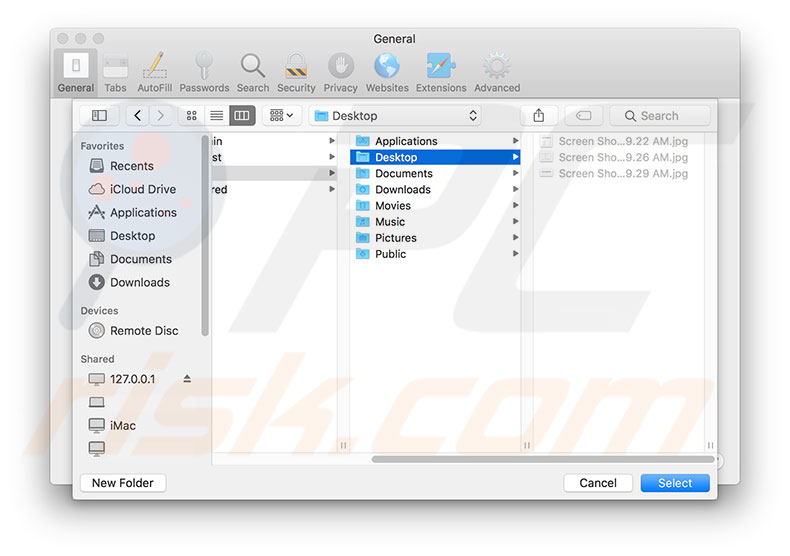 You do not need to look for any 'Save' or any similar button, simple close preferences and Safari will automatically save these adjustments. However, bear in mind, that these preference updates will not affect your previous downloads, this means they will remain under default Downloads folder. In order to save time while searching the particular file you may click on arrow down button at the top right corner of Safari's window to expand recent downloads list and then click the magnifying glass button. This way your Mac will automatically opens download folder and finds the required file.
Restore default downloads folder on Safari
If you or anyone that uses your Mac changed the destination folder, you might miss some recently downloaded files. Luckily, the switching back to default folder is really easy as well. First launch the Safari web browser, then click on Safari in the menu bar at top of window, then choose Preferences. Alternatively, you may use keyboard shortcut of Command and Comma (,) to access the Safari's preferences. Once the new window opened, select General tab and look for File Download Location section, click the drop-down menu next to it and select Downloads from the list.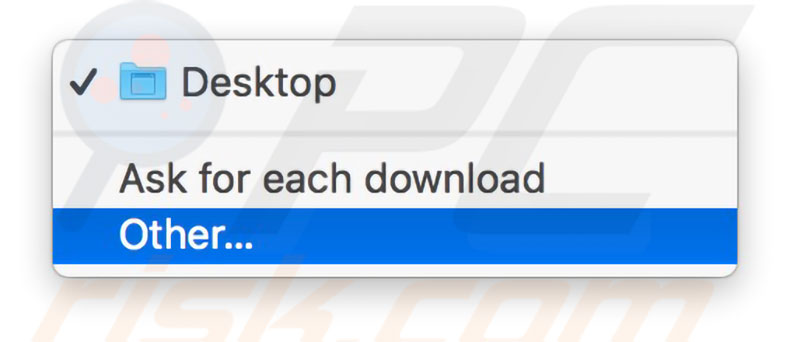 In case, you are unable to find this option, then click Other.. In a newly popped up window go to user Home folder and then select Downloads and click Select.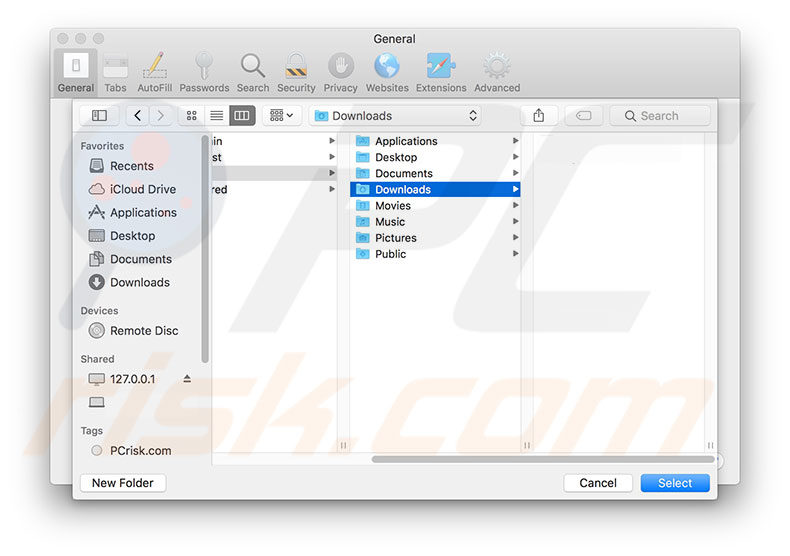 Now close Safari's preferences and it automatically saves your adjustments, from this point all future downloads will be stored in default Downloads folder. However, this will not make an impact on your previous downloads and all these files will remain in same location they were originally saved. What is more, the default Downloads folder is used as destination folder not only by Safari, but also by most of software, that is able to download files to your Mac, including Chrome, Firefox, most SFTP apps, and file transfer features such as AirDrop or Migration Assistant.
Video Showing how to change default downloads folder on Safari