How to find and manage saved passwords on Safari?
How to reveal and modify saved log in details on Mac computers and iOS devices?
Nowadays vast majority of websites within the Internet uses user accounts, to improve their browsing experience. Even web browsers software asks you to configure or sign in with various accounts, this way users are free to access their favorite websites and data through all computers or devices, however it is recommended to use the separate passwords for each registration, natively the question appears, how to remember all those password? Note with the passwords could be a solution, however it also might become a headache, when you're visiting a number of separate websites daily. Luckily, the Safari might help you in this tedious situation, every time you enter the log in details it will offer to remember details for this website.
If you choose to remember, next time you visit same website you won't need to enter the details, also if you have enabled iCloud Keychain, all devices connected with the same iCloud account will be synced as well, this means you do not have to repeatedly enter same log in details when accessing same websites with other your device, i.e. iPhone or iPad. Since the passwords are syncing via iCloud Keychain, you will be able to find all passwords in your Mac's application called Keychain Access, however, you may be calm, that all data is protected, in order to reveal the passwords you will have to grant access first, by entering the Keychain's and/or administrator's account password. Without required details, it will be unreachable, due to encryption, the file that stores all passwords and usernames is completely protected. Also checking the list of passwords via Keychain may become really useful, when you need to use another computer or device with Internet connection to access your personal information in some particular websites. In this article we will describe how to enable and disable, also how to check and manage passwords saved by Safari application.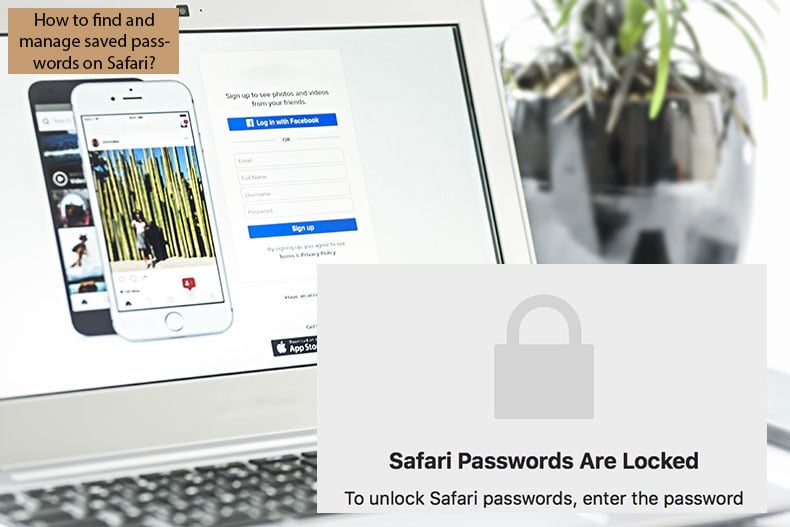 Table of Contents:
How to find and manage saved Safari passwords on Mac
You may grant full access to your saved log in details via Safari application, there you will be able to add, delete, edit saved details, enable and disable forms. To begin with, launch web browser and click on Safari in the menu bar at top of your screen, then select Preferences, inside select the AutoFill tab to choose the appreciated forms, or Password tab to manage saved information.

Under the Passwords tab above the list with websites and account details you will find an option 'AutoFill user names and passwords' and checkmark next to it. By enabling the checkmark you will demand Safari to use saved details and fill available fields, however, some websites blocks this feature. Also you may find this option under AutoFill tab.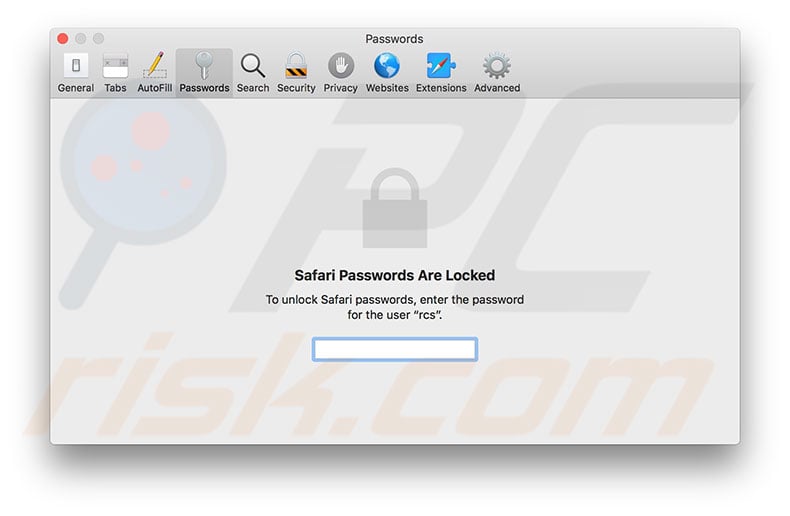 Sort saved log in details
Further, you may sort the saved data by clicking the column with the title, for example if you desire to sort items within the list by the website domain name, click on Website. Same way you may sort the results by Username or even by password, also you may choose to sort ascending (A-Z) or descending (Z-A) order.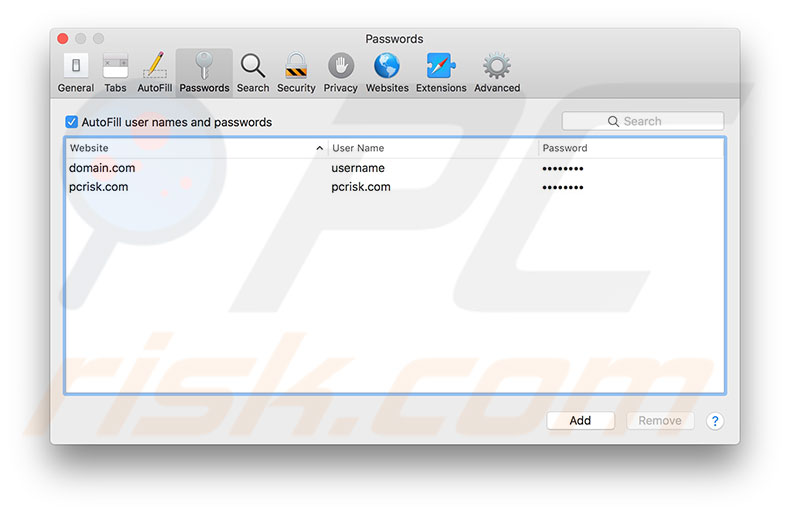 Manually add log in details
When Autofill feature is enabled, Safari automatically offers you to save the log in details, however, also you may manually attach the log in details for the particular website. Under the Passwords tab click the Add button and fill the website URL address, username and password, to make navigation easier you may press Tab on you keyboard to jump from one field to another.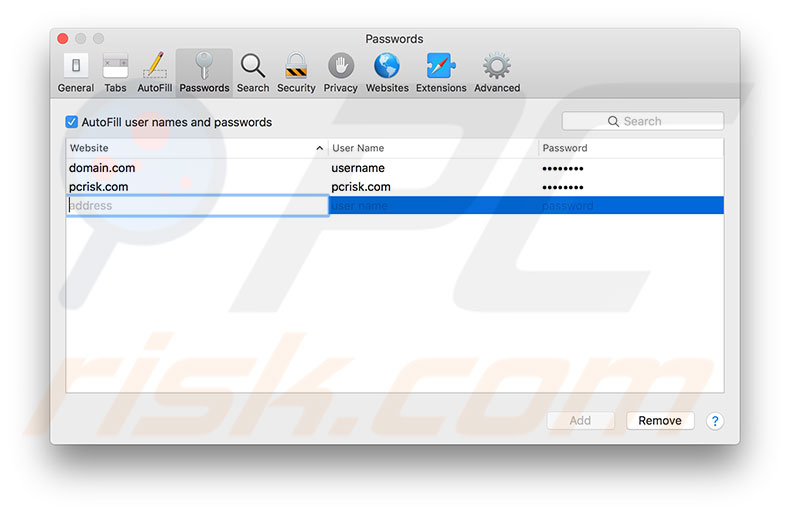 Delete some and/or all saved details
In a similar way you may delete saved log in details, under the Passwords tab, first select the existing entry and click Remove button. A dialog window will pop up, asking you to confirm your action, to prevent any accidentally clicked actions. If you're sure you desire to remove this particular entry, click the Remove button in the dialog window. Additionally, under same tab you will be able to remove multiple log in details, simple hold down Command or Shift key on your keyboard and select as many entries as you desire to Delete. Alternatively, if you desire to remove all entries, use the keyboard shortcut of Command and A to select all items in the list, then click remove button and confirm your action by clicking remove again. Bear in mind, that deleted entries will be removed from both the Mac's keychain and iCloud Keychain, this means these log in details will be removed from all devices.
Modify saved log in details
If you desire to edit the existing information, all you have to do is simply double click the entry and you will grant access to change the filled information.
The never saved status means, that when Safari offered you to remember the password you selected decline, however, in order to increase your browsing experience, the web browser still remembers the webpage's URL address and the username you have typed. Due to this reason, under password column it will be displayed 'Never saved' status, if you decide that you wish to save password for that particular account, you will have two opportunities, either to delete whole entry, either edit the password by double clicking on Never saved and type in the real password.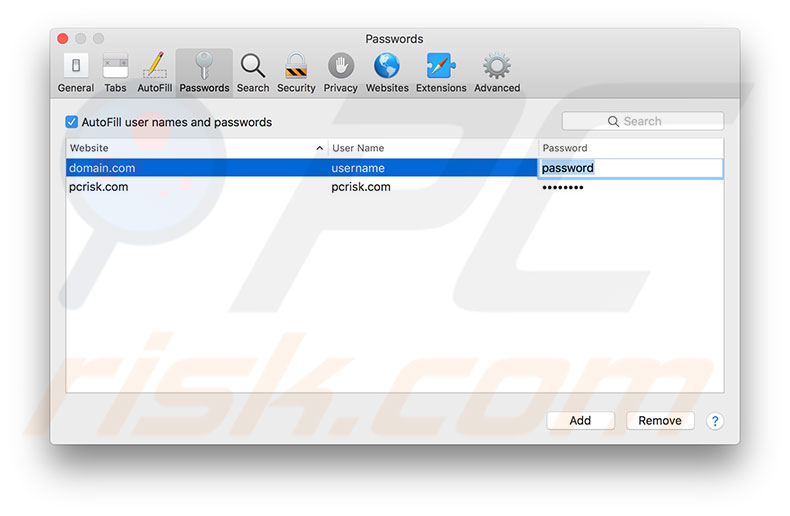 Search function
Another useful feature within passwords tab under Safari preferences would be the search function, this might save a lot of time, in case your web browser store a number of log in details and you desire to find some particular details, also there are cases when same website contains several similar URL's, or you've signed in with few separate details, due to this reason manually scrolling the saved details might take some time. By using search and the accurate query you will save time, while desire to edit some particular details.
How to find and manage saved log in details on iOS device
The path to access saved log in details on any iOS device, such as iPhone, iPad, or iPod touch is a bit different if compared to macOS device, however it is also quite simple. To check saved log in information go to device's Settings, select Account & Password and enter the App & Website Passwords. In order to access AutoFill data you will have to enter the device's passcode or authenticate with Touch ID. The layout of list with saved log in information is different if compered with macOs device, on iOS device items are grouped by username and password, this means you will see the amount of websites using these login details, if you tap on any entry, inside you will find the particular username and password, also the list of websites, where you've signed with same details. If you couldn't find any saved details, the AutoFill function might be disabled on your device, to check it, go to device's Settings, then look for Safari, inside tap on AutoFill and ensure Names and Passwords are enabled.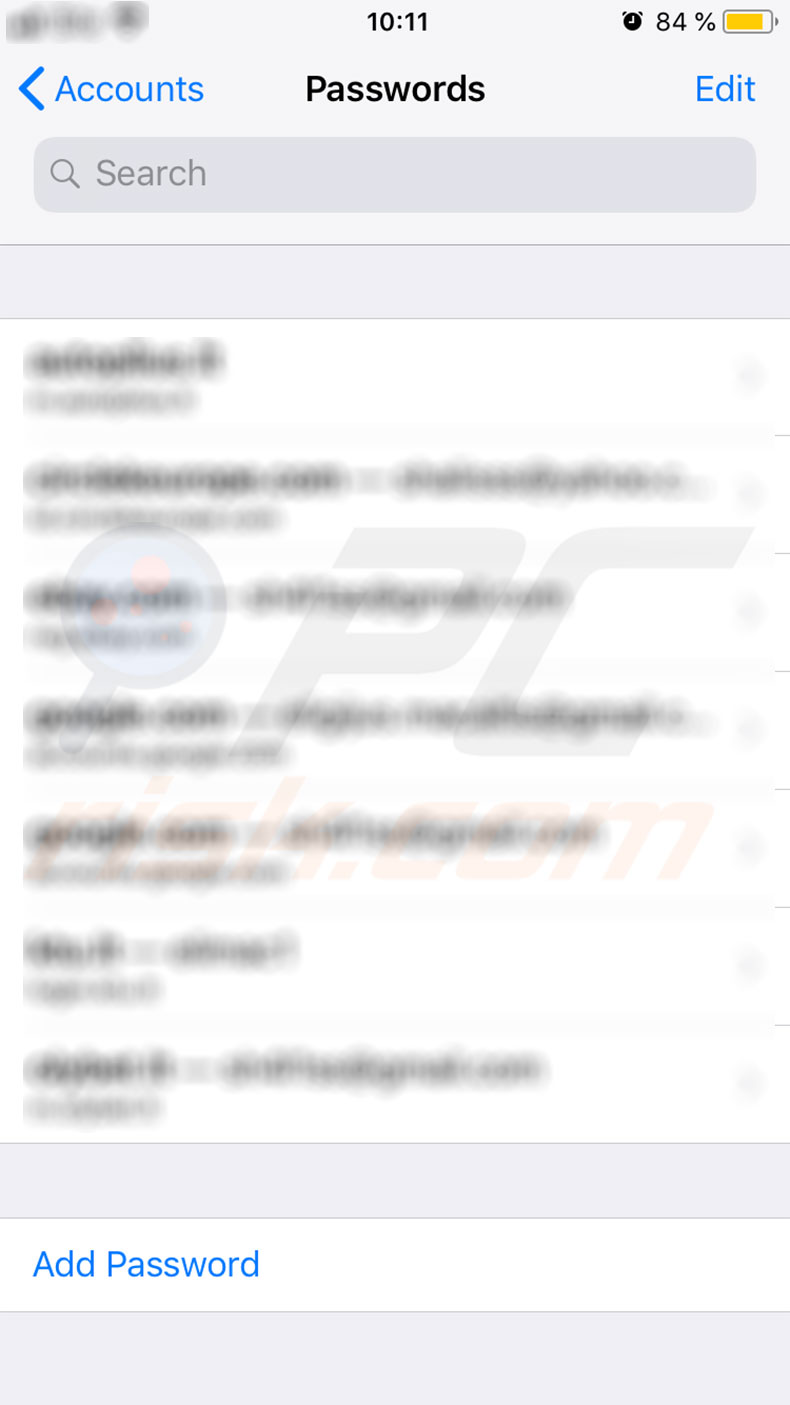 Attach log in details
To add some additional log in details, simply tap on Add Password and fill domain address, username, and password, finally tap Done at top right corner.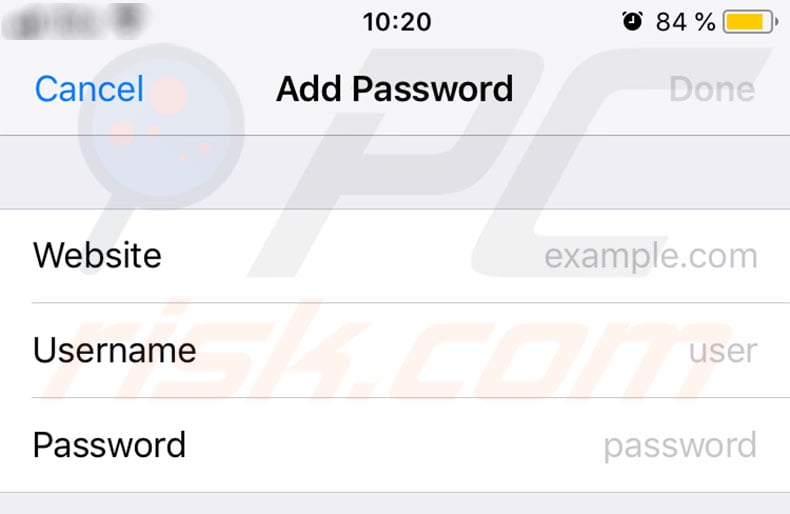 If you desire to add AutoFill details on older version of iOS, you may encounter the problem, because there isn't any add button. Mobile devices does not provides such function, alternatively have to visit the desired website and enter log in details, while AutoFill function is enabled, then accept to remember the password and any time you visit same website you will be automatically signed with the particular account, unless the website is blocking this feature.
Remove saved log in information
In order to delete saved log in information, visit the list of existing details and tap Edit button in top right corner of your screen, then you will be able to select one or many details, finally tap the Delete in the top left corner of your screen. The dialog window will pop up, asking you to confirm your action, Tap delete if you really desire to remove all selected entries. Alternatively, if you want to delete only one item from log in details list, simply swipe left to reveal the hidden Delete button, tap it and confirm your action by tapping Delete again. Bear in mind, that this particular log in details will be removed from all devices, that are connected with same iCloud Keychain.
Manage existing log in details
Additionally, you may manage the existing entries by tapping on desired one, you will enter the window where you will find your log in details, also the list of websites, where these details are used. In this menu you may choose to adjust the details or remove some websites, this way the AutoFill will stop using the saved information only in those websites that you've recently removed while all others still fills forms. The search field, that you may find in the top of the window will sort the list to match your query, the device will check website's URL and username to match the query.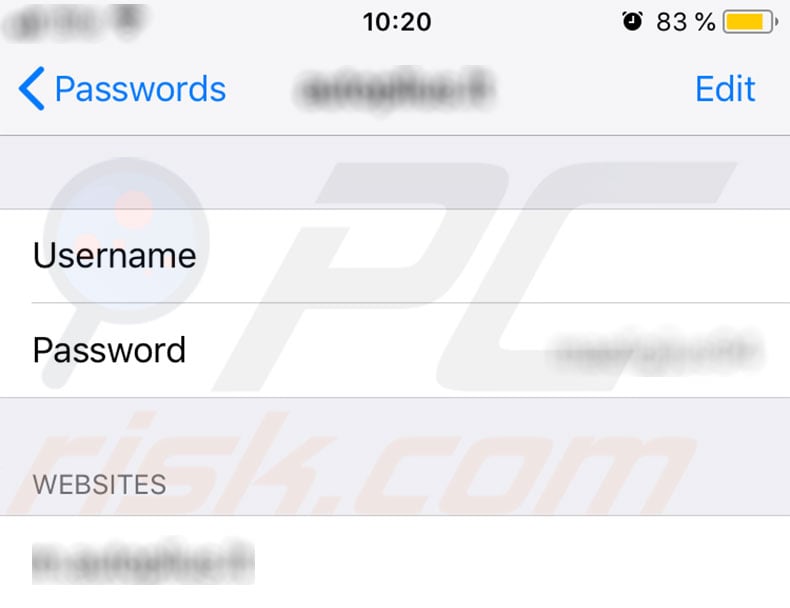 Video Showing how find and manage saved passwords on Safari