How to find all Apps on Mac?
How to find and list all applications existing within Mac computer storage?
There might be various cases, when you would want to know the amount and kind of applications, that are installed in Mac. This might be a perfect precaution against malicious applications, that comes in bundle with other software, also listing existing apps might help to find out the reason of missing free space on your storage. Sometimes, if you recently acquired the the Mac computer and do not know about existing applications, this tip will help you as well. In case you're keen user, you may desire to manually check the version of your software.
Despite all the reason you need to check all existing applications on your Mac, there is few separate methods how to achieve it, what is more, different methods brings you different results. All methods works flawlessly with every version of Mac operating system, also with the proper guiding it will be really easy to achieve the appreciated results. Methods might be sorted by the difficulty, while thinking about knowledge required, however, if you follow steps listed in this guide you will not encounter with any problems, while attempting to list all existing applications. In this article we will begin with the easiest (least knowledge required) method and walk through to using Terminal and printing results into a text based file on your desktop.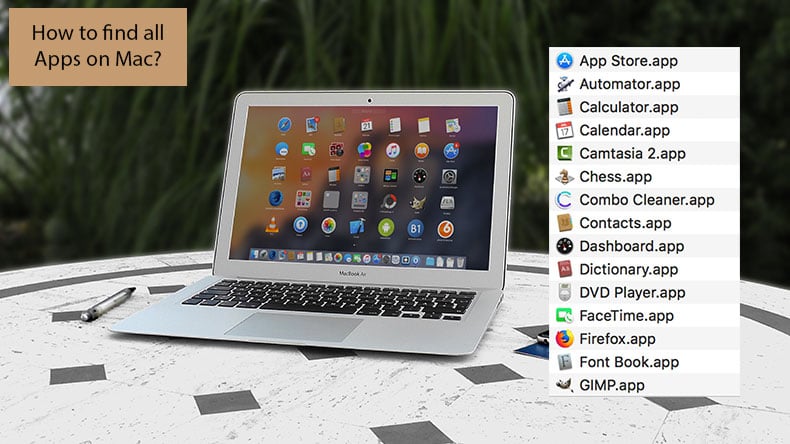 Table of Contents:
Check installed apps via Finder
As it was mentioned above, the first goes the easiest method, however it also displays least results, only apps' name, date when last time modified, and size on internal storage. All you need to do is launch Finder and select the Applications folder from the left sidebar, alternatively you may press keyboard shortcut of Shift, Command, and A. There you will find all apps, that were added through Mac App Store, came together with operating system, installed through various package managers, and manually attached by user with drag and drop method. Basically, there you will find all user level applications, enabling the list view will let you freely scroll through existing apps.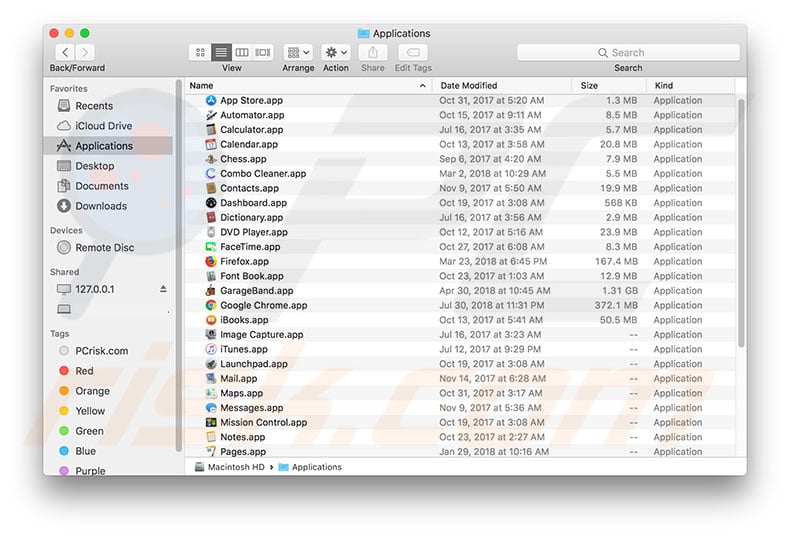 Alternatively, the Launchpad also serve to list application and is one of the easiest way to find the desired app for novice users, however the Application folder is more useful for most people. What is more, there is a way to make a list of all existing apps into the text based file, all you need to is use few keyboard shortcuts. While you've got the applications folder open, first press the combination of Command and A to select all items within window, then press Command and C to copy the selection. Launch the TextEdit application by using Spotlight, simply press the combination of Command and Spacebar and type TextEdit. Once the text based window opens, click on Edit in the menu bar at top of your screen, then select Paste and Match Style.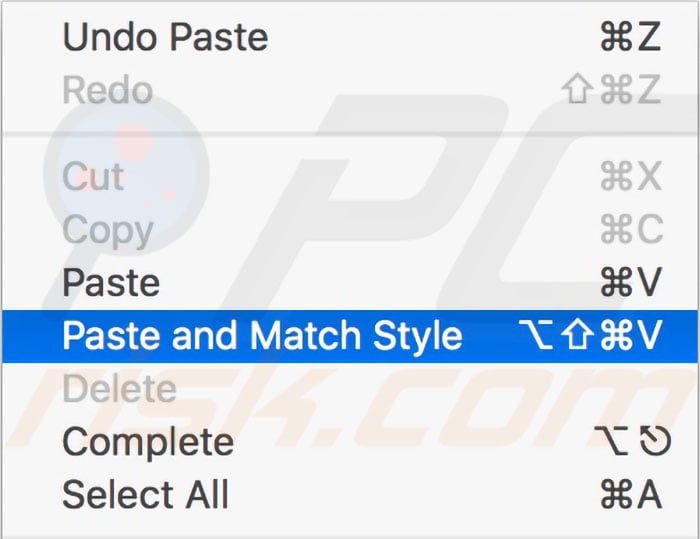 You may save and rename this file. Application folder might help you to when you're considering which apps you may force to close without crashing your operating system. Also you may delete software straightforward from this folder, detailed information you will find in this article.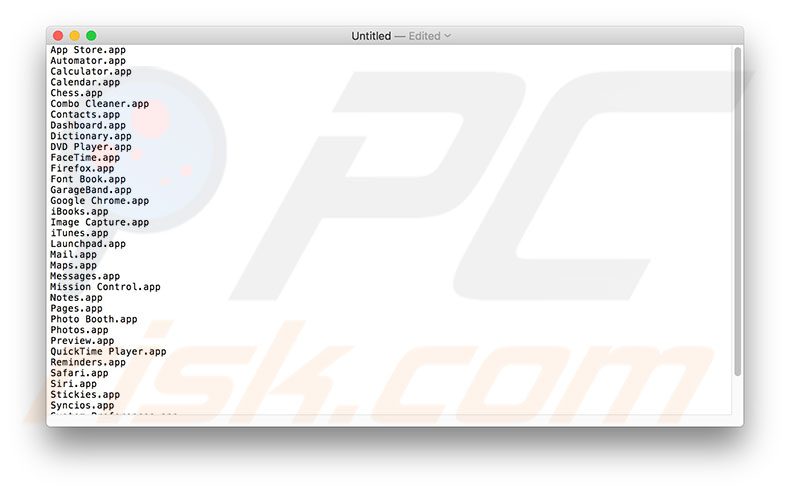 Inspect the applications list through System Information
In case you need more detailed information about each app, that is stored within your computer, including the system software, there is a little bit more advanced method, however, there is only a report about your system and you may feel confident about this step, since there isn't any chance for various accidents. To make clear, you will not be able to delete or disable any of the applications listed within System Report. To access, hold down Option (Alt) key on your keyboard and click on Apple logo in the menu bar at top of your screen, then select the System Information. Once the new window appeared, click on Applications under Software in the left sidebar. In the main area of window you will see a list of all existing apps, also there will be display the additional information, such as version, source where from the app was obtained, and date when it was modified last time. When you click on any of items in the list, below you will find the location in your storage, information about developer, and basic information expressed as Get Info string. There will be displayed not only user level apps, but also those, that are necessary for system, due to this reason it is strongly recommended not to try delete or modify applications from this list, unless you're sure what and why you're doing this. Otherwise you operating system might crash or even become unaccessible.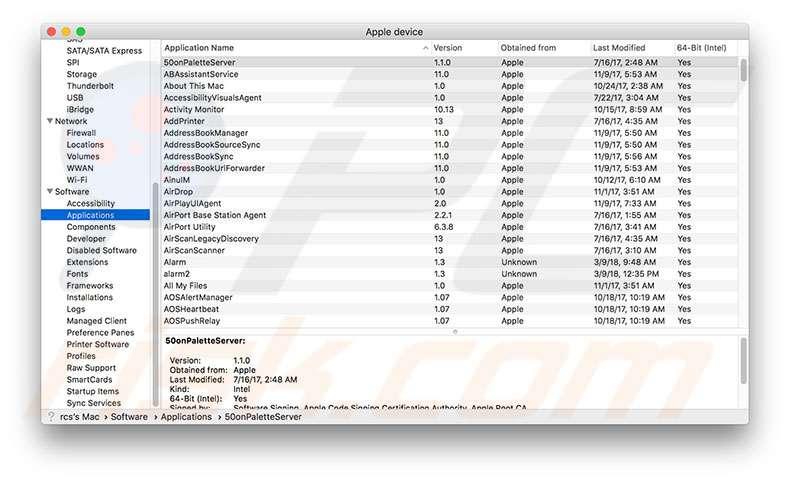 Find all application by using Terminal
One of the most efficient, however, required some particular knowledge, method would be to use the built-in command line application called Terminal. Using this app you will be able to access various useful functions, ignoring restrictions and even protected folders. To list all existing application you will need to use the find function, sudo command will grant access to all users and system folders. Launch Terminal by using Spotlight, simply press keyboard shortcut of Command and Spacebar, then type Terminal and press Return. Alternatively, you may go to Utilities folder under Applications. Once the application launched type the following command and press return to execute it, you will be asked to enter the administrators password, since you're trying to grant super user permissions.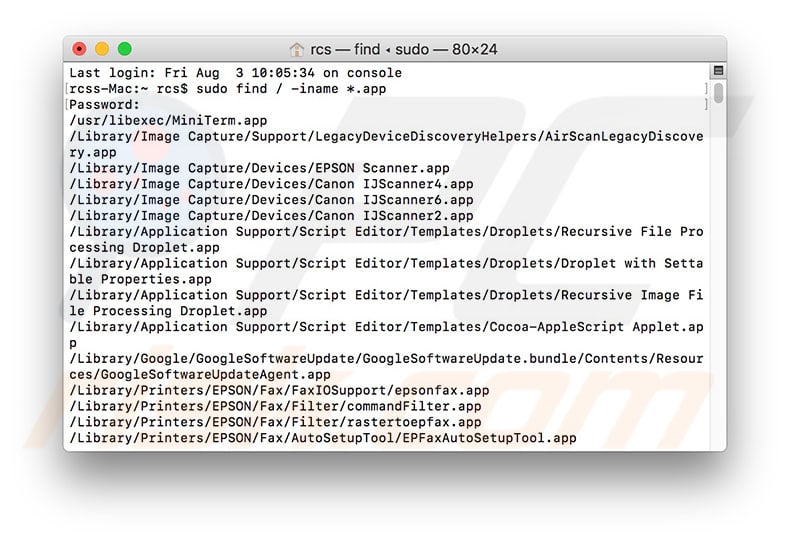 However, since there are many files with the .app extension within Mac operating system, displaying all them within Terminal window might force to freeze the app and/or your computer, due to this reason we recommend to print the results into a text based file by using the following command instead.
sudo find / -iname *.app > ~/Desktop/ListAppFiles.txt
Using this syntax all files that contains .app extension will be written into the text based file stored on your Desktop. Also you will be able to find the location of those apps as well. This is probably the best option if you seek to check your storage for possible malicious software, within the text file you will be able to use Find function by clicking on Edit in the menu bar at top of your screen and selecting the Find section.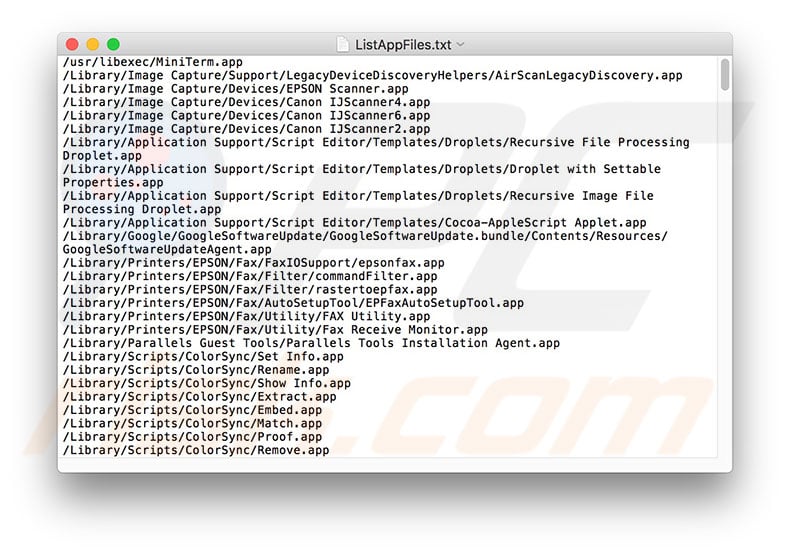 Video Showing how to list all Apps on Mac