Your startup disk is almost full, how to fix on Mac?
Mac is displaying warning message 'Your startup disk is almost full', how to fix?
Many Mac users have encountered a message stating that their startup disk is almost full. The appearance of this particular message varies with versions of the operating system. The issue tends to occur on release of each operating system version and it is not related to hardware or software glitches, even though it appears to be a warning message. The message states that you have reached the limit of free space on the hard drive. The Mac issues this warning, since the macOS requires at least 10 % of free space available in order to work properly. Furthermore, when the hard disk runs out of free space, the performance of the Mac will decrease significantly and various errors and glitches might also appear.
Therefore, we recommend that you do not ignore warnings of low capacity/free space relating to the hard disk. Unfortunately, some users ignore these messages and later seek information about resultant problems with their computers. The solution is to clean up the hard disk. There are a number of methods that you can use to save space without deleting your media files or other important data. To make the disk cleaning process easier, Apple released additional features with macOS Sierra relating to hard drive optimisation. In this article, we describe methods to efficiently optimize and clean the Mac's hard disk.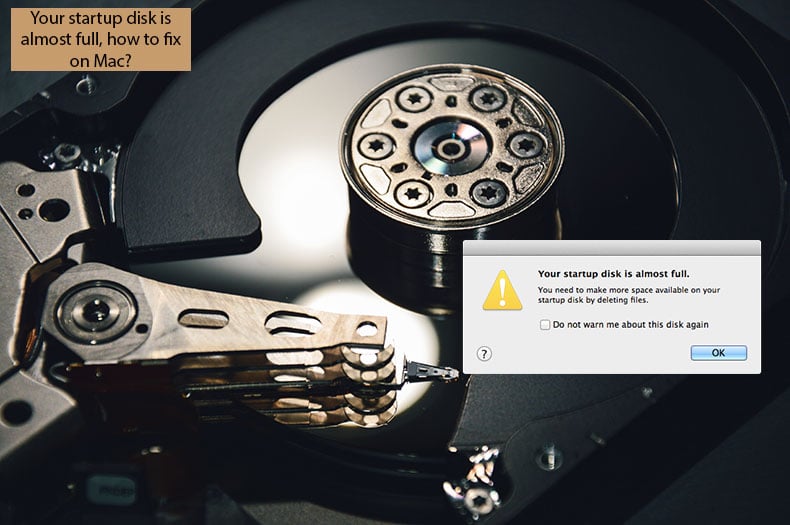 Table of Contents:
Check storage status to find out what is taking the disk space
First, check the status of your storage. Additionally, this feature displays a coloured graph categorized to reveal actual storage usage. Each category is identified by a colour and the total amount of space consumed is also displayed. This allows you to determine where best to begin cleaning and free up disk space. To check storage status, click the Apple logo in the menu bar at top of the screen, and then select the About This Mac section. When the new window appears, select the Storage tab at top of the new pop-up window.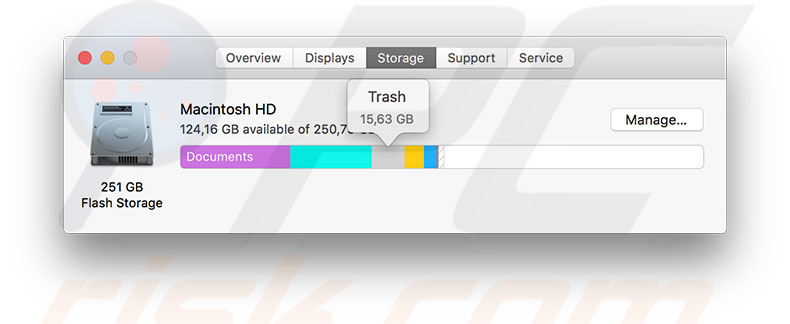 The most common category to consume significant hard disk memory is backups. If you see this category displaying extensive storage usage, we recommend that you check the backup files stored within your computer hard disk. Frequently, you will find old, unused backup files on your iDevice.
Another category that usually consumes extensive storage is Documents (in some versions, split into Photos, Videos, and Downloads). If you are running out of free space, review the content of these folders. For example, movies files occupy significant space, depending on duration and image quality. Removing movie files that you no longer need might help to solve your capacity problems.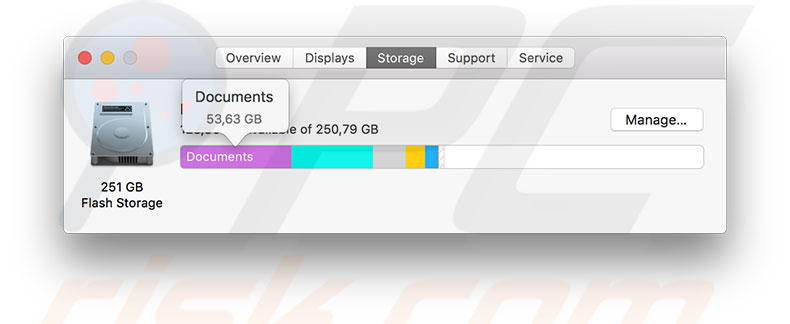 Another category is labelled 'Other'. Many Mac users report this category in various technical support forums, asking what it contains and why it occupies extensive storage space. As the name suggests, this category contains all files that cannot easily be categorised. Therefore, you may find various documents, project files from applications, and many other types of files. If the Other category occupies significant storage on your Mac, follow the detailed guide, what is and how to clear the Other category.
Find large files via Finder
Another useful feature to clean storage more efficiently is filters in Finder. Mac OS X file explorer (named Finder) includes the filters feature, whereby you can find many different options to achieve more accurate results. To find large files, first launch the Finder application and press the keyboard shortcut of Command and F to activate Finder's search feature. In the first line, select This Mac option. In the line below, click on first filter and select File size from the drop-down menu. If you cannot find this option, click on Other... You will see the list of all available search filters. Locate File Size and enable the checkbox next to it. Click on secondary filter and select 'is greater than option' from the drop-down menu. Next, enter the amount to compare with files sizes. The last option specifies the digital units. When you see large items within one window, it is easier to choose which are unnecessary. Also, you can delete them directly from Finder - simply drag to Trash, or select the file and right click it, and then select Move to Trash. Examples of unnecessary files might be those with extensions such as .ipa (iOS app backups), .dmg disk image files, and various archives.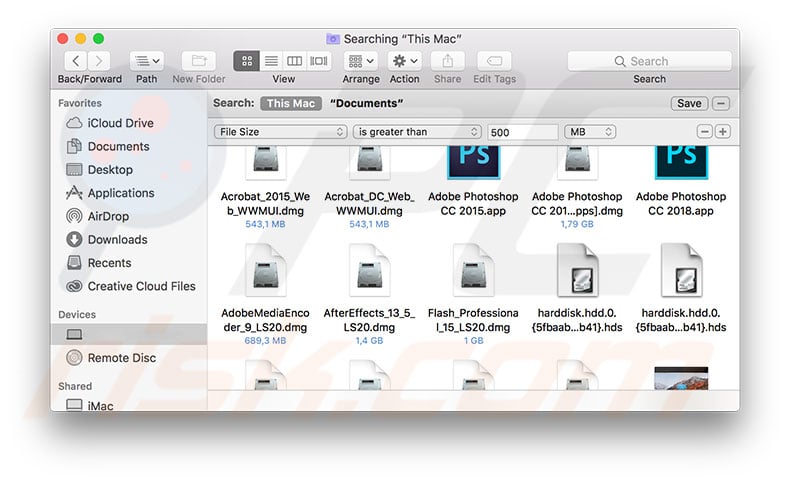 Check and clear Downloads folder
The Downloads folder sometimes hides many large and unnecessary files, such disk images, archives, and others. Many users forget about files they have downloaded. When you are running out of free space, one of the easiest ways to obtain additional hard disk memory is to clear the Downloads folder. Open it by launching Finder and selecting Downloads on the left side bar. Then click on the Size tab to sort files by size - in this way, you will see the largest files and it will be easier to ascertain if they are necessary. Many users report that they are surprised just how much space is occupied by old, unnecessary files within the Downloads folder.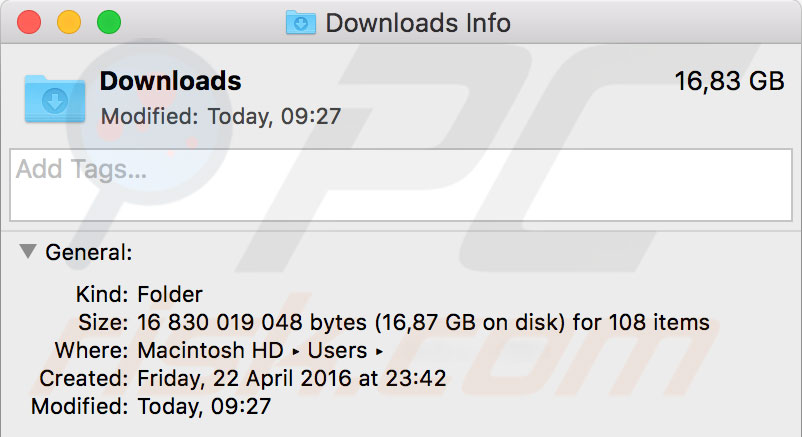 Clear the Trash bin
Moving files to Trash does not mean that they are deleted completely. The actual amount hard disk space occupied by data within Trash is often surprising for many Mac users. Although moving files to trash removes files from visible folders, they remain on the hard disk (why it is recommended that users regularly Empty the Trash). To clean the Trash bin, simply right-click the icon in Dock and select Empty Trash, or alternatively you can open the Trash and select certain files that you wish to delete completely.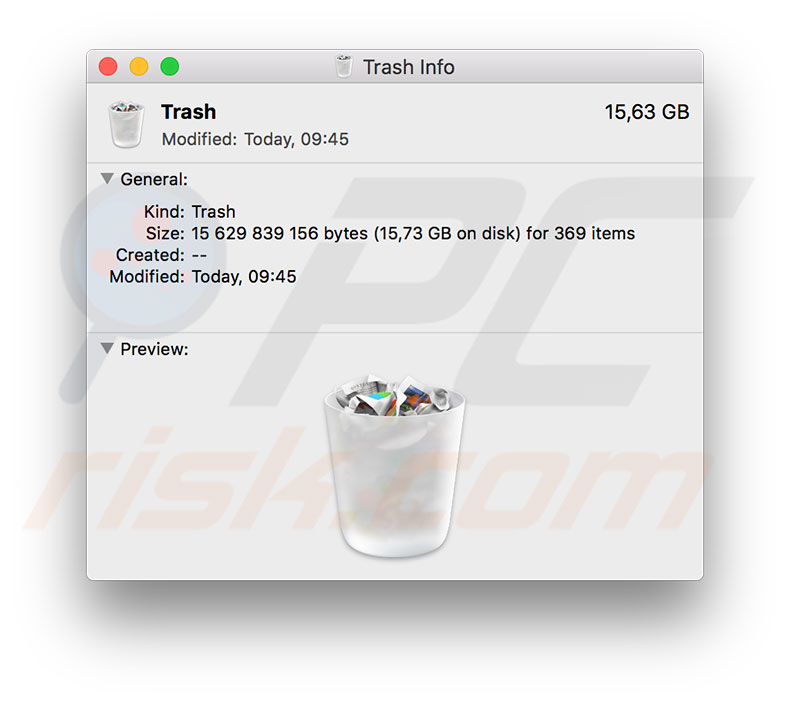 Use storage optimization tools on macOS Sierra
Apple released many built-in optimization and diagnostic tools with macOS Sierra. These manage storage, or diagnose and solve software and hardware issues. The storage tools provide 'Recommendations' for: iCloud, Optimize Storage, Empty Trash Automatically, and Reduce Clutter features. To enable any of these features, click the Apple Logo and choose 'About this Mac..', and then select the Storage tab and click the Manage button.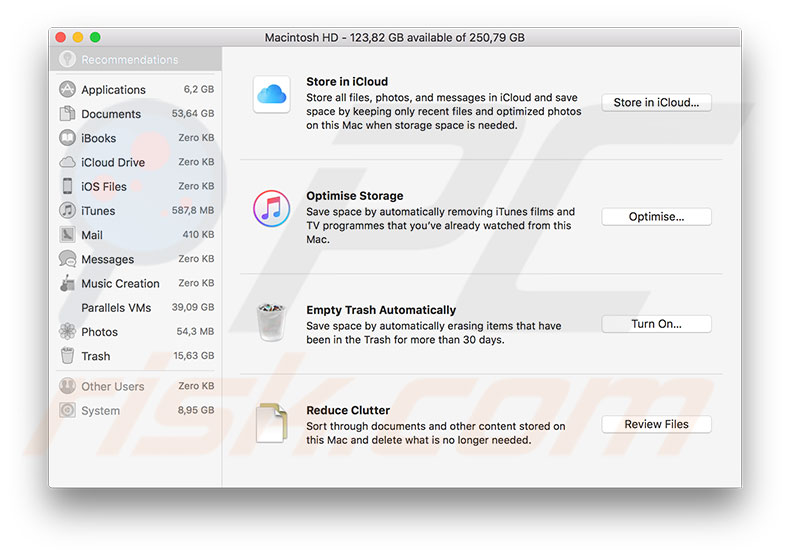 Store in iCloud and Optimize Storage tools
Store (in iCloud) and Optimize Storage features save space by automatically moving files and photos to iCloud or removing movies, TV shows, and email attachments when storage space is required. Files and media content will not be transferred to iCloud or removed, until the hard drive contains more than 10% of available free space.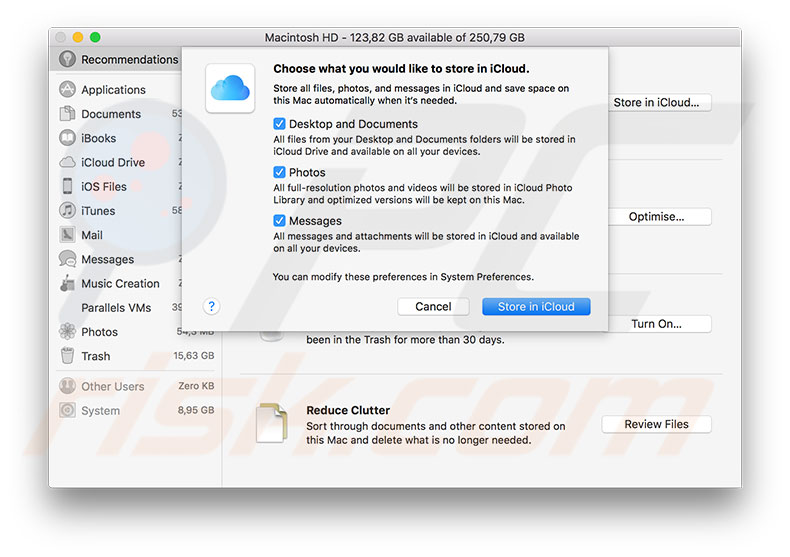 Auto-Empty Trash
The Trash Can can often hide many junk files stored with the intention of deletion but were perhaps forgotten. Important files are not often stored in Trash, so enabling 'Empty Trash Automatically' is a good solution, since it removes files that have been present in the folder for more than 30 days. If you are not sure if you need to enable this tool, open Trash and press the combination of Command and I. When files are selected (highlighted), check how much space all files within Trash consume.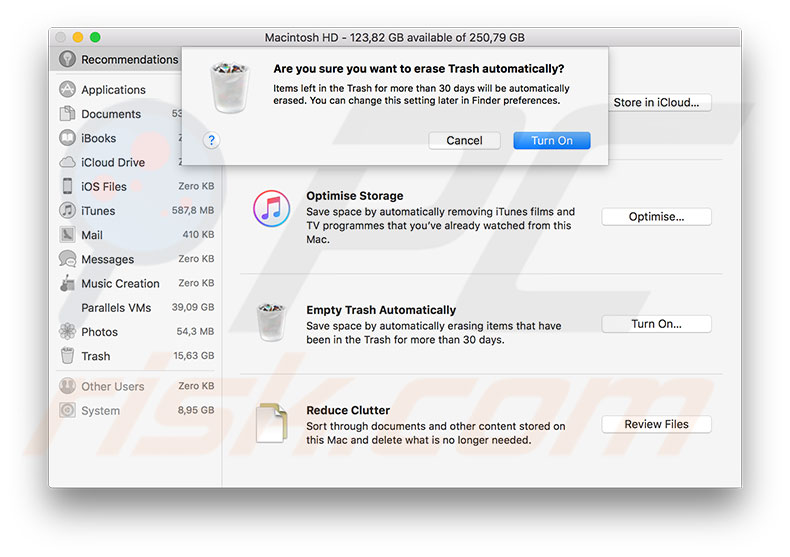 Reduce Clutter
This tool identifies large files - downloads and others - that might be redundant. When you click Review Files, a new window with a list of files and three tabs will appear. Check all categories and consider which files you no longer use and can be erased. In some categories, you can delete files directly and permanently by clicking the 'x' beside the filename.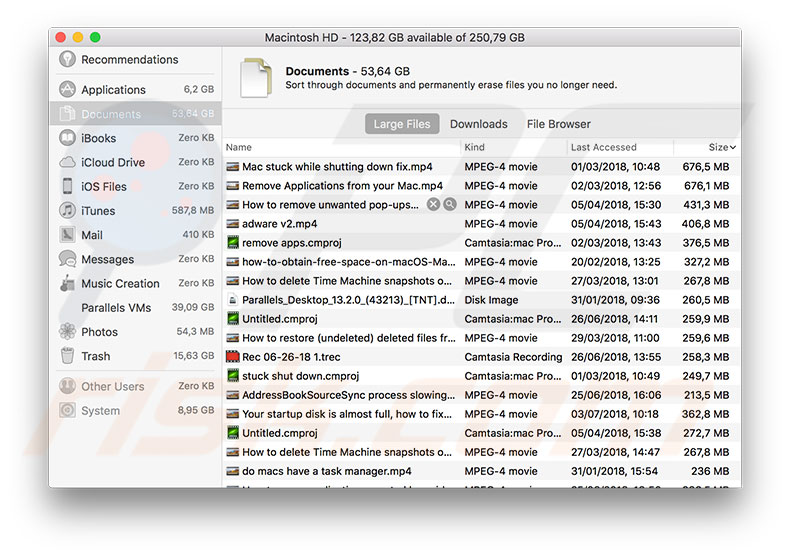 Use Combo Cleaner to clear your storage
To solve disk space issues as quickly as possible, this software might help. Combo Cleaner offers Disk cleaner, big files, duplicates and uninstaller functions, that clean hard disks faster and more efficiently than opening folders manually and deleting unnecessary files. The disk cleaner function removes all junk files from the Mac, including browsers cache files and some others. The 'Big Files' function finds all files larger than a minimum requirement specified. In this way, you can decide whether these large files are necessary, or to delete them. When using the Duplicates function, this software scans the Mac hard disk and lists all identical files. Also, by using the auto select button, it is easy to remove identical copies.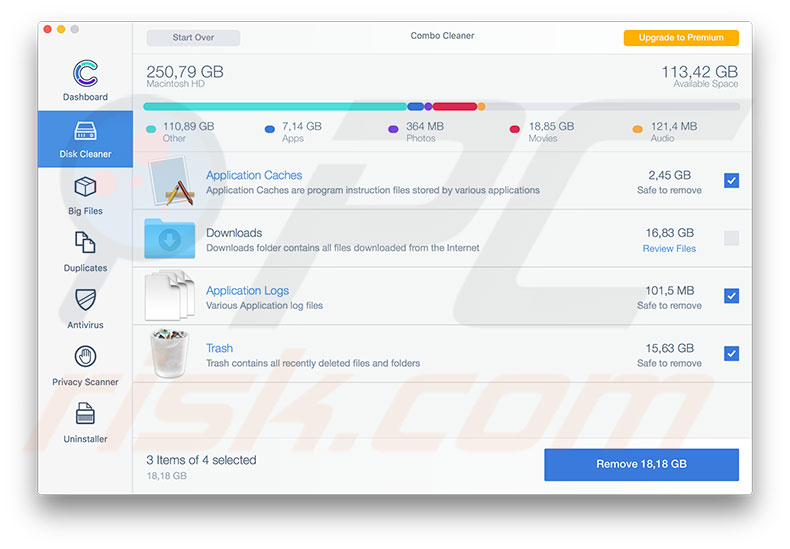 Video Showing how to solve your startup disk is almost full issue on Mac