How to restore (undelete) deleted files from Mac?
How to restore deleted files on a Mac computer?
Apple developed the macOS operating system, hoping to create functional software that could be understood intuitively by all users. As a result, tasks can be performed simply and quickly, including file removal procedures. In just a few clicks, files and folders can be removed. This is a very useful feature until you accidentally click the wrong button and realize that your data has gone. Users often seek data recovery options, reporting that they accidentally reformatted a hard drive (despite a number of warning messages displayed prior to any drive format/reformat). The most common case is when users have stored files in the Trash bin, but have then launched additional cleaning software, which cleans the Trash. Note that, even after emptying the trash, there are possible options to restore files.
When you remove files from the computer (macOS) operating system, it does not delete all data from memory. Files remain on the drive for an undefined period. Note that when files are 'deleted', the operating system does not actually remove them from the disk - disk clusters used to store the files are marked as writable and, thus, newly created files can be written in these clusters. Effectively, data is replaced and overwritten. Therefore, if you have accidentally deleted files, you must first stop using the Mac and, if possible, turn it off. Note also that storing files in the Trash bin is not a good idea, since Apple's operating system automatically cleans the bin when the hard drive runs out of free space. If you are experiencing one of these situations, follow this guide to learn how to recover deleted files on the macOS operating system.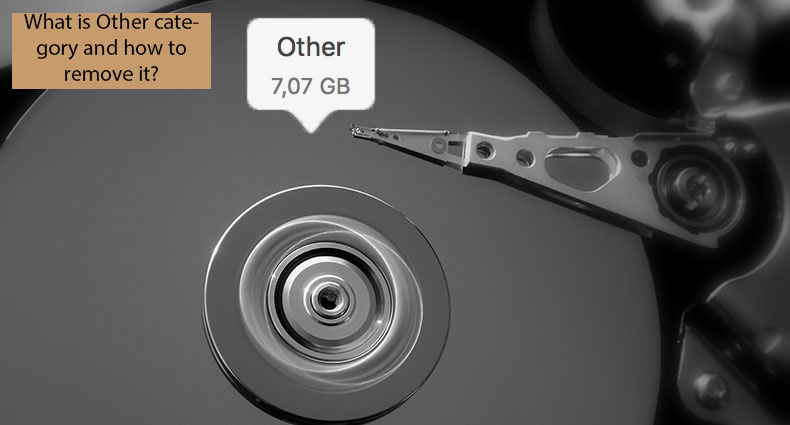 Table of Contents:
Restore files stored or removed through Trash bin
Unfortunately, Apple does not includes tools to recover deleted files, but there are methods to cancel the delete action or recover removed files. To restore files from Trash Bin, first open Trash, which is the last icon in the Dock. Then, look for files you wish to restore. Once you have located them, you can choose between two different methods to recover them:
1) Drop out to the desktop or  right-click the file and select the Put back option, so files are returned the same folder from where they were deleted.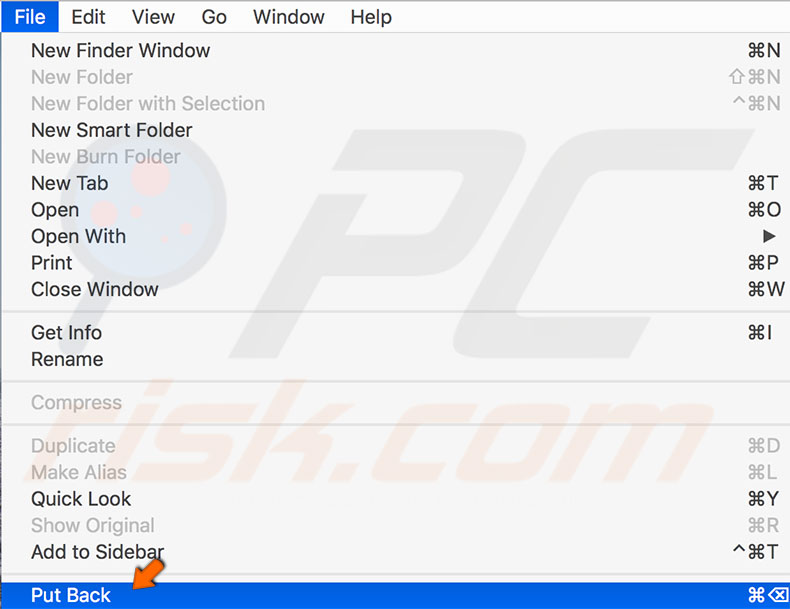 2) If you accidentally deleted items through finder by clicking Move to Trash, or used the keyboard shortcut Command and Delete, you can use another shortcut (Command and Z) to undo move, or click on Edit in the menu at top of the screen, and then select the Undo Move option.

Restore files using Time Machine's backup
Another option for Mac users is to use Time Machine backups or any drive cloning software such as, for example, Carbon Copy Cloner. If you are using Time Machine, the restoring process is simple. Just launch the Time Machine application, choose the backup that was created before you deleted your important files. Once opened, visit the destination where you stored the file/s before deletion. Once you have found your lost files, simply select them from the folder and click the Restore button at the bottom. To restore files located in different folders, repeat the procedure with all files. Unfortunately, this option will only help if the system has stored more than one backup copy, or if there was no backup created after you deleted the files. For this reason, we recommend that you stop using the Mac immediately after the accidental deletion.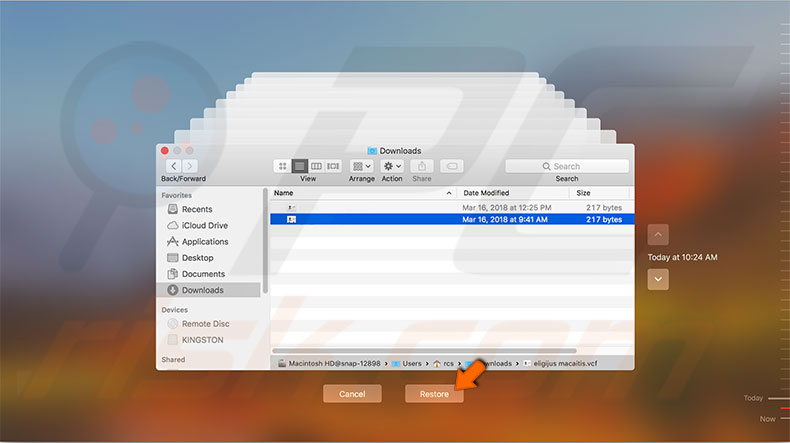 Recover files from cloud storage
This is an alternative method to attempt to recover lost files. If you have copied all or part of your hard drive onto any cloud storage (such as Dropbox, iCloud, etc.), you can visit the website to explore files stored there. If you find your lost files in cloud storage, look for a restore button, this action usually restores files in the same directory where they were originally stored when you created a copy in cloud storage. Another alternative might be an Internet-hosted backup system. Some examples are Crashplan or Bacblaze. In these systems you may find a number of versions of your data. You are also able to restore files from these systems.
Use third-party software to recover your deleted files
If none of the methods above helped to restore your files, there is a chance that additional software might be able to recover them. As mentioned above, the Mac operating system does not delete files immediately (it only removes an index to them). You should firstly stop using the computer until you acquire the required software - purchase or download the program using another computer and use external drives. If you add any new files to the hard drive, the deleted files will be overwritten, and then no additional software will be able to recover them. Some examples of software able to recover files are Data Rescue One and MiniTool Data Recover. Unfortunately both of these are paid software.
Video Showing how to recover deleted files from Mac computer: