What are .AAE files and is it safe to delete them?
What are .AAE files and is it safe to delete them from a computer or a mobile phone?
Many people seek information about suspicious files with .AAE extensions - they report that while moving photos they notice these files. Other users detect their presence when attempting to find a particular photo and sorting by type (or similar option) in finder. Furthermore, these files can exist on computers running Windows or Mac operating systems. In Windows, they are very frustrating, since the .AAE extension is hidden by default - they look like image files without the preview icon. When attempting to open them, an error message appears stating that this type file cannot be opened.
In fact, .AAE files (XML-based format) are created by Apple's Photos application and store information about modifications made to a particular file. These files are additional, allowing the original files to remain unmodified in case users decide to revert photos to their original states. So, if .AAE files are deleted, only adjustments made to a photo or image through the Photos application are lost.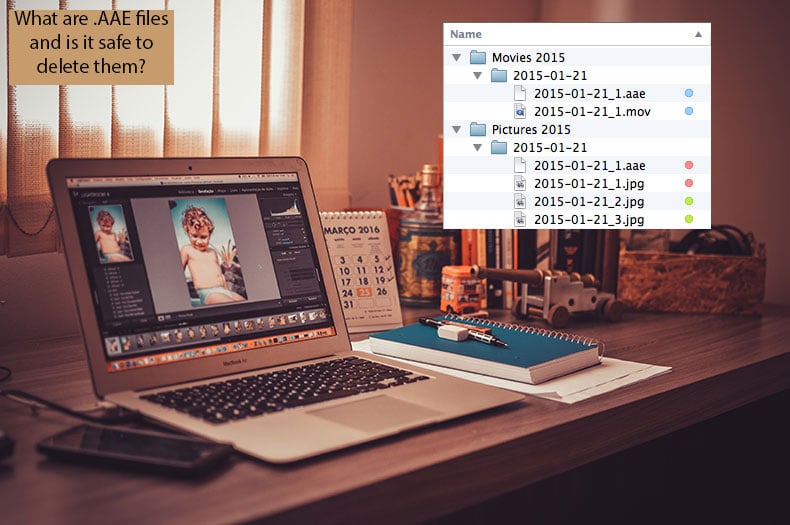 Table of Contents:
How to transfer photos to remain existing modifications
When transferring modified photos from an iPhone to a Mac computer running on OS X (and later versions), you should not encounter issues, however, with Windows and some earlier Mac OS versions (such as pre-os X Yosemite), the file with list of customizations will remain on the iPhone. Even if you move the particular file manually, there are no default apps able to open it. To solve this frustrating issue, you must search for third-party software able to read the .AAE file format. If you are not a Mac OS user, you will encounter issues finding software to open the modification list file. A more reliable solution is to force the iPhone to apply changes to the original file or export the modified copy. One of the easiest methods is to send an email with an attached photo to yourself from an iPhone (in which the image is modified). Alternatively, you can choose to upload the edited version on Facebook, Instagram, Twitter or other similar platform. Bear in mind, however, that these social networks reduce the quality of photos uploaded to maintain the website loading speeds. Another good option is to save photos onto cloud storage such as iCloud or similar. Newer Apple devices provide an AirDrop feature, which is also a good solution, but can be tricky to use.
To keep or delete the .AAE files
In various tech support forums, many people ask whether they should delete or keep  .AAE files, since they are unsure as to the purpose of these files. The information above should help you to decide. You can be assured that deleting files on Windows computers will not have any adverse effect, since there is no default software to open them. Note also that the connection between original file and the file with modification list is lost if the primary file is renamed, until such time as the .AAE file is manually renamed. So, if you rename many photos that had modifications, and you cannot remember the exact name of the image, they will become irrelevant and useless. Deleting them will not affect your photos, and in any case, they only occupy a few KB of Storage.
To clean up your Mac easily and quickly, use the Combo Cleaner.