How to convert songs to ringtones using iTunes?
How to convert any song into a ringtone on your iPhone for free?
The default ringtones on iPhones are usually old fashioned and noncreative, probably most of users get bored by them really quickly. Setting a song instead of a ringtone is a great idea. What is more, probably all smart phones gives you an option to set a particular ringtone to every separate contact you have. Usually, people set their appreciated song for the contacts they usually communicate with, so they know who's calling without even looking at their smart phone screen. The idea of using songs as ringtones is great, but once you enter the settings of your iPhone, you notice that there isn't an option to pick a song as ringtone.
When it comes to iPhones, this option is hidden - to use songs as ringtones you will need iTunes application. With the earlier versions of iTunes there was a straightforward path to convert songs into ringtones, but for some reason with version12.7 of iTunes Apple decided to remove this path, and a lot of people now struggles, especially folks that are new in Mac world. Note that there is an option to import songs as ringtones to your iPhone, just a little bit more complicated. In this article we will explain how to use your favorite songs as ringtones on your iPhone.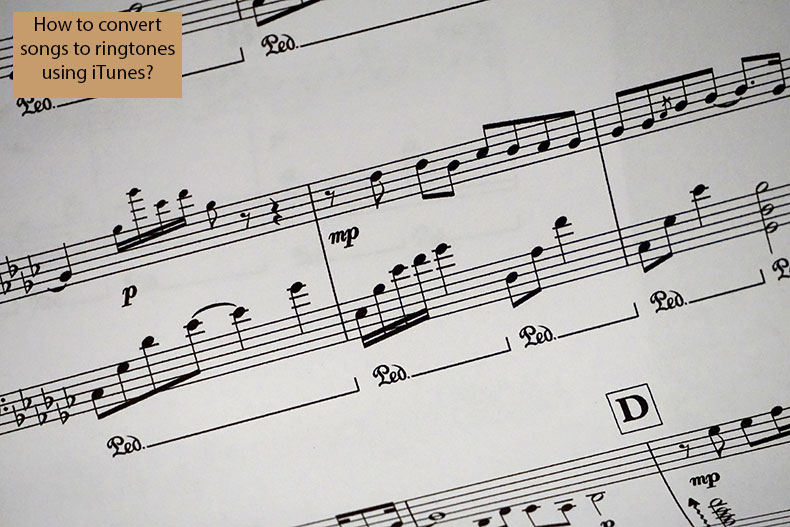 Table of Contents:
Create a duplicate of song your desire
In order to import a song as ringtone into your iPhone, you have to edit the selected file, to fulfill restrictions. To begin with, find your song in iTunes library and right-click it, select Song Info (or Get info depends on version of iTunes), then choose the Options tab. Enable start and stop options and enter the time fraps to determine the part of song you want to use as the ringtone. In case, you decided to use the beginning of song, enable only the Stop option. What is more, enable the repeat so you can hear the actual way how it plays when you set it as ringtone.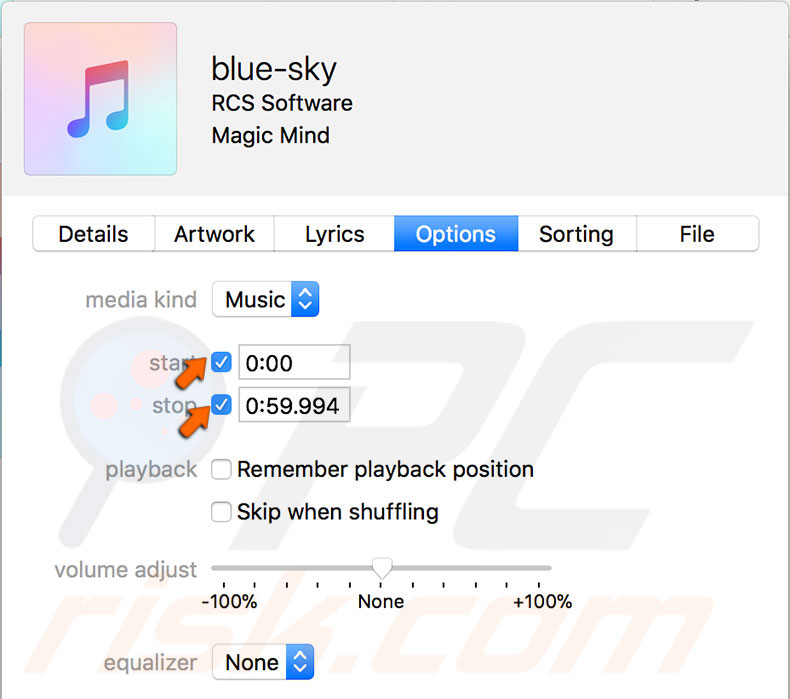 Once part of song is selected, highlight the file and click on File in menu at top of your screen, then choose Convert and select Create AAC version or if you're using earlier version of iTunes select Create New Version and then choose Create AAC version.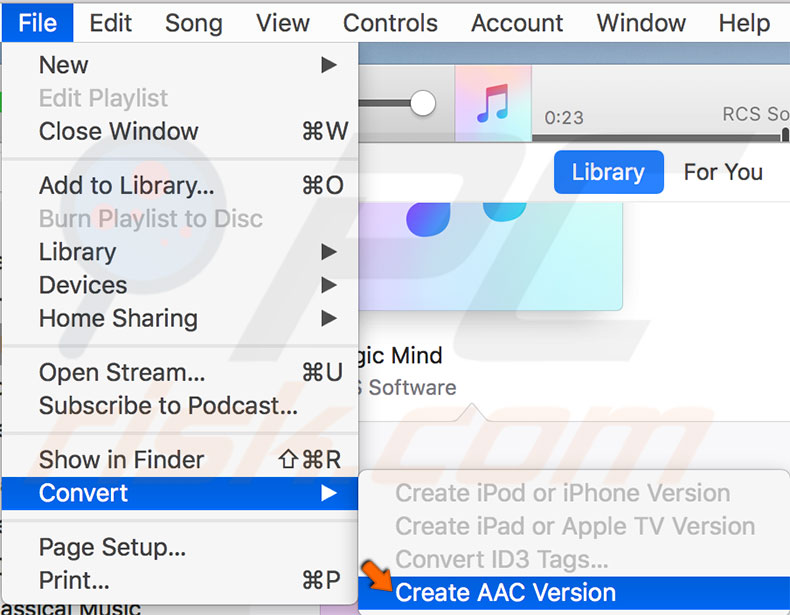 After this iTunes will duplicate the file, but if you inspect the new track you will notice that it's only 10 seconds or any other duration. The shorter one we will use to import as ringtone on your iPhone. Don't forget to come back to original track's settings to disable start and stop options, otherwise the song will only play the selected part.
Modify the duplicate
Once you have created the short duplicate of a song, you have to modify it's type and location in order to import into iPhones as ringtone. To begin with, select and right-click the newly created file and choose Show in Finder. In the new window you will see the two versions of particular song. The shorter version (duplicate) might contain a digit 1 in the end of it's name to separate it from the original one. Another option that differs and is much more important is file size, the duplicate will consumes less space in your drive and will be stored in .m4a file format. What is more, the duplicate usually looses any associated artwork.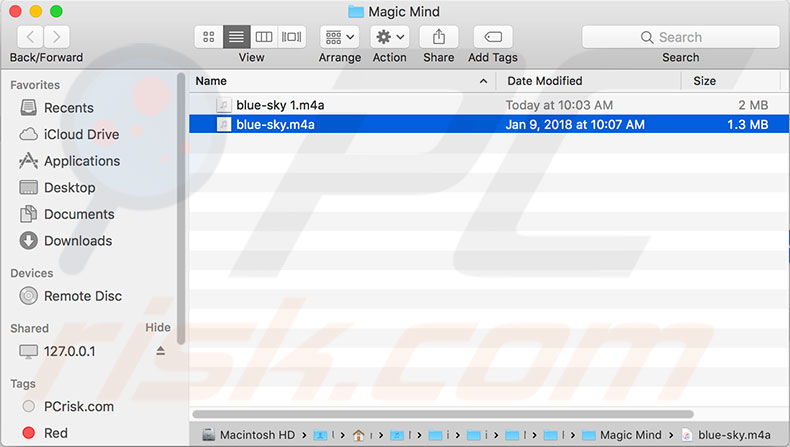 Next step is to change duplicate's format, since iPhone requires .m4r format and your file contains .m4a format. In order to change the type of file select it and right-click, then select rename. Edit the name by changing last three letters and press Return. Finder app will display the warning message asking you to confirm your action, click Use .m4r to proceed.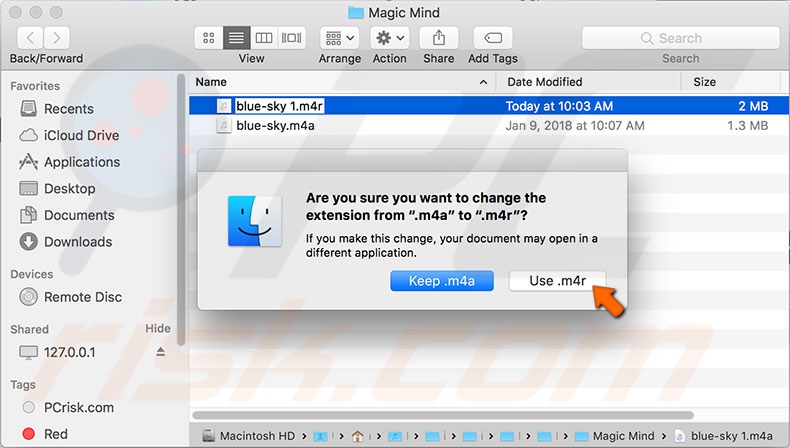 Import the duplicate as ringtone into your iPhone via iTunes (12.7 and newer)
Once your duplicate restricts the requirements for ringtones, there is a couple steps before you can import it to your mobile phone. First go to iTunes, find and delete the duplicate, don't forget to check the duration of song carefully. Once you have found the duplicate right-click it and select Delete or Delete from Library, if asked click confirm Delete Song. Note: it's very important to delete track only from your iTunes library, not from your computer's hard drive, so when a message asking if you want to move the file to trash pops up, click Keep File.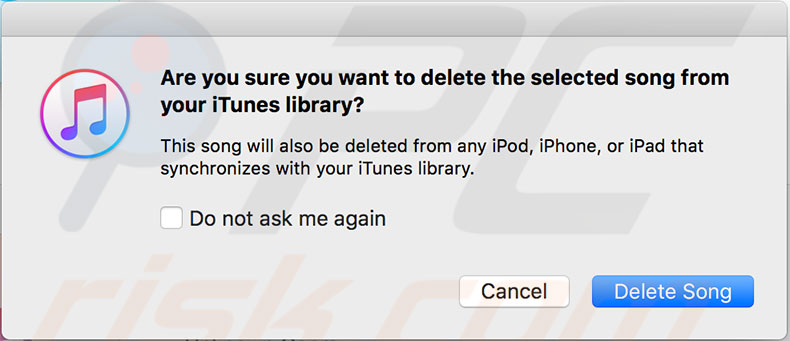 Next, to import a track from your folder to iPhone, you have to use iTunes. Connect your iPhone into the computer in a usual way, then click on the device's icon in the left side of iTunes window. Look for Tones in the left sidebar, next to it you will see a little bell icon and it's sixth item on the list, below Music, Films, TV Shows, Books and AudioBooks. Select it to open Tones folder of your iPhone. Once the folder opened, you can simply drag and drop the track you desire to use as ringtone from the Finder window. Once a copying process finishes, eject your iPhone in a usual way.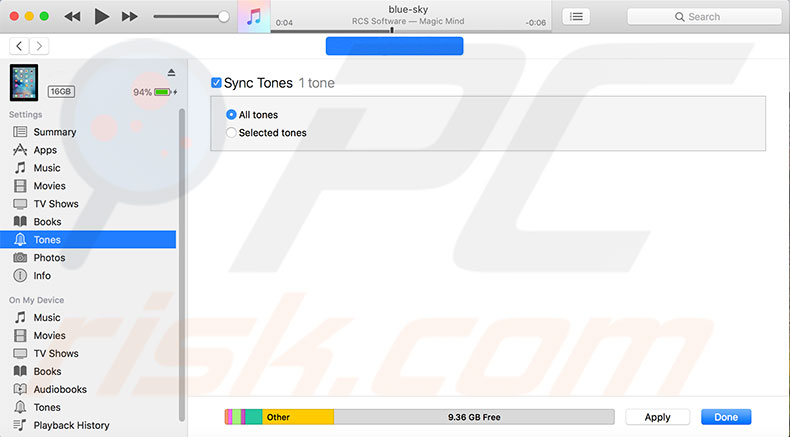 How to find your custom ringtones imported earlier?
A lot of people wondering what happened with their ringtones, that they have created and imported before iTunes released the new 12.7 version. Others struggles when attempts to find their files old ringtones, since Apple removed the Tones section from iTunes. Good news, files weren't deleted, just a straightforward path to them has vanished. The easiest way would be to call Spotlight and type in tones, if your hard drive contains only several folders with such name, finding the correct one won't be a hard task. However, if list with the similar name folders is long use Finder, as search manually by entering the path ~/Music/iTunes/iTunes Music/Tones the path may be slightly different, it depends on version of both your operating system and iTunes software. The custom ringtones will be stored in this particular folder, so all what you have to do in order to import them into your iPhone as ringtones again, repeat the steps listed above, drag and drop them into iPhone's Tones section.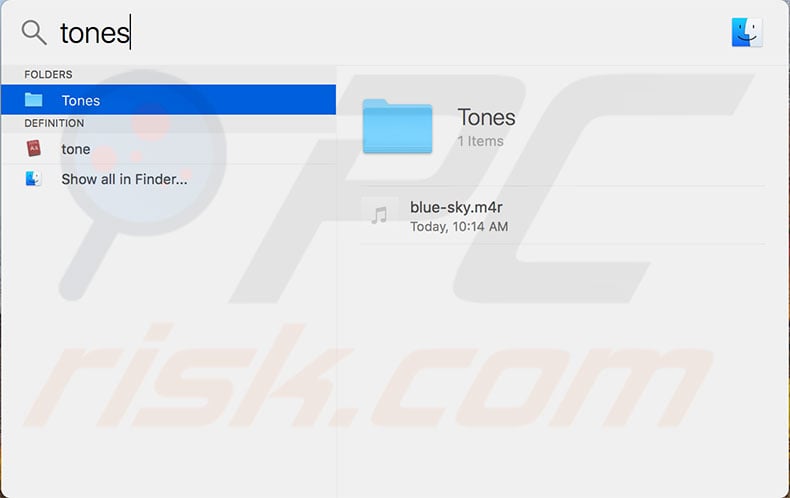 Import the custom ringtone into your iPhone via earlier iTunes
Users who still remains one of the earlier version of iTunes can import their songs even easier than the newer version owners. Once you have created your custom track, first go to iTunes, find and delete the duplicate, don't forget to check the duration of song carefully. Once you have found the duplicate right-click it and select Delete or Delete from Library, if asked click confirm Delete Song. Note: it's very important to delete track only from your iTunes library, not from your computer's hard drive, so when a message asking if you want to move the file to trash pops up, click Keep File. Open Finder window again, and double-click the shorter file, the song will disappear from folder, this may look frustrating, but don't worry it was not deleted. Also it may start playing in the background, if nothing else was playing at the moment. Go back to iTunes window, click on drop down menu at the top left of the window where you see Music, Movies, TV Shows and etc., look for Tones, open the Tones section and there you will find your custom track and it will be assigned as one of your ringtones. Next, you have to connect your iPhone to your computer, open the iTunes and click on the little phone icon located next to drop down menu. Once you entered your iPhone, select Tones section from left sidebar. Then click Sync Tones and choose Selected tones, select your newly created track. Finally click the Apply button in bottom right corner.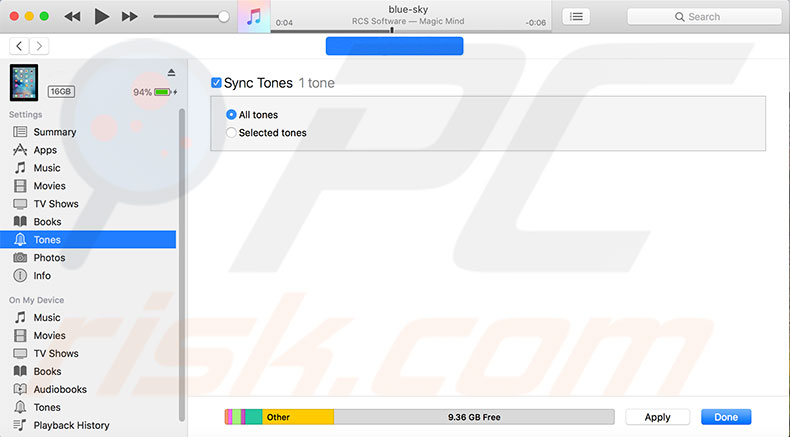 Set the newly created ringtone on your iPhone
Despite the version of iTunes you're using, followed by steps above, your song or couple of them should be imported into your iPhone. To set one of them as a ringtone is an easy and probably familiar task for a lot of iOS users, all you have to do is open your device Settings and select Sounds. Inside you will find a list of events such as, a new mail, a new voicemail, a text, a ringtone, and various other. To change any of them simply tap on to enter the menu. You will see a list of ringtones available, custom tracks usually comes at the top of the list and separated by a darker line. To set any of them as ringtone, just tap on preferred, sound will play, then tap Sounds at the top left corner to go back to previous menu. There is no done or any other confirmation buttons.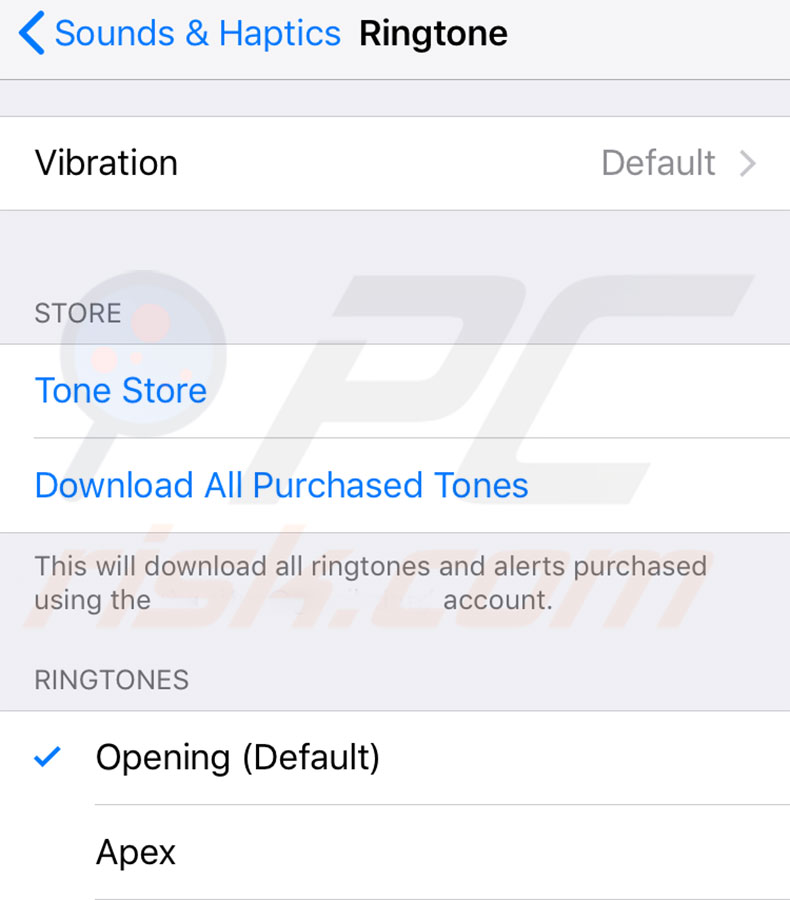 Set specific ringtones for your most used contacts
As we spoke before, separate ringtones might be very useful especially if you're contacting with some of your contacts casually. To set a specific ringtones open the Contacts app in iPhone, select the person you desire and tap the Edit button in the top right corner. There you will find various different options and one of them will be Ringtone, usually this is set to default device's ringtone. Tap on it to expand the list of ringtones available, choose your preferred one and tap Done at the top right corner. From now on you will know who's calling even without looking at phone.

Video Showing how to convert a song to ringtone using iTunes: